Jun 30, 2017 Restaurants
For the latest review, see the 2018 review of Gemmayze St .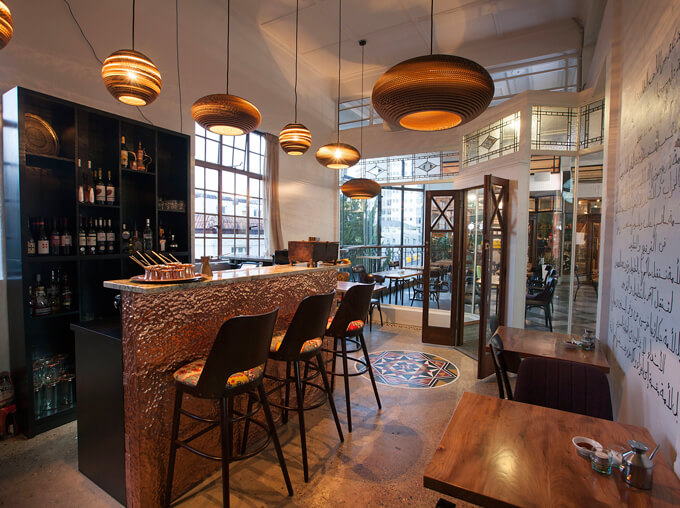 Gemmayze St
City-Fringe Bistro—Modern Lebanese
After five years alongside Ben Bayly at The Grove , chef Samir Allen didn't plan to open his first restaurant last year. But when the opportunity arose to occupy one of Auckland's very special venues (the park end of St Kevins Arcade), he couldn't say no. Thank goodness. With his mother, Liane Farry, he's created a bubble of Lebanese hospitality that reflects the family's 129-year history in New Zealand. Named for Beirut's vibrant dining street, Gemmayze St encourages diners to order the Lebanese way. Say "jeeb" — Arabic for "bring" — and for $60, a selection of exquisite dishes will appear. Staples such as baba ganoush, hummus and falafel have smart-dining finesse — the use of pickled turnip in the falafel and Allen's ability to present hummus elegantly are special touches — and sourness, the secret to comfortable feasting, is rightly appreciated.
A favourite dish
Kibbeh bi sayneyeh: lamb, burghul, pinenuts, pomegranate molasses and mint.
What it offers
Shared-plate options / Good for vegetarians / Fixed-price meal options ($60 "jeeb" offer) / Free-range chicken and/or pork / Bar / Craft beer selection / Good Lebanese wine selection / Good for kids / Takes large groups
Hours—L Thu & Fri; D Tue-Sat
Bookings—Yes
Price—$
Seats—80
Chef—Samir Allen

K' RD PRECINCT
Shop 15-16
St Kevins Arcade
183 Karangahape Rd
Ph 600-1545
@gemmayze_st on Instagram
---
Click below for each restaurant's review 
Amano
Apero
Artwok
Augustus Bistro
Azabu
Baduzzi
Beirut
Cafe hanoi
Casita Miro
Cassia
Cazador
Cibo
Clooney
Cocoro
Coco's Cantina
Culprit
Depot
Ebisu
Euro
Federal Delicatessen
Gusto at the Grand
Ima
Kazuya
Masu
Merediths
Molten
MooChowChow
O'Connell Street Bistro
Orphans Kitchen
Ortolana
Paris Butter
Pasta & Cuore
Pasture
Ponsonby Road Bistro
Rosie
Saan
Sidart
Siostra
Soul Bar & Bistro
Spacca
Blue Breeze Inn
The Engine Room
The French Cafe
The Grill by Sean Connolly
The Grove
The Oyster Inn
The Shed , Te Motu
The Tasting Shed
Woodpecker Hill