Apr 4, 2017 Restaurants
Metro magazine is pleased to announce the Top 50 restaurants in Auckland for 2017, ahead of the annual Metro Peugeot Restaurant of the Year Awards.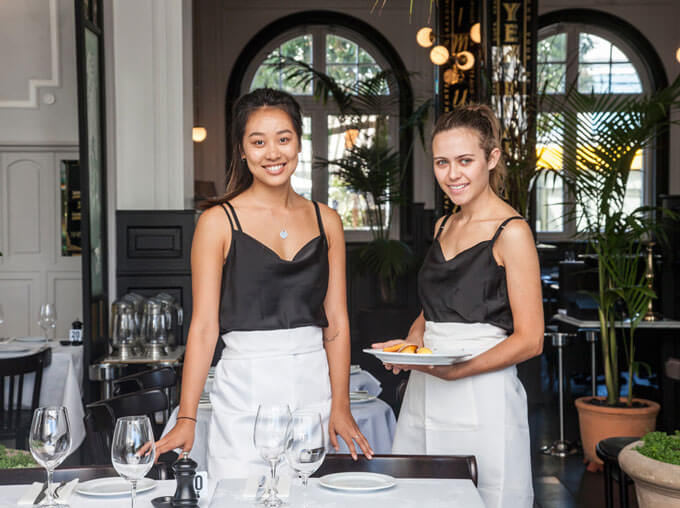 Metro's Top 50 list celebrates excellence across Auckland's increasingly diverse dining scene.
This year's judging panel, including Metro's Food Editor, Alice Harbourne and Editor, Susannah Walker, considered more than 100 contenders, refining the list to 50 after months of deliberation. The judges visit restaurants anonymously and pay for their meals.
To earn a place in the Top 50, restaurants must excel not only in terms of food, but also service, drink quality, atmosphere, design and character.
"We examine every aspect of the dining experience, from the host's welcome, to the temperature of the food, to the waiter in the back of the restaurant quietly polishing glasses: taken together these elements, among many others, tell us a great deal about a restaurant," says head judge Alice Harbourne.
"Each year, we approach the judging process with fresh eyes. Selection in a previous year is no guarantee of a place on this year's list – every restaurant is considered on its merits and performance at the time."
Among the newcomers to the Top 50 in 2017 are Augustus Bistro, Azabu , Culprit and Pasture .
Susannah Walker, Metro's Editor, says that in Auckland's fast-paced dining culture, it seems there's a new restaurant opening every week. "In this climate, we have been especially conscious of considering the merits of Auckland's dining institutions – some of which have been open for over 30 years – within the competitive context in which they now exist."
Established restaurants such as Cazador , Ponsonby Road Bistro and O'Connell Street Bistro feature in this year's Top 50, having demonstrated their ability to adapt and surprise.
Meanwhile, the new generation of Auckland restaurants such as Pasture and Orphans Kitchen is evolving Aucklanders' understanding of what makes for a quality dining experience, says Harbourne. "Integrated styles of cooking, using fire, foraging and preserving, and an appreciation for native, wild ingredients are coming to the forefront. Authenticity and provenance are now hallmarks of quality dining."
Neighbourhood dining is going from strength to strength, she adds. "Sometimes nothing beats seeing a restaurant's owners on the floor or in the kitchen, with bistros like Apero, Pasta & Cuore and Siostra delivering an experience that's both personal and polished."
The Top 50 restaurants are now in contention for the 2017 Metro Peugeot Restaurant Of The Year Awards, to be announced at a red-carpet awards night on 1 May. Awards include Supreme Winner, Restaurant of the Year, Chef of the Year and Peugeot Restaurant Personality of the Year, among others.
You can find previous reviews of The Top 50 Auckland restaurants and the finalists in the Metro Peugeot Restaurant of The Year 2017, here (in alphabetical order). Please note that these reviews do not reflect the judging for this year's awards. The full reviews for this year's Metro Peugeot Restaurant of the Year awards will be in the next issue of Metro magazine out on May 2.
Amano " rel="noopener noreferrer" data-mce-href="http://www.noted.co.nz/dining/auckland-eats/restaurant-review-amano/">Amano
Baduzzi 2016" rel="noopener noreferrer" data-mce-href="http://www.noted.co.nz/dining/top-50-restaurants/baduzzi/">Baduzzi
Cafe Hanoi 2015" rel="noopener noreferrer" data-mce-href="http://www.noted.co.nz/dining/top-50-restaurants/cafe-hanoi/">Café Hanoi
Cassia 2016" rel="noopener noreferrer" data-mce-href="http://www.noted.co.nz/dining/top-50-restaurants/cassia/">Cassia
Cocoro 2016" rel="noopener noreferrer" data-mce-href="http://www.noted.co.nz/dining/top-50-restaurants/cocoro/">Cocoro
Depot 2016" rel="noopener noreferrer" data-mce-href="http://www.noted.co.nz/dining/top-50-restaurants/depot/">Depot
Ima 2016" rel="noopener noreferrer" data-mce-href="http://www.noted.co.nz/dining/top-50-restaurants/ima/">Ima
Kazuya - Paperboy" rel="noopener noreferrer" data-mce-href="http://www.noted.co.nz/dining/auckland-eats/where-i-love-to-eat-why-auckland-chef-yuki-yamaguchi-lewin-loves-kazuya/">Kazuya
Masu 2016" rel="noopener noreferrer" data-mce-href="http://www.noted.co.nz/dining/top-50-restaurants/masu/">Masu
Paris Butter " rel="noopener noreferrer" data-mce-href="http://www.noted.co.nz/dining/auckland-eats/restaurant-review-paris-butter/">Paris Butter
Soul Bar & Bistro
---

---