Jan 17, 2018 Cafes
District 5
28 Shortland St, central city
There are often queues of office workers up Shortland St waiting for takeaways or a table here, but the short menu of easy-to-assemble dishes means you'll never be waiting long. The food from this offshoot of Cafe Viet (2 Surrey Cres) veers from traditional cafe fare, in that it's all Vietnamese street food, but the báhn mí, pho, and glass noodle salads are so alive with heat and herbs that you won't miss the eggs. A nicer option than sitting on the white picnic chairs inside is getting lunch to go and nabbing a sunny spot in nearby Albert Park. (NB: Open Mon-Fri from 7am for coffee and 10.30am for food. Closed weekends.)
Must try—Tofu and shitake mushroom báhn mí.
Good for—An alfresco lunch.
Federal Delicatessen
86 Federal St, central city
The perky service at this New York-inspired deli belies its round-the-clock busyness. No request is too large for the diner-uniformed waitstaff: extra-crispy chips for that poutine, "no problem"; double skin on your chicken salad sandwich, "I'll get chef to sneak some in for you". The room is gimmicky, sure, and the menu doesn't change often, but why fix what ain't broke? Don't forget to save room for pie, or pickled pork, or both.
Must try—Chicken salad sandwich with chicken skin cracklin's, berg and dipping gravy.
Good for—A family brunch.
?Havana or Coffee Supreme
The Lunchroom
Level 1, 45 Queen St, central city
Not your average Gloria Jeans-esque office tower-cafe, The Lunchroom is airy, big-windowed and damn slick. Chef/owner JJ Holland presents daring cafe food with chefy touches. He tosses mushrooms with porcini cream, serves wagyu bavette alongside the silkiest organic chicken liver pâté, and prawns are cooked just-so. Other details that make this inner-city cafe special? The option to have your iced coffee served over crushed or cubed ice, and a neatly priced wine list. Bookings are available online, and recommended. Closed weekends.
Must try—Any of the seasonal salads.
?Best inner-city cafe
?Kokako Coffee
Major Sprout
21 Graham St, central city
The only complaint our judge had about this inner-city gem was too much salmon on their breakfast, and, when so often we were served diddly portions and thimble-sized drinks, it was hardly a complaint at all. With fresh, seasonal and thoughtful food and service to match, Major Sprout is another winner by cafe master David Lee. You will leave here feeling spoilt and full and wondering how soon is too soon to return.
Must try—Omelette with pancetta and roasted vine tomatoes.
Good for—Breakfast before work.
?Flight coffee


Pt Chevalier
The Pt Chev Beach Cafe
506 Pt Chevalier Rd, Pt Chevalier
Rejoice, there's now an excellent cafe within walking distance of Pt Chev Beach (the Coyle Park end). Helmed by Karim Rostami and Andrew Robertson, formerly of Grey Lynn's Delicious, the execution is crowd-pleasing and suitably beachy, featuring a courtyard with a Kapiti ice-cream kiosk. Coffee is roasted in-house, and an evening dinner service is coming soon.
Must try—Warm ricotta doughnuts with pumpkin caramel, mandarin, toasted pepitas and nutmeg milk foam.
Good for—A walk on the beach.
?Bean Belt coffee roasted in-house
Misters
12 Wyndham St, central city
The team at Misters have perfected the concept of healthy eating without compromising on flavour. The morning crowd streams in for granola, acai bowls, smoothies, French toast, omelettes and Misters benedicts, but for lunch it's all about the bowls — choose from a Danish, Moroccan, Thai, Mexican or Vietnamese base with a variety of topping options from slow-cooked brisket to pulled jackfruit. The menu is free of gluten and dairy, but certainly not taste.
Must try—Danish Bowl.
Good for—A healthy bite
Odettes
City Works Depot, 90 Wellesley St central city
Whatever the season, on a sunny morning, with light streaming in the floor-to-ceiling windows and a double-shot steaming in a glass, there are few places in the city we'd rather be. Nabbing a prime banquette table at this ever-popular City Works Depot spot is just the start; all the elements — the smoothly unobtrusive service, the consistency and inventiveness of the food, even the turquoise colour scheme — come together as a single, deeply pleasing experience.
Must try—Vanilla crêpe with caramelised apple and rum Anglaise.
Good for—Weekday coffee catch-ups and leisurely weekend lunches.
Ortolana
33 Tyler St, Britomart
Ortolana is all about provenance, which shows on its locally sourced menu. To celebrate the signing of a new five-year lease at Britomart, group executive chef Jo Pearson — the driving force behind Ortolana and Hipgroup's food vision and creation — has created a new spring menu featuring classics such as ricotta-stuffed zucchini flowers and paccheri, lamb and eggplant ragu. However, all-time favourites of crema fritta, piadina, organic chicken cotoletta and fazzoletti are still available.
Must try—Pane fritto.
Good for—Garden to table.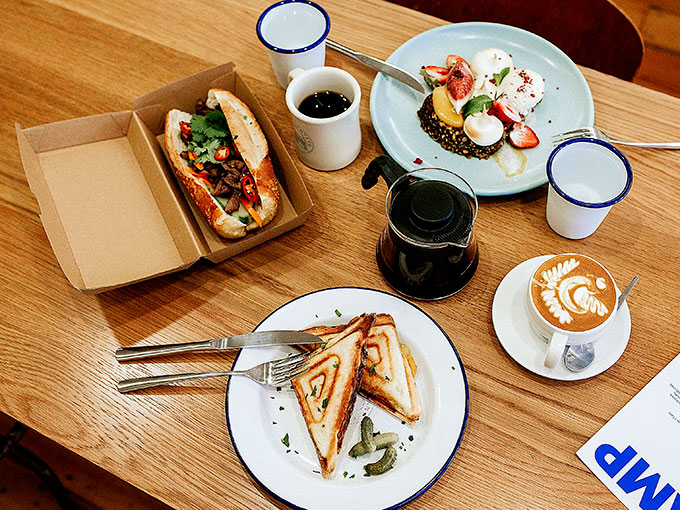 Top 50 cafes by suburb
Avondale
Rosebank coffee & Kitchen
1/2 Jormac Rd, Avondale
Its minimal design and large windows, together with its scrupulous cleanliness and tidiness, give Rosebank a Zen-like atmosphere. (Whoever cleans the windows does a hell of a job!) The menu features premium ingredients such as Ora King salmon and Te Mana lamb, served with restaurant-level execution from head chef Johannes Carroux. The prices might make your nose bleed — but know that everything we've tried here has been truly delicious.
Must try—Save room for the dangerously good S'Mores tart from the cabinet.
?Best western cafe
?Atomic Coffee
Woodworks
1790 Great North Rd, Avondale
It was a hell of a year for the owners of Woodworks, who — only eight months after opening — were forced to rebuild after fire ripped through the building. Locals flocked upon reopening, and the place has been full ever since. Homemade waffles are a specialty, topped with seasonal fruit and Kohu Road yoghurt ice cream, but we also love the simplicity of dishes like freshly baked croissants filled with ham and cheese, and that old millennial favourite — smashed avocado on toast. (NB: Woodworks had sold to new owners at time of printing.)
Must try—Shakshuka.
Good for—Breakfast after the Avondale Sunday Markets.
?Coffee Supreme
*Ownership of Woodworks has changed since the time of judging
READ MORE: Auckland's best vegetarian-friendly cafes
The top 50 cafes by suburb
K'Rd Precinct
Bestie
St Kevins Arcade, 183 Karangahape Rd, K' Rd Precinct
With the sun on your brow, expertly made coffee in hand, and a dreamy view over Myers Park, why would you want to wake up anywhere else? A year in and it can be difficult to get a weekend seat at Emma Lyell and Tane Williams' Bestie — a testament to their skill as cafe-teurs. Order à la carte, but be sure to follow lunch with a piece of indulgent baking; we recommend a giant slice of cake or a devilishly gooey chocolate brownie (with cream).
Must try—Towpath cheese toastie with a chilli fried egg.
Good for—A first date.
?eighthirty coffee
Grafton
Welcome Eatery
181 Grafton Rd, Grafton
On a particularly cold morning, one of our judges arrived embarrassingly early at Welcome but instead of being made to wait outside, was ushered inside to have a seat. And that's the thing about this Grafton eatery: it's just so inviting. Cleverly textural Richard Naylor ceramics are the canvas for exciting breakfast fare including the ever-popular buttermilk wholemeal waffles with smoked salmon. At lunchtime, choose from the likes of a chicken katsu sandwich (on sinfully delicious white sliced bread) or an ever-changing fish dish, with the line-caught catch of the day.
Must try—Buttermilk wholemeal waffles with smoked salmon.
Good for—A meeting.
Coffee Supreme
This was published in the November- December 2017 issue of Metro.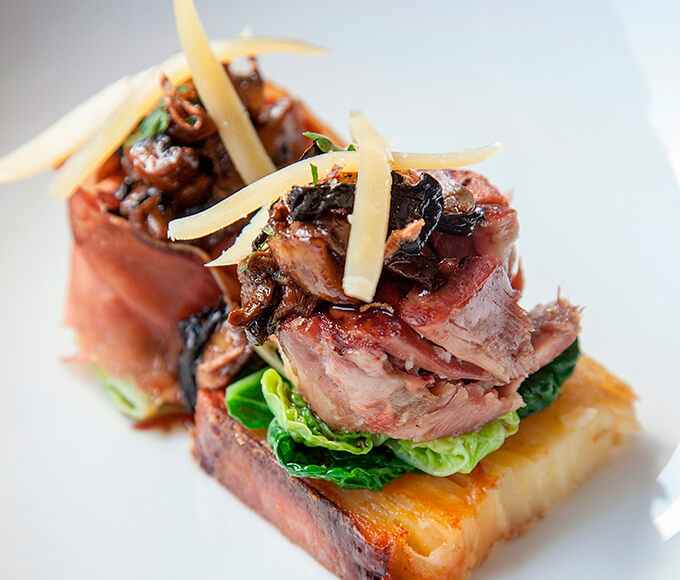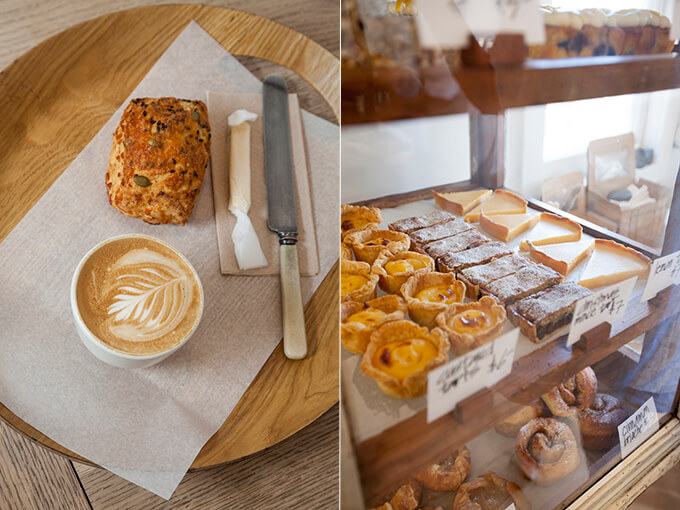 Ponsonby
Bambina
268 Ponsonby Rd, Ponsonby
Is there a more inviting communal table in town than Bambina's big square beast, with a happy mess of magazines and papers and fresh fruit at its heart? Like everything here — the number of staff on the floor and at the counter, the Sicilian sea salt on the tables, the sweet little ceramic containers holding cutlery and napkins — it's just right. There's perfectly good counter food, of course, but ordering off the menu brings its own surprises and rewards, such as a generous bowl of pasta with nubs of fried Italian sausage beautifully offset by chilli, cress, olives and bitey cheese.
Must try—Pasta with Italian sausage, chilli and cress.
Good for—Holding court at the communal table.
?Allpress coffee
Dizengoff
256 Ponsonby Rd, Ponsonby
Take a table near the counter and you're likely to hear a succession of regulars request "the usual" — testament to the quality of what's been on offer here since 1994. Dizengoff is sleek and minimalist, with a second, smaller room upstairs, and while you might spot a newly minted Green MP at one table and a fashion darling at another, it somehow never feels too cool for school. It's not necessarily the best-value cafe on the list, but always popular and invariably pleasant. The Jewish-influenced menu features the likes of pastrami, salmon and chopped liver; check out the counter for lighter options. Sold recently, Dizengoff was Top 50-worthy at the time of judging.
Must try—The Israel plate: chopped-liver pâté, hummus and labaneh cheese topped with a Sephardic egg.
Good for—Seeing and being seen.
?Allpress coffee
Little Bird Unbakery
1A Summer St, Ponsonby
Megan May and Jeremy Bennett are the Real Slim Shadies of Auckland's raw food scene; all imitators need to sit down. At their flagship cafe in Ponsonby, hearty vegan lunches of kimchi burgers, raw taco plates and mushroom-walnut burgers work harder than their meat-based cousins to tantalise the palate, representing a revelation in healthy, environmentally friendly eating. An extensive range of cold-pressed juices and medicinal-sounding teas round off the smug feeling.
Must try—Kimchi and chickpea burger with kale chips on a lettuce "bun", with tomato, avocado, shaved onion, sweet chilli and smoked "cheddar".
?Best vegetarian.
?Kokako coffee
For more vegetarian and vegetarian-friendly cafes, see our list of vegetarian-friendly cafes.
Orphans Kitchen
118 Ponsonby Rd, Ponsonby
The sense of conviviality at Orphans Kitchen begins in the tiny, discombobulated kitchen and spreads throughout the rustic, macrocarpa-tabled dining room and exposed back courtyard. Don't be intimidated by the staff's too-cool fashion sense — they are helpful and happy to stop by for a chat, and will often take a seat alongside you. Head chef Tom Hishon's menu champions the ethical, the small and the interesting, with dishes to suit all diets, from a healthy broccoli and date salad with halloumi to the hearty wagyu brisket, reuben sandwiches, or Southland cheese rolls. Long communal tables encourage random conversations with strangers, and kids and dogs are welcome.
Must try—Wagyu brisket, kumara, pickled cabbage and watercress.
?Best service
?Coffee Supreme and a rotating cast of single-origin filter brews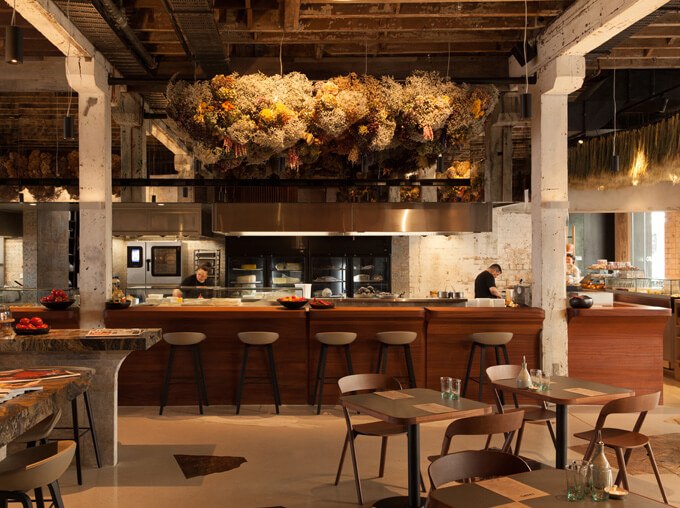 Mt Eden
Olaf's Artisan Bakery Cafe
1 Stokes Rd, Mt Eden
Olaf's is always buzzing at weekends, and it's easy to see why: all those substantial, excellent European breads, a come-hither counter heaving with cakes, pastries and sandwiches, and a menu that reads like an invitation to gluttony. We can only suggest that you submit first to something off the menu, such as creamy truffle-infused mushrooms on rye, then enjoy a fresh fruit-topped tart from the counter, and finally, grab a loaf of Olaf's outstanding sourdough to take home with you. Next stop: a long lie-down.
Must try—Pulled lamb shoulder sandwich.
Good for—Weekend brunch and stockpiling bread.
?Coffee Supreme
The Return of Rad
397 Mt Eden Rd, Mt Eden
This trendy neighbourhood place was one of the first cafes to jump on the pan-industrial fit-out trend, but the exposed-brick walls and wooden floors have aged gracefully. The staff and owner Duke Tran also seem as fresh as ever; if you look as though you've been waiting too long, someone is sure to bound up with unbeatable enthusiasm to help. Rocket espresso coffee is made to exacting standards and the food remains interesting, loaded with Vietnamese flair.
Must try—Grandma's pork banh mi.
Good for—A get-together in a friendly setting.
?Rocket Coffee
Central City
Amano
66-88 Tyler St, Britomart
Each time we visit Amano we are seduced all over again, first by the fit-out, then by the food. A deserving newcomer to this year's list, it's damn near impossible not to be dazzled by the loveliness of the cavernous room, with its gleaming mother-of-pearl, marble and limestone surfaces, its exposed beams and froths of flowers. And the food? Hipgroup's flash flagship serves rustic, Italian-inspired fare; breakfast is a blessedly bene-free zone, with choices such as salt cod frittata, complemented by fresh-as pastries from the on-site bakery. Lunch is next-level again (start by sharing the smoked trevally pâté, best devoured slathered on slabs of sourdough) and if you can tease it out long enough, why not stay for dinner?
Must try—Crayfish tortellini.
Good for—Seafood to share.
?Allpress coffee
Best Ugly Bagels
City Works Depot, 90 Wellesley St West, central city (also at 3A York St, Newmarket)
Like Limp Bizkit, the bagel makers here keep rollin', rollin', rollin', rollin' — and the theatre of it all, plus the crafty, seasonal toppings, mean we find it very difficult to resist Al Brown's Montreal-style bagel house. A few things never change, like the meaty, melty, Yodi bagel — all soft pastrami and sour pickle with perfectly hot mustard — and the tuna melt, which is so deliciously retro. You'll forgive the shouty service for one of the best iced coffees in town, sweetened with Canadian maple syrup.
Must try—Yodi bagel with pastrami, swiss cheese, mustard and pickles.
Good for—Breakfast on the run.
?Havana Coffee
Buoy
141-151 Westhaven Drive, Westhaven
On Westhaven Marina at the end of the Westhaven promenade, a suitably nautical site, Buoy — established in January last year — has quickly become a popular meeting place. Ginette Auld (ex-Salta and Dizengoff) saw the unrealised potential in this long-time cafe and early this year chef Ben Macdonald came on board as a business partner. A finalist in MasterChef Australia 2014, he has refined the summer menu so regulars and others are in for a treat. Unsurprisingly, though, the beer-battered fish and chips remain a firm favourite. The outside seating area (catering for up to 50), where you can sip a chilled rosé beside the moored yachts, will come into its own on Friday, Saturday and Sunday nights during summer. Buoy's licence is operative from 10am so you can contemplate a "Bloody Marina" alongside your brunch.
Must try—It's a toss-up between raw fish salad or kumara sourdough toast topped with avocado, feta, seeded pesto and dukkah.
Good for—A visit to the America's Cup at the nearby Royal New Zealand Yacht Squadron.
?Underground coffee
Chuffed
43 High St, central city
Tucked away at the end of a nondescript corridor, Chuffed is a sweet surprise, an all-round-inviting space with a few tables up front next to the counter and barista, and a narrow balcony out back. On sunny days, the balcony roof slides back to reveal office towers, cute murals, and a square of sky; inside, it's all white and navy with sheepskin-covered stools, cheerful, bearded waiters and a busy-happy vibe. Menu items include a smoked-mushroom medley and crumpets with lime-gin-and-juniper-cured salmon, but there's all kinds of goodness in the cabinet, too: the poached chicken on sourdough is one of our favourites.
Must try—A cut-above sandwich from the cabinet.
Good for—Sunbathing on the balcony.
?Chuffed blend coffee
Newmarket
Billy
79 Carlton Gore Rd, Newmarket
Glass-fronted with outdoor bench seating, Billy sports the same red, cream and black livery as the Supreme coffee it serves, an aesthetic that typically (in this case correctly) signals posh sandwiches and simple coffee. Billy's point of difference is a charming Domain-side location and owner Jenny Hong's well-travelled menu, with New York-style bagels and corn dogs listed next to hash-brown sandwiches, Thai noodles and kimchi nachos. Even better, there's a short beer and wine list.
Must try—Rice noodle salad with lemongrass chicken, green salad, pickled daikon and crispy shallots.
Good for—A walk in the park.
?Coffee Supreme
23-27 Nuffield St, Newmarket
What with the single-malt whisky porridge on the breakfast menu, table service and the absence of counter food, it's clear Cali is one for the grownups. An all-day affair in a cavernous space, on weekdays solo laptoppers dominate the tall communal tables facing Nuffield St, while couples soak up the sun in an enclosed balcony overlooking a graffiti-scarred lane. Tacos, quesadillas and burgers take centre stage at lunchtime but be sure to scrutinise the specials — our pappardelle surprised with swathes of slow-cooked lamb tucked under the al dente pasta, and came topped with tangy slivers of yellow, orange and red carrot.
Must try—Seared-tuna tacos with habanero mayo and avocado.
Good for—Eating out with adults.
?Coffee Supreme
View menu and reserve table here?
Champ Canteen
17A Remuera Rd, Newmarket
Something of an oasis in a busy precinct — look for the deep-blue exterior — two 10-seater communal tables make this an ideal weekend chill spot, whether you're flying solo or with mates. Breakfast and lunch, served all day, feature a diverse range of dishes — enough to satisfy both the virtuous vegan (muesli of granola, poached pears, berries, coconut yoghurt) and the seriously hung over (grilled pork chop with fried egg). A separate short menu of toastie options is, for reasons unknown, available only until 11.30am. Sold recently, Champ was Top 50-worthy at the time of judging.
Must try—Spaghetti & Pokeno Toulouse sausage toastie.
Good for—Cooling your heels during a shopping binge.
?Rocket Coffee
L'Atelier Du Fromage
5 McColl St, Newmarket
We love this place for the slightly daggy décor alone, its dark wood and shelves stuffed with imported deli items providing a characterful counterpoint to the white tiles and bare walls now so ubiquitous in Auckland's cafes. But it's lunch we keep coming back for: the array of quality French cheeses, charcuterie, quiches, croques and sandwiches, cakes, pastries and tarts tartin takes cabinet food to a whole new level of mouth-watering (there's also a menu). It all tastes like the antithesis of mass-produced, and the service is friendly and efficient. Adjourn upstairs to the wine room for long enough, and squint your Francophile eyes, and you might even forget you're in a side street off Khyber Pass Rd and not a rustic French village.
Must try—Anything from the cabinet.
Good for—A jaunt to France sans jetlag.
North Shore
Black and Gold Eatery
1/33 Triton Drive, Rosedale
Not all cafes can get away with cranking Britney Spears and All Saints at 10am on a Sunday — and we aren't really condoning it here — but you will likely overlook the dodgy soundtrack for the silky smooth coffee made by barista champ David Huang. It might be packed inside on a rainy weekend with queues out the door, but staff will still treat you as though they have all the time in the world, even if all you order is a hot drink and a slice of very delicious walnut and banana loaf.
Must try—Madame D'Or: brioche toasted sandwich with bacon, cheese and 60-degree egg.
Good for—A suburban adventure.
?Coffee Supreme and a rotating cast of guest roasts
Glasshouse
7/3 Akoranga Drive, Northcote
Appropriately, as part of Northcote's NorthMed complex, Glasshouse produces food that has a healthy slant, and the room — high studded and sunny — is just the place to recuperate mentally. To eat here isn't to be surprised, but to feel a wash of comfort as cafe favourites arrive beautifully presented, and then to leave without baulking at the bill.
Must try—Mixed sliders with kumara chips.
Good for—Brunch with grandma.
?Green 2b coffee
Scout
967 Beach Rd, Torbay
Named after the Sea Scout centre down the road in Torbay, Roger Liu's establishment, which opened in January, exudes the owner's personal enthusiasm for food and life. The fit-out is well considered and clearly benefits from Liu's experience in other cafes including Hello Friends + Allies in Epsom. Breakfast is on offer all day. (Tip: the French toast trio, comprising strawberry, cookies, peaches and cream, is irresistible.) Lunch favourites include the crispy fried chicken and savoury profiteroles. Summer will see a fresh board of juice, chia whipped coconut pudding, smashed edamame bruschetta, poached egg and salmon. And for those who prefer their coffee cold, there is nitro cold brew on tap.
Must try—A toss-up between the crispy fried chicken and the triple-cooked chips.
?Best northern cafe
?Kokako coffee
Takapuna Beach Cafe
22 The Promenade, Takapuna
As good as it's ever been and still the best cafe in Takapuna, we love lunching beach-side here. Recently, American-style pancakes came with apple compote, mascarpone and rose-water syrup, and eggs were paired with the likes of Jerusalem artichoke or mushrooms. But soon the menu will change — as it always does at Hipgroup outfits — to reflect the newly abundant produce (and ice-cream cravings) that the sun brings.
Must try—Hand-cut pasta with scampi, tomato, chilli and pangritata.
Good for—An ice-cream and a coffee.
?Allpress Coffee
Flat Bush
Water Drop Vegetarian Café
Fo Guang Shan Temple, 16 Stancombe Rd, Flat Bush
Lunch at the Water Drop is the perfect conclusion to a visit to this Buddhist temple in Flat Bush. As befits the tenets of Buddhism, the menu is vegetarian but can also be adjusted to suit vegans. To get in sync, go for a bowl of pickled vegetables, served on rice. This was the food the founder of the Fo Guang Shan Temple was sent by his venerable teacher when he was gravely ill. He survived, and dedicated his life to Buddhism. Otherwise choose the Goodwish Rice with seasonal vegetables, or Lohan Delight, also served with seasonal fresh vegetables. However, if you are more inclined towards a snack, try the beancurd sticks, siu mai or sota rolls — deep-fried toasted bread with soy and cheese fillings. (NB: opens 10am-4pm, and closed Mondays.)
Must try—A bowl of pickled vegetables.
?Best southern cafe
?John Burton coffee
For more vegetarian and vegetarian-friendly cafes, see our list of vegetarian-friendly cafes.
Waiheke
The Annex
10 Putiki Rd, Ostend
Cafe, yes — arguably the best one on the island — but The Annex is also a home for local artisans, which means you might struggle to leave this cosy, renovated 1920s cottage without purchasing a chunky knit, or a flower crown (the only accessory a Waiheke weekender needs). It's cabinet food only here, but don't let that deter you — giant scones, cheese toasties and savoury galettes all make for great walk-and-eat meals, or dine-in afternoon snacks. Loose-leaf tea is served in a glass chemex, which makes drinking it feel especially ritualistic. Owner Jane Burn also co-owns Island Coffee, so you can be pretty sure of a good brew.
Must try—When in season, the peach melba tart. When not, cheese straws.
?Best destination cafe
?Island Coffee
The best cafes in Auckland
A swarm of new entrants elbow their way onto Metro's Top 50 Cafes 2018 list of outstanding places for coffee and so much more.
For a more recent list, see Metro's best cafes in Auckland 2019.
Sometimes, a good cafe isn't a cafe at all, it's a feeling: as you sit at a window while the sun wakes with you, a warm — but not over-familiar — waiter offers you a coffee. If you've been here before, they might have remembered your usual, but will check to make sure. A clean menu arrives along with your drink of choice. It reads as an expression of the seasons, is expertly balanced, and deeply considered. Then you order what you always do, and the waiter simply gives a knowing smile.
Time at a good cafe could be measured by the gentle wake-up ding of the bell on the pass and the turning of pages in the Sunday paper, or by the bustle of customers in and out of the door, and the get-down beat of chart-toppers. But one thing is for certain: you'll always be left wondering how soon is too soon to return.
With all the new cafe openings this year, our Top 50 Cafes judges faced an especially daunting task: the initial longlist was more than double that of 2016. Of all the new cafes on the longlist, about half made the final cut, which gives you an idea of scale. Twenty of the cafes on the final list are either new openings or new listings.
Read more: Auckland's best bars | Auckland's best restaurants | Auckland's best cheap eats
All of this meant the judges had a lot to discuss (and to eat). With the line between cafes and restaurants increasingly blurred, and the rise in the number of places open for breakfast, lunch and dinner, we debated the parameters of what made a cafe a cafe, agreeing that it must serve coffee, offer somewhere to sit down, and be open for breakfast or brunch, not just lunch. When it came to the cafes themselves, we conferred on quality of food and service, fit-out and vibe. Some cafes are serving excellent food but falling down on service; others look the part but the kitchen doesn't deliver on its promise. For the cafes that made it onto the shortlist, the question simply became: How much do we want to return?
With all the new openings come new awards: this year, we've given a nod to cafes embracing Auckland's burgeoning bike culture with an award for bike-friendly eateries. We've recognised ethical practices and we've made awards by area — city, north, south, east and west. Once again we've chosen a Top 10 from the list of 50 but this time we've done away with the Best Cafe award. Why? Because all of the cafes in the Top 10 are so good, it's frankly impossible to choose between them.
READ MORE: Auckland's best vegan-friendly cafes
The novelty of the new hasn't caused us to forget the old, however, with Top 50 perennials Bambina and the recently sold but still great Dizengoff both making the list once more. For the second consecutive year — and in some cases longer — Odettes, Orphans Kitchen, Fed Deli and The Lunchroom are in the Top 10, a testament to their unwavering consistency, exemplary standard of service and the way they individually stand out from the pack. Meanwhile, a round of applause for four cafes that are not only new to the Top 50 this year but also have claimed Top 10 spots: Amano, Honey Bones, Scout and Small Fry.
Two established Asian-inspired eateries, District 5 and Water Drop Vegetarian Cafe, have made the list for the first time this year, while Top 50 stalwart Little & Friday has missed out (though the judges are unanimous in giving its glorious doughnuts and cakes a shout-out). Only one cafe on Waiheke made the cut — The Annex, owner Jane Burn's bach-chic new opening, sets a welcome new benchmark for the island.
There were many good — even great — things to admire about the cafes we visited, but some surprised us. Why do some of the best continue to use big-brand coffee when there are so many good small-scale roasters to champion? How can anyone justify charging $9.50 for an orange juice? (Short answer: they can't.) And why, when still water was once the only option, are we now being served sparkling water as a matter of course? Can we please be given a choice? More importantly, how is it that service can be so inconsistent across the board? We encountered both highly competent and spectacularly uninterested waiters during this year's judging.
READ MORE: A cracking ingredient – 3 great recipes with eggs
Gadgety coffee roasteries like eighthirty's new Anzac Ave digs and Kokako's Mt Eden space and continued focus on provenance and seasonality — in both coffee and food — were among the notable trends of the year. The rise in filter coffee's popularity continued, as did the use of alternative milks. We've seen more baristas focusing on water quality.
With so many cafes awash with Edison bulbs, bespoke ceramics, white tiles, smoothie bowls and 62-degree eggs, we salute those newbies who have forged their own distinct identities this year as well as the established characters who continue to go their own way: places like L'Atelier du Fromage, who bucked the trends in favour of what they've always done — served fantastic food and great coffee — and kept us coming back for more.
Kate Richards with Alice Harbourne, William Chen, Alexia Santamaria, Anna King Shahab and Susannah Walker
Grey Lynn
Honey Bones
480 Richmond Rd, Grey Lynn
We didn't lament the loss of toast-and-toppings cafe Were Bros for long, because up popped this delight in its place, conceived by ex-Crumb owner Hugo Baird. The small corner space is maximised with a stark but ergonomic fit-out, all oak, steel, and comfy leather stools. Any intimidation at the hipness of it dissolves quickly thanks to very friendly service. Ex-Odettes chef Reginaldo Richard's brunch menu is sprinkled with intriguing elements such as herb-rolled eggs, roasted grapes and crisp sage, plated on tactile tableware by Frolic Ceramics.
Must try—Smoked sardines, whipped Manchego, radish, orange coriander, sourdough.
Good for—A substantial brunch.
?Best new opening
?Coffee Supreme
Kokako
537 Great North Rd, Grey Lynn
Kokako's keys were handed from one longstanding cafe owner, Mike Murphy, to another, Troy Mentor (ex-Dizengoff), this year so Murphy could focus on commercial coffee production from Kokako's newly renovated space in Mt Eden. Thankfully for us — and Murphy — the cafe has been left in safe hands and still thrums all week long. Tireless commitment to ethically sourced coffee is still at the forefront of the operation. This, plus head chef Plabita Florence's ultra-seasonal, hyper-local menu, makes Kokako a very happy place to be.
Must try—Agria potato hash, soft poached egg, kale, romesco, cashew aioli and mushrooms.
?Commitment to ethical practice
?Kokako coffee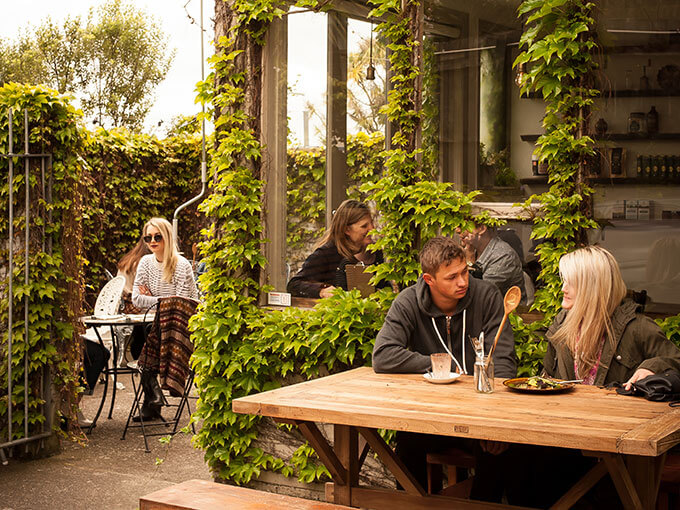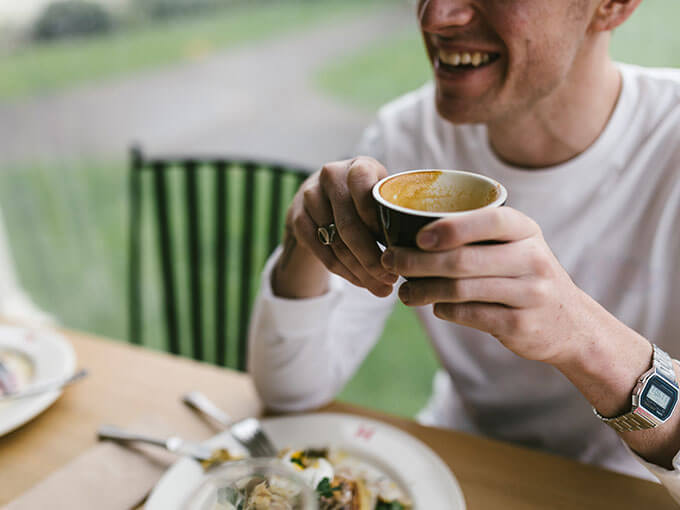 Pakuranga
Small Fry at Te Tuhi
13 Reeves Rd, Pakuranga
Ruby White (aka Miss Changy) combines a love of art with a love of food at this newly renovated gallery cafe. Handmade wood panels line the front counter and White's handmade, slip-cast ceramics (available to purchase online) perch artfully on bespoke shelves. Sourdough sandwiches arrive creatively and generously filled, and Kuching-style Sarawak laksa — a dish from White's mum's hometown — is a specialty of the house. Right now, the metalwork of Yona Lee's In Transit (Arrival) exhibition dances overhead — it will be gone come November 19, so get in quick. (NB: Cabinet food only on Mondays. See website for opening hours.)
Must try—Miss Changy Sarawak laksa.
?Best eastern cafe
?Peoples coffee
Kingsland
Mondays
503B New North Rd, Kingsland
The floor staff at Mondays wholefoods cafe almost seem to walk on air, and, after a nourishing (and guilt-free) breakfast amongst the foliage, you might too. Forget bacon butties — the menu here runs the gamut from warm banana bread with coconut butter and homemade nutella to quinoa breakfast pilaf with turmeric hollandaise. Supreme Boxer blend coffee sits proudly alongside a range of caffeine-free latte-alternatives, and the thick, fruit-filled, super-food smoothies are next-level.
Must try—Zen bowl with buckwheat noodles, sprouts and vegan miso.
Good for—Breakfast before yoga.
?Coffee Supreme


Parnell
Rosie
82 Gladstone Rd, Parnell
We love that at Rosie, even if you're just popping in for takeaway coffees, the friendly staff invite you to take a seat before bringing a glass of water to your table. There's a comforting warmth in both the service and the fare, with the kitchen going to great lengths to source local, seasonal ingredients, something no Hipgroup outfit compromises on. Diners are rewarded for the chef's efforts with hard-to-find items such as piper, ox tongue and truffle. Everything is treated with such care by Mike de Vries and his kitchen team that each dish here has its own distinct personality.
Must try—Lamb shoulder, lentil ragout, turnip and hung yoghurt.
Good for—When you wish that fab dinner dish was available at lunch, because here it often is.
?Allpress Coffee
Simon & Lee
115 St Georges Bay Rd, Parnell
In an old carpet factory on St Georges Bay Rd, in the heart of Parnell's rebirth, this light-filled cafe with blue and red accents has been humming since it opened mere months ago. Oliver Simon and David Lee offer a fresh perspective on ho-hum cafe fare with the likes of Korean fried chicken (yes, for breakfast), mahn du guk (prawn dumplings served in bone broth), and bibimbap. The latter is worth a special mention: the crunchy, julienne strips of veg and runny egg yolk, when mixed into fluffy rice, are comfort food at its best. Scrape the bottom of your heated earthenware bowl for those last crispy shards of vegetables and rice.
Must try—Dolsot bibimbap with bulgogi mince.
Good for—An international breakfast.
?Coffee Supreme and Flight Coffee
Winona Forever
100 Parnell Rd, Parnell
Queuing for brunch is one international cafe trend Auckland has been mercifully immune to. That was until Francesca Mazza and Aaron Carson (previously of Little Sister and Hello Friends + Allies) opened Instafamous Winona Forever. Their formula for popularity consists of elaborately constructed, rainbow-coloured dishes, gargantuan home baking, and quirky, signature plates — from The Ladyboy prawn benedict to indulgent French toast/Eton Mess mash-up Eton Rifle. Crucially, the food tastes as good as it looks, and the service is as efficient as the queues require it to be.
Must try—Summer mushroom medley in a light organic cream and herb sauce in a crêpe with toasted pine nuts and green salad.
Good for—The Instagram opportunity; stay for the lamingtons.
?Coffee Supreme
Hillsborough
Homestead
72 Hillsborough Rd, Hillsborough
Lunching on the veranda at Homestead offers an oasis-in-the-city moment, surrounded by the lofty trees of Monte Cecilia Park, with views of One Tree Hill. Chef Sam Mannering's menu is full of seasonal touches — such as brussels sprouts with mushrooms in winter — and we love that their homemade crumpets remain a mainstay, with toppings savoury and sweet; don't miss the smoked-fish number. Closed Mondays.
Must try—The perfectly slow-cooked, crisp-skinned pork belly with parsnip purée.
Good for—A show-off lunch with an out-of-town friend.
?Flight Coffee
Eastern Suburbs
Orakei Bay Village, 228 Orakei Rd, Orakei
Mikey Newlands of Bracu fame helms the kitchen at this industrial all-dayer, while his wife and super sommelier, Amanda Rogers, runs the floor. With help from Espresso Workshop, which uses part of the restaurant as a roastery, the team commands this often-heaving space, offering service that is efficient but never curt. Predictably, the food is good, if a little crowd-pleasing (a reflection of their Orakei location, perhaps). We do, however, love the breakfast ramen in the morning and the terrine in the early afternoon.
Must try—Devilled lambs' kidneys with mushrooms, bacon and apple
Good for—Eastside people-watching with water views.
?Espresso Workshop
View menu and reserve table here?
Good Day
3/78 Coates Ave, Orakei
The friendliness of Dan Shaw and Jacqui Crichton makes this cafe a bit like Cheers, "where everybody knows your name". Their fresh-food offerings include the Good Day stack (grilled halloumi, organic smoked bacon, avocado spread and baby spinach); smashed pea on five grain; and sardines on toast (in which the sardines are served in the tin but come with tomato, spring onion and house-grown sprouts). There's great coffee, too, no doubt a result of their long stint at Dizengoff in Ponsonby.
Must try—Good Day stack.
Good for—A coffee, a chat and a stack.
?Coffee Supreme
Porch Bar & Eatery
1 St Heliers Bay Rd, St Heliers
With its stunning location on the corner of Tamaki Drive and St Heliers Bay Rd, it was little wonder that new owner Adnan Mutlu-Ross could not resist unlocking the full potential of this property. He has crafted an international menu that offers breakfast (do not overlook the "world's best breakfast shakshuka"), lunch and dinner. Also popular are spiced pulled-pork tacos, signature market fish, chicken larb lettuce cups and chicken and prawn dumplings. Come summer, coffee and organic "grab and go" food will be available from the side nook.
Must try—Shakshuka baked eggs with spicy hot accompaniments.
Good for—Seaside brunching.
True Food & Yoga [this cafe is now closed]
19 Tamaki Drive, Orakei
Co-owner Nic Watt's knack for balance means the menu at this cafe/yoga studio is as light as it is indulgent. Especially good are the mermaid salad with spanner crab, lemon and kelp noodles, and the wagyu cheese burger, which you're probably better off eating after your workout than before it. There are all the drinks you need to live your best #fitspo life including turmeric lattes and kombucha on tap, plus coffee and wine if you need them.
Must try—Squidalicious (chargrilled squid with preserved lemon, chilli gremolata and toasted garlic panko).
?Most cycle-friendly cafe
?Allpress coffee
To read Metro's 2018 – 2019 Top 50 cafes list, click here. For a round-up of the 2018 – 2019 top 10, click here.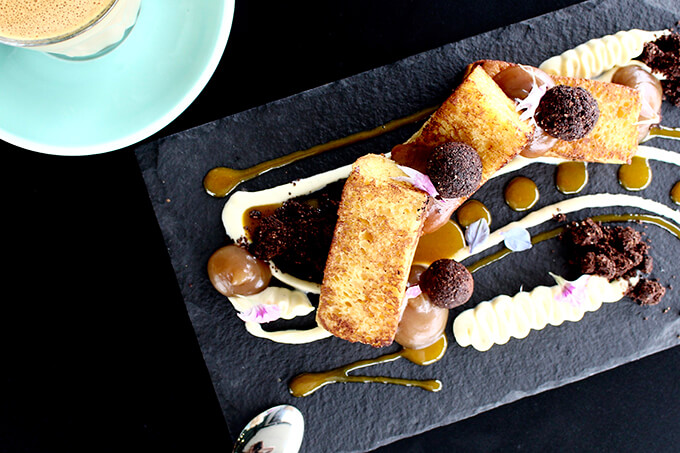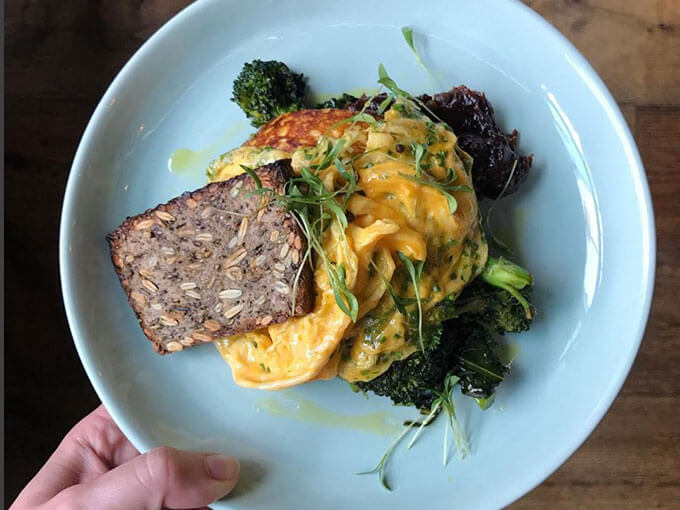 New Windsor
Hare and the Turtle
1/63 New Windsor Rd, New Windsor
This neighbourhood eatery (which used to be Sweetie Cafe) is staffed by Best Ugly Bagels alumni, and they know baking. An eight-item sandwich menu sounds deceptively simple, but the devil's in the detail, as they say — beef cheeks for the Daisy sarnie are slow-cooked for 20 hours with juniper, onion and butter; cheese is smoked down the road by a secret friend; the mirepoix of vegetables in the Smokey Joe remoulade is exactingly hand-diced; and the giant, $5 cinnamon buns are made to a Cinnabon recipe found on Google and refined by Best Ugly Bagels' head baker. Supreme boxer blend coffee completes the offering.
Must try—Baloney sandwich.
Good for—A suburban bite.
?Coffee Supreme
Westmere
Catroux
129 West End Rd, Westmere
A perennial Top 50 favourite, this Westmere gem represents the best of neighbourhood eating. Its bright white interior invites eyes to a display of mountainous, colour-saturated seasonal salads and outstanding in-house baking. Owner Adele Jenner, a chef with experience in London and on super yachts, brings class to the proceedings: in summer, the porridge is scented with saffron and orange blossom, and their scrambled eggs are enriched with gruyère and truffle oil.
Must try—Seasonal porridge, with toppings such as mulled-wine-poached tamarillos, boysenberry and runny cream.
Good for—Original and abundant cabinet food.
?eighthirty coffee
Seabreeze
184 Garnet Rd, Westmere
Owner Brodie McDonald started his hospo career at Meola Kitchen, the cafe that used to sit in this water-view spot. After nearly five years there, he left to open Johnny Feedback and later Running Horse, before returning to his roots in Westmere last year. Everything at Seabreeze is a culmination of McDonald's industry learning, with familiar and unusual menu items dancing in harmony, and you never get the feeling his chef is trying too hard. Do not miss the poached bharta eggs with aubergine purée, whipped yoghurt and chilli-buttered toast.
Must try—Bharta eggs.
Good for—A pre- or post-Weona-Westmere coastal walkway pit-stop.
?Coffee Supreme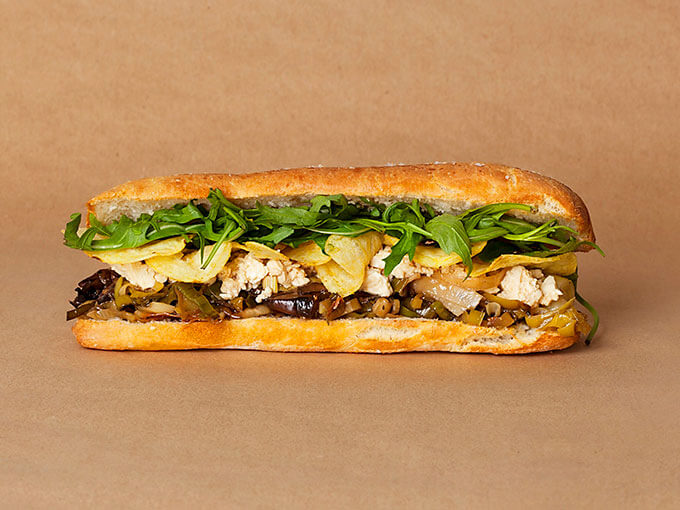 Balmoral
Florette
297 Dominion Rd, Balmoral
Small and humble of presentation, French- Kiwi newbie Florette has a wow factor that lies in its execution of simple French classics: crunchy house-baked baguettes filled to order, just-set omelettes, and seriously good pastries. And happily, too, owners Freddy Brignone and Julia Willis really care about making you one of the best coffees you'll have all week.
Must try—A hammy, cheesy, crunchy croque-monsieur.
Good for—Some Parisian-style respite from Dominion Rd.
?Atomic coffee
The Midnight Baker
218 Dominion Rd, Balmoral
On a busy street famed for its dumplings, this wonky, white-washed cafe offers airy respite from both chaos and gluten. After struggling with her own dietary requirements for years, Yeshe Dawa opened a cafe where she could order allergy-friendly food without feeling like a nuisance. She has made sure everything here is free of refined sugar, wheat and dairy, as well as vegan. It could feel pious, but it doesn't — the food's just really good. Harissa red peppers with toasted chickpeas and oven-roasted tomatoes are a bite of early summer, and "Snickers" toast — with peanut butter and "woahtella" — is criminally delicious.
Must try—Freedom loaf with poached pear, miso tahini cream, walnut and maple syrup.
?Best toast
?eighthirty coffee