Feb 2, 2018 Cafes
Where to find the best vegetarian and vegetarian-friendly cafes in Auckland from the Metro Top 50 Cafes 2018 list.
These Auckland eateries, collated from the latest Metro Top 50 Cafes 2018 list, are especially good for vegetarians. Some are dedicated vegetarian cafes, while others offer a thoughtful selection of vegetarian dishes; the Metro judges not only picked these places for the food — the service, fit-out and vibe were also considered in awarding them Top 50 status.
READ MORE: Auckland's best vegan-friendly cafes
Little Bird Unbakery
1A Summer St, Ponsonby
Metro's overall best vegetarian cafe
Megan May and Jeremy Bennett are the Real Slim Shadies of Auckland's raw food scene; all imitators need to sit down. At their flagship cafe in Ponsonby, hearty vegan lunches of kimchi burgers, raw taco plates and mushroom-walnut burgers work harder than their meat-based cousins to tantalise the palate, representing a revelation in healthy, environmentally friendly eating. An extensive range of cold-pressed juices and medicinal-sounding teas round off the smug feeling.
Must try—Kimchi and chickpea burger with kale chips on a lettuce "bun", with tomato, avocado, shaved onion, sweet chilli and smoked "cheddar".
For more great videos, check out our Youtube Channel.
66-88 Tyler St, Britomart
Metro Top 10 Cafe
Each time we visit Amano we are seduced all over again, first by the fit-out, then by the food. A deserving newcomer to the Metro Top 50 Cafes 2018 list, it's damn near impossible not to be dazzled by the loveliness of the cavernous room, with its gleaming mother-of-pearl, marble and limestone surfaces, its exposed beams and froths of flowers. And the food? Hipgroup's flash flagship serves rustic, Italian-inspired fare; breakfast is a blessedly bene-free zone, with choices such as charred capsicum and mozzarella omelette, complemented by fresh-as pastries from the on-site bakery. Lunch is next-level again, and if you can tease it out long enough, why not stay for dinner?
St Kevins Arcade, 183 Karangahape Rd, K' Rd Precinct
Metro Top 10 Cafe
With the sun on your brow, expertly made coffee in hand, and a dreamy view over Myers Park, why would you want to wake up anywhere else? A year in and it can be difficult to get a weekend seat at Emma Lyell and Tane Williams' Bestie — a testament to their skill as cafe-teurs. Order à la carte, but be sure to follow lunch with a piece of indulgent baking; we recommend a giant slice of cake or a devilishly gooey chocolate brownie (with cream).
Must-try: Towpath cheese toastie with a chilli fried egg.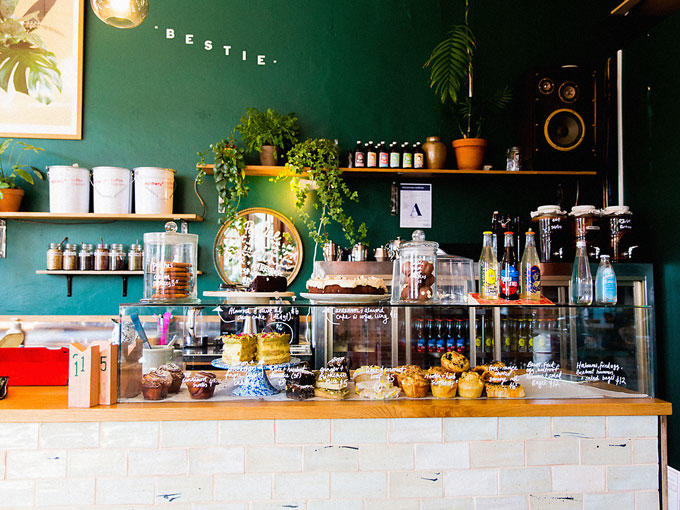 Kokako
537 Great North Rd, Grey Lynn
Metro Top 10 Cafe
Kokako's keys were handed from one longstanding cafe owner, Mike Murphy, to another, Troy Mentor (ex- Dizengoff ), in 2017 so Murphy could focus on commercial coffee production from Kokako's newly renovated space in Mt Eden. Thankfully for us — and Murphy — the cafe has been left in safe hands and still thrums all week long. Tireless commitment to ethically sourced coffee is still at the forefront of the operation. This, plus head chef Plabita Florence's ultra-seasonal, all-vegetarian, hyper-local menu, makes Kokako a very happy place to be.
Must try—Agria potato hash, soft poached egg, kale, romesco, cashew aioli and mushrooms.
480 Richmond Rd, Grey Lynn
Metro Top 10 Cafe
We didn't lament the loss of toast-and-toppings cafe Were Bros for long, because up popped this delight in its place, conceived by ex- Crumb owner Hugo Baird. The small corner space is maximised with a stark but ergonomic fit-out, all oak, steel, and comfy leather stools. Any intimidation at the hipness of it dissolves quickly thanks to very friendly service. Ex-Odettes chef Reginaldo Richard's brunch menu is sprinkled with intriguing elements such as herb-rolled eggs, roasted grapes and crisp sage, plated on tactile tableware by Frolic Ceramics.
Odettes
City Works Depot , 90 Wellesley St, central city
Metro Top 10 Cafe
Whatever the season, on a sunny morning, with light streaming in the floor-to-ceiling windows and a double-shot steaming in a glass, there are few places in the city we'd rather be. Nabbing a prime banquette table at this ever-popular City Works Depot spot is just the start; all the elements — the smoothly unobtrusive service, the consistency and inventiveness of the food, even the turquoise colour scheme — come together as a single, deeply pleasing experience.
Must try—Vanilla crêpe with caramelised apple and rum Anglaise.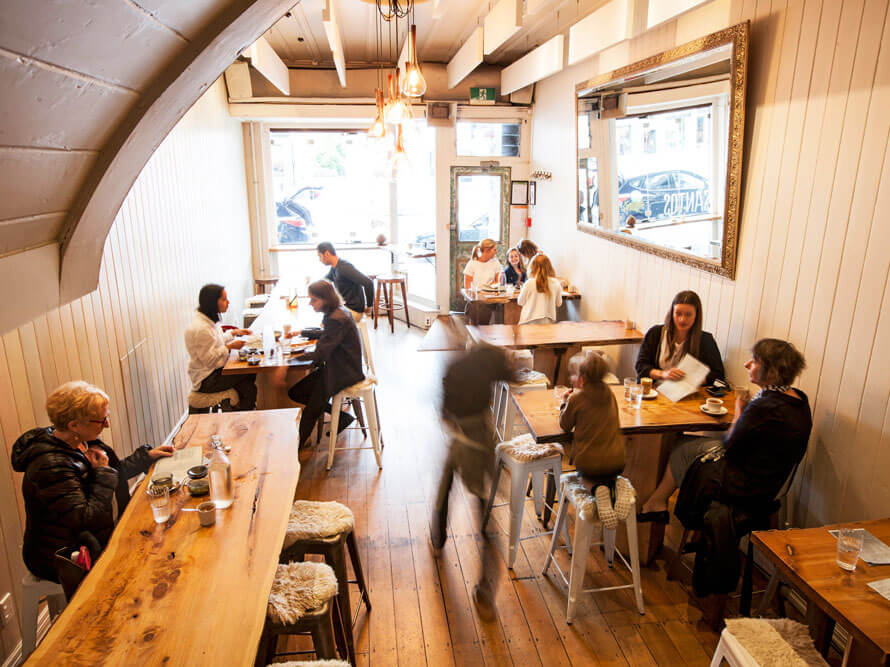 118 Ponsonby Rd, Ponsonby
Metro Top 10 Cafe
The sense of conviviality at Orphans Kitchen begins in the tiny, discombobulated kitchen and spreads throughout the rustic, macrocarpa-tabled dining room and exposed back courtyard. Don't be intimidated by the staff's too-cool fashion sense — they are helpful and happy to stop by for a chat, and will often take a seat alongside you. Head chef Tom Hishon's menu champions the ethical, the small and the interesting, with dishes to suit all diets, from a healthy broccoli and date salad to Southland cheese rolls. Long communal tables encourage random conversations with strangers, and kids and dogs are welcome.
Black and Gold Eatery
1/33 Triton Drive, Rosedale
Not all cafes can get away with cranking Britney Spears and All Saints at 10am on a Sunday — and we aren't really condoning it here — but you will likely overlook the dodgy soundtrack for the silky smooth coffee made by barista champ David Huang. It might be packed inside on a rainy weekend with queues out the door, but staff will still treat you as though they have all the time in the world, even if all you order is a hot drink and a slice of very delicious walnut and banana loaf.
Cali
23-27 Nuffield St, Newmarket
What with the single-malt whisky porridge on the breakfast menu, table service and the absence of counter food, it's clear Cali is one for the grownups. An all-day affair in a cavernous space, on weekdays solo laptoppers dominate the tall communal tables facing Nuffield St, while couples soak up the sun in an enclosed balcony overlooking a graffiti-scarred lane. Tacos, quesadillas and burgers take centre stage at lunchtime but be sure to scrutinise the specials.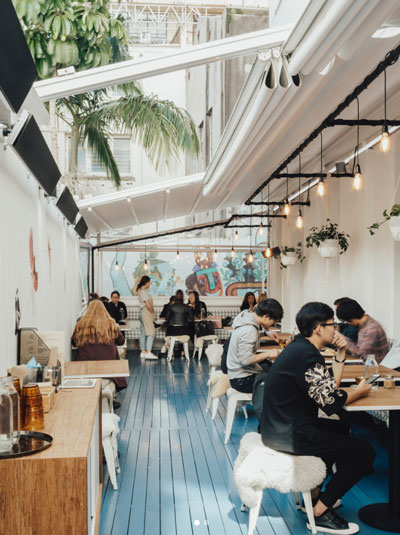 Chuffed cafe on High St." data-id="86233" data-mce-src="https://www.metromag.co.nz/images/uploads/904eacc9-684a-4951-a2bc-a644d020dc78-chuffed-400.jpg">
Chuffed
43 High St, central city
Tucked away at the end of a nondescript corridor, Chuffed is a sweet surprise, an all-round-inviting space with a few tables up front next to the counter and barista, and a narrow balcony out back. On sunny days, the balcony roof slides back to reveal office towers, cute murals, and a square of sky; inside, it's all white and navy with sheepskin-covered stools, cheerful, bearded waiters and a busy-happy vibe. Menu items include a smoked-mushroom medley and sourdough topped with pickled zucchini, marinated feta, olive crumb and heirloom cherry tomatoes.
Dizengoff
256 Ponsonby Rd, Ponsonby
Take a table near the counter and you're likely to hear a succession of regulars request "the usual" — testament to the quality of what's been on offer here since 1994. Dizengoff is sleek and minimalist, with a second, smaller room upstairs, and while you might spot a newly minted Green MP at one table and a fashion darling at another, it somehow never feels too cool for school. It's not necessarily the best-value cafe on the list, but always popular and invariably pleasant. The Jewish-influenced menu features the likes of sephardic eggs, labneh and hummus; check out the counter for more options. Sold recently, Dizengoff was Top 50-worthy at the time of judging.
Glasshouse
7/3 Akoranga Drive, Northcote
Appropriately, as part of Northcote's NorthMed complex, Glasshouse produces food that has a healthy slant, and the room — high studded and sunny — is just the place to recuperate mentally. To eat here isn't to be surprised, but to feel a wash of comfort as cafe favourites arrive beautifully presented, and then to leave without baulking at the bill.
Homestead
72 Hillsborough Rd, Hillsborough
Lunching on the veranda at Homestead offers an oasis-in-the-city moment, surrounded by the lofty trees of Monte Cecilia Park, with views of One Tree Hill. Chef Sam Mannering's menu is full of seasonal touches — such as brussels sprouts with mushrooms in winter — and we love that their homemade crumpets remain a mainstay, with toppings savoury and sweet. Closed Mondays.
Major Sprout
21 Graham St, central city
With fresh, seasonal and thoughtful food and service to match, Major Sprout is another winner by cafe master David Lee. You will leave here feeling spoilt and full and wondering how soon is too soon to return.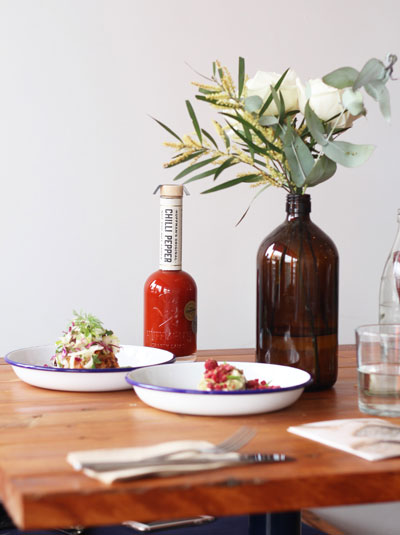 The Midnight Baker
218 Dominion Rd, Balmoral
On a busy street famed for its dumplings, this wonky, white-washed cafe offers airy respite from both chaos and gluten. After struggling with her own dietary requirements for years, Yeshe Dawa opened a cafe where she could order allergy-friendly food without feeling like a nuisance. She has made sure everything here is free of refined sugar, wheat and dairy, as well as vegan. It could feel pious, but it doesn't — the food's just really good. Harissa red peppers with toasted chickpeas and oven-roasted tomatoes are a bite of early summer, and "Snickers" toast — with peanut butter and "woahtella" — is criminally delicious.
Must try—Freedom loaf with poached pear, miso tahini cream, walnut and maple syrup.
Misters
12 Wyndham St, central city
The team at Misters have perfected the concept of healthy eating without compromising on flavour. The morning crowd streams in for granola, acai bowls, smoothies, French toast, omelettes and Misters benedicts, but for lunch it's all about the bowls — choose from a Danish, Moroccan, Thai, Mexican or Vietnamese base with a variety of topping options such as pulled jackfruit. The menu is free of gluten and dairy, but certainly not taste.
Must try—Danish Bowl.
Mondays
503B New North Rd, Kingsland
The floor staff at Mondays wholefoods cafe almost seem to walk on air, and, after a nourishing (and guilt-free) breakfast amongst the foliage, you might too. The menu here runs the gamut from warm banana bread with coconut butter and homemade nutella to quinoa breakfast pilaf with turmeric hollandaise. Supreme Boxer blend coffee sits proudly alongside a range of caffeine-free latte-alternatives, and the thick, fruit-filled, super-food smoothies are next-level.
Must try—Zen bowl with buckwheat noodles, sprouts and vegan miso.
Olaf's Artisan Bakery Cafe
1 Stokes Rd, Mt Eden
Olaf's is always buzzing at weekends, and it's easy to see why: all those substantial, excellent European breads, a come-hither counter heaving with cakes, pastries and sandwiches, and a menu that reads like an invitation to gluttony. We can only suggest that you submit first to something off the menu, such as creamy truffle-infused mushrooms on rye, then enjoy a fresh fruit-topped tart from the counter, and finally, grab a loaf of Olaf's outstanding sourdough to take home with you. Next stop: a long lie-down.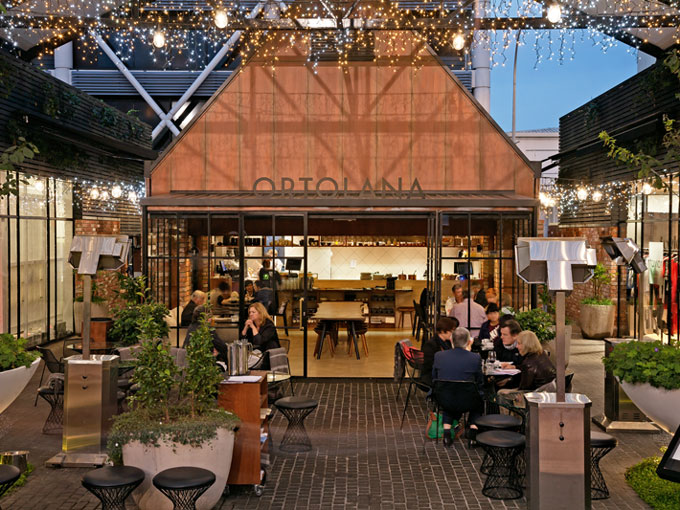 Ortolana
33 Tyler St, Britomart
Ortolana is all about provenance, which shows on its locally sourced menu. To celebrate the signing of a new five-year lease at Britomart, group executive chef Jo Pearson — the driving force behind Ortolana and Hipgroup's food vision and creation — has created a new menu featuring classics such as ricotta-stuffed zucchini flowers. However, all-time favourites of crema fritta, piadina, and fazzoletti are still available.
Must try—Pane fritto.
The Pt Chev Beach Cafe
506 Pt Chevalier Rd, Pt Chevalier
Rejoice, there's now an excellent cafe within walking distance of Pt Chev Beach (the Coyle Park end). Helmed by Karim Rostami and Andrew Robertson, formerly of Grey Lynn's Delicious, the execution is crowd-pleasing and suitably beachy, featuring a courtyard with a Kapiti ice-cream kiosk. Coffee is roasted in-house, and an evening dinner service is coming soon.
Must try—Warm ricotta doughnuts with pumpkin caramel, mandarin, toasted pepitas and nutmeg milk foam.
The Return of Rad
397 Mt Eden Rd, Mt Eden
This trendy neighbourhood place was one of the first cafes to jump on the pan-industrial fit-out trend, but the exposed-brick walls and wooden floors have aged gracefully. The staff and owner Duke Tran also seem as fresh as ever; if you look as though you've been waiting too long, someone is sure to bound up with unbeatable enthusiasm to help. Rocket espresso coffee is made to exacting standards and the food remains interesting, loaded with Vietnamese flair.
Rosebank Coffee & Kitchen
1/2 Jormac Rd, Avondale
Its minimal design and large windows, together with its scrupulous cleanliness and tidiness, give Rosebank a Zen-like atmosphere. (Whoever cleans the windows does a hell of a job!) The menu features premium ingredients, served with restaurant-level execution from head chef Johannes Carroux. The prices might make your nose bleed — but know that everything we've tried here has been truly delicious.
Must try—Save room for the dangerously good S'Mores tart from the cabinet.
82 Gladstone Rd, Parnell
We love that at Rosie, even if you're just popping in for takeaway coffees, the friendly staff invite you to take a seat before bringing a glass of water to your table. There's a comforting warmth in both the service and the fare, with the kitchen going to great lengths to source local, seasonal ingredients, something no Hipgroup outfit compromises on. Everything is treated with such care by Mike de Vries and his kitchen team that each dish here has its own distinct personality.
184 Garnet Rd, Westmere
Owner Brodie McDonald started his hospo career at Meola Kitchen, the cafe that used to sit in this water-view spot. After nearly five years there, he left to open Johnny Feedback and later Running Horse, before returning to his roots in Westmere last year. Everything at Seabreeze is a culmination of McDonald's industry learning, with familiar and unusual menu items dancing in harmony, and you never get the feeling his chef is trying too hard. Do not miss the poached bharta eggs with aubergine purée, whipped yoghurt and chilli-buttered toast.
Must try—Bharta eggs.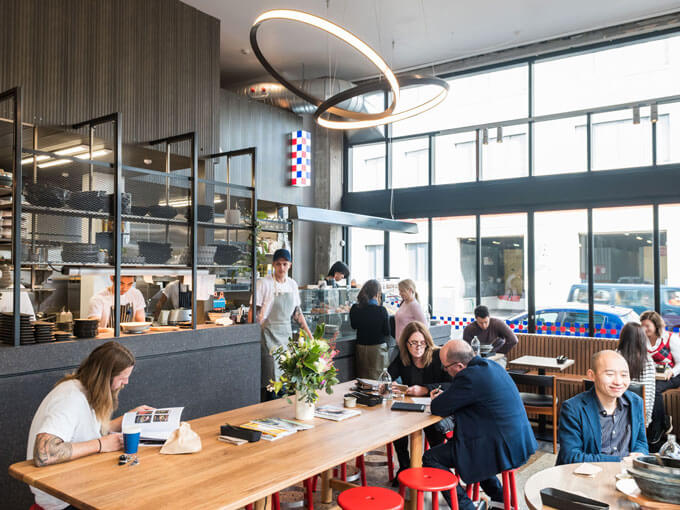 Simon & Lee
115 St Georges Bay Rd, Parnell
In an old carpet factory on St Georges Bay Rd, in the heart of Parnell's rebirth, this light-filled cafe with blue and red accents has been humming since it opened mere months ago. Oliver Simon and David Lee offer a fresh perspective on ho-hum cafe fare with the likes of tteokbokki (fried spicy rice cakes) and dolsot bibimbap. The latter is worth a special mention: the crunchy, julienne strips of veg and runny egg yolk, when mixed into fluffy rice, are comfort food at its best. Scrape the bottom of your heated earthenware bowl for those last crispy shards of vegetables and rice.
22 The Promenade, Takapuna
As good as it's ever been and still the best cafe in Takapuna, we love lunching beach-side here. Recently, American-style pancakes came with apple compote, mascarpone and rose-water syrup, and eggs were paired with the likes of Jerusalem artichoke or mushrooms. But soon the menu will change — as it always does at Hipgroup outfits — to reflect the newly abundant produce (and ice-cream cravings) that the sun brings.
True Food & Yoga
19 Tamaki Drive, Orakei
Co-owner Nic Watt's knack for balance means the menu at this cafe/yoga studio is as light as it is indulgent with offerings from matcha pancakes to a healthful beetroot, honey baked ricotta and quinoa salad. There are all the drinks you need to live your best #fitspo life including turmeric lattes and kombucha on tap, plus coffee and wine if you need them.
Water Drop Vegetarian Café
Fo Guang Shan Temple, 16 Stancombe Rd, Flat Bush
Lunch at the Water Drop is the perfect conclusion to a visit to this Buddhist temple in Flat Bush. As befits the tenets of Buddhism, the menu is vegetarian but can also be adjusted to suit vegans. To get in sync, go for a bowl of pickled vegetables, served on rice. This was the food the founder of the Fo Guang Shan Temple was sent by his venerable teacher when he was gravely ill. He survived, and dedicated his life to Buddhism. Otherwise choose the Goodwish Rice with seasonal vegetables, or Lohan Delight, also served with seasonal fresh vegetables. However, if you are more inclined towards a snack, try the beancurd sticks, siu mai or sota rolls — deep-fried toasted bread with soy and cheese fillings. (NB: opens 10am-4pm, and closed Mondays.)
Must try—A bowl of pickled vegetables.
Welcome Eatery
181 Grafton Rd, Grafton
On a particularly cold morning, one of our judges arrived embarrassingly early at Welcome but instead of being made to wait outside, was ushered inside to have a seat. And that's the thing about this Grafton eatery: it's just so inviting. Cleverly textural Richard Naylor ceramics are the canvas for exciting breakfast fare, including the grilled tortillas stuffed with pumpkin & vanilla ricotta, apple-maple & pumpkin seed salsa.
Winona Forever
100 Parnell Rd, Parnell
Queuing for brunch is one international cafe trend Auckland has been mercifully immune to. That was until Francesca Mazza and Aaron Carson (previously of Little Sister and Hello Friends + Allies) opened Instafamous Winona Forever. Their formula for popularity consists of elaborately constructed, rainbow-coloured dishes, gargantuan home baking, and quirky, signature plates, like the indulgent French toast/Eton Mess mash-up Eton Rifle. Crucially, the food tastes as good as it looks, and the service is as efficient as the queues require it to be.
Must try—Summer mushroom medley in a light organic cream and herb sauce in a crêpe with toasted pine nuts and green salad.
Woodworks
1790 Great North Rd, Avondale
It was a hell of a year for the owners of Woodworks, who — only eight months after opening — were forced to rebuild after fire ripped through the building. Locals flocked upon reopening, and the place has been full ever since. Homemade waffles are a specialty, topped with seasonal fruit and Kohu Road yoghurt ice cream, b and that old millennial favourite — smashed avocado on toast. (NB: Woodworks had sold to new owners at time of printing the Metro Top 50 list.)
Must try—Shakshuka.