Jan 25, 2019 Cafes
Here are Metro's 10 favourite Auckland cafes whittled down from the latest Metro Top 50 Cafes list.
Bambina
Go for—The slickest service in town
Newbies take note, because Peter and Sarah Wren have been setting the tone for great cafes in this city since 1996 and everything they're doing is still bloody excellent: switched-on, professional service from staff who seem to genuinely enjoy looking after people, a menu that under-promises and over-delivers, and coffee that takes more than 10 seconds to hit the table, because it's made carefully to be creamy and smooth every time. That's the thing about Bambina — everyone cares enough about what they're doing to do a good job. It's not the fanciest joint in town, or the trendiest. They're just doing what they've always done, and doing it damn well. 268 Ponsonby Rd, Ponsonby
Serves Allpress coffee, Wi-Fi available, vegan-friendly.
Go for—A Bumble date
The cool thing about Bestie is that owners Tane Williams and Emma Lyell have created an artsy-cool atmosphere without making the place feel intimidating. The contents of the heaving cabinet are shipped in from sibling cafe Baby each morning and are always worth a look — think jazzed-up old-school bakes like Louise slice, gooey chocolate brownies, or a giant wodge of cake. The à la carte menu features refined versions of clever, comforting combinations such as flatbread with spicy chorizo, pickles and labneh, the perfect Sunday-afternoon cheese toastie, and peanut-butter doughnuts. St Kevins Arcade, 183 Karangahape Rd, K' Rd Precinct
Serves eighthirty coffee, especially good for vegetarians, vegan-friendly, good for kids.
Go for—Al fresco dining
Sandwiches have been a bit of a thing again this year, and that's no exception at Chuffed, where the short sandwich offering is the star — both the Reuben and the poached-chicken options are excellent. That said, we really like the rest of the menu, which runs from jammy-yolked poached eggs on your choice of toast to slow-cooked lamb shoulder with burnt garlic and feta, or cauliflower salad — the vegetable of the moment. Chuffed is small, and extremely popular, but they run an efficient waitlist and offer takeaway pre-orders online. How's that for service? 43 High St, central city
Serves Chuffed blend, especially good for vegetarians, vegan-friendly.
Read more: Metro's Top 50 Cheap Eats 2019
Go for—A chicken sandwich and a slice of banoffee pie
There's barely enough room inside to swing a cat, and only a few tables outside, but this Japanese-inspired specialty coffee shop's close proximity to Basque Park means if you arrive and they're full, all you have to do is order takeaway and head down the hill for an al fresco lunch. As the name suggests, coffee's the focus — soft brew or espresso — but there's also cabinet food, including hot, often pasta-based specials such as sloppy, belly-warming lasagne, or mac and cheese. Then there's the best toasted sandwich we've had this year: poached chicken on rye with smashed peas and gooey cheese all the way to the edges. Closed Sundays. 6 Basque Rd, Eden Terrace
Serves Be Specialty coffee, especially good for vegetarians.
Go for—Great coffee, great food and friendly neighbourhood vibes
This is what a cafe should be. You walk in and feel welcome, there's not an ounce of pretension and the coffee, food and service are on point. Service is friendly and efficient and the food doesn't try too hard, with comforting, well-executed brunch fare like bacon butties (the bacon served here comes from Chris the butcher next door), sardines on toast and house-made baked beans on sourdough. The counter food is top-notch, too, with a rotating selection of sandwiches, salads and baked treats. Keep an eye out for their evening pop-ups with burger outfit Bearded Clam. 3/78 Coates Ave, Orakei
Serves Coffee Supreme and rotating guest filter brews, Wi-Fi available, especially good for vegetarians, vegan-friendly, good for kids.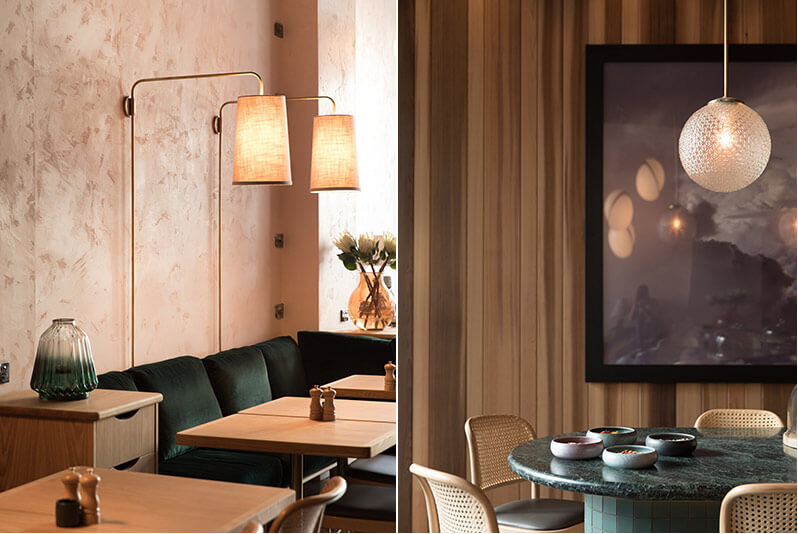 Hugo's Bistro
Go for—A grown-up cafe experience
Yes, Hugo's is a damn good spot for dinner and a couple of wines after work — it's the best bistro in the inner-city, after all — but it's no slouch in the daytime either. Whether you want to nurse a perfectly made coffee at the bar while perusing the paper, grab a chicken-schnitzel sandwich for lunch or opt for something more substantial over a beverage or three, Hugo's has it sorted. The express lunch menu ($40, or $49 with a glass of wine) is an excellent option if you fancy something a bit special but don't have all day to spare, but to be honest, we could subsist happily on the $3 hunk of bread with porcini butter. 67 Shortland St, central city
Serves Hugo's blend, Wi-Fi available, especially good for vegetarians.
Odettes
Go for—Coffee in the sun, or lunch with friends
We've been fans of this all-day eatery for a while now — since Clare and Joost van den Berg opened the place back in 2014, in fact — and, happily, they're still nailing it. There's something to suit all tastes at breakfast (roasted carrots, anyone?) but we come for brunch or lunch, when generous shared dishes such as a wild mushroom brown rice crêpe have their chance to shine, the earthy flavours of the mushrooms allowed to take centre stage by the lightest of crêpes. If you've the appetite for it, there's an express lunch option which, at $40 ($49 with a glass of bubbles), is excellent value. City Works Depot , 90 Wellesley St West, central city
Serves Odettes blend, Wi-Fi available, especially good for vegetarians.
Go for—A menu both comforting and challenging
The beauty of Orphans by day comes down to two things: the light, which streams in through that big front window all morning long, and the fact they take a similar approach to daytime eating as to evening — stripped-back plates of food that have managed to define a New Zealand cuisine. There are no cafe standbys here; the closest they come to a mainstay is sourdough with lemon curd, anchovy and a poached egg — sweet, salty, sour and savoury — and cake-like crumpets with honey from their rooftop hives. The constantly evolving menu is at once comforting and challenging: for the longest time we were fond of the rye gnocchi with a forest floor's worth of mushrooms, and a slow-poached egg. 118 Ponsonby Rd, Ponsonby
Serves Coffee Supreme, Wi-Fi available, especially good for vegetarians, vegan-friendly.
Ortolana
Go for—Next-level food, and people-watching
Everything is pitched just right at this small, warm place, all happy murmurs, stylishly casual and smooth. Staff are unfailingly polite, the sun seems to dance in the conservatory-like space, even the sand-coloured banquettes are the right level of squishy. There's a breakfast menu and then an all-day one that takes in lunch and dinner. We like to come for lunch and eat like kings, perhaps ordering the crayfish ravioli — three large firm pouches crammed with fresh flesh, swimming in a lemony buttery sauce and showered in dill crumbs and fennel. Rich, certainly, but never too heavy. 33 Tyler St, Britomart
Serves Allpress coffee, especially good for vegetarians.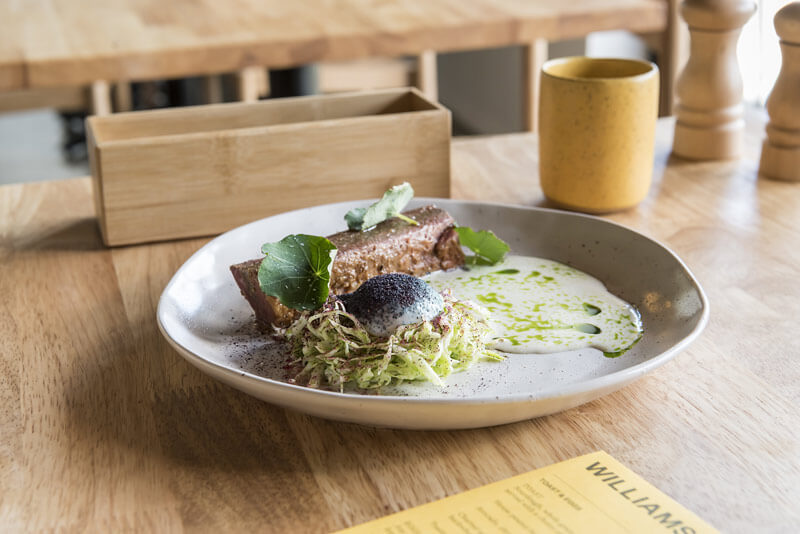 Go for—Respite and calm
Is this the new Auckland? Williams Eatery occupies a quiet corner of Wynyard Quarter, a pedestrian laneway on one side, planting on the other. It's very calm in the Nordic way — blond timber, raw concrete — and the staff tend to short-hemmed pants, caps and orthopaedic sneakers. The service is excellent, there's always filter coffee and the food is brilliant: thoughtful and inventive, and not very meaty. Hurrah! At breakfast, even that millennial standby of smashed avocado on toast comes with "dehydrated olive" and green herbs. The rest of the menu is short and deliberate, with faintly Asian overtones that we like very much. Equally, though, it's a fine place for a quiet coffee during the week, when there's room to chat or linger with a book. We like that, too. G03/85 Daldy St, Wynyard Quarter
Serves Flight coffee, Wi-Fi available, especially good for vegetarians, vegan-friendly, good for kids.
This list is from the Metro Top 50 Cafes feature published in the November-December 2018 issue of Metro. Judges: Simon Farrell-Green; Leisha Jones; Anna King Shahab; Alice Neville; Kate Richards; Susannah Walker.
Follow Metro on Twitter, Facebook, Instagram and sign up to the weekly email for more food news.