Mar 8, 2019 Cafes
The beauty of Orphans by day comes down to two things: the light, which streams in through that big front window all morning long, and the fact they take a similar approach to daytime eating as to evening — stripped-back plates of food that have managed to define a New Zealand cuisine. There are no cafe standbys here; the closest they come to a mainstay is sourdough with lemon curd, anchovy and a poached egg — sweet, salty, sour and savoury — and cake-like crumpets with honey from their rooftop hives. The constantly evolving menu is at once comforting and challenging: for the longest time we were fond of the rye gnocchi with a forest floor's worth of mushrooms, and a slow-poached egg. 118 Ponsonby Rd, Ponsonby
A Top 10, serves Coffee Supreme, especially good for vegetarians, vegan-friendly, wi-fi available
Westmere
Go for—Prawn kofta, with coconut and turmeric, served with nuoc cham dipping sauce. Add a salad for the perfect meal.
Proving the adage "if it ain't broke, don't fix it" for the best part of a decade Catroux has continued its successful formula of generously proportioned menu and cabinet options. We love that you can sit down to a couple of choices of salads, with a bit of extra protein on the side, and still have change from a twenty. Don't forget coffee; they get it just right here. From the menu, the fitness bowl, packed with greens, halloumi and avocado and topped with a poached egg, shows up a lot of other more-recent bowl offerings around town that too often leave us feeling underfed. 129 West End Rd, Westmere
Serves eighthirty coffee
Go for—Sea views, good vibes and food with a bit of spice.
Splashed in varying shades of deep sea blue, and with a peek of the ocean on the horizon, this suburban cafe has an easy holiday vibe, with laidback service led by owner Brodie McDonald, who makes a mean coffee. They don't shy away from punchy flavours in the AM at Seabreeze, with an exotic menu that includes kitchari, a daal and basmati dish with peas, pomegranate and yoghurt; duck and prawn laksa; and the dreamy bharta eggs — two poached eggs atop cumin-spiked eggplant purée and yoghurt, swimming in a vibrant pool of chilli butter for dunking your sourdough in. Come afternoon, when the corner soaks up every last ray of sun, there's Sawmill beers to accompany the hearty bone-marrow burger served with the crispiest potatoes; and fiery Ghanaian fried chicken with lime aioli, coriander and jalapeño salsa and flat breads. 184 Garnet Rd, Westmere
Serves Coffee Supreme, especially good for vegetarians, vegan-friendly, wi-fi available, good for kids
Rosebank Coffee & Kitchen
Go for—A classy lunch out west.
While decent cafes are popping up all over West Auckland, Rosebank, which is under new ownership, remains worth a visit. On first glance the setting, a semi-industrial block of shops just off Rosebank Rd, doesn't hold much promise, but the light and airy glass-walled cafe, with its minimalist decor and hanging greenery, provides a very pleasant spot to while away an hour or two. The menu has plenty of innovative offerings — think gnocchi with parsnip purée, red cabbage, pear, manchego and kawakawa — and tempting sweet options fill the cabinet. There's also a kids' menu, Brother's beer on tap, a thoughtfully compiled wine list and a few cocktails, and it stays open into the evening on Friday for pizza nights. 1/2 Jomac Place, Avondale
Serves Atomic coffee, Wi-Fi available, especially good for vegetarians, vegan-friendly, good for kids
Balmoral
Florette
Go for—The croque monsieur.
Sticking to their knitting, Freddy Brignone and Julia Willis, the couple who run this petite spot, combine his French heritage with her love of baking. Which means lunch here might look like a big fat omelette with Swiss cheese et jambon, followed by a wicked dark chocolate tart and a robust coffee. Change it up each time you go: there's a strong list of omelettes, filled baguettes and crêpes, and the baking cabinet boasts regular treats and special-edition creations by Willis. 297 Dominion Rd, Balmoral
Serves Atomic coffee, Wi-Fi available, good for kids
The Midnight Baker
Go for—Breakfast with a coeliac or vegan friend.
After struggling for years with dietary issues, Yeshe Dawa, aka The Midnight Baker, said no to gluten, dairy, alcohol and refined sugar. It changed her life and inspired her to open a dairy- and gluten-free vegetarian cafe on dumpling-rich but cafe-poor Dominion Rd. The hearty dishes here surprise with their complexity as Dawa showcases what can be created just with plants (though there's the choice to add eggs to some dishes if you wish). The best part? Everything's huge and very filling. A pile of house-made baked beans is so high it defies gravity, pulled jackfruit tacos are enough to feed two hungry people, and Dawa's signature gluten-free "freedom" loaf, which forms the base of several dishes, is dense and satiating. Open weekends only. 218 Dominion Rd, Balmoral
Serves eighthirty coffee, especially good for vegetarians, vegan-friendly
Britomart
?Ortolana
Go for—Next-level food, and people-watching.
Everything is pitched just right at this small, warm place, all happy murmurs, stylishly casual and smooth. Staff are unfailingly polite, the sun seems to dance in the conservatory-like space, even the sand-coloured banquettes are the right level of squishy. There's a breakfast menu and then an all-day one that takes in lunch and dinner. We like to come for lunch and eat like kings, perhaps ordering the crayfish ravioli — three large firm pouches crammed with fresh flesh, swimming in a lemony buttery sauce and showered in dill crumbs and fennel. Rich, certainly, but never too heavy. 33 Tyler St, Britomart
A Top 10, serves Allpress coffee, especially good for vegetarians
Read more: Metro's 10 favourite Auckland cafes | Auckland's best restaurants by cuisine: Metro Top 50 2018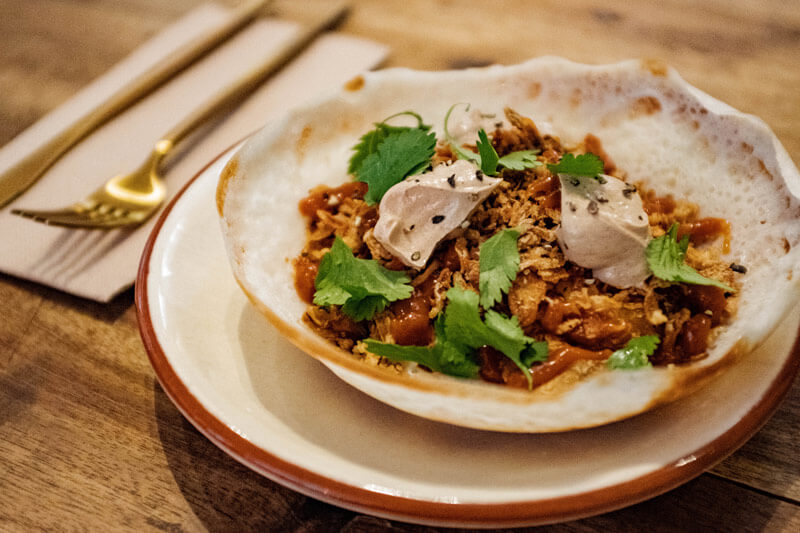 ?Ponsonby
Bambina
Go for—The slickest service in town.
Newbies take note, because Peter and Sarah Wren have been setting the tone for great cafes in this city since 1996 and everything they're doing is still bloody excellent: switched-on, professional service from staff who seem to genuinely enjoy looking after people, a menu that under-promises and over-delivers, and coffee that takes more than 10 seconds to hit the table, because it's made carefully to be creamy and smooth every time. That's the thing about Bambina — everyone cares enough about what they're doing to do a good job. It's not the fanciest joint in town, or the trendiest. They're just doing what they've always done, and doing it damn well. 268 Ponsonby Rd, Ponsonby
A Top 10, serves Allpress coffee, vegan-friendly, wi-fi available
Go for—Jewish-influenced classics.
Why change a good thing? In a city awash with new players, it's a bit easy to overlook Dizengoff. Don't. The things that have made it a mainstay of Ponsonby Rd for nearly two decades are the reason it's still great: that lovely airy room, those big windows, the beaten-up wooden floors, the breezy service and the Jewish-influenced menu — we still can't go past the chicken salad. It's also — and we don't say this lightly — an excellent place to be alone. The long blacks come in a glass with a side of hot water without you asking, which is exactly as it should be. 256 Ponsonby Rd, Ponsonby
Serves Allpress coffee, good for kids
Little Bird Unbakery
Go for—A guilt-free breakfast.
When you've had enough of bacon, eggs and mystery-meat sausages, one of Megan May's plant-based meals should revitalise. Everything on the seasonal specials board is good, and we recommend sharing two dishes to get ultimate bang for your raw vegan buck. The dosa wrap, filled with masala-spiced cauliflower and broccoli, is enormous and way more exciting than you'd imagine a vegetable wrap to be, the nourishing smoothies are thicker than a Maccas shake, and the cheesecakes — with their subtle coconut undertones and creamy richness — are a not-so-guilty pleasure. 1A Summer St, Ponsonby
Serves Kokako Organic coffee, especially good for vegetarians, vegan-friendly
Go for—A menu both comforting and challenging.
New Windsor
Go for—The hot eggplant parm in a bun: crumbed and fried eggplant with provolone, tomato, basil and mayo.
Suburban New Windsor is lucky to have such a spot-on local, a wee slip of a cafe on an evocatively retro corner site. We love that their menu is concise and to the point: a couple of all-day breakfast dishes cooked to order, rounded out with a list of sandwiches (toasted or not) and glorious home baking. Three staff work the tiny open kitchen and manage the busy lunch rush with smiles and easy banter. Do not miss the $5 cinnamon buns. 1/63 New Windsor Rd, New Windsor
Serves Coffee Supreme, wi-fi available, good for kids
North Shore
Go for—A batch brew with a coffee-obsessed friend.
Take a seat near the industrial coffee roaster, which, while physically dominant, gently heats the space, and be reminded of what it feels like to relax. Time seems to move slowly here, and the sense of calm is enhanced by softly spoken linen-clad staff and the slow process of grinding beans and meticulously heating water to exact temperatures for each batch-brew, single-origin coffee. Befitting the owners' origins, Ark draws inspiration from Japan's third-wave coffee scene with a modest offering: house-roasted specialty beans and brews, a selection of dainty club sandwiches, and specials such as rich beef lasagne or apple pie. Shop 6, 461-467 Lake Rd, Takapuna
Serves Ark coffee
Black & Gold Eatery
Go for—A brunch break in the 'burbs.
In a less-than-glamorous setting at the back of a strip mall, Black & Gold is a haven of coffee culture in semi-industrial Albany. Unsurprisingly, given the dearth of decent cafes in these parts, it's always cranking, but service is smooth and swift. And as is to be expected when a pair of baristas are running the show, the coffee is top-notch. Owners David Huang and Kayoko Nakamura set up their own roastery, Society Coffee, here last year, and it's soon to move to their new Browns Bay cafe, A-Block. The Black & Gold menu features cafe classics made new — think eggs benedict on house-made crumpets — as well as Asian-influenced dishes such as chilli pork baos and "Nippon pancakes" with pumpkin-cranberry purée, sticky sesame balls, berry icing, meringues, orange jelly and candied walnuts. 1/33 Triton Drive, Rosedale
Serves Society coffee, especially good for vegetarians, vegan-friendly, wi-fi available, good for kids
Little & Friday
Go for—A treat the size of your head.
Your eyes will always be bigger than your stomach here, where the impossibly decadent cabinet boasts huge sandwiches stuffed full of ham and brie; a pumpkin-and-bacon quiche whose sweetness is punctuated by a strident hit of salty feta; and cheesy brioche with sundried tomatoes and spinach. What we can never go past, however, are Kim Evans' raspberry and fresh cream "diplomat" doughnuts — each icing-sugar-coated bite bursting with messy filling — and her old-school cone-shaped lamingtons, like little brown Christmas trees rolled in coconut snow. 43 Eversleigh Rd, Belmont
Serves eighthirty coffee, especially good for vegetarians, good for kids
Go for—Healthy Japanese-influenced food.
Returning to the Top 50 after a two-year absence, this low-key Shore-side charmer serves healthy all-day breakfasts and half a dozen lunch options. For breakfast, try gingerbread waffles with poached pear, and for lunch, the mimosa bowl, a tasty protein-packed pile of beans in a tomato sauce with olives, avocado, brown rice and lentils. A pleasant spot for solo eaters; choose from the pile of papers and magazines, then claim a seat at the communal table upfront, a stool near the back or a spot outside and settle in. 460 Lake Rd, Takapuna
Serves Kokako Organic coffee, especially good for vegetarians, vegan-friendly
Go for—The whole appealing package.
The setting has it all, really: that sweet beachy view, cabbage trees and pohutukawa, grass out front for kids and dogs, the screech of seagulls, sea salt and hot oil on the breeze. Hell, it even had Shane Cortese on our last visit (Crikey – Ed.). As for the cafe itself, the elegant interior thrums with customers, who queue up and spill out to the plentiful seating outside, but this is a well-oiled machine: service is affable and food arrives promptly. Agria rosti with tomatoey slow-cooked lamb and a runny poached egg on top is the ideal brunch dish. Save room for a homemade gelato — wickedness on a stick. 22 The Promenade, Takapuna
Allpress coffee, especially good for vegetarians, good for kids
Parnell
Go for—Mother's Day.
There's something about this all-dayer by the Parnell Rose Gardens — the way the staff welcome you like friends, the effortlessly elegant food, the really nice carafes of wine — that makes it feel both very smart and a very easy place to be. Everyone who works here is a natural host, and seems to know exactly what you need before you know you need it; "another coffee?" they'll ask, and the answer will inevitably be yes. Food isn't unlike what you'll find at other Hipgroup joints and the menu champions the same farm-to-table, root-to-petal approach, including dishes like polenta porridge with rhubarb, or scampi folded egg with fennel salad, but the atmosphere here is distinctly personable and we love Rosie for that. 82 Gladstone Rd, Parnell
Serves Allpress coffee, especially good for vegetarians
Simon & Lee
Go for—All-day fried chicken, some of the best in town.
Oliver Simon, who co-owns this place with David Lee, must be one of the most charming people in Auckland hospitality right now. He's warm without overdoing it, running the floor with friendly efficiency, and you can just tell he loves the work. Food is Korean-ish, cooked to a level that matches the service, with highlights that include breakfast fried chicken; a saucy, gamey duck salad with a rich dressing you'll want to drink from the bowl (seriously); and crunchy, spicy dolsot bibimbaps. The perfect stop after scoping out the vegetables, and the dogs, at La Cigale. 115 St Georges Bay Rd, Parnell
Flight coffee and rotating single-origin filter coffees, especially good for vegetarians, vegan-friendly, wi-fi available, good for kids
?Hugo's Bistro
Go for—A grown-up cafe experience.
Yes, Hugo's is a damn good spot for dinner and a couple of wines after work — it's the best bistro in the inner-city, after all — but it's no slouch in the daytime either. Whether you want to nurse a perfectly made coffee at the bar while perusing the paper, grab a chicken-schnitzel sandwich for lunch or opt for something more substantial over a beverage or three, Hugo's has it sorted. The express lunch menu ($40, or $49 with a glass of wine) is an excellent option if you fancy something a bit special but don't have all day to spare, but to be honest, we could subsist happily on the $3 hunk of bread with porcini butter. 67 Shortland St, central city
A Top 10, serves Hugo's blend, wifi available, especially good for vegetarians
Go for—The Yemenite dish malawach: a puff-pastry pancake served with egg, tomatoes and zingy fresh green chilli.
The shared space of Fort St is all concrete grey and spartan, so stepping inside Ima is like being welcomed into a parallel dimension: all warm-hued, bustling with smiling staff and perfumed with the magical smell of baking. Do not leave here without trying, or taking away with you, a piece: owner Yael Shochat has worked hard to perfect pastries and cakes of all kinds, including Ashkenazi walnut-laced rugelach, kouign-amanns and generously sliced layer cakes. When you're really hungry, Ima's big breakfast, featuring Shochat's own merguez sausage, shall provide, or for something lighter we recommend the dukkah and olive-oiled avocado on toasted homemade sourdough. 53 Fort St, central city
Serves Be Specialty coffee, especially good for vegetarians, wi-fi available, good for kids
The Lunchroom
Go for—A quality lunch away from the crowds.
All the usual cabinet suspects are here, of course, but order off the menu for more- inventive fare. For lunch, try fenugreek potatoes, a flavour bomb of coriander, chilli feta, smoked salmon and crème fraîche, or a weightless crêpe with a soft poached egg tucked inside. Up the escalators and a world away from Queen St, The Lunchroom's smart, expansive space provides a hushed and welcome respite from the corporate hustle. Level 1, 45 Queen St, central city
Serves Kokako Organic coffee, especially good for vegetarians, vegan-friendly
Misters
Go for—Healthy, tasty fast food.
Dishing up healthy fast food to hordes of hungry office workers, this weekday hotspot can be crowded, noisy and smoky — but it works. Join the fast-moving queue to order lunch at the till, where helpful staff guide newbies. It's a simple idea, done well: you choose a "bowl" — options currently include Bali, Moroccan, Thai and Nordic — which have different bases such as noodles, rice, quinoa. Then add protein, perhaps silken tofu, chicken breast or slow-cooked lamb. There's no dairy, gluten or refined sugar, and no compromise on flavour, either. A small cabinet has tarts and slices, and there's coffee, of course, but the bowls are the stars of this show. 12 Wyndham St, central city
Serves Misters blend, especially good for vegetarians, vegan-friendly
Odettes
Go for—Coffee in the sun, or lunch with friends.
We've been fans of this all-day eatery for a while now — since Clare and Joost van den Berg opened the place back in 2014, in fact — and, happily, they're still nailing it. There's something to suit all tastes at breakfast (roasted carrots, anyone?) but we come for brunch or lunch, when generous shared dishes such as a wild mushroom brown rice crêpe have their chance to shine, the earthy flavours of the mushrooms allowed to take centre stage by the lightest of crêpes. If you've the appetite for it, there's an express lunch option which, at $40 ($49 with a glass of bubbles), is excellent value. City Works Depot , 90 Wellesley St West, central city
A Top 10, serves Odettes blend, especially good for vegetarians, wi-fi available
Go for—A toasted bagel with chunky pumpkin-and-hazelnut pesto, whipped feta and delightful green salad.
Scarecrow offers a slice of clean country living amid the big city smoke, serving food beautiful in its simplicity, where you can also fill your basket with hand-picked organic produce and artisanal products from around the country. Fittingly, the coffee is fair-trade from Kokako, the cabinet is a bounty of salads and sandwiches, and the specials — such as chicken, leek and mushroom pot pie paired with a Hallertau beer — celebrate seasonal cooking. Wooden bentwood chairs and antique scales complete the marketplace vibe, while jazz tinkles from the speakers, inviting you to stay for something sweet. Try a spiced apple frangipane tart, blueberry crumble, or miso brownie, all served warm with a dollop of cream. 33 Victoria St East, central city
Serves Kokako Organic coffee, especially good for vegetarians, vegan-friendly, wi-fi available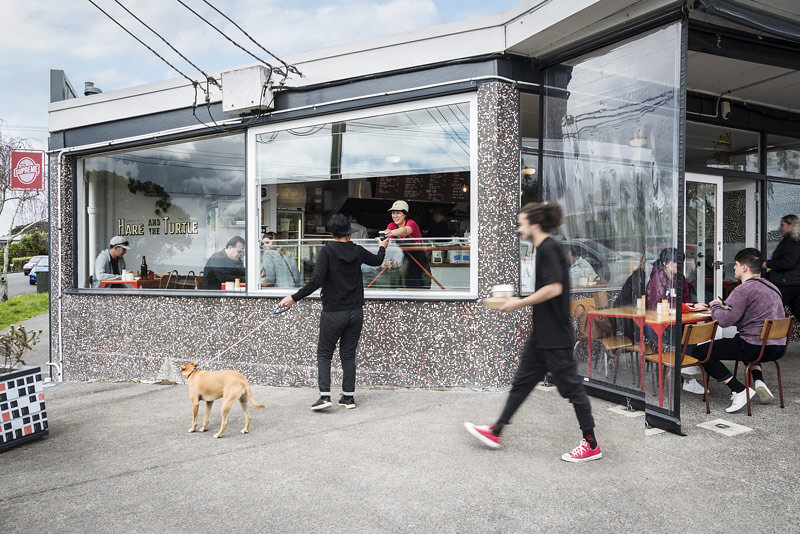 Kingsland
Atomic Roastery
Go for—The tasting tray of Atomic coffees, which includes an espresso, a cold brew and a piccolo.
Housed within a working roastery, this high-ceilinged industrial space is lively, loud and vibrant. The coffee is the main drawcard, with a menu almost as long as the food one. It includes single-origin beans and blends, all accompanied by tasting notes — we love the Veloce with hints of cinnamon, chocolate and stone fruit. Cafe classics accompany the brews — avocado toast freshened up with kale and pickled cucumber, and toasties oozing with melted cheese — as well as chunky slices and cookies tempting you at the counter. There are low, shared concrete tables where you can meet with friends or linger on your laptop; bar leaners for gazing out the window if you are just looking to slam an espresso; and outdoor seating. 420C New North Rd, Kingsland
Serves Atomic coffee, especially good for vegetarians, wi-fi available, good for kids
Mt Albert
L'Oeuf
Go for—Eggs.
Hooray! You don't have to walk through the kitchen to get to the toilet here any more, and the plants and tables are looking much tidier. In the past year, L'Oeuf's new owners have smartened the place up to become, once again, a lovely little spot for breakfast. The best dishes have a broadly Asian bent — try Little Kim, which features kimchi baked beans, bacon lardons, stringy cheese and a soft-boiled egg. The yolk oozes through the bowl, adding a pleasing richness, and it's perfect for scooping onto the accompanying toast. Or how about The Nest — two pumpkin-seed-crumbed eggs in pastry with salad and beetroot ketchup? One of Auckland's most photographed breakfasts since 2013. 4A Owairaka Ave, Mt Albert
Serves Atomic coffee, especially good for vegetarians, vegan-friendly, wi-fi available, good for kids
Mt Eden
Olaf's Artisan Bakery Cafe
Go for—A late-afternoon coffee and a sneaky treat.
Loaves of next-level bread line the shelves behind the counter, and what with the samples by the till, it's difficult to leave this Mt Eden stalwart without one. Bakers Olaf Blanke and Nigel Riley specialise in German-style bread-making, producing loaves that are hard to find elsewhere in the city, like vollkorn, a wholegrain German seed bread, all nutty and wholesome. It's lovely toasted then simply spread with butter and honey. The glossy fruit tarts — made by Riley's wife, Maria dos Anjos — generous sandwiches and pizzas all flex, too, and where else in the city can you get a coffee this good after 3pm? 1 Stokes Rd, Mt Eden
Serves Coffee Supreme, especially good for vegetarians, wi-fi available, good for kids
Mt Roskill
Drips & Dough
Go for—Some of the best and most reasonably priced bánh mì in town.
The southern end of Dominion Rd has a whole lot going for it food-wise, but good coffee has thus far been elusive. So when Drips & Dough opened this year, serving perfectly extracted cups of the good stuff, locals rejoiced. Even better, there's a selection of bánh mì made to order, with all the essential components in place: a crisp and light baguette, pâté and grilled meat or tofu (all prepared onsite), lots of salad and a decent showing of herbs. Bún cha (vermicelli noodles with toppings) and summer rolls complete the Vietnamese side of things, but don't snob the pie-warmer; it's home to some righteously good examples. 991 Dominion Rd, Mt Roskill
Serves Coffee Supreme, wi-fi available, good for kids
Newmarket
Billy
Go for—Stacked burgers served with crinkle-cut chips.
Perched overlooking the treetops on the cusp of the Domain, this minimalist set-up is a worthwhile pit stop. If you've got a dog in tow, it will be offered a snack from a tub of dog biscuits by the smiley staff. The coffee is Supreme, in quality and brand, and the menu brims with big rich flavours and twists on the classics — eggs benedict is served with bacon hock, miso hollandaise, kale, pickled fennel and sourdough. There's also old-school milkshakes and fat burgers stacked with crisp onion rings, fried chicken, pickles and cheese — worthy of another lap around the park. 79 Carlton Gore Rd, Newmarket
Serves Coffee Supreme, vegan-friendly, wi-fi available, good for kids
L'Atelier du Fromage
Go for—All things cheese.
On a breezy day we reckon you can smell this place from down the street, which is how it should be for what's essentially a shrine to cheese. The air at this bustling hybrid cafe, takeaway, deli, bakery and wine-tasting room is thick with the French accents of staff and customers alike. Chef Gilles Papst's menu continues the theme, with outrageously indulgent and moreish dishes such as bavette de boeuf wagyu — thick strips of angus skirt steak scattered with mushrooms and crowned with slabs of mouth-tingling truffle-stuffed brie that melts into the meat and the puddle of Burgundy jus beneath. If it's all too much, there's oodles of counter and cabinet options — quiches, croques, baguettes, tarts and mille-feuille. Francophile heaven. 5 McColl St, Newmarket
Serves Allpress coffee, wi-fi available
Eden Terrace
Baby
Go for—The tunes, stay for the sangas.
This year, Bestie got a sibling cafe in Baby, which is much smaller than its big sister, with only a communal table and window seating inside. There's still a vibe, thanks to excellent playlists — running from 2005 Kayne, to G Unit, and Nesian Mystik — a well-curated stack of glossy mags, cookbooks, and the staff's natural cheer. If it's on (the food changes often), get the eggplant parmigiana sandwich — all tomatoes, parmesan-crusted eggplant and melty cheese. Wash it down with an old-fashioned lemonade; it's got just the right amount of tang. 67B France St, Eden Terrace
Serves eighthirty coffee, especially good for vegetarians, vegan-friendly, wi-fi available
Go for—A chicken sandwich and a slice of banoffee pie.
There's barely enough room inside to swing a cat, and only a few tables outside, but this Japanese-inspired specialty coffee shop's close proximity to Basque Park means if you arrive and they're full, all you have to do is order takeaway and head down the hill for an al fresco lunch. As the name suggests, coffee's the focus — soft brew or espresso — but there's also cabinet food, including hot, often pasta-based specials such as sloppy, belly-warming lasagne, or mac and cheese. Then there's the best toasted sandwich we've had this year: poached chicken on rye with smashed peas and gooey cheese all the way to the edges. Closed Sundays. 6 Basque Rd, Eden Terrace
A Top 10, serves Be Specialty coffee, especially good for vegetarians
Freemans Bay
Caffetteria Allpress
Go for—A quick midweek catch-up.
Sometimes you don't want lunch to be an hours-long, à la carte affair. Perhaps you just want to nip out of the office for a half-hour breather or catch-up with a mate. Enter Caffetteria Allpress, with its sandwich cabinet, soup, and mixed-plate offerings. No one's trying too hard — the vibe's counter-service casual — but staff will quickly sense if you've never been here before and guide you through the day's sandwich specials without making you feel like a dork. Afterwards, take a stroll around Allpress gallery next door, where up-and-coming Auckland artists are on high rotation. 8 Drake St, Freemans Bay
Serves Allpress coffee, especially good for vegetarians
Queenies Lunch Room
Go for—The chill vibes.
Even in winter, without the allure of dark, waxy leaves tumbling down the side of the building and over the door like they do in summer, Queenies charms. Those who squawk that it's not as good as it used to be have forgotten the simple joy of a bowl of kedgeree brimming with smoked fish and topped with a runny egg; or the tomatoey shakshuka with chilli butter and crunchy toast for dipping. The genial staff seem to subtly pre-empt your needs, noticing when you need a spoon to scoop the last sauce from a bowl, or forgoing their break-time reading material to ensure a solo customer has the newspaper for company. 24–26 Spring St, Freemans Bay
Serves Coffee Supreme, especially good for vegetarians
Grafton
Welcome Eatery
Go for—An escape from the office.
Just off Khyber Pass Rd, this weekday lunch stalwart, now under the command of new manager Dominic Asiata, is as delightful as ever. Writ large on the back wall, "fast, fresh and friendly" is their mantra, and Welcome is all that. Staff are jovial, the cabinet is bursting with salads and baked treats — most made on-site — and the menu spans boiled eggs with toasted brioche soldiers and smoked chilli and lime butter for breakfast, and a generous and lovely Mediterranean salad at lunch. There are no short-cuts with the salad, a happy jumble of lightly dressed greens, chickpeas, lentils, feta and mint. 181 Grafton Rd, Grafton
Serves Coffee Supreme, especially good for vegetarians
Eastern Suburbs
Go for—Watching the world go by over a long brunch or lunch.
Part of an eastern suburbs retail complex that opened last year, Ampersand seems to hum at all times of the day, and it's not hard to see why. While the large space can feel a tad cold and cavernous at night, the veranda overlooking Hobson Bay is hard to beat on a sunny lunchtime. Breakfast and brunch offerings include devilled lambs' kidneys and ramen alongside more-standard fare, while bistro-style dishes — steak frites, pasta, crêpes — take centre stage at lunchtime. A plant-based menu is presented alongside the regular one without comment, and luckily — because it's the sort of place where it feels wrong not to order an alcoholic beverage — the drinks list is great. Orakei Bay Village, 228 Orakei Rd, Orakei
Serves Espresso Workshop coffee, Wi-Fi available, especially good for vegetarians, vegan-friendly
Go for—Great coffee, great food and friendly neighbourhood vibes.
This is what a cafe should be. You walk in and feel welcome, there's not an ounce of pretension and the coffee, food and service are on point. Service is friendly and efficient and the food doesn't try too hard, with comforting, well-executed brunch fare like bacon butties (the bacon served here comes from Chris the butcher next door), sardines on toast and house-made baked beans on sourdough. The counter food is top-notch, too, with a rotating selection of sandwiches, salads and baked treats. Keep an eye out for their evening pop-ups with burger outfit Bearded Clam. 3/78 Coates Ave, Orakei
A Top 10, serves Coffee Supreme and rotating guest filter brews, especially good for vegetarians, vegan-friendly, wi-fi available, good for kids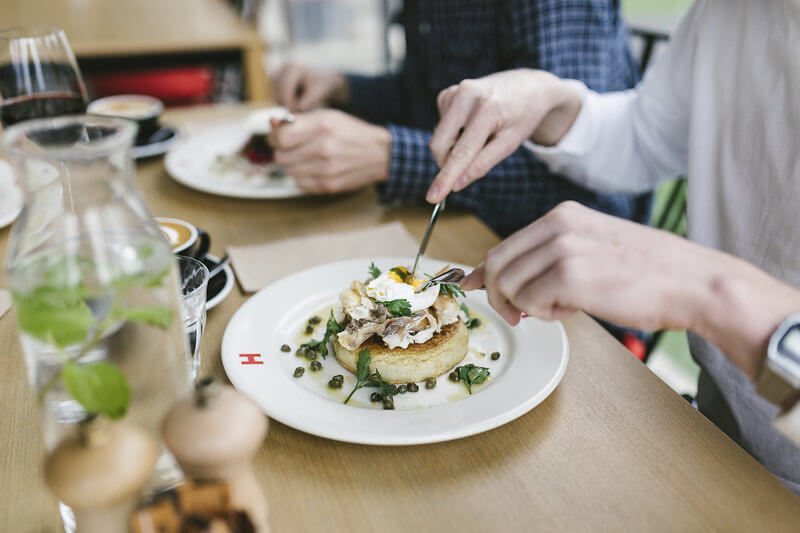 Grey Lynn
Go for—Chilli labneh eggs with smoked peppers, cherry tomato, dill and sourdough.
Steeped in morning sun on a corner in the West Lynn shops, Honey Bones — with its perky staff and strong, expertly made coffee — will lighten any moody morning. The cabinet offers great breakfast sandwiches if you're in a rush, but it's the bright and zingy plates of food coming out of the wee kitchen that are worth sticking around for. Park up at an outdoor table for thoughtfully prepared dishes such as smoked sardines on sourdough with whipped manchego cheese, slivers of radish and a flurry of fresh herbs; breakfast bowls bright as rainbows; and virtuous smoothies — we love the West Lynn with cacao, banana, date, coconut and almond. 480 Richmond Rd, Grey Lynn
Serves Coffee Supreme, especially good for vegetarians,wi-fi available
Kokako Cafe
Go for—A vegetarian brunch where you won't miss the meat.
There's something special about a cafe that stays as consistently good and busy as it's always been, even after a change of hands. That's certainly been the case here. We really like the semi-industrial space, and the subtle, fruity coffees owner Troy Mentor continues to serve, but the really great thing about Kokako is you can visit with your most vegetable-averse friend and chef Plabita Florence's skill at cooking with plants will impress. From black garlic mushrooms and leek on sourdough, to kumara waffles with poached pears, we're yet to have a dud dish. Her sporadic evening pop-ups follow the same vegetables-are-the-hero philosophy as the day menu. 537 Great North Rd, Grey Lynn
Serves Kokako Organic coffee, especially good for vegetarians, vegan-friendly, wi-fi available, good for kids
Herne Bay
Go for—A breakfast bánh mì.
This old charmer with its roaring fireplace, slightly sloping floor and kitsch wooden interior is named for the type of food it serves — a fusion of Vietnamese and New Zealand cuisines. So do yourself a favour and order the bánh mì, which is bursting with pickled vegetables, chilli and tender meat bound together with a thick swipe of pâté on one side of a crunchy baguette and mayo on the other. It's a simple pleasure, no matter the time of day. Service, led by affable owner Nam Do, is exemplary. Punters streaming in the door on weekday mornings all stop to chat and he makes time for every one of them, even when running the show solo. 32 Jervois Rd, Herne Bay
Serves Allpress coffee, especially good for vegetarians, wi-fi available, good for kids
Hillsborough
Homestead
Go for—A session with your gran.
With its eclectic art collection and manicured grounds, graceful Pah Homestead seduces from the moment you arrive, and we love that you can make an afternoon of it with a meal or snack at Sam Mannering's Homestead cafe. Crumpets are the star, either sweet or savoury — try the smoked-fish-and-caper-butter version with a poached egg — but if you just want cake and a cuppa, the full-to-bursting cabinet delivers on that front, too. Later in the day (they're open until 5pm on weekends), share an antipasti platter with a tap beer or glass of wine on the wraparound deck and watch the sun sink below the trees. 72 Hillsborough Rd, Hillsborough
Flight coffee, especially good for vegetarians, wi-fi available, good for kids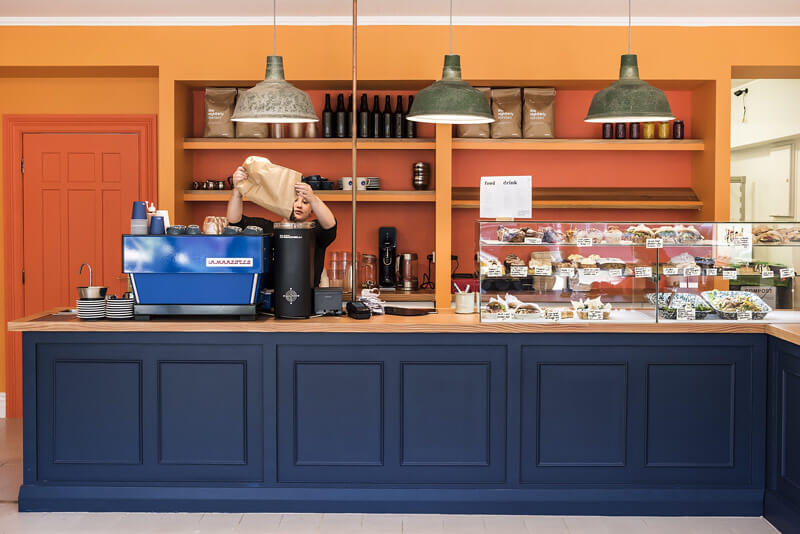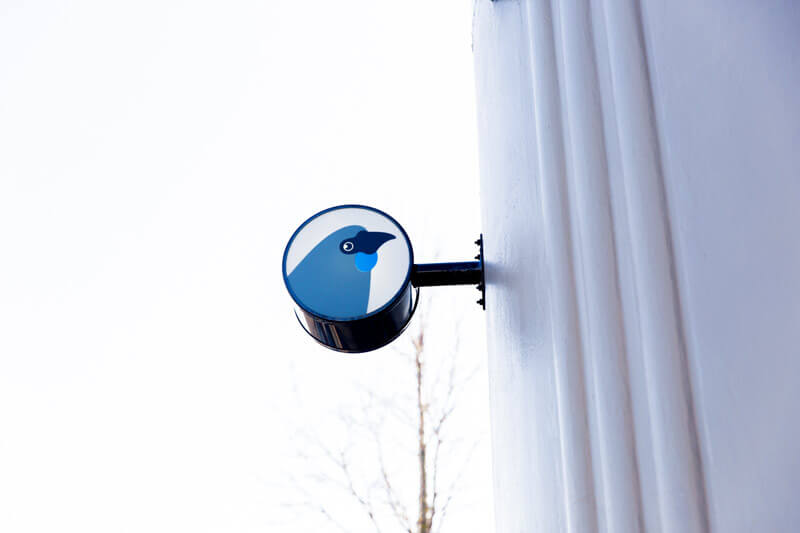 Metro Top 50 Cafes 2018 – 2019 (to see the latest Top 50 list, click here).
Note! This list is from our 2018 print issue, but is forward-dated online (confusing? Yeah, we know – sorry!). The latest list from our 2019 Top 50 Cafes print edition will be online soon – until then, you'll have to grab a copy in print – or rifle through a friend's.
In an ever-evolving cafe scene, our comprehensive guide salutes the places that rise above the competition. See here for the Top 10 Cafes.
By suburb: Avondale | Balmoral | Britomart | Central city | Eastern Suburbs | Eden Terrace | Freemans Bay | Grafton | Grey Lynn | Herne Bay | Hillsborough | Hobsonville Point | K' Rd Precinct | Kingsland | Mt Albert | Mt Eden | Mt Roskill | Newmarket | New Windsor | North Shore | Parnell | Ponsonby | Westmere | Wynyard Quarter
Federal Delicatessen
Go for—A hangover or heartbreak cure.
The Fed is the sort of place most Auckland cafes wish they were: fast, friendly, with a constant buzz, and slinging some of the simplest but best executed food in the city. All that, plus you could take nearly anyone there and they'd feel comfortable; it seems like the staff's personal mission is for you to leave smiling and well fed (we've said yes to pie on an already full stomach far more times than we care to admit). This is also one of the best places in the city to dine solo — park up at the counter with a piece of sugar pie, a book, and a cup of filter coffee (bottomless). 86 Federal St, central city
Serves Havana or Coffee Supreme, wi-fi available, good for kids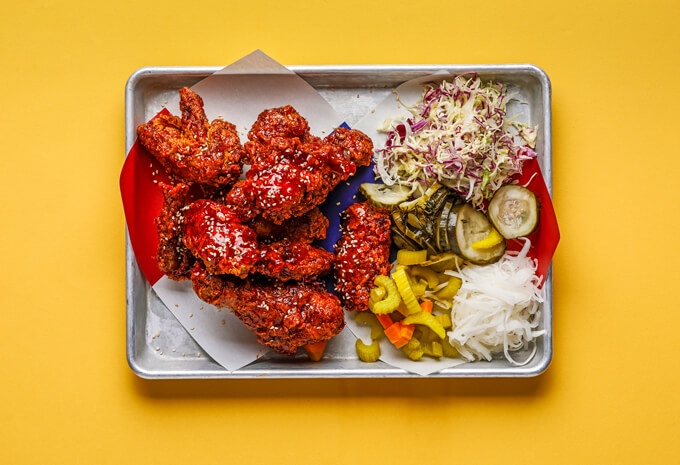 Wynyard Quarter
Go for—Respite and calm.
Is this the new Auckland? Williams Eatery occupies a quiet corner of Wynyard Quarter, a pedestrian laneway on one side, planting on the other. It's very calm in the Nordic way — blond timber, raw concrete — and the staff tend to short-hemmed pants, caps and orthopaedic sneakers. The service is excellent, there's always filter coffee and the food is brilliant: thoughtful and inventive, and not very meaty. Hurrah! At breakfast, even that millennial standby of smashed avocado on toast comes with "dehydrated olive" and green herbs. The rest of the menu is short and deliberate, with faintly Asian overtones that we like very much. Equally, though, it's a fine place for a quiet coffee during the week, when there's room to chat or linger with a book. We like that, too. G03/85 Daldy St, Wynyard Quarter
A Top 10, serves Flight coffee, especially good for vegetarians, vegan-friendly, wi-fi available, good for kids
---
Note: Super Cafe in Britomart has since closed and has been removed from the list.
Judges—Simon Farrell-Green; Leisha Jones; Anna King Shahab; Alice Neville; Kate Richards; Susannah Walker.
This article was first published in the November-December 2018 issue of Metro.
Follow Metro on Twitter, Facebook, Instagram and sign up to the weekly email for more food news.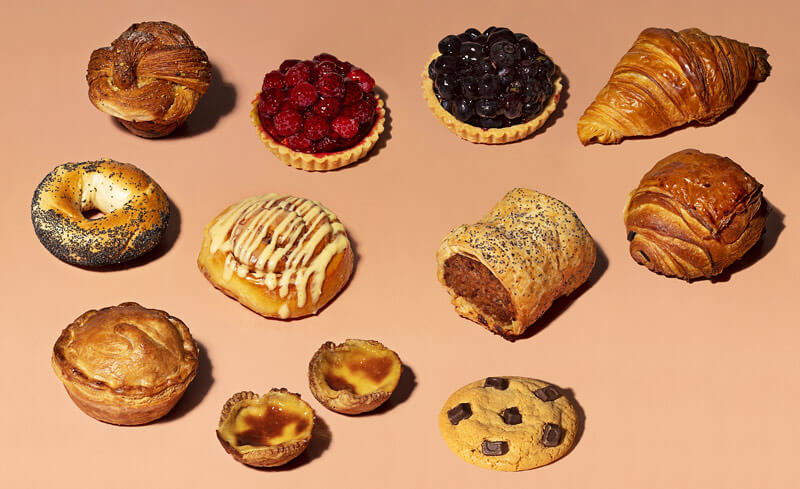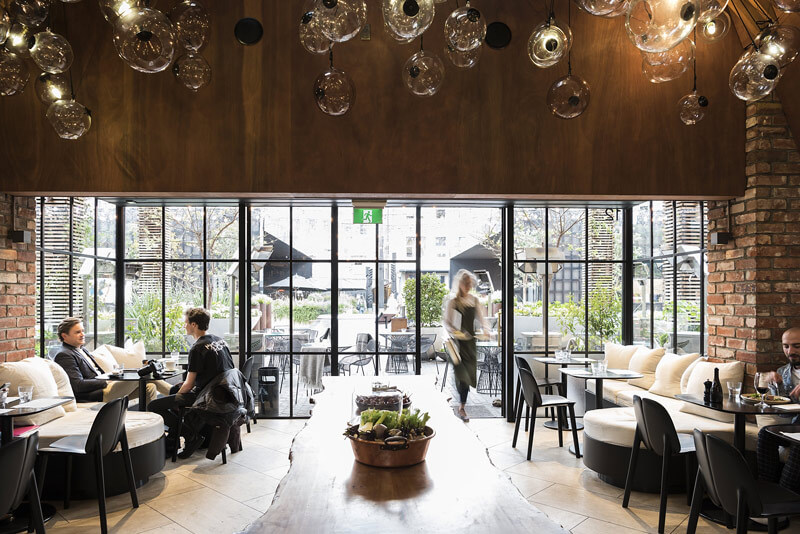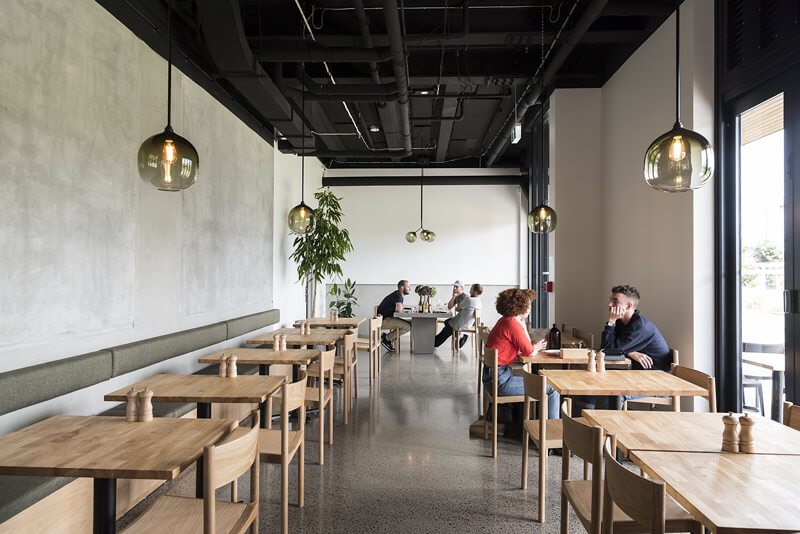 Central city

Best Ugly Bagels
Go for—A bagel, duh.
The yelling wears a bit thin — especially if you've been on the sherbets the night before — but Al Brown's Best Ugly pumps out the best bagels in Auckland by a country mile. Hand-rolled, gently poached in honey water, then wood-fired; imitators bow down. And the toppings, so simple, but their consistency means they always hit the spot: salmon and cream cheese with a little bit of red onion and a smattering of capers; house pastrami, stringy cheese and hot mustard; avocado, tomato and basil with lemon oil. Brown's not reinventing the wheel — these are tried and tested flavour combinations for a reason. Enjoy one fireside, with a strong Havana coffee. City Works Depot, 90 Wellesley St, central city
Serves Havana coffee, especially good for vegetarians, good for kids
Go for—Al fresco dining.
Sandwiches have been a bit of a thing again this year, and that's no exception at Chuffed, where the short sandwich offering is the star — both the Reuben and the poached-chicken options are excellent. That said, we really like the rest of the menu, which runs from jammy-yolked poached eggs on your choice of toast to slow-cooked lamb shoulder with burnt garlic and feta, or cauliflower salad — the vegetable of the moment. Chuffed is small, and extremely popular, but they run an efficient waitlist and offer takeaway pre-orders online. How's that for service? 43 High St, central city
A Top 10, serves Chuffed blend, especially good for vegetarians, vegan-friendly
Hobsonville Point
Go for—The view (both outside and the Walker Mitchell-designed interior), and seriously good crisp roast potatoes in place of fries.
Taking cafe dining next level, Fabric is a sophisticated all-day destination on the edge of Catalina Bay, where the view across to Greenhithe's moody, pohutukawa-clad fringe never gets boring. Service is smart and the breakfast and brunch menus mostly follow classic cafe lines, while lunch as well as dinner see dishes split into entrées, mains, desserts and sides; come expecting to open your wallet a little wider than you might normally. This is an especially good spot for families: once the kids have wolfed down their food, they can have a hoon along the boardwalk while you sit awhile with a glass of wine or beer. 8/3 Boundary Rd, Hobsonville Point
Serves L'affare coffee, wi-fi available, good for kids
K'Rd Precinct
Bestie
Go for—A Bumble date.
The cool thing about Bestie is that owners Tane Williams and Emma Lyell have created an artsy-cool atmosphere without making the place feel intimidating. The contents of the heaving cabinet are shipped in from sibling cafe Baby each morning and are always worth a look — think jazzed-up old-school bakes like Louise slice, gooey chocolate brownies, or a giant wodge of cake. The à la carte menu features refined versions of clever, comforting combinations such as flatbread with spicy chorizo, pickles and labneh, the perfect Sunday-afternoon cheese toastie, and peanut-butter doughnuts. St Kevins Arcade, 183 Karangahape Rd, K' Rd Precinct
A Top 10, serves eighthirty coffee, especially good for vegetarians, vegan-friendly, good for kids
Go for—The fish-finger sandwich.
Liam Fox and Andrea Muhlhausen moved the contents of their St Kevins Arcade cafe 100-odd metres down K' Rd this year to a bigger space. They had to, to keep up with the demand for their posh sandwiches and retail loaves. Baking is an obsession for Fox, who tweaks his recipes almost daily in the pursuit of bread nirvana — light, crackly, sour, smoky, his sourdough is one of the best examples in town. Try as we might, we never seem to make it past the fish sandwich: delicate, house-made kahawai fish fingers, smashed peas and tartare sauce between two slices of that wonderful sourdough bread. It'll be great with a beer once their licence comes through. 327 Karangahape Rd, K' Rd Precinct
Serves Peoples coffee, especially good for vegetarians, good for kids
Revolver
Go for—A Sri Lankan breakfast.
Oli Bradford's bright and breezy cafe may be brand new but his recipes are not. The menu of hoppers — Sri Lankan fermented pancakes filled with various, mostly egg-based things — is inspired by the food Bradford's mum taught him to cook. Everything's vegetarian. We love the egg hopper, its chewy base topped with coconut chutney and a runny fried egg, then drizzled with sour yoghurt and a piquant chilli sauce; a scattering of crunchy savoury shallots finishes the dish. While the food looks to South Asia, the vibe and fitout are inspired by Wellington's chilled-out cafe culture — there's a relaxed, almost bohemian atmosphere, and quirky, arty things like tumblers made in Indonesia from recycled wine bottles. They're open until 4pm. St Kevins Arcade, 183 Karangahape Rd, K' Rd Precinct
Serves Havana coffee, especially good for vegetarians, vegan-friendly, wi-fi available