Feb 9, 2018 Cafes
Auckland's best vegan-friendly cafes from the Metro Top 50 Cafes 2018 list.
It can be difficult to eat out for those on a plant-based diet. Thankfully, 12 of Metro's Top 50 best cafes in Auckland offer vegan dishes or dishes that can be easily adapted.
READ MORE: Auckland's best vegetarian-friendly cafes
READ MORE: Khu Khu vegan Thai review
For more great videos, check out our Youtube Channel.
Bestie
St Kevins Arcade, 183 Karangahape Rd, K' Rd Precinct
With the sun on your brow, expertly made coffee in hand, and a dreamy view over Myers Park, why would you want to wake up anywhere else? A year in and it can be difficult to get a weekend seat at Emma Lyell and Tane Williams' Bestie — a testament to their skill as cafe-teurs. Order à la carte, but be sure to follow lunch with a piece of indulgent baking; we recommend a giant slice of cake or a devilishly gooey chocolate brownie.
Chuffed
43 High St, central city
Tucked away at the end of a nondescript corridor, Chuffed is a sweet surprise, an all-round-inviting space with a few tables up front next to the counter and barista, and a narrow balcony out back. On sunny days, the balcony roof slides back to reveal office towers, cute murals, and a square of sky; inside, it's all white and navy with sheepskin-covered stools, cheerful, bearded waiters and a busy-happy vibe. Vegan menu items include a smoked-mushroom medley and freedom loaf with tempeh, but there's all kinds of goodness in the cabinet, too.
Kokako
537 Great North Rd, Grey Lynn
Kokako's keys were handed from one longstanding cafe owner, Mike Murphy, to another, Troy Mentor (ex-Dizengoff), in 2017 so Murphy could focus on commercial coffee production from Kokako's newly renovated space in Mt Eden. Thankfully for us — and Murphy — the cafe has been left in safe hands and still thrums all week long. Tireless commitment to ethically sourced coffee is still at the forefront of the operation. This, plus head chef Plabita Florence's ultra-seasonal, hyper-local menu, makes Kokako a very happy place to be.
Little Bird Unbakery
1A Summer St, Ponsonby
Megan May and Jeremy Bennett are the Real Slim Shadies of Auckland's raw food scene; all imitators need to sit down. At their flagship cafe in Ponsonby, hearty vegan lunches of kimchi burgers, raw taco plates and mushroom-walnut burgers work harder than their meat-based cousins to tantalise the palate, representing a revelation in healthy, environmentally friendly eating. An extensive range of cold-pressed juices and medicinal-sounding teas round off the smug feeling.
The Lunchroom
Level 1, 45 Queen St, central city
Not your average Gloria Jeans-esque office tower-cafe, The Lunchroom is airy, big-windowed and damn slick. Chef/owner JJ Holland presents daring cafe food with chefy touches. Other details that make this inner-city cafe special? The option to have your iced coffee served over crushed or cubed ice, and a neatly priced wine list. Bookings are available online, and recommended. Closed weekends.

The Midnight Baker
218 Dominion Rd, Balmoral
On a busy street famed for its dumplings, this wonky, white-washed cafe offers airy respite from both chaos and gluten. After struggling with her own dietary requirements for years, Yeshe Dawa opened a cafe where she could order allergy-friendly food without feeling like a nuisance. She has made sure everything here is free of refined sugar, wheat and dairy, as well as vegan. It could feel pious, but it doesn't — the food's just really good. Harissa red peppers with toasted chickpeas and oven-roasted tomatoes (pictured left) are a bite of early summer, and "Snickers" toast — with peanut butter and "woahtella" — is criminally delicious.
Misters
12 Wyndham St, central city
The team at Misters have perfected the concept of healthy eating without compromising on flavour. The morning crowd streams in for granola, acai bowls, and smoothies but for lunch, it's all about the bowls — the Italian, Moroccan, Japanese, Thai and Greek bowls all have vegan options. The menu is free of gluten and dairy, but certainly not taste.
Mondays
503B New North Rd, Kingsland
The floor staff at Mondays wholefoods cafe almost seem to walk on air, and, after a nourishing (and guilt-free) breakfast amongst the foliage, you might too. Forget bacon butties — the menu here runs the gamut from warm banana bread with coconut butter and homemade nutella to quinoa breakfast pilaf with turmeric hollandaise. Supreme Boxer blend coffee sits proudly alongside a range of caffeine-free latte-alternatives, and the thick, fruit-filled, super-food smoothies are next-level.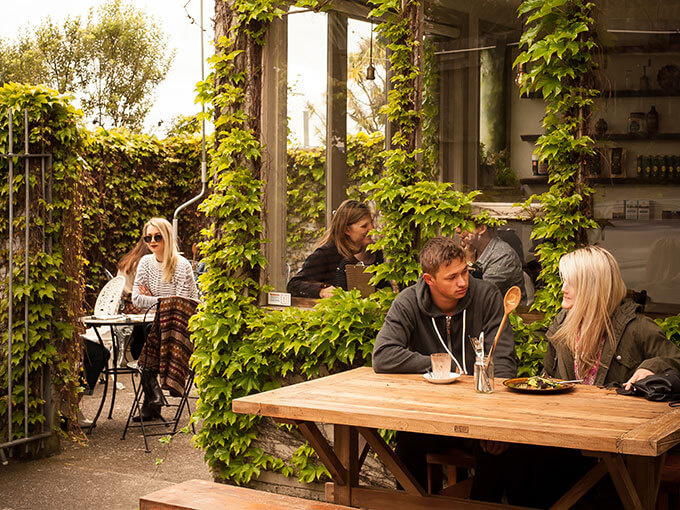 Orphans Kitchen
118 Ponsonby Rd, Ponsonby
The sense of conviviality at Orphans Kitchen begins in the tiny, discombobulated kitchen and spreads throughout the rustic, macrocarpa-tabled dining room and exposed back courtyard. Don't be intimidated by the staff's too-cool fashion sense — they are helpful and happy to stop by for a chat, and will often take a seat alongside you. Head chef Tom Hishon's menu champions the ethical, the small and the interesting, with dishes to suit all diets. Long communal tables encourage random conversations with strangers, and kids and dogs are welcome.
Simon & Lee
115 St Georges Bay Rd, Parnell
In an old carpet factory on St Georges Bay Rd, in the heart of Parnell's rebirth, this light-filled cafe with blue and red accents has been humming since it opened mere months ago. Oliver Simon and David Lee offer a fresh perspective on ho-hum cafe fare with Korean-influenced dishes, like the Good Bowl with cauliflower rice, white kimchi, edamame, avocado, marinated pickled vegetables and onion salsa.
Water Drop Vegetarian Café
Fo Guang Shan Temple, 16 Stancombe Rd, Flat Bush
Lunch at the Water Drop is the perfect conclusion to a visit to this Buddhist temple in Flat Bush. As befits the tenets of Buddhism, the menu is vegetarian but can also be adjusted to suit vegans. To get in sync, go for a bowl of pickled vegetables, served on rice. This was the food the founder of the Fo Guang Shan Temple was sent by his venerable teacher when he was gravely ill. He survived, and dedicated his life to Buddhism. Otherwise choose the Goodwish Rice with seasonal vegetables, or Lohan Delight, also served with seasonal fresh vegetables. However, if you are more inclined towards a snack, try the beancurd sticks or sota rolls — deep-fried toasted bread with soy fillings. (NB: opens 10am-4pm, and closed Mondays.)