Jun 30, 2017 Restaurants
For the latest review, see the 2018 review of The Tasting Shed.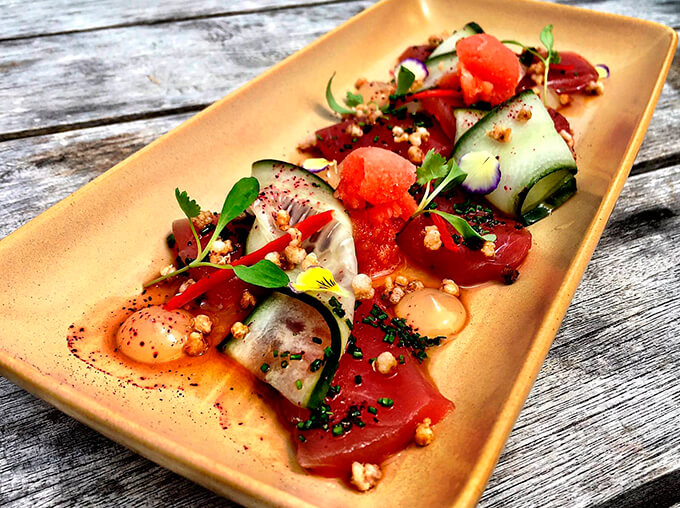 The Tasting Shed
Destination Restaurant
A farmhouse aesthetic and a colour-saturated country garden make Kumeu's The Tasting Shed a restorative break from the city, but the real drawcard is the vivacity of owners Jo and Ganesh Raj. They're in the love business — literally, in the sense that they frequently cater to weddings across four indoor and outdoor spaces, but also in their approach to hospitality. They know from previous fast-paced careers what a luxury downtime is, and they honour that with astonishingly good food and always relaxing service. On summer Sundays, there are "sundowners": drinks on the grass with bar snacks where you can bring your own blanket, your kids and your gran, too. Move inside for a dinner that's familiar but playful — a scotch egg with kimchi and pickled daikon, perhaps, or the comfort of pork belly with miso, carrot and green beans. Warm. Fuzzy. Fun.
A favourite dish
Stingray, asam laksa, prawn, coconut, puffed rice and coriander.
What it offers
Shared-plate options / Good seating outside / Private room / Takes large groups / Bar / Craft beer selection / Good for kids
Hours—L Fri-Sun; D Wed-Sun
Bookings—Yes
Price—$$
Seats—60
Chef—Richard Highnam

KUMEU
609 State Highway 16
Ph 412-6454
thetastingshed.co.nz

---
Click below for each restaurant's review
Amano
Apero
Artwok
Augustus Bistro
Azabu
Baduzzi
Beirut
Cafe hanoi
Casita Miro
Cassia
Cazador
Cibo
Clooney
Cocoro
Coco's Cantina
Culprit
Depot
Ebisu
Euro
Federal Delicatessen
Gemmazye St
Gusto at the Grand
Ima
Kazuya
Masu
Merediths
Molten
MooChowChow
O'Connell Street Bistro
Orphans Kitchen
Ortolana
Paris Butter
Pasta & Cuore
Pasture
Ponsonby Road Bistro
Rosie
Saan
Sidart
Siostra
Soul Bar & Bistro
Spacca
Blue Breeze Inn
The Engine Room
The French Cafe
The Grill by Sean Connolly
The Grove
The Oyster Inn
The Shed , Te Motu
Woodpecker Hill