Jun 30, 2017 Restaurants
For the latest review, see the 2018 review of The Grill by Sean Connolly.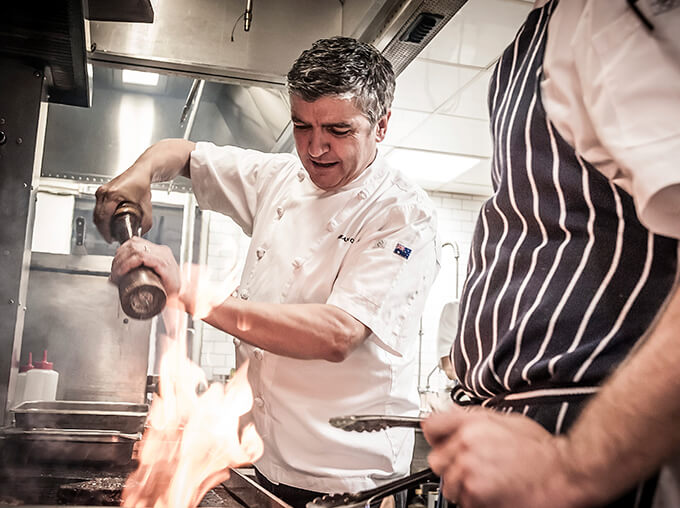 The Grill by Sean Connolly
Smart Dining
For all the New York-style pizza in this city, there are few traditional steak houses. Sean Connolly attempted to remedy that when he ushered The Grill into existence as part of a reality TV show. It was a fittingly American beginning, but five years later, The Grill feels distinctly Kiwi. A "steak library" is the core offering, best enjoyed with a full-bodied red from the 20-page wine list. Expect a side order of theatre with some dishes, like the steak tartare, which is tossed to your taste at the table by a besuited waiter, or the suckling pig, which is available most evenings. Kai moana is equally feast-worthy, with delicacies such as Pernod garlic-butter prawns and crayfish and chicken pies. Polished service rounds off a timeless dining experience.
A favourite dish
Suckling pig fritter, cabbage slaw and pecorino.
What it offers
Fixed-price meals / Free-range chicken and pork / Private room / Takes large groups / Bar / Special-occasion menus (eg Father's
Day) / Pre-theatre menu / Sunday roasts from 6pm / BYO Mondays / Good craft beer selection
Hours—L Mon-Fri; D 7 days
Bookings—Yes
Price—$$$
Seats—110
Chef—Sean Connolly 

CENTRAL CITY
SkyCity Grand Hotel
90 Federal St
Ph 363-7067
skycityauckland.co.nz
---
Click below for each restaurant's review
Amano
Apero
Artwok
Augustus Bistro
Azabu
Baduzzi
Beirut
Cafe hanoi
Casita Miro
Cassia
Cazador
Cibo
Clooney
Cocoro
Coco's Cantina
Culprit
Depot
Ebisu
Euro
Federal Delicatessen
Gemmazye St
Gusto at the Grand
Ima
Kazuya
Masu
Merediths
Molten
MooChowChow
O'Connell Street Bistro
Orphans Kitchen
Ortolana
Paris Butter
Pasta & Cuore
Pasture
Ponsonby Road Bistro
Rosie
Saan
Sidart
Siostra
Soul Bar & Bistro
Spacca
Blue Breeze Inn
The Engine Room
The French Cafe
The Grove
The Oyster Inn
The Shed , Te Motu
The Tasting Shed
Woodpecker Hill