Jun 30, 2017 Restaurants
For the latest review, see the 2018 review of The Blue Breeze Inn.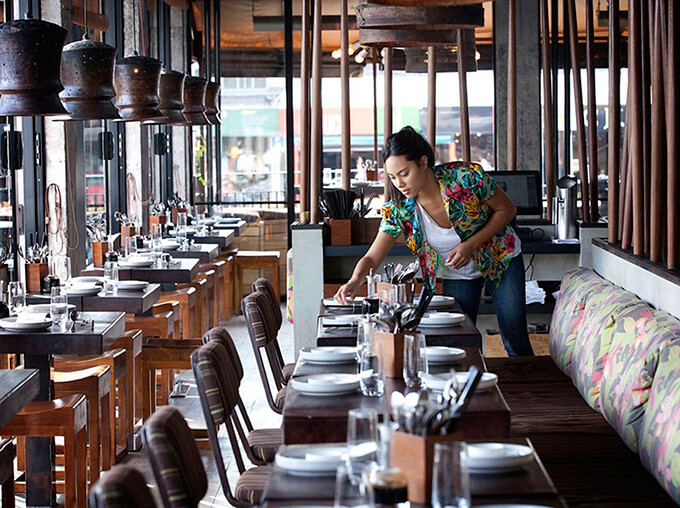 The Blue Breeze Inn
City-Fringe Bistro—Modern Chinese/tiki bar
With The Blue Breeze Inn, chef Che Barrington and co-owner Mark Wallbank have taken all the fun of a Pacific Rim tiki bar and thrown in their take on modern Asian food. A jungly fit-out with dark wood, clashing florals and bamboo is a buzzy stage for perky waiters in Hawaiian shirt uniforms. A prime Ponsonby location means it's fine to wear sunglasses indoors, if not expected. Order from the list of beachy, rum-based cocktails and you're half-way on holiday. Their pork belly bao — fluffy, sticky, moreish buns — still deservedly draw a crowd, which Blue Breeze's feast of a shared-plates menu is prepped for. Ponsonby Rd has seen its fair share of new eateries in the past decade and Blue Breeze, in just a few short years of operation, has cemented itself as a firm favourite.
A favourite dish
Tuatua with pork and black rice vinegar.
What it offers
Shared-plate options / Sunday special: all-day dumplings and Peking duck / Good for vegetarians / Free-range chicken and/or pork / Good seating outside / Private room / Takes large groups / Bar / Craft beer selection
Hours—L D 7 days
Bookings—Yes
Price—$$
Seats—110
Chef—Che Barrington

PONSONBY—
146 Ponsonby Rd
Ph 360-0303
thebluebreezeinn.co.nz
---
Click below for each restaurant's review
Amano
Apero
Artwok
Augustus Bistro
Azabu
Baduzzi
Beirut
Cafe hanoi
Casita Miro
Cassia
Cazador
Cibo
Clooney
Cocoro
Coco's Cantina
Culprit
Depot
Ebisu
Euro
Federal Delicatessen
Gemmazye St
Gusto at the Grand
Ima
Kazuya
Masu
Merediths
Molten
MooChowChow
O'Connell Street Bistro
Orphans Kitchen
Ortolana
Paris Butter
Pasta & Cuore
Pasture
Ponsonby Road Bistro
Rosie
Saan
Sidart
Siostra
Soul Bar & Bistro
Spacca
The Engine Room
The French Cafe
The Grill by Sean Connolly
The Grove
The Oyster Inn
The Shed , Te Motu
The Tasting Shed
Woodpecker Hill