Jun 30, 2017 Restaurants
For the latest review, see the 2018 review of Soul Bar and Bistro.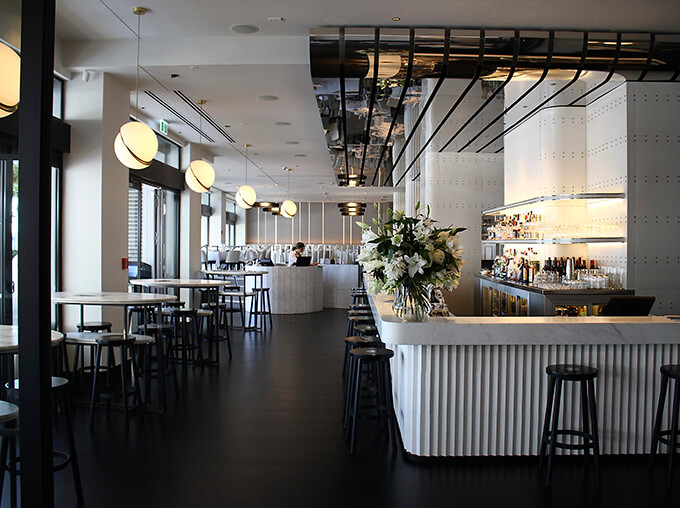 Soul Bar & Bistro
Smart Dining
Soul's timeless appeal is in its large, marina-side deck, lined with luxuriant hanging baskets that surely must require their own dedicated gardener. As such, it's easy to miss the newly renovated interior, inspired by the aesthetic of a tasteful superyacht, which is muted but sumptuous. Restaurateur par excellence Judith Tabron is at the helm, ensuring a consistent standard of calm, starched-tableclothed service. Gavin Doyle's menu is fit for purpose: heavy on seafood and raw fish, a touch retro, and featuring crowd-pleasing meat and poultry mains. Soul is a place to come when you have an expense account and a client to woo over oysters, or for a celebratory lunch.
A favourite dish
Whole flounder, capers, lemon, parsley and macona almonds.
What it offers
Good seating outside / Shared-plate options / Free-range chicken and pork / Takes large groups / Bar / Fixed-price meals / Bar / Craft beer selection
Hours—L D 7 days
Bookings—Yes
Price—$$
Seats—200 lunch, 120 dinner
Chef—Gavin Doyle

WATERFRONT
Viaduct Harbour
Ph 356-7249
soulbar.co.nz

---
Click below for each restaurant's review
Amano
Apero
Artwok
Augustus Bistro
Azabu
Baduzzi
Beirut
Cafe hanoi
Casita Miro
Cassia
Cazador
Cibo
Clooney
Cocoro
Coco's Cantina
Culprit
Depot
Ebisu
Euro
Federal Delicatessen
Gemmazye St
Gusto at the Grand
Ima
Kazuya
Masu
Merediths
Molten
MooChowChow
O'Connell Street Bistro
Orphans Kitchen
Ortolana
Paris Butter
Pasta & Cuore
Pasture
Ponsonby Road Bistro
Rosie
Saan
Sidart
Siostra
Spacca
Blue Breeze Inn
The Engine Room
The French Cafe
The Grill by Sean Connolly
The Grove
The Oyster Inn
The Shed, Te Motu
The Tasting Shed
Woodpecker Hill