Jun 30, 2017 Restaurants
For the latest review, see the 2018 review of Pasta & Cuore.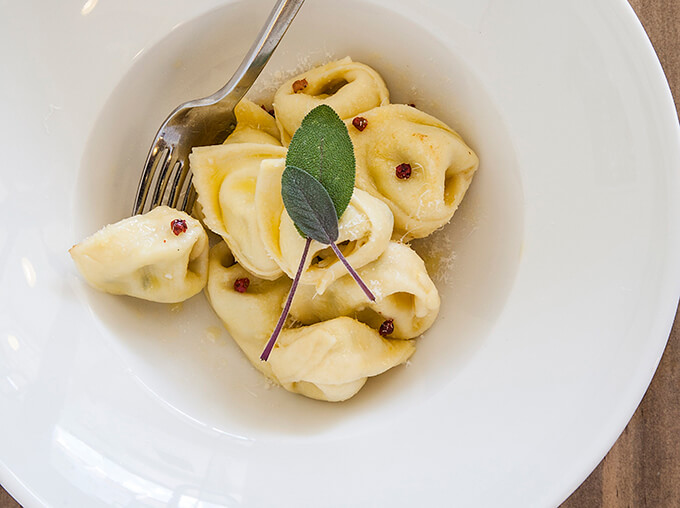 Pasta & Cuore
Neighbourhood Bistro—Traditional Italian
Time at this narrow neighbourhood bistro is measured by the kneading of pasta dough and the sipping of pinot grigio, punctuated by the noise of an open kitchen, made mellifluous by a chorus of Italian voices. Pasta & Cuore's owner, Stefania Ugolini, grew up in Bologna and has been cooking since she was five, or as she puts it, "I grew up with a ball of pasta dough in my hand." That dough contains no water, just free-range eggs and premium flour, and her seasonal sauces make the most of locally made artisan produce. She's insistent that pasta must be eaten hot, so everything's served on super-heated plates, affording lazy lunches in the charming garden where the food never gets cold. The city's best wine list is a journey through Italy, covering all the classic regions and wine styles. Nearly everything is available by the glass, and they'll precisely match it to your food.
A favourite dish
Pasta. The menu changes daily, so put yourself in their hands.
What it offers
Good for vegetarians / Free-range chicken and/or pork / Good seating outside / Good for kids
Hours—L Tue-Sun; D Tue-Sat (kitchen closes 8.30pm)
Bookings—Yes
Price—$
Seats—38
Chef—Stefania Ugolini

MT EDEN
409 Mt Eden Rd
Ph 630-9130
pastacuore.co.nz
---
Click below for each restaurant's review 
Amano
Apero
Artwok
Augustus Bistro
Azabu
Baduzzi
Beirut
Cafe hanoi
Casita Miro
Cassia
Cazador
Cibo
Clooney
Cocoro
Coco's Cantina
Culprit
Depot
Ebisu
Euro
Federal Delicatessen
Gemmazye St
Gusto at the Grand
Ima
Kazuya
Masu
Merediths
Molten
MooChowChow
O'Connell Street Bistro
Orphans Kitchen
Ortolana
Paris Butter
Pasture
Ponsonby Road Bistro
Rosie
Saan
Sidart
Siostra
Soul Bar & Bistro
Spacca
Blue Breeze Inn
The Engine Room
The French Cafe
The Grill by Sean Connolly
The Grove
The Oyster Inn
The Shed , Te Motu
The Tasting Shed
Woodpecker Hill