Jun 30, 2017 Restaurants
For the latest review, see the 2018 review of Ortolana.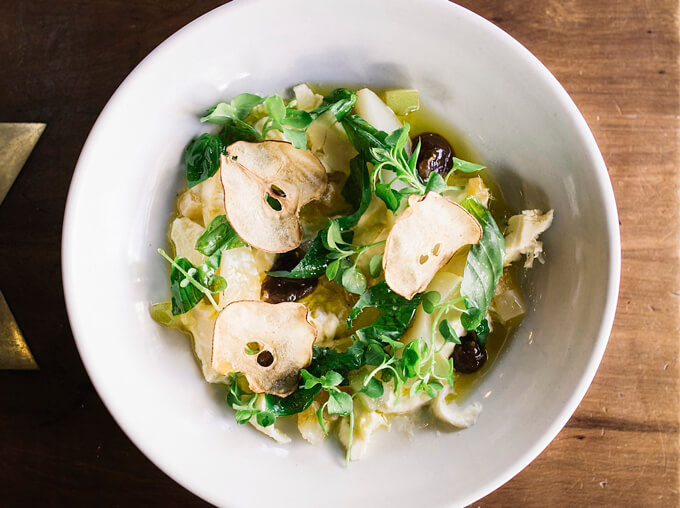 Ortolana
Inner-City Bistro—Contemporary
Ortolana's bigger, louder sister Amano may have recently opened just down the road, but that doesn't mean Ortolana has become any less wonderful, and that's impressive in itself. Housed in Tyler St's semi-permanent Pavilions and surrounded by concrete planters blooming with herbs, during the day it feels like a garden party, but at night this lovely little restaurant is a box of golden light that spills its warmth and welcome out onto Britomart's twinkling streets. Like all Hip Group restaurants, Ortolana's obsession is seasonality. The fruits of the month/week/day are worshipped in four to five hero ingredient compositions that are easy to love, from octopus with bucatini, peppers and cured pork, to pappardelle with heirloom tomato, olive, anchovies and capers. Everything from the service to the wine at Ortolana is done very well, and without fuss, and we love it.
A favourite dish
Lamb shoulder, polenta, peas and gremolata.
What it offers
Shared-plate options / Good for vegetarians / Free-range chicken and/or pork / Good seating outside / Craft beer selection
Hours—B L D 7 days
Bookings—Not accepted, except for off-peak times
Price—$$
Seats—90
Chef—Jo Pearson, executive chef; Kevin Puyat, head chef 

BRITOMART
31 Tyler St
Ph 368-9487
ortolana.co.nz
---
Click below for each restaurant's review 
Amano
Apero
Artwok
Augustus Bistro
Azabu
Baduzzi
Beirut
Cafe hanoi
Casita Miro
Cassia
Cazador
Cibo
Clooney
Cocoro
Coco's Cantina
Culprit
Depot
Ebisu
Euro
Federal Delicatessen
Gemmazye St
Gusto at the Grand
Ima
Kazuya
Masu
Merediths
Molten
MooChowChow
O'Connell Street Bistro
Orphans Kitchen
Paris Butter
Pasta & Cuore
Pasture
Ponsonby Road Bistro
Rosie
Saan
Sidart
Siostra
Soul Bar & Bistro
Spacca
Blue Breeze Inn
The Engine Room
The French Cafe
The Grill by Sean Connolly
The Grove
The Oyster Inn
The Shed , Te Motu
The Tasting Shed
Woodpecker Hill