Jun 30, 2017 Restaurants
For the latest review, see the 2018 review of O'Connell St Bistro.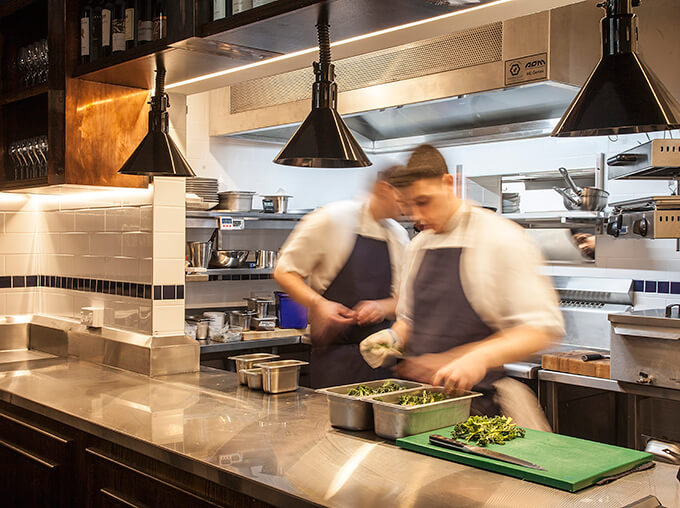 O'Connell Street Bistro
Amano " target="_blank" title="Book now" rel="noopener noreferrer">Book now
Smart Dining
After recovering from a kitchen fire that forced it to close last year, O'Connell Street is back in business and back in the Top 50 with a newer, softer space and an experienced team to run it. Three abstract, mixed-media artworks by Bill Snider inform the room's new colour scheme, which is carried through to the details — the copper finish of table lamps, the binding of menus, the blue silk of waiters' waistcoats. Few restaurants in the city have lasted the 20 years O'Connell Street owner Chris Upton has had to perfect these things. His steady hand still guides the ship, and executive chef Mark Southon's eight months of menu testing and refinement bring a freshness to the menu of this Auckland institution. Beloved dishes of old, including
the steak tartare, can still be found, but there are new delights to discover, and the service and wine list remain impeccable.
A favourite dish
Pappardelle of wild Bendigo rabbit, applewood-smoked bacon, walnut watercress pesto and Parmigiano Reggiano.
What it offers
Fixed-price meals / Good seating outside / Free-range chicken and/or pork / Takes large groups / Private room / Bar / Craft beer selection
Hours—L Mon-Fri; D Mon-Sat
Bookings—Yes
Price—$$$
Seats—100
Chef—Mark Southon

CENTRAL CITY
3 O'Connell St
Ph 377-1884
oconnellstbistro.com
---
Click below for each restaurant's review 
Amano
Apero
Artwok
Augustus Bistro
Azabu
Baduzzi
Beirut
Cafe hanoi
Casita Miro
Cassia
Cazador
Cibo
Clooney
Cocoro
Coco's Cantina
Culprit
Depot
Ebisu
Euro
Federal Delicatessen
Gemmazye St
Gusto at the Grand
Ima
Kazuya
Masu
Merediths
Molten
MooChowChow
Orphans Kitchen
Ortolana
Paris Butter
Pasta & Cuore
Pasture
Ponsonby Road Bistro
Rosie
Saan
Sidart
Siostra
Soul Bar & Bistro
Spacca
Blue Breeze Inn
The Engine Room
The French Cafe
The Grill by Sean Connolly
The Grove
The Oyster Inn
The Shed , Te Motu
The Tasting Shed
Woodpecker Hill