Jun 30, 2017 Restaurants
For the latest review, see the 2018 review of Masu .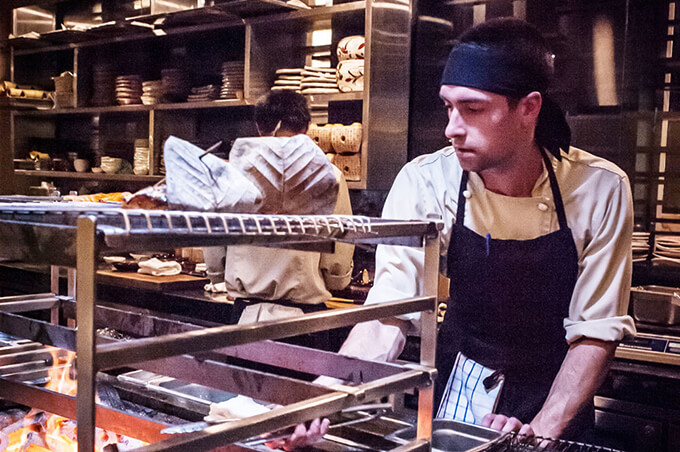 Masu
Smart Dining—Modern Japanese
How lucky we are that expat chef Nic Watt decided to take a break from running the kitchens of some of the world's finest contemporary Japanese restaurants abroad and open one here instead. With no expense spared, Masu's interior glows with soft amber-yellow light that reflects off the natural surfaces, from the polished alpine grey granite pass to the private dining table, carved from a single piece of suar wood. There's literal warmth emanating from the restaurant's hearth — a robata grill for traditional charcoal cooking of prime cuts of meat, vegetables and seafood. Translucent, gem-like raw fish masterpieces make up extravagant sashimi platters, while kitchen dishes such as the king-crab hotpot provide comfort. For all its opulence, the vibe's not at all precious, thanks to cheerful service that's just the right level of formal.
A great family place.
A favourite dish
King crab leg with smoked wasabi and lime butter.
What it offers
Shared-plate options / Semi-private room for 18 / Eki Ben express lunch / Takes large groups / Chef's table for 12 / Nichiyo buffet Sunday brunch (especially but not exclusively for families: kids under 5 dine free and there's a kids' activity room) / Fixed-price meals / Good for vegetarians / Takes large groups / Bar / Craft beer selection / Good for kids
Hours—L D 7 Days
Bookings—Yes
Price—$$$
Seats—120
Chef—Nic Watt 

CENTRAL CITY
90 Federal St
Ph 363-6278
skycityauckland.co.nz
 
---
Click below for each restaurant's review 
Amano
Apero
Artwok
Augustus Bistro
Azabu
Baduzzi
Beirut
Cafe hanoi
Casita Miro
Cassia
Cazador
Cibo
Clooney
Cocoro
Coco's Cantina
Culprit
Depot
Ebisu
Euro
Federal Delicatessen
Gemmazye St
Gusto at the Grand
Ima
Kazuya
Merediths
Molten
MooChowChow
O'Connell Street Bistro
Orphans Kitchen
Ortolana
Paris Butter
Pasta & Cuore
Pasture
Ponsonby Road Bistro
Rosie
Saan
Sidart
Siostra
Soul Bar & Bistro
Spacca
Blue Breeze Inn
The Engine Room
The French Cafe
The Grill by Sean Connolly
The Grove
The Oyster Inn
The Shed , Te Motu
The Tasting Shed
Woodpecker Hill