Jun 30, 2017 Restaurants
For the latest review, see the 2018 review of Gusto at the Grand.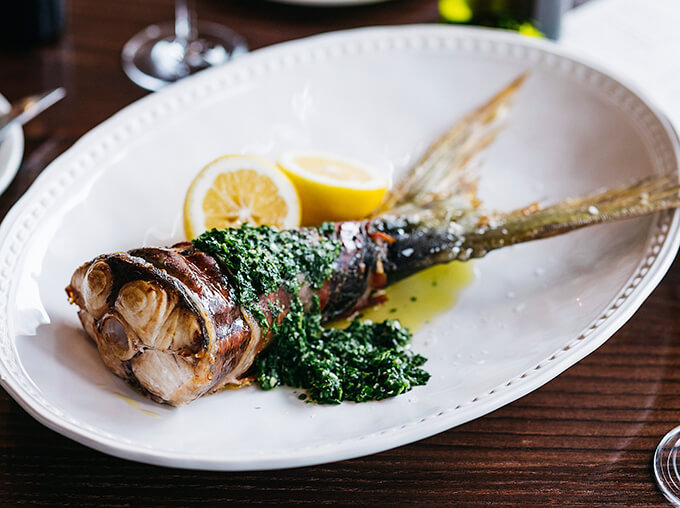 Gusto at the Grand
Inner-City Bistro—Italian trattoria-style hotel dining room
Located inside The Grand Hotel's aptly grand concourse, a sweet, artificial hotel scent quickly gives way to aromas more typically found at gas- and candle-lit restaurants in Tuscany. One of five Sean Connolly establishments in Australasia, Gusto is both a very good Italian trattoria and a shop window for some of the country's best producers, from Wairau Valley (mozzarella) to Curious Croppers (tomatoes). Time your arrival correctly and you'll be offered the chance to dine at the marble Chef's Table, which is extra special when Connolly is in residence. The West Yorkshire-born chef is the antithesis of jaded and his enthusiasm for fish and for meat cooked on the bone is infectious. He's exacting, and this has clearly rubbed off on his chefs, who remake dishes if they deem the pasta less than perfect. With a fun aperitif list to kick off a city night out, who cares if Gusto is in a hotel?
A favourite dish
Rum baba: light sponge doused in rum and served with ricotta.
What it offers
Shared-plate options / Fixed-price meals / Pre-theatre menu / Aperitivo hour (complimentary bites with purchased drinks, daily 5pm-7pm) / Chef's Table in the kitchen / "Trust the Chef" dinner for groups of  4-6 / Bar / Good for vegetarians / Free-range chicken and/or pork / Private room for 28 / Good for
kids / Craft beer selection / Takes large groups
Hours—B L D 7 days
Bookings—Yes
Price—$$
Seats—100
Chef—Sean Connolly

CENTRAL CITY
SkyCity Grand Hotel
90 Federal St
Ph 363-7030
skycityauckland.co.nz
---
Click below for each restaurant's review 
Amano
Apero
Artwok
Augustus Bistro
Azabu
Baduzzi
Beirut
Cafe hanoi
Casita Miro
Cassia
Cazador
Cibo
Clooney
Cocoro
Coco's Cantina
Culprit
Depot
Ebisu
Euro
Federal Delicatessen
Gemmazye St
Ima
Kazuya
Masu
Merediths
Molten
MooChowChow
O'Connell Street Bistro
Orphans Kitchen
Ortolana
Paris Butter
Pasta & Cuore
Pasture
Ponsonby Road Bistro
Rosie
Saan
Sidart
Siostra
Soul Bar & Bistro
Spacca
Blue Breeze Inn
The Engine Room
The French Cafe
The Grill by Sean Connolly
The Grove
The Oyster Inn
The Shed , Te Motu
The Tasting Shed
Woodpecker Hill