Jun 30, 2017 Restaurants
For the latest review, see the 2018 review of Federal Delicatessen.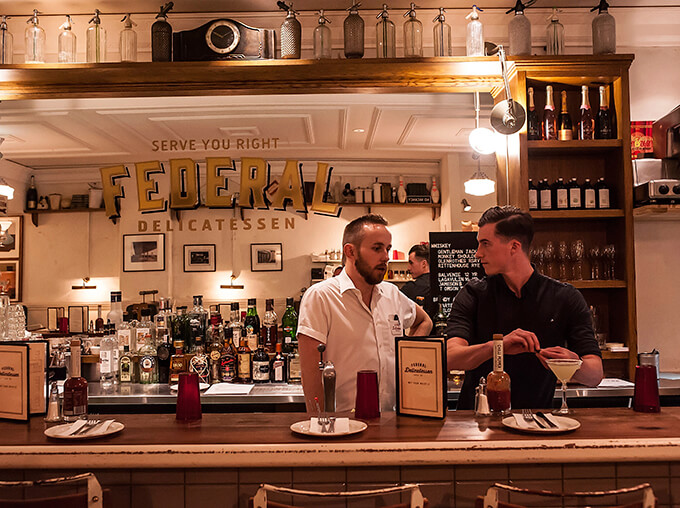 Federal Delicatessen
Inner-City Bistro—New York-style Jewish delicatessen
It's amazing that The Fed, as we've come to know it, has been in business only four years. Al Brown's homage to traditional New York Jewish delicatessens and Montreal comfort food is its own timeless world. Every effort has been made to replicate the culture of diners we could previously experience only in films, with design details that avoid tacky pastiche, and service with just the right amount of sass. There are cosy green leather booths, steel menu holders and milkshake-green uniforms. There's bottomless filter coffee, rotisserie chicken and cherry cola. New York cheesecake is for sharing, chicken sandwiches for selfishly guarding, and the last fork of poutine worth fighting over. There are few pleasures quite like sitting at the long open pass with a bowl of matzo ball soup, and the company of a vocal production line of energetic chefs. It makes this place feel like a city. A really exciting one.
A favourite dish
Milk-fed veal schnitzel with sage and lemon.
What it offers
Shared-plate options / Late
Shift menu 11pm-1am (Friday and Saturday) / Free-range chicken
and/or pork / Bar / Good seating outside / Craft beer selection / Streetside takeaway window
Hours—B, L, D 7 days
Bookings—No
Price—$$
Seats—75
Chef—Al Brown, executive chef; Rob Forsman, head chef

CENTRAL CITY
86 Federal St
Ph 363-7184
thefed.co.nz
---
Click below for each restaurant's review 
Amano
Apero
Artwok
Augustus Bistro
Azabu
Baduzzi
Beirut
Cafe hanoi
Casita Miro
Cassia
Cazador
Cibo
Clooney
Cocoro
Coco's Cantina
Culprit
Depot
Ebisu
Euro
Gemmazye St
Gusto at the Grand
Ima
Kazuya
Masu
Merediths
Molten
MooChowChow
O'Connell Street Bistro
Orphans Kitchen
Ortolana
Paris Butter
Pasta & Cuore
Pasture
Ponsonby Road Bistro
Rosie
Saan
Sidart
Siostra
Soul Bar & Bistro
Spacca
Blue Breeze Inn
The Engine Room
The French Cafe
The Grill by Sean Connolly
The Grove
The Oyster Inn
The Shed , Te Motu
The Tasting Shed
Woodpecker Hill