Jun 30, 2017 Restaurants
For the latest review, see the 2018 review of Ebisu.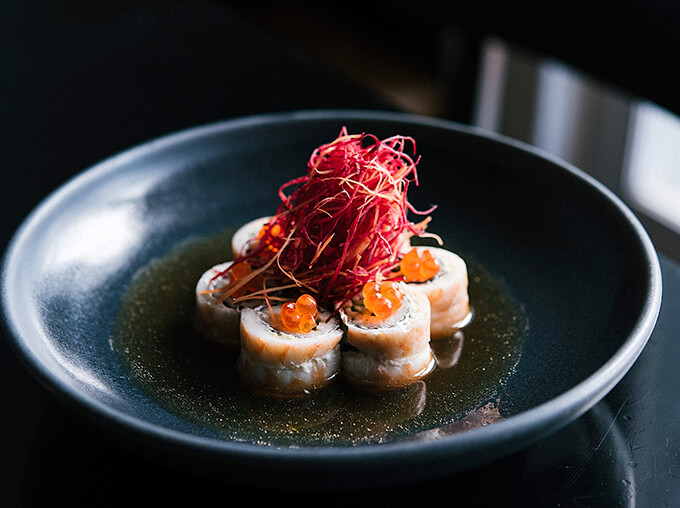 Ebisu
Smart Dining—Japanese
Ebisu has had a very fine refurbishment, the interior now moody and seductive, with brown and dark blue hues. Finer still is its food — an izakaya-style menu of sharing plates perfect for a large group. If you're eating small, be sure to get the karaage chicken in a light, soy and spring onion broth, or any of the rolled sushi plates. If you're in for the night, simply choose the tasting menu and allow head chef Fred Wong to send plate after plate of the freshest sashimi and precision-cut meats to your table. The floor, helmed by Wayne Shennen, runs like clockwork. It is busy at Ebisu, but never tense. In fact, dining here is some of the most fun you can have eating out.
A favourite dish
Tuna ceviche roll with tuna, ponzu, spring onion, chives, shichimi pepper and sesame oil.
What it offers
Shared-plate options / Good for vegetarians / Set menu options / Degustation option /Bar / Craft beer selection / Takes large groups
Hours—L Mon-Fri; D 7 days
Bookings—Yes
Price—$$
Seats—120
Chef—Fred Wong

BRITOMART
116 Quay St
Ph 300-5271
ebisu.co.nz
---
Click below for each restaurant's review 
Amano
Apero
Artwok
Augustus Bistro
Azabu
Baduzzi
Beirut
Cafe hanoi
Casita Miro
Cassia
Cazador
Cibo
Clooney
Cocoro
Coco's Cantina
Culprit
Depot
Euro
Federal Delicatessen
Gemmazye St
Gusto at the Grand
Ima
Kazuya
Masu
Merediths
Molten
MooChowChow
O'Connell Street Bistro
Orphans Kitchen
Ortolana
Paris Butter
Pasta & Cuore
Pasture
Ponsonby Road Bistro
Rosie
Saan
Sidart
Siostra
Soul Bar & Bistro
Spacca
Blue Breeze Inn
The Engine Room
The French Cafe
The Grill by Sean Connolly
The Grove
The Oyster Inn
The Shed , Te Motu
The Tasting Shed
Woodpecker Hill