Jun 30, 2017 Restaurants
For the latest review, see the 2018 review of Culprit.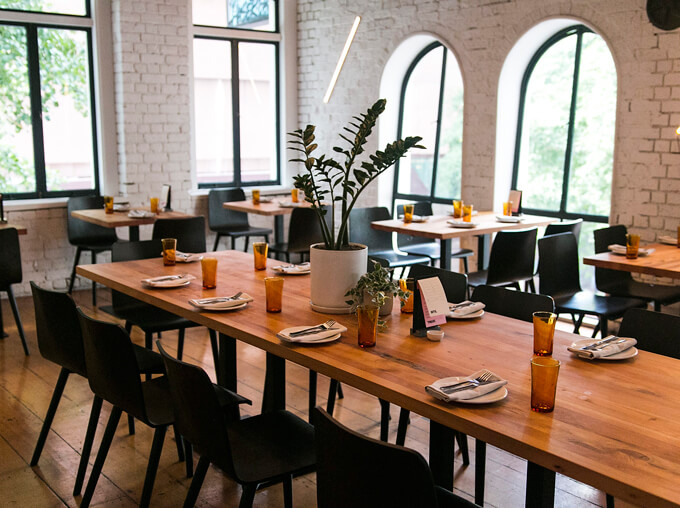 Culprit
Inner-City Bistro—Contemporary trolley service
Ex-Depot chefs Kyle Street and Jordan Macdonald's first restaurant is located in a cavernous, exposed-brick loft on Wyndham St. Depot alumni can also be found on the floor, led by restaurant manager Nick Gallagher — a line-up that ensures no detail is missed. The dining experience is structured by trolley services at 6pm, 7pm and 8pm, when a selection of seasonal bites is wheeled around the restaurant's tactile macrocarpa tables. Inventive, playful delights such as flat iron steak tartare (served on a waffle chip), duck and pumpkin tortellini and kahawai umami sashimi have us almost forgetting about the à la carte menu — a tragedy when braised pig face and pinot-poached West Coast turbot are on offer, along with other sonnets to less-popular species, cuts and vegetables. Slushy machine cocktails and a tidy wine list cap off a lively night. What fun.
A favourite dish
Chicken liver parfait with doughnuts, pinot-noir syrup and chard.
What it offers
Shared-plate options / Fixed-price meal options / Good for vegetarians / Free-range chicken and/or pork / Bar / Craft beer selection / Trolley service / Takes large groups
Hours—L Thu & Fri, D Tue-Sat (sittings at 6pm, 7pm and 8pm; pre-theatre at 5.30pm)
Bookings—Yes
Price—$$
Seats—60
ChefS—Kyle Street & Jordan Macdonald

CENTRAL CITY
Level 1, 12 Wyndham St
Ph 377-5992
culprit.co.nz
---
Click below for each restaurant's review 
Amano
Apero
Artwok
Augustus Bistro
Azabu
Baduzzi
Beirut
Cafe hanoi
Casita Miro
Cassia
Cazador
Cibo
Clooney
Cocoro
Coco's Cantina
Depot
Ebisu
Euro
Federal Delicatessen
Gemmazye St
Gusto at the Grand
Ima
Kazuya
Masu
Merediths
Molten
MooChowChow
O'Connell Street Bistro
Orphans Kitchen
Ortolana
Paris Butter
Pasta & Cuore
Pasture
Ponsonby Road Bistro
Rosie
Saan
Sidart
Siostra
Soul Bar & Bistro
Spacca
Blue Breeze Inn
The Engine Room
The French Cafe
The Grill by Sean Connolly
The Grove
The Oyster Inn
The Shed, Te Motu
The Tasting Shed
Woodpecker Hill