Jun 30, 2017 Restaurants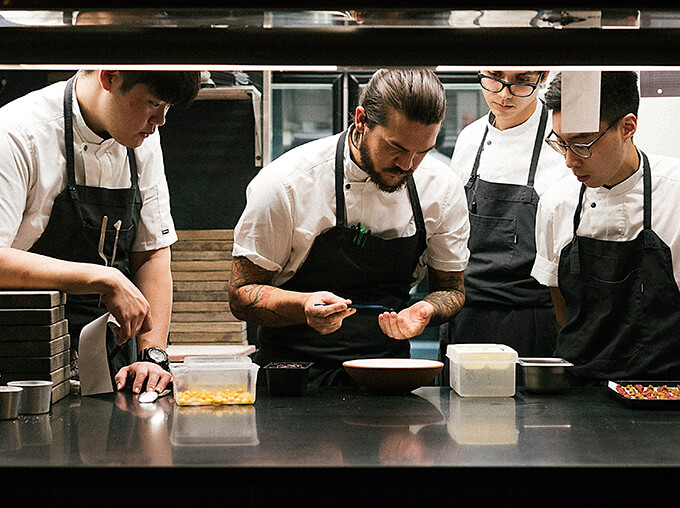 Clooney
Fine Dining
The mysterious intensity of Clooney's vertically dramatic dining room, with its spotlit tables, intimate tan banquettes and sheer corridors of black string curtains, feels more apt than ever with the arrival of executive chef Jacob Kear. Preceded by his reputation, the Japanese-American chef has worked at all three Noma restaurants under René Redzepi. His still-evolving style at Clooney features tasting menus that are playful, well paced and thrillingly challenging. A Redzepi-informed lust for immersion in the local ecosystem combines with traditional Japanese processes and flavours to create sensuous studies of land and sea. Dehydrated cherry blossoms, pine-scented tomato water and crispy South Canterbury eel with sancho pepper provide a mere glimpse of Kear's creativity. His knack for balance means having 13 courses feels energising rather than soporific.
A favourite dish
Sake kasu ice cream with thin rice sheets, green strawberry and verbena oil.
What it offers
13-course dégustations with vegetarian and pescatarian options / Sake & wine matching / Good for vegetarians / Free-range chicken and/or pork / Bar / Craft beer selection / Semi-private area seating 12 / Private room seating 20 / Takes large groups
Hours—D 7 days
Bookings—Yes
Price—$$$
Seats—80
Chef—Jacob Kear

FREEMANS BAY
33 Sale St
Ph 358-1702
clooney.co.nz

---
Click below for each restaurant's review 
Amano
Apero
Artwok
Augustus Bistro
Azabu
Baduzzi
Beirut
Cafe hanoi
Casita Miro
Cassia
Cazador
Cibo
Cocoro
Coco's Cantina
Culprit
Depot
Ebisu
Euro
Federal Delicatessen
Gemmazye St
Gusto at the Grand
Ima
Kazuya
Masu
Merediths
Molten
MooChowChow
O'Connell Street Bistro
Orphans Kitchen
Ortolana
Paris Butter
Pasta & Cuore
Pasture
Ponsonby Road Bistro
Rosie
Saan
Sidart
Siostra
Soul Bar & Bistro
Spacca
Blue Breeze Inn
The Engine Room
The French Cafe
The Grill by Sean Connolly
The Grove
The Oyster Inn
The Shed , Te Motu
The Tasting Shed
Woodpecker Hill
For the latest review, see the 2018 review of Clooney.