Jun 30, 2017 Restaurants
For the latest review, see the 2018 review of Cibo.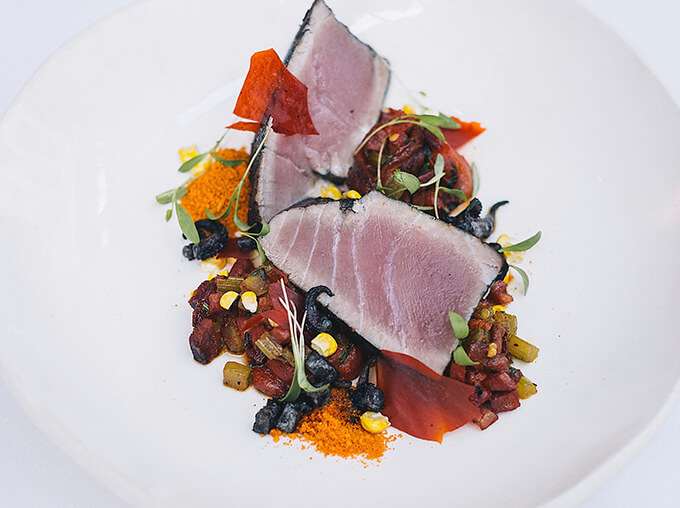 Cibo
Smart Dining—Contemporary/Asian fusion
Cibo has been there, tucked away in an old chocolate factory, for years, and it's well loved by many for myriad reasons, starting with the service. It is a sweet anomaly of a restaurant, decorated with black hand mirrors, cherry- blossom wallpaper and elaborate light fittings. It defies trends and remains popular because a meal here is a throwback to old-world charm and generosity. This is a place where the staff open doors for you, and it doesn't feel forced. Chef Kate Fay is still turning out beautiful dishes that fuse flavours from many different nations, the wine list is still extensive and well considered, and yet it's the people and the feeling of warmth, familiarity and fun they bring that keeps us coming back. 
A favourite dish
The mountainous pavlova with salted caramel and toffee nut brittle.
What it offers
Set menu option / Dégustation option / Express lunch, available until 4pm / Good for vegetarians / Free-range chicken and/or pork / Good seating outside / Takes large groups / Bar / Craft beer selection
Hours—L Mon-Fri; D Mon-Sat
Bookings—Yes
Price—$$$
Seats—140
Chef—Kate Fay
Winner, Peugeot People's Choice Award for Auckland's Favourite Dish: Fry-pan brownie, raspberries, raspberry marshmallows, butterscotch raspberry ripple ice cream
PARNELL
91 St Georges Bay Rd
Ph 303-9660
cibo.co.nz
---
Click below for each restaurant's review 
Amano
Apero
Artwok
Augustus Bistro
Azabu
Baduzzi
Beirut
Cafe hanoi
Casita Miro
Cassia
Cazador
Clooney
Cocoro
Coco's Cantina
Culprit
Depot
Ebisu
Euro
Federal Delicatessen
Gemmazye St
Gusto at the Grand
Ima
Kazuya
Masu
Merediths
Molten
MooChowChow
O'Connell Street Bistro
Orphans Kitchen
Ortolana
Paris Butter
Pasta & Cuore
Pasture
Ponsonby Road Bistro
Rosie
Saan
Sidart
Siostra
Soul Bar & Bistro
Spacca
Blue Breeze Inn
The Engine Room
The French Cafe
The Grill by Sean Connolly
The Grove
The Oyster Inn
The Shed , Te Motu
The Tasting Shed
Woodpecker Hill