Jun 30, 2017 Restaurants
For the latest review, see the 2018 review of Cazador .
For more great videos, check out our Youtube Channel.
Cazador
Neighbourhood Bistro—Contemporary/wild-food specialists
In its fifth year of ownership by Dariush Lolaiy and Rebecca Smidt and its 30th by the wider Lolaiy family, this casual bistro has truly come of age. Cazador's motto is "try something different", referencing the less-conventional cuts of meat and game on offer — roast hare saddle, pheasant parfait or wild boar, anyone? — and the canny charm with which the front-of-house team, led by Smidt, convince you to try them, or an unusual sherry. But it's not about novelty: every element on the plate, behind the bar or hanging from the stucco walls has a considered backstory. Lolaiy is an intuitive chef, switching between a grill, a few frying pans and an oven, but his food is highly sophisticated, the balanced simplicity of compositions belying the butchery, brining and smoking involved. Steeped in family history yet utterly relevant, Cazador is a neighbourhood jewel.
A favourite dish
The charcuterie plate, which can feature anything from venison terrine and duck-liver parfait to boar salami.
What it offers
Shared-plate options / Set menu: game fest / Free-range chicken and/or pork (wild) / Good seating outside / Private room / Takes large groups / Bar / Craft beer selection
Hours—D Tue-Sat
Bookings—Yes
Price—$$
Seats—45
Chef—Dariush Lolaiy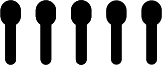 BALMORAL
854 Dominion Rd
Ph 620-8730
cazador.co.nz
---
Click below for each restaurant's review
Amano
Apero
Artwok
Augustus Bistro
Azabu
Baduzzi
Beirut
Cafe hanoi
Casita Miro
Cassia
Cibo
Clooney
Cocoro
Coco's Cantina
Culprit
Depot
Ebisu
Euro
Federal Delicatessen
Gemmazye St
Gusto at the Grand
Ima
Kazuya
Masu
Merediths
Molten
MooChowChow
O'Connell Street Bistro
Orphans Kitchen
Ortolana
Paris Butter
Pasta & Cuore
Pasture
Ponsonby Road Bistro
Rosie
Saan
Sidart
Siostra
Soul Bar & Bistro
Spacca
Blue Breeze Inn
The Engine Room
The French Cafe
The Grill by Sean Connolly
The Grove
The Oyster Inn
The Shed , Te Motu
The Tasting Shed
Woodpecker Hill