Jun 30, 2017 Restaurants
For the latest review, see the 2018 review of Casita Miro.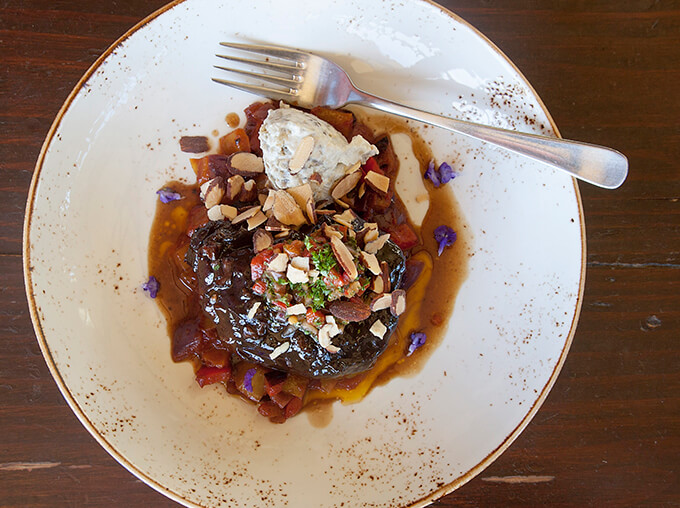 Casita Miro
Destination Restaurant—Informal Spanish-style winery restaurant
Casita Miro is a one-of-a-kind experience, serving Spanish fare in tandem with wines produced from the very vines the restaurant overlooks, and also offering a great list of imported sherries. Chef Cristian Hossack's food is rich and satisfying, with dishes taking inspiration not just from Spain but also Spanish-speaking and Moorish cultures. His menu includes the wonderfully Central American-esque crispy-skinned pork belly, which comes with sweetcorn salsa, tomatillo jam and coconut yoghurt. On the floor, Cat Vosper is the star of the show but even when she's absent, the place retains a buoyant atmosphere thanks to the assured staff. Let them talk you into a sherry flight; with a bowl of kalamata olives braised in honey, red wine and orange zest, this is a complete experience in itself.
A favourite dish
Lamb and fig tagine on a bed of Israeli couscous with pistachio, apricot and preserved lemon yoghurt.
What it offers
Shared-plate options / Fixed-price meals / Good for vegetarians / Free-range chicken and/or pork / Bar / Craft beer selection / Good seating outside / Takes large groups / Good for kids
Hours—Winter: L 7 days, D Fri-Sat; summer: L 7 days, D Thurs-Sun
Bookings—Yes
Price—$$
Seats—70-100, depending on weather
Chef—Cristian Hossack

WAIHEKE
3 Brown Rd
Onetangi
Ph 372-7854
casitamiro.co.nz
---
Click below for each restaurant's review 
Amano
Apero
Artwok
Augustus Bistro
Azabu
Baduzzi
Beirut
Cafe hanoi
Cassia
Cazador
Cibo
Clooney
Cocoro
Coco's Cantina
Culprit
Depot
Ebisu
Euro
Federal Delicatessen
Gemmazye St
Gusto at the Grand
Ima
Kazuya
Masu
Merediths
Molten
MooChowChow
O'Connell Street Bistro
Orphans Kitchen
Ortolana
Paris Butter
Pasta & Cuore
Pasture
Ponsonby Road Bistro
Rosie
Saan
Sidart
Siostra
Soul Bar & Bistro
Spacca
Blue Breeze Inn
The Engine Room
The French Cafe
The Grill by Sean Connolly
The Grove
The Oyster Inn
The Shed, Te Motu
The Tasting Shed
Woodpecker Hill