Jun 30, 2017 Restaurants
For the latest review, see the 2018 review of Azabu .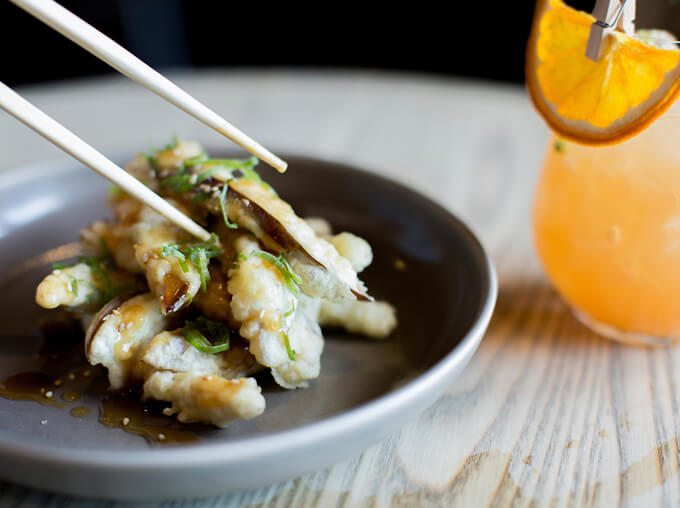 Amano " target="_blank" title="Book now" rel="noopener noreferrer">Book now
Azabu
Smart Dining—Nikkei/Japanese
Now here's somewhere fun. Enter through a heavy, subtly signposted door into a sleek, inky world humming with party-vibes music. There's a catwalk-length row of near-touching tables, mushroom lighting and glossy, statement photo frames leaning along the main wall. The fact they're not precisely hung epitomises the relaxed atmosphere here despite the formal design. The eatery itself is inspired by the cultural developments that occurred in Peru following mass Japanese migration from the late 1800s. The resulting cuisine, Nikkei, is Azabu's focus, which means tataki tostadas, tiradito and scotch fillet with chimichurri, executed with finesse and an appreciation for texture. Executive chef and co-owner Yukio Ozeki draws on his years of experience in New Zealand and Japan; he honed his formidable sushi skills at Tokyo's Tsukiji fish market.
A favourite dish
Lamb chuleta: spiced lamb cutlets with smoky aubergine and coriander purée.
What it offers
Shared-plate options / Good for vegetarians / Free-range chicken and/or pork / Bar / Craft beer selection
Hours—L Wed-Sun; D 7 days
Bookings—Yes
Price—$$
Seats—80 (plus 26 in bar area)
Chef—Yukio Ozeki

PONSONBY
26 Ponsonby Rd
Ph 320-5292
azabuponsonby.co.nz
---
Click below for each restaurant's review 
Amano
Apero
Artwok
Augustus Bistro
Baduzzi
Beirut
Cafe hanoi
Casita Miro
Cassia
Cazador
Cibo
Clooney
Cocoro
Coco's Cantina
Culprit
Depot
Ebisu
Euro
Federal Delicatessen
Gemmazye St
Gusto at the Grand
Ima
Kazuya
Masu
Merediths
Molten
MooChowChow
O'Connell Street Bistro
Orphans Kitchen
Ortolana
Paris Butter
Pasta & Cuore
Pasture
Ponsonby Road Bistro
Rosie
Saan
Sidart
Siostra
Soul Bar & Bistro
Spacca
Blue Breeze Inn
The Engine Room
The French Cafe
The Grill by Sean Connolly
The Grove
The Oyster Inn
The Shed , Te Motu
The Tasting Shed
Woodpecker Hill