Jun 30, 2017 Restaurants
For the latest review, see the 2018 review of Amano restaurant.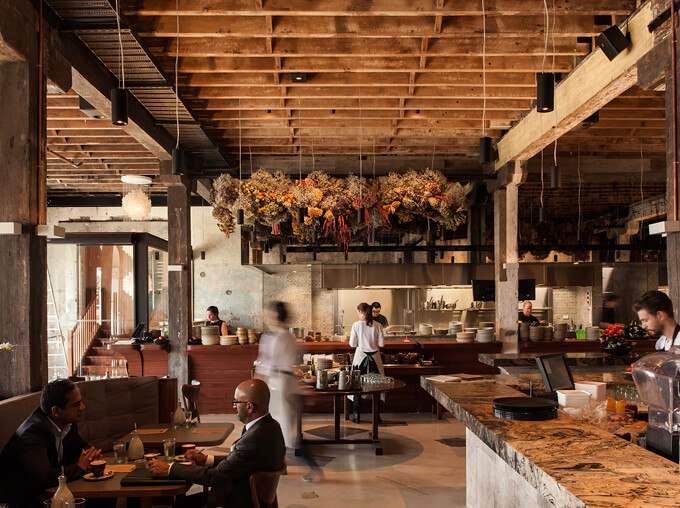 Amano
Inner-City Bistro—Italian/New Zealand
Hip Group's newest restaurant is also its grandest, with an open kitchen spanning almost 20 metres, a bakery, multiple sumptuous seating areas and a bar. Dried flowers hang from exposed timber beams and mother-of-pearl, limestone and marble surfaces glitter on the periphery, a rustic yet sophisticated backdrop for food that's all that. Printed daily to accommodate the best of the day's fresh seafood, meat and vegetables, Jo Pearson's extensive menu is characterised by dishes with three to four hero ingredients. They're elevated to the heights of excellence by a perfectionist's hand, with fresh pasta made using grains milled on site. The wine list is a lesson in terroir — there's an Italian and New Zealand version of each variety — while classic cocktails are dressed for the seasons, from summer citrus kiyomi twists to autumnal feijoa.
A favourite dish
Seasonal casonsèi with brown butter and buttermilk.
What it offers
Shared-plate options / Good for vegetarians / Free-range chicken and/or pork / Bar / Craft beer selection
Hours—B L D 7 days
Bookings—Yes
Price—$$
Seats—120
Chef—Jo Pearson, executive chef; Andrew Hanson, head chef


Britomart
66-68 Tyler St
Ph 394-1416
amano.nz
---
Click below for each restaurant's review 
Apero
Artwok
Augustus Bistro
Azabu
Baduzzi
Beirut
Cafe hanoi
Casita Miro
Cassia
Cazador
Cibo
Clooney
Cocoro
Coco's Cantina
Culprit
Depot
Ebisu
Euro
Federal Delicatessen
Gemmazye St
Gusto at the Grand
Ima
Kazuya
Masu
Merediths
Molten
MooChowChow
O'Connell Street Bistro
Orphans Kitchen
Ortolana
Paris Butter
Pasta & Cuore
Pasture
Ponsonby Road Bistro
Rosie
Saan
Sidart
Siostra
Soul Bar & Bistro
Spacca
Blue Breeze Inn
The Engine Room
The French Cafe
The Grill by Sean Connolly
The Grove
The Oyster Inn
The Shed , Te Motu
The Tasting Shed
Woodpecker Hill