Dec 2, 2022 Metro Eats
Hello,
For some reason, I've made eating ice cream quite a big part of my personality in the last couple of months, which has been problematic considering I'm somewhat lactose intolerant. I'm lactose intolerant in the way where I don't really know for sure, except for the fact I feel like shit after I consume too much dairy and often pay the price, but also it's totally chill and, yes, I can definitely eat that creamy pasta doused in parmesan cheese. Like pretty much everyone I've ever met who suffers from this, I tend not to do anything much about it, even though I know you can get Lacto-Free pills that apparently help with digestion. But somehow that feels like admitting to a problem I don't want to admit I have.
I've put myself through the paces recently with a) deciding to do an ice cream taste test in the next issue (hence, the illustration preview above) and then b) cautiously committing to making ice cream with a friend and sharing with and/or selling it to those who want to try it (if you want to see if I follow through with this outrageous claim, follow us on @side.scoop). There are many moments throughout my career, and life in general, in which I eat things that I know are going to in some way mess with my body, but I eat anyway because immediate joy always supersedes later pain. So much immediate joy in food!
Talking about immediate joy… I am going to feel, I think, an immediate joy next Tuesday 6 December, when the next issue goes to print – our last one of 2022. This time last year, we were newly emerging out of a lockdown, escaping our homes right at the tail end of production, finishing it off in the office even though the rest of it had been made over Zoom and phone calls. This newsletter a year ago, I was talking about being kind to hospitality staff over the introduction of My Vaccine Pass as dine-in opened again. Now, I'm writing at my desk at 7.47pm as I wait to meet up with friends at a nearby bar; vaccine passes and mask mandates have been lifted; but, as we head into the summer, Covid cases are up again, with people previously thinking they were immune catching it for the first time. Things are so complicated and weird. But, as always, I hope you find something good, and something to look forward to, within this newsletter.
— Jean
Your Gift Giving Problems:
Solved
I only have one thing to recommend you get someone you love (or like, or tolerate, or have some sort of obligation to) for the holidays: a subscription to Metro Magazine. Use the code MANGER at the checkout, to give a subscription for 25% less than normal – $44.95 for four print issues, or $23.85 for digital. You'll also go in the draw to win a dinner at  Alma , Auckland's Best Restaurant, to the value of up to $300
Metro x The Ironclad Pan Company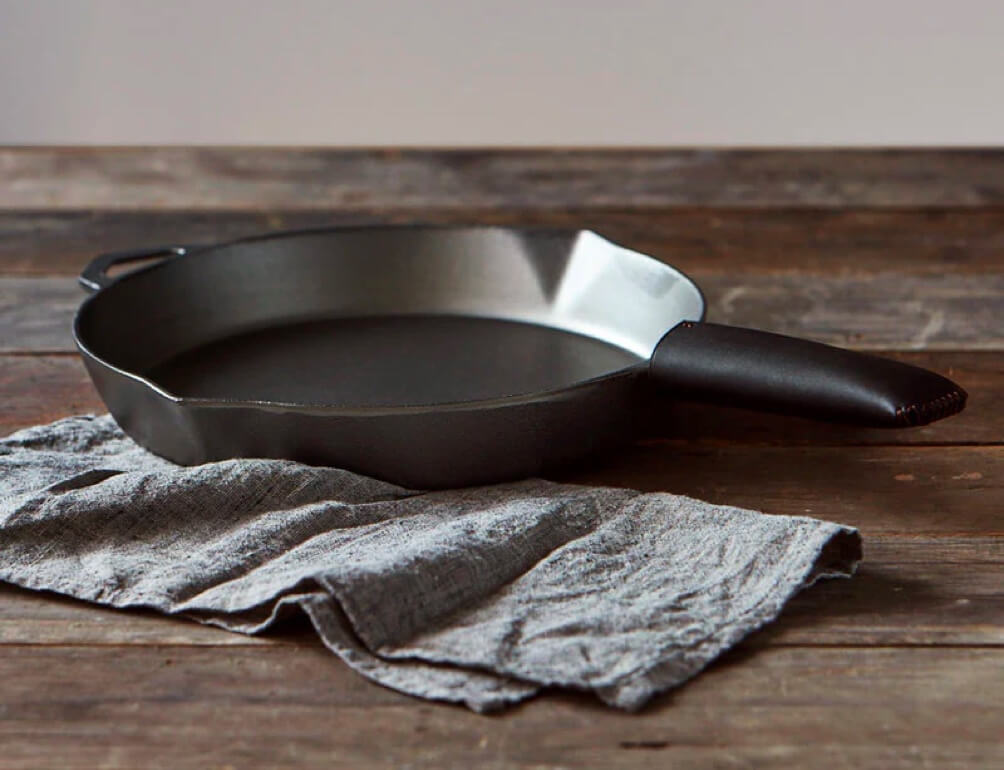 I am very easily charmed by things, and my delivery of Ironclad Pan Company's Legacy Pan came with many things to be charmed by. First, there was the paper scroll which unwound itself to about, I swear, a metre long, detailing the guarantee that it would last in my family for generations – over 100 years, it claims. Then, came the process of seasoning the skillet, which I enjoyed, because I enjoy following minute detailed instructions and manual ways of doing things. (If you don't enjoy that, you can buy the pan pre-seasoned.) To season it, you have to make sure you have access to an oven for a long period of time – I worked from home for a morning so I could do it without annoying my flatmates. Come night time, it was more or less ready for me to cook on it, which I did – gochuang-marinated steak. I love how hot the pan gets – and how it stays hot. The steak was very delicious. I am looking forward to it getting all rich and copper-black after cooking everything I can cook on it in the coming years… and putting it on my Weber BBQ.
Shop Well. Buy Once. – Get One!
What's Happening
Three Fates Wine is throwing a 2022 Vintage Launch Party Sunday 4 December from 1-6pm. There will be glass pours, takeaway bottles and snacks – plus, it'll be hosted at Ragtag's new permanent spot before it officially opens.
Baby G Burger  is back from the Americas and will be serving burgers at Two Hands Tattoo's Tattoo Time 2022 event on 3 and 4 December (Saturday and Sunday).
If you didn't already know, Karangahape Rd wine bar Peach Pit  is closing for good on 3 December (uhh, tomorrow!) and SOAP's throwing a party to celebrate the "end of an era". Featuring happy hour and DJs, from 9pm-late. (Don't worry, we are very much paying tribute to Peach Pit in more detail in our upcoming issue.)
Restaurants all over Auckland are participating in DineAid this year in the lead up to Christmas, an initiative in which participating restaurants give customers the opportunity to add $2 to their bill or order a DineAid special on the menu, with every $2 going to the City Missions. You can see the full list of restaurants here, which include Cassia , Cazador , Milenta , Bar Magda and more.
Pierre-Jouët is back for the summer in SkyCity, where you can have a glass of champagne and some food in the pop-up Summer Garden. A bottle and half a Peking duck will only set you back $129 – full offers here.
What's Good
I revisited Cazador for the first time since it won runner-up to our Estrella Damm Supreme Award at this year's Restaurant of the Year Awards (and Best Neighbourhood Restaurant) and, for the second time, particularly enjoyed the Navarrico beans. So tasty. More beans on menus!
I went to Peach Pit last week, to slot a meal in before it closes, and was pleasantly reminded of how much fun the food is here – just such a sense of play. I reviewed it for Metro 3 years ago now and feel that the review is still very close to what it's like now. A loss!
My family and I wanted to try Zoomak, the new-ish Korean restaurant in Albany, but it was closed when we arrived, so we ended up at Friends. Friends is a regular for us – just a solid local Korean restaurant with a very friendly owner. I love eating here after a visit to the Wang Supermarket across the street.
I did a food round-up on Metro's Instagram that I didn't talk about on the newsletter, if you'd like to take a look: there's photos from Tapsi, the new-ish Middle Eastern restaurant on Dominion Rd; Palato Pasta in Queens Court ; wonton noodle soup in Canto Canto and more. I'm trying to do more of these, so if you like them, follow us!
–
Gifted stuff: People have been sending me more things than usual – it's that time of year, I guess! It's been particularly gin-heavy these last few weeks. The word on the street is "small batch". Bombay Sapphire have a new small-batch gin, Premier Cru, that celebrates "vibrant and aromatic citrus"; Lighthouse Gin have released a limited-edition variety in collaboration with Mt Difficulty, resting its gin in retired pinot noir barrels; and new gin brand Auld Distillery have released a gift box that celebrates Aotearoa's Southland terrior.
I was also sent some Impossible chicken nuggets, which I have to say are genuinely really good – there's just something about the crumb on them that I find better than even some normal frozen chicken brands. The texture is pretty bang on too. I ate them very quickly, dipped in Al Brown's Kasundi Ketchup.
What's New
Ragtag Tacos, home of the "100% not authentic" taco pop-ups that you may have seen and/or been to around Auckland, is opening a permanent spot in Westmere, near the butchers. Opening day is Thursday 8 December.
Bossi (of Deli di Bossi) is opening today at 10 Commerce St (in the Pacifica building). You can expect traditional Italian food – crudo, raviolo, gnocchi, osso buco, Milanese, etc. The fit-out inside looks especially grand, by CTRL Space (I believe). The deli is very good, so we're hoping this is too.
Everyone who has ever read this newsletter already knows that I'm a Sim's Kitchen stan. Interestingly enough, the owners' son has pivoted and they're opening a new Japanese restaurant, of the more fine variety, at 57 Fort St, where Miann used to be. It's called Beni and it officially opens today.
Korean street toast in the inner-city! Get yours, officially open tomorrow, at Cyber_toast 2086.
A colourful new cafe, Huddle, is now open in St John's, serving Atomic Coffee. The fit out is by Material Creative (so many swoops, arches, colour, and grids!), and the cafe is brought to you by Woozoo Group, who also opened Fields in Albany, Spectra in Commercial Bay and Percy in Mangere, among others.
–
Metro Eats! delivers free to the finest emailboxes of Auckland every week(ish)!
Sign up to get it here