Feb 4, 2020 What's On
It's a bit of a long one this week. As always, there's a Silo Park event to get to, a new farmers market in a spot that desperately needed something, and a pie special in what we ate.
Try a taste of each of three of the best restaurants in Auckland within one six-course meal (Sidart, Sid at French Café and Cassia ), supplemented with canapes and a drink on arrival. Sid Sahwarat and his chefs will cook, plate and introduce each test dish in front of diners; the kitchen is designed to be open for diners to easily ask questions and give feedback. Tickets are $175 each.
Tuesday 4 February (first Tuesday of every month) | Sid at the French Café
As part of Auckland Pride Festival 2020, bring along a plate to share and stick around for the film screening in Freyberg Square afterwards.
Wednesday 5 February | Ellen Melville Centre
Free food alert. Goodness Gracious, Ripe Deli and Columbus Coffee are joining forces to bring you some complimentary kai on Thursday morning on the grassy pavilion in front of Columbus.
Wednesday 5 February | Smales Farm
For all the good Waitangi Day vibes, head to Awataha Marae on the Shore for the one-day-only Summer Vibes Marketplace which also features a stellar line-up of food trucks. Carmel Israeli Food will be there serving up their pillow soft, unpretentious pitas and for dessert, you can't go past a salted caramel cream donut from Wen & Yen.
Thursday 6 February | Awataha Marae, Northcote
Peaches & Queen
If you're heading to the Queen concert, be sure to check out the Peaches Hot Chicken food truck located just down the road from Mt. Smart Stadium at Epic Beer.
Friday 7 February | Epic Beer
Seven courses of chocolate inspired by Japanese cuisine. With that much food on offer, we suggest dessert for dinner.
Friday 7 February | Miann, Morningside
Food, tunes and drinks from Latin America, including some promised exciting flavour combos like chilli, chocolate and tomatoes.
Saturday 8 February | Silo Park
Smales Farm has always been a space begging for a regular market like this – previously, only one-offs plant markets and miscellaneous events have been held here – and they've finally delivered. The market will be held on the first Sunday of every month, from 9am-2pm.
Sunday 9 February | Smales Farm
New Zealand's largest annual Japanese festival at ASB Showgrounds returns with plenty of stalls offering up all of your favourite Japanese dishes. With classics like sushi and takoyaki, you're guaranteed to satisfy your Japanese cravings in one convenient location.
Sunday 9 February | ASB Showgrounds
Amy and Olly (our head judge for Metro's Top 50 Wine 2020, which you can check out here) from Halcyon Days will be dropping by with four natural wines to pair with four courses of Asian fusion food, cooked by their new Korean chef. Vegan and vegetarian options available.
Monday 10 February | Vondel, Devonport
READ MORE: New Mexican and drinks spot Fonda opens as Barulho moves next door
READ MORE: Where to eat along K' Rd, one of Auckland's best dining strips
What we ate this week

Jean Teng, Alex Blackwood & Britney Clasper
Pie Special
Alex and I have been seeing these pies across our social media feeds for a while now – hangi, boil-up and luau – and we decided it was worth a bit of investigating. After ferrying back three hot pies from Blue Rose cafe in Sandringham, it was time for a taste-test. – JT
Hangi pie
On a day where even a summer dress feels far too warm, it was an interesting choice to get what is essentially a roast vegetable pie, but the hearty kumara and pork belly filling encased in densely buttery pastry made me not mind so much. The liberal use of thyme is much appreciated. – AB
Glorious, glorious kumara runs through this entire pie, with some potato (triple carbs – what could go wrong?) and pork, just slightly smoky, with very rich pastry. This was my favourite to eat of the three: there was a sweetness to counteract the buttery, and a great texture. – JT
Boil-up pie
This pie is unusual in that the filling is usually quite homogenous and blended together. This pie's bacon meat and boiled veggies form layers, and sit beside each other rather than mingling together. That isn't necessarily a bad thing, and they are both juicy and smoky, without making the pastry soggy which is impressive. – AB
Luau pie
Vegetarians, take note, a less usual take on a meat-free pie! To me, taro leaves taste like coconut and spinach. So it was only when Jean pointed out that it was taro leaves that I could taste what it was which I now feel silly about – but I liked the flavour. This pie was creamy, but to me felt a bit healthy. – AB
I like taro leaves a lot, but felt each bite was too samey-samey without any titbits to lend interest other than cream cheese and scant onion. I would love to try their palusami pie, which has corned beef and chilli, which I feel would really add to the flavour. A good vegetarian option, though, for sure – and I hardly ever get to eat taro leaves out in Auckland, so that's nice, too. – JT
414 Sandringham Rd, Sandringham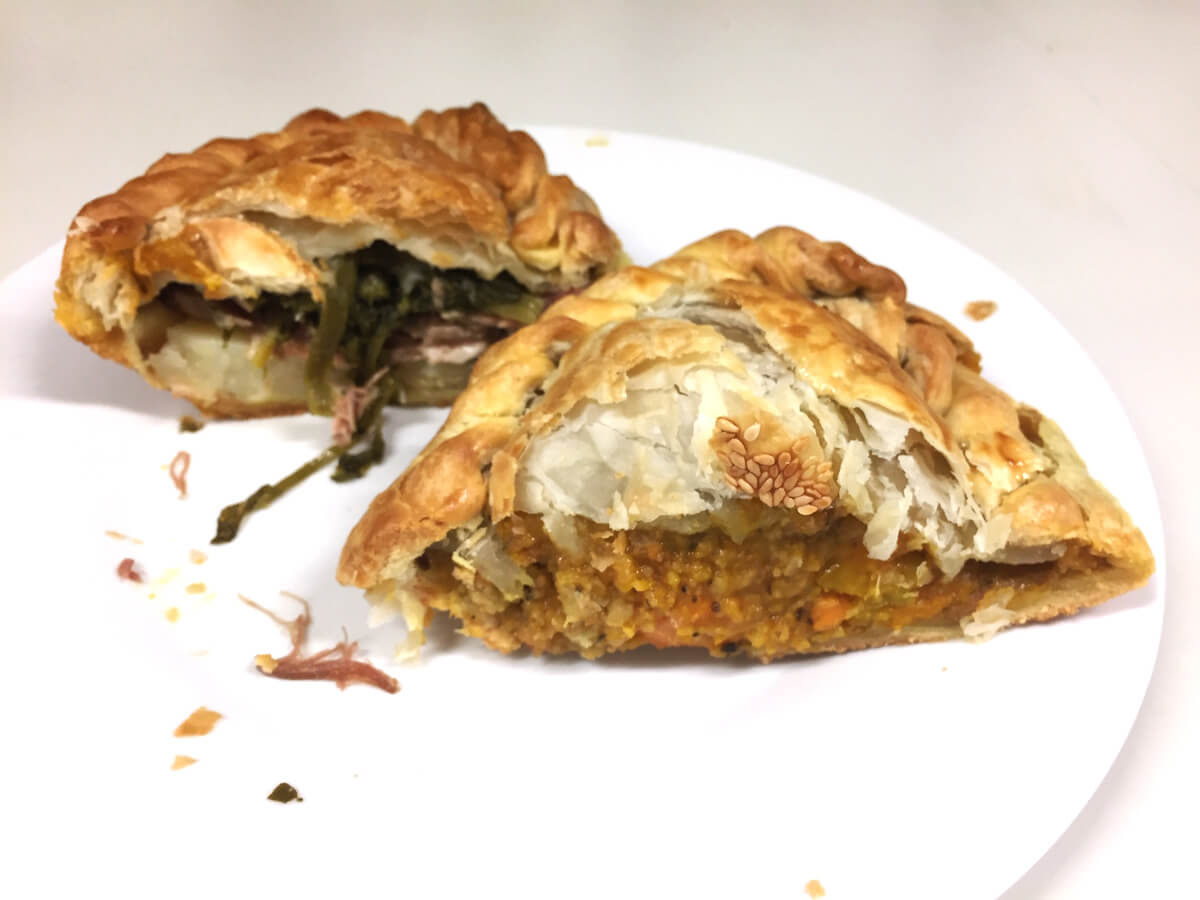 Romulus and Remus brandy snap cannoli
My appreciation for a dessert that isn't too sweet knows no bounds. Though they are brandy snaps so they aren't exactly sugar-free, that sugariness is tempered by lemon and fennel in the cream. I might have licked the plate. – AB
Pork Belly Banh Mi
This stall has been at the market ever since I can remember, and you can always sign me up to pay an extra $2 for pate and pickled veggies (which apparently warrants being able to call a pork sandwich a banh mi). Questionable naming aside, this sandwich is proper loaded with pork and I'm always amazed by the stallholder's ability to pack a small pig into that fluffy bread bun. Best hangover cure ever. – BC
La Cigale Market
Whole Market Fish at Ima Cuisine
Maybe it's the fact that my fellow diners performed a rather graphic eye surgery on the fish, but I don't think I'll be ordering it again. Although it was tender and moist, it felt like I was paying for something that could be easily replicated at home. I love Ima Cuisine (their Sabich and salads are absolutely out the gate), but this was a yea, nah from me. – BC
53 Fort Street, central city

HelloFresh
Faced with the prospect of a week alone in my house, my dependent personality and I decided to use a HelloFresh voucher (not sponsored, BTW) to buy three meals for two from the Classic Plan. Because I was eating it by myself, I would keep the leftovers for lunch the next day, meaning six of my meals were covered.
I shouldn't be surprised that the sauces are weirdly bland and the instructions suspiciously lacking in seasoning, because this one-size-fits-all approach clearly has to accommodate children and those with underdeveloped taste buds. Salt and pepper even if they don't mention it. Over-squeeze the lemon. Use more than a "drizzle" of olive oil. I had one truly shocker of a meal, the 'Sichuan beef tacos', a claim the entire province of Sichuan should sue HelloFresh over.
The only thing I liked was it forced me to eat things I never would have cooked for myself – like a shitload of vegetables, chopped and shredded and snuck generously into the meal, often as if I had to be tricked. I also had to cook chicken breast, which everyone knows is vastly inferior to chicken thigh and is also harder to cook, especially for those of us who like to look at their phone at every opportunity. Either way, I probably won't be continuing HelloFresh (it's expensive, ya'll) but I didn't come away with a strong opinion on it either way… It's fine. It's fuel. For me, cooking is not necessarily always a joy, so I understand the impulse of just having something decent to eat in front of The Bachelorette without having to think too much. It's why my go-to meal is a Thai-style omelette with chicken mince, salt, pepper, fish sauce, and chilli, served over rice – it takes about 10 minutes to make and tastes glorious. Maybe I should have just eaten that six times instead… – JT