Jan 16, 2020 Drinks
Fancy a bottle of something interesting? This year, our annual guide showcases wines with a real point of difference. For our top 10, click here.
If you're a wine pedant, you should probably stop reading now, because this is not your run-of-the-mill list of the top 50 wines in New Zealand. The wines here all have personality and individuality; they tend to offer something a little different. You'll still find mass-produced, supermarket wines sitting happily alongside prestige wineries, but also a range of niche producers using off-the-wall varieties and winemaking practices. They all cost less than $50, and many of them cost a great deal less.
Metro has run a summer wine feature for several years now, but going into 2020, we detected a sea change in what many of us are drinking. Yes, we all care about a good drop — but increasingly, that means different things to different people at different times. Over the past decade, we've seen the emergence of new biodynamic and organic wines, of "natural" wines made with minimal intervention, of long-marginalised varieties and long-forgotten winemaking techniques.
So we sent a call-out to every winery we could find a contact for, and assembled a tasting panel that included sommeliers, wine critics and Metro staffers to taste all 176 wines received. We wanted to champion a range of styles, varieties and techniques. We wanted wines that had personality, wines that, though perhaps not technically polished, were super-drinkable, interesting and distinctive — wines that you'd want to order at a restaurant or take to a dinner party or a barbecue. They're the wines that will probably get drunk first, because they're either intriguing or just great fun.
And we expressly briefed our judging panel not to be too concerned with varietals. It should be a fairly uncontroversial concept that an atypical glass of pinot noir can still be a great wine. The key was to avoid adopting a notion of what, for example, a New Zealand pinot noir should be, which might make some commercial sense by encouraging reliability from the consumer's perspective, but can suffocate experimentation, individuality and sub-regional expression, which is a shame if we want wine in this country to develop.
After tasting them, we were gratified to find that our hunch was right. The 50 wines you will find below do all sorts of things, though not necessarily in the way that you might expect. Takeaways? We're unashamedly most interested in the wines grown in our own backyard (only three of the 50 are from elsewhere). Organics and biodynamics are alive and well. What people are doing with sauvignon blanc is getting more and more interesting. Makers of pinot gris and rosé, in the main, could learn a bit from this.
Read on, and go seeking. Hopefully, this is the starting point for a great deal of discovery, discussion and, well, pleasure.
Jump to: Energetic whites | Rich whites | Inbetweeners | Lighter reds | Bigger reds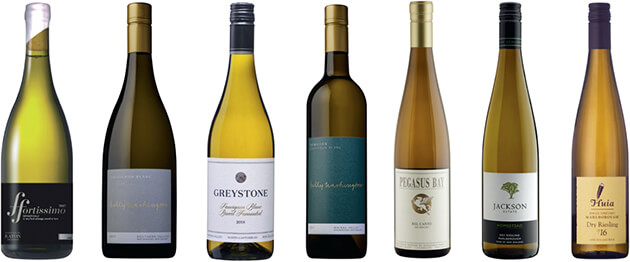 ENERGETIC WHITES
Eaton Wines Fortissimo Sauvignon Blanc 2017
This is not your run-of-the-mill Kiwi sauvignon blanc, and if you want to blow people's perceptions of what one is, pour them this. Made with extended skin contact, aged on lees in large-format barrels, it has a beautiful golden, almost amber colour, aromas of dried orange peel, spicy oak and a flavourful, textured, lengthy palate. Made by the Marlborough-based Eaton family, this is the polar opposite to what you'd expect to pick off the shelf when getting a Marlborough sauvignon blanc. This is something special.
$48 TOP 10, CO-BEST IN SHOW
Supernatural Wine Co. Green Glow Sauvignon Blanc 2015
Green Glow is Supernatural Wine Co's skin-contact sauvignon blanc and the 2015 is the first vintage with the vines in full organic certification. Crafted by Hawke's Bay's own Hayden Penny, this, along with the Fortissimo, shows just how interesting sauvignon blanc can be, especially when it gets extended time on skins. That often translates to a bit of "texture" on the palate but this delivers on so many levels. An orangey, marmalade, zesty nose; a real textural, chewy depth to the palate; and a long, energetic finish. We weren't expecting to enjoy the sauvignon blancs as much as we did, but with wines like this…
$40 TOP 10
Giesen Sauvignon Blanc 2019
If you're looking for a more classic New Zealand sauvignon blanc, this is probably as close as you might get in this list (alongside the Ward Valley that follows). Made from grapes sourced predominantly from the Wairau Valley — original Kiwi sauvignon blanc territory — this is a herbal, refreshing, juicy sav with a lovely, fresh finish. Classic, and well made.
$18 VALUE!
Ward Valley Triple Block Sauvignon Blanc 2018
The Triple Block refers to a blending of sites across the two main Marlborough valleys of Wairau and Awatere (the latter is generally the cooler, fresher of the two). This wine shows delicious elements of both, with a zippy, refreshing acidity and herbal, sappy notes from the Awatere alongside a plush, rounded, appealing, almost comforting palate from the warmer Wairau. Another classic Marlborough sauvignon blanc, but not one that will remind you to check when your next dentist appointment is due.
$19
Kelly Washington Sauvignon Blanc 2017
Another top scorer for Kelly Washington Wines and another great wine, this BioGro-certified organic sauvignon blanc from Awatere (which sees a little oak) shows some real interest on the nose with an intense, fruit-forward profile and a touch of fresh asparagus. On the palate, it's a really fresh, complex, textural, zippy wine. Some tasters noted a little phenolic grip — aim to pair with summery food.
$28
Tohu Mugwi Reserve Sauvignon Blanc 2016
The majority of sauvignons that scored highly seemed to be the non-conventionally made ones — which is good, I think. This wine was no exception, although it clearly shows its varietal characters in the glass. It is made in oak barrels with extended time on lees and malolactic fermentation — putting it some distance from "traditional" Kiwi sauvignon blanc. Yet it's not so far removed from the New Zealand staple to be completely alien to fans of the style. Flinty, stoney, almost sémillon-like, this is lean, fresh, driven, and thoroughly likeable.
$27
Greystone Barrel Fermented Sauvignon Blanc 2018
Another sauvignon blanc that has obviously seen the inside of a barrel. This Waipara wine from top producer Greystone shows sauvignon's trademark acidity but combines fruit and grassy notes and leesy characters (giving it some impression of age and added complexity) with a soft, complex, delectable palate.
$28
Kelly Washington Semillon Sauvignon Blanc 2017
Everyone effused about this wine. A sémillon-dominant, classic Bordeaux white blend, this wine comes from grapes grown on an organic and biodynamically farmed vineyard in the main Wairau Valley region of Marlborough. The fruit is handpicked and whole-bunch pressed, then naturally fermented and aged in a concrete egg for 11 months. Elderflower, greengage, citrus zest, marmalade and gooseberry were all descriptors that came out. This was a complex wine with a good body and long, lingering finish. You could not ask for a better summer white wine.
$38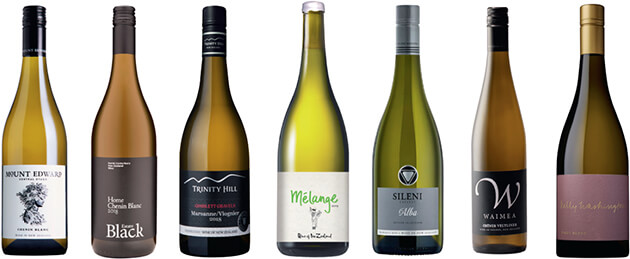 Pegasus Bay Bel Canto Dry Riesling 2017
Pegasus Bay should need no introduction — the Waipara estate has been producing top-notch wines since ages ago, with winemaker Matt Donaldson heading up the efforts in the cellar for nearly 30 years. It's probably best known for its rieslings, and this wine shows why. The 2017 Bel Canto is a steely number, showcasing the North Canterbury region's textbook acidity. This has complex notes of spice and passionfruit that'll keep you putting your nose back in to have another sniff. There's not much sweetness on the palate — it's certainly on the dry side — but that acidity drives it on and on and on. Zippy and lingering.
$37 TOP 10, CO-BEST IN SHOW
Jackson Estate Homestead Dry Riesling 2016
Stone fruits and almonds with petrol hints, everything you want from the nose of a New World riesling. This is a wine with great balance and a racy acidity. Finishes dry. Fantastic value for money, really over-delivering for the price.
$22 VALUE!
Huia Dry Riesling 2016
Life isn't always fair. If it was, Huia would get greater recognition for some of the stellar wines produced by the organic, biodynamic viticulture and winemaking it practises in Marlborough. This dry riesling is a case in point. It doesn't seem completely dry but it sure as hell finishes that way. It's zippy, mineral, fresh and long on the palate, with aromas that range from floral to petrol to lemony citrus. Or, as one taster noted simply, "exciting".
$32
Mount Edward Chenin Blanc 2018
The Loire is one of the darlings of the wine world at the moment and chenin blanc — one of its signature grapes — is feeling the love. South Africa, too, is cementing itself as a producer of top-end chenin. Our own home-grown efforts are not to be sniffed at, either — and well worth seeking out. This wine has distinct layers of sweetness, sourness and savouriness; it has great texture, with aromas of yellow apple, flowers and pineapple. With chenin's classic acid line, this is a wine to savour with food or without.
$27
Black Estate Home Chenin Blanc 2018
After a bit of foot stomping and then whole-bunch pressing over four hours, this was drained to large format oak and fermented with a starter from the vineyard. It had nine months in oak with full malolactic fermentation, and is unfined and unfiltered, with no added sulphites. Aromatic, zesty, with great minerality and pithiness, this is a wonderful food wine and testament to the fact that New Zealand produces some pretty world-class natural wine.
$45
Trinity Hills Marsanne/Viognier 2018
It's hard to find people banging the drum for viognier at the moment, and its Rhône Valley stablemate marsanne is similarly under-appreciated. Which is a shame, because as this wine shows, they both have something to say. The viognier brings the fruit, the weight and the pungent, floral aromatics, with the marsanne bringing more backbone and minerality to the often cloying lack of acidity in the viognier. This is a pretty, aromatic wine.
$40
Mélange Blanc 2019
While Eaton's Fortissimo is a family effort, son Harrison Eaton is quick to point out that the Mélange project is entirely separate and entirely his own. This is 100% sauvignon blanc from the cooler Awatere Valley, and spent 4-6 hours on skins before being whole-bunch pressed in a basket press. Wild ferment with 25% in-barrel, the wine goes through malolactic fermentation. Unfined, unfiltered and with a small amount of sulphur added prior to bottling, this is a mealy, biscuity, beeswaxy sort of sav that almost tastes like a flat champagne. A wicked line of acidity with a long finish, this has a bit of texture too.
$30
Sileni Alba 2016
Quite the blend, this. Chardonnay, muscat, pinot gris, sauvignon blanc and viognier from a range of sites in Hawke's Bay: Mangatahi is an inland spot on a terrace overlooking the Ngaruroro River and Te Awanga is coastal; there's also a touch of fruit from the warm Bridge Pa region. The wine itself has a complex nose of rose petals and watermelon. There's a touch of sweetness on the palate but it finishes dry and fresh. A great summer quaffer.
$35
Tohu Whenua Matua Albariño 2018
With fruit from the Upper Moutere in Nelson, handpicked and fermented with an aromatic yeast strain from Spain (albariño's homeland), this actually shows some aromas pretty reminiscent of northwestern Spain — maybe it's the yeast, maybe it's the fruit. A real summer wine with notes of apricot and lemon iced tea, it has decent, rounded palate weight and good length, helped along by albariño's unshakeable acidity.
$30
Waimea Estates Grüner Veltliner 2017
Austria's flagship grape, grüner became quite fashionable 10 years ago, and it's not hard to see why. Peppery, with good aromatics and a lovely acid line, there's no reason it shouldn't do well in New Zealand. This is a lovely aromatic, with citrus, honeysuckle, orange and some almost-smoky notes. The wine is super dry and crisp, with racy acidity and an almost powdery texture. The Austrians drink grüner with pork and this will fit the bill from aperitif to sausage to a rolled loin.
$19 VALUE!

RICH WHITES
Kelly Washington Pinot Blanc 2018
Tamra Kelly-Washington has a huge profile in New Zealand winemaking circles. While she's best known for overseeing the winemaking at Seresin, her experience has been global. Now, Kelly Washington is a joint project with husband Simon Kelly, and their wines shone at the Metro tasting; all three they submitted comfortably made the cut. This was the top scorer of the family — complex, petrolly, oaky, with good palate weight, a touch of sweetness and a long finish.
$38 TOP 10
Hans Herzog Arneis 2017
Hans and Therese Herzog have been in Marlborough for nearly 30 years and now produce a huge range of wines — 26 different varieties — on an 11.5ha vineyard. Arneis is a variety rarely seen in New Zealand — its origins are northern Italian and Villa Maria's efforts would probably be the best known on our shores. This isn't entirely typical of the variety, but captivated the judges' hearts with its spicy and fruity notes of dried orange peel and a hint of clove, and aromas of curry powder. Judge Andrea Martinisi waxed lyrical about this wine, noting hints of quince and a long finish.
$39 TOP 10
Colere Solera Pinot Blanc/Pinot Gris NV
Colere is the creation of North Canterbury-based winemaker Julian Richards, who makes a range of wines from a range of sites. The Solera is a combination of one barrel of 2012 pinot gris and pinot blanc, two barrels of 2016 pinot gris and three barrels of 2017 pinot blanc, with a dash of riesling — all from the Kerner Vineyard in Marlborough. This wine is all about texture and complexity, with a bit of zip on the finish (probably from the riesling). It's a wine to get people talking.
$40 TOP 10
Hans Herzog Pinot Gris 2017
Most of the pinot gris wines we tasted served only to justify the prejudice this grape faces from wine buffs: aromatically uninteresting; broad, cloying, and lacking freshness. But pinot gris can be fantastic, as this shows. A nose of brown-pear skin, intense, with a concentrated palate, this is another textural white wine that flirts with a phenolic edge, so it might not be everyone's cup of tea (give them some dumplings or a bit of crayfish to have with it). But it's such an interesting wine you can forgive it. Warning: Do not give this to people who drink only mass-produced pinot gris.
$49 
Pegasus Bay Vergence White 2016
This wine is centred on sémillion, with chardonnay, muscat and gewürztraminer added to the mix. It's aged in oak and it shows, with some real toasty, nutty notes in evidence. There's also a definite lees component and a touch of reduction, likely due to the "full solids" nature of the ferment (i.e. the wine was pressed straight to barrel). A big-volume, dialled-up, generous, textural, skinsy palate. Impressively moreish.
$28
Untitled White Blend NV
This is Henderson-based wine-maker Lee Winston's multi-vintage, multi-variety, multi-regional white blend. The only way to find out what's in your bottle is to check the lot number and enter it into his website. The current release (lot "L.18.06.04") has an intriguing, complex nose of pear and floral notes that reminded one taster of chardonnay. It was, in fact, a pinot gris/sauvignon blanc/ albariño/chardonnay/gewürz/viognier blend, predominantly from Marlborough and Auck-land — well made, with a round, textural palate with some good weight. Very nice.
$25
Ceres Black Rabbit Riesling 2017
James and Matt Dicey are synonymous with Central Otago institution Mt Difficulty. Ceres, though, is their "legacy" brand, and this 2017 riesling shows just what the site and their skills can deliver. Everyone loved this wine with its citrusy, fresh, lemon juice, white peach and petrol aromas alongside a slightly sweet palate but a lingeringly fresh and dry finish. If you want an all-round, not super dry, not too sweet, top-quality riesling, this is it.
$32
The Boneline Sharkstone Chardonnay 2018
Another one from North Canterbury, this time made from some of the oldest (Mendoza clone) chardonnay vines in the region. This has everything you want in a chardonnay: a big, floral, almost aromatic nose with buttery, toasty oak hints; it's zesty on the palate, with great length and freshness. Modern New Zealand chardonnays follow global fashions and interests in the more mineral, zippy styles of the variety, as evidenced by Chablis' current popularity. All too often, though, this comes at the expense of approachability. No such worries here.
$45 TOP 10
Alpha Domus The Batten Chardonnay 2016
Crafted by long-standing Hawke's Bay winemaker Barry Riwai, the Alpha Domus chardonnay is proudly from the Bridge Pa region, which, generally speaking, produces plusher wines than its bonier, better-known neighbour, the Gimblett Gravels. Both subregions are well known for their red wines but the whites are equally great. And this is no exception. A well-made, well-crafted, refined chardonnay with a lovely oak profile, nutty aromatics and a soft texture.
$39
Pask Wild Yeast Chardonnay 2016
It's not often you get to see chardonnay from the Gimblett Gravels — the sought-after land tends to be put aside for red wines — which means we often forget how good some whites made on this bony but warm site can be. This wine belies its warm regional climate by showing some lovely freshness with some classic chardonnay notes of toast and lemon curd, but there are quince hints, too. Very fresh and lingering, and the acid helps to drive the wine along.
$25
Jackson Estate Shelter Belt Chardonnay 2016
"A chardonnay's chardonnay," wrote one taster. This is classic stuff. Old-school, clone 95, whole-bunch pressed with 75% barrel, of which 25% is new oak, and aged for nine months in oak. A touch of sweetness helps the luscious body of this wine take on some lovely palate weight. This doesn't have the mineral edge of many modern-trend chards, but what it lacks in modernity, it makes up for in seductiveness. This may be a touch broad for some palates but for lovers of luxuriant chardonnay, it is hard to go past.
$24
Pyramid Valley North Canterbury Chardonnay 2018
Fresh from a recent takeover by Kiwi wine pioneer and industry stalwart Steve Smith MW and US business partner Brian Sheth, this is the start of a new era for Pyramid Valley. Only time will tell how much the change in direction will benefit (or otherwise) the back catalogue of this iconic producer. This chardonnay has North Canterbury's signature acid line with a good, well-balanced level of oak. Taught, fresh, lightly poised but super-interesting, this is lovely stuff.
$40
Snapper Rock Chardonnay 2018
Another Top 50 showing for Hawke's Bay winemaker Hayden Penny. This was 60% barrel fermented and 40% tank fermented, then aged for eight months before being bottled in February 2019. This is another more-classic chardonnay — big and buttery, with sweet, tropical fruit notes, but soft and supple on the palate. Part of me wants to say that this luxuriant, bear-hug of a wine isn't for everyone, but it is well enough made to make most people fall for it.
$17 VALUE!
INBETWEENS (AND A SPARKLING)
Ted By Mount Edward Rosé NV
One of the few rosés to make the final cut, this is an easy-drinking, perfect summer-day wine. The colour alone sets it up nicely, with a lovely salmon-pink hue. Well made, balanced, fruity, with decent body and freshness, this also has a touch of savoury complexity on the finish.
$25
Alpine Wines Head Over Heels 2019
Alpine Wines is a small producer based in Wanaka, making specially sourced, minimal-intervention wines. A co-ferment in which pinot blanc and pinot noir were fermented together, this is a delicious, interesting and unusual rosé. Cerebral, it ain't, but bloody lovely it is, with some delightful strawberry notes and a pretty, slightly textured, long finish.
$28
Lindauer Vintage Series Brut Cuvée 2017
What seasonal list would be complete without a sparkling wine? This is a blend of chardonnay and pinot noir and a limited edition from Lindauer, apparently. Hopefully, they'll move it into a regular slot in the range as this wine showed some lovely autolysis (yeasty, biscuity, brioche) notes on the nose. It was also supremely fresh, driving the palate with a racy line of mouthwatering acidity.
$18 VALUE!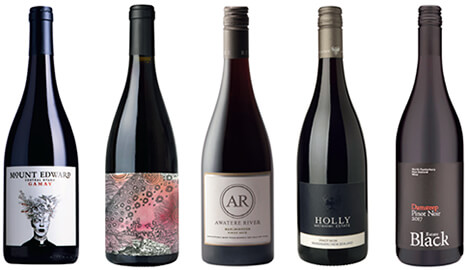 LIGHTER REDS
Mount Edward Gamay
Perennial Central Otago over-deliverers Mount Edward make their gamay to be drunk early. From an organic vineyard in Bannockburn, it gets no filtration and no fining, going straight from barrel to bottle. It's exactly what you want gamay to be — fruity, with a herbal edge and grippy texture. This is the ultimate barbecue red, with a bunch of complexity to boot. Cool it down in the fridge for 30 minutes before you open it or enjoy it as it is.
$34 TOP 10
Mathieu Paquet Coteaux Bourguignons 2018
Coteaux Bourguignons is a recently enshrined, catch-all appellation that covers anything grown in the wider Burgundy area, from Chablis in the northwest to Beaujolais in the south. This wine is predominantly made of gamay, the grape synonymous with Beaujolais, with a fleck (5%) of pinot noir. If you're looking for a go-to, no-nonsense, "glou-glou" number, look no further. This actually has a bit of heft to it on the nose, with some quite broody, concentrated, dark-fruit notes. The palate, though, is reasonably light, refreshing, and smooth.
$25
Colere Pinot Noir 2015
This is a Nelson (Moutere) pinot noir from the once-embattled Mahana vineyard (one of New Zealand's few gravity-fed wineries), now owned by KiwiSaver provider Booster (whose portfolio includes Hawke's Bay's Sileni Estates). The wine was made with no additions bar some sulphur at bottling and is 100% whole-bunch pinot noir, so the berries are not removed from the stems prior to fermentation. This technique tends to give pinot noir quite a beautiful aromatic intensity, but this is overall an intense wine with dark, smoky, plummy notes and a big, bold palate.
$40 TOP 10
Awatere River Pinot Noir 2018
Another great-value-for-money drop, a pinot noir from Marlborough showing beautiful damson plum and cherry aromas with a lovely, svelte, pretty, savoury, textured palate and fine length. This is a delicate pinot, although the oak at times seems quite prominent. Nonetheless, this ticks more than its fair share of boxes.
$25 VALUE!
Matahiwi Estate Holly Pinot Noir 2018
Matahiwi is one of those estates in the wider Wairarapa that tends to fly in the shadow cast by the more high-profile wineries in and around Martinborough. But this bottle is a third of the price of a Martinborough pinot noir and still delivers the goods. Holly is Matahiwi Estate's flagship range and the pinot noir is made from a selection of parcels and clones in the estate's vineyard. A really intriguing concoction of flavours, with some stemmy notes, a bit of toasty oak and some bacon fat. Dry, balanced, and well made.
$29
Black Estate Damsteep Pinot Noir 2017
This was a contentious wine with not everyone on the panel "getting it". For some, the wine seemed jammy, dry and extracted. For others, well, the notes were pretty effusive: "Sappy and aromatic with tart berries and incense," said one; "big, bold, with structural tannins and secondary notes," said another. Black Estate should need little introduction to winos — the Waipara winery produces some pretty special, minimal-intervention wines from some amazing sites and this is no exception. This won't be everyone's cup of tea but believe me, it's worth finding out which side of the fence you're on.
$45
The Boneline Waimanu Pinot Noir 2016
Again, how much you enjoy this pinot is going to depend on what style of pinot noir you like. For some, the nose is a little confected and, while the alcohol is stated at 14.5%, it also seems a touch hot, but — and this is a big but — there is a depth to the palate that really is quite captivating. And it's long and flavourful — "velvety", said one taster — with a decent grip. The team at The Boneline admit the vinification is still evolving, but wines like this show the potential of the site. Well worth seeking out.
$40
Pirinoa Road Pinot Noir 2015
A classic Martinborough pinot noir for a great price. This is one of those wines where you read the tasting notes and wonder why it wasn't rated even higher. It displays the classic, savoury, earthy, leafy notes associated with Martinborough — a really fragrant and pretty nose — alongside a svelte, nicely concentrated palate. "Perfectly balanced," as one taster noted. This really is a gem — and hard to go past for the price alone.
$30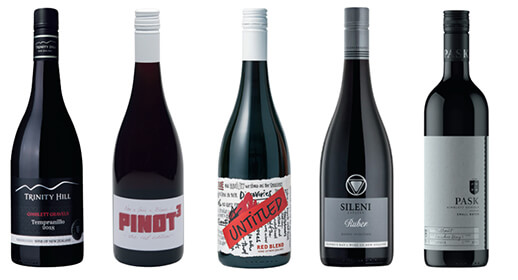 Trinity Hill Tempranillo 2018
One of very few places producing a tempranillo. Those in deep will know that Dry River has a small run of this Spanish classic, and there are plantings on the hot, bony Gimblett Gravels in Hawke's Bay. This is from the latter, of course. The classic pairing of tempranillo in the winery is to age the wine in American oak (as is traditional in Rioja), and there are definite vanilla hints associated with the type of oak in this wine. It also has a nice, pretty berry-fruit/dark- fruit nose with smoky notes. The palate is soft, rounded and plush. A lovely wine from a rare variety in New Zealand. A must if you're planning a Spanish-style dinner, but also well worth trying out for its own merits as a medium-bodied red wine.
$40
Pinot 3 The Red Edition NV
Pinot cubed explains the wine: three different pinots — noir, gris and blanc — blended by cross-vintage and cross-varietal blending fan Lee Winston of Untitled Wines in Henderson, Auckland. This is the red version with a predominance, obviously, of pinot noir. This wine was berrytastic — strawberries, raspberries, all the berries you could ask for — with a savoury finish. Totally gluggable, this is a light, super- enjoyable red wine.
$20 VALUE!
Untitled Red Blend NV
We tasted lot number L.17.13.05. (If you find yourself with a different batch, enter it in the Untitled Wines website and you'll get a full run-down of the makeup of the wine.) In this case, the blend is predominantly from 2017 and 30% pinot noir, 30% syrah, with the rest being made up of a vast list of grape varieties, red and white. Nearly half from Waiheke, 24% came from Central Otago, 20% from Auckland, 6% from Marlborough and 1% from Northland. Medium bodied, with a leafy, complex nose, this was a delicious, juicy wine. What's not to like?
$30
Martinborough Vineyard Syrah Viognier 2017
Martinborough Vineyard's syrah is usually the last pick of the season. The winery has a few rows of syrah on the edge of the Martinborough Terrace, on a north-facing slope that drops down to the Huangarua Stream. It isn't always easy to get syrah ripe in the Wairarapa — it can be a fickle grape even in Hawke's Bay — but when it works, it really works. Crafted by the unassuming yet wickedly talented Paul Mason, this was one of the standout wines of the tasting — elegant, balanced, refined. It showed beautiful, violet aromas with fresh, pretty, juicy fruit. It really doesn't get much better than this.
$45 TOP 10
BIGGER REDS
Sileni Ruber 2018
An unusual red blend from this Hawke's Bay producer, the Ruber is a mix of cabernet franc, merlot and syrah, all from the Bridge Pa region. An impressive wine from a sometimes challenging vintage, this shows some nice, sweet fruit intensity and peppery notes, with an integrated, solidly structured palate. This ticks the boxes, from a standalone glass of red to a solid barbecue accompaniment.
$35
Pask Trilliant 2016
Trilliant is born of a tasting session gone right. The team at Pask were so impressed by the combination of samples they had before them that an impromptu decision was made to blend the three samples to make a wine. Trilliant was the result. This wine is already starting to show some developed notes, with quite a Bordeaux-esque profile overall. Nice oak notes, juicy fruit with hints of black pepper and blueberries, it also rounds off on a refined finish. One to impress the in-laws.
$35
Lunar Apogé Côtes Du Rhône 2018
Organic and biodynamic, this Côtes du Rhône is a blend of 50% grenache, 25% syrah, 15% mourvèdre, and 10% cinsault. It is made in Roquemaure, where the Leperchois family has been making wine for centuries. This is a juicy wine, with red and black fruits and a touch of pepper. Its drinkability belies some decent tannins, which means this will go just as well with a range of summer fare as it will with a nice view from the deck.
$25
Angove Organic Shiraz Cabernet 2018
This is made by one of Australia's leading organic producers, Angove Family Winemakers, with fruit sourced from their own Nanya vineyard and other organic growers in McLaren Vale and harvested at night to keep fruit temperature low and to enable a couple of days' maceration before ferment. Stored in seasoned oak barrels until assemblage, the wine has then had minimal handling prior to filtration and bottling. A real peppery, fruit-forward number with a decent structure but with soft tannins and a lovely, lingering juicy finish.
$14 VALUE! 
Judging panel: Oliver Styles, Nikki Weir, Andrea Martinisi, Simon Farrell-Green, Henry Oliver
Glassware: Jancis Robinson x Richard Brendon, provided by Atelier Nash.
This piece originally appeared in the January-February 2020 issue of Metro magazine, with the headline 'Top 50 wines 2020'.