Jan 29, 2020 Restaurants
Romulus & Remus is a mix of ancient and contemporary Rome, serving Italian food with a Roman bent – nibble on small plates or feast on bigger meals like pizza, pasta and beef osso buco.
Wooden-edged doors are drawn back to open onto the pavement, the outside tables leading into a warm, earthy-toned dining room – all olive greens and recycled timber – with small clay vases tucked into the corners. The tiles laid at your feet as you walk in have been waiting in the owners' home for eight years for the right space; the other tiles, further in, were hand-painted. It feels homey and worn-in though modern in its minimalist approach – old and new mixing together, reflective of its ancient and contemporary Rome inspiration. When you walk up the stairs, eyes are immediately drawn to a raised statue of the she-wolf (La Lupa), with infant twins suckling at its teats.
The twins are Romulus and Remus, the trattoria's namesake, who, in myth, were rescued by La Lupa – this image has become a symbol of Rome and its people. Owners Michelle Arsan and Clare Hindmarsh's new restaurant is generally Italian-inspired, with a strong Roman bent. The food is made from scratch in-house, with consideration of simplicity and timelessness at its centre – no little dollops or scant smears of sauces, no flowers. "The food as it is enough," Hindmarsh explains. "No need to make it complicated."
Arsan and Hindmarsh aren't strangers to hospitality. They own Lokanta, a Mediterranean restaurant also in the neighbourhood, and Carmen Jones on Karangahape Road. Both their partners are from the Mediterranean and grew up with the Roman Romulus and Remus myth (see: the Ottoman Empire). Halfway through our chat, drinks are ferried over on a domed Turkish coffee tray, gleaming silver.
On the dinner menu, dishes are made for sharing, split up loosely into smallest, small and big, ranging from $7 to $22. Think melanzane chips (crumbed and fried eggplant wedges with feta and fennel whip), Sicilian bread, Italian meatballs and caprese. There are pizzas, pastas and a few proteins for the mains; Hindmarsh tells me the She Wolf Pizza (simple, with tomato, olives, anchovies and capers) and Bolognese have proved favourites already. Plates of refreshing Vitello tonnato – usually with veal, but here with rare beef – and the Mercato fish, served with white polenta and olive salsa, are our picks for the incoming hot summer weather.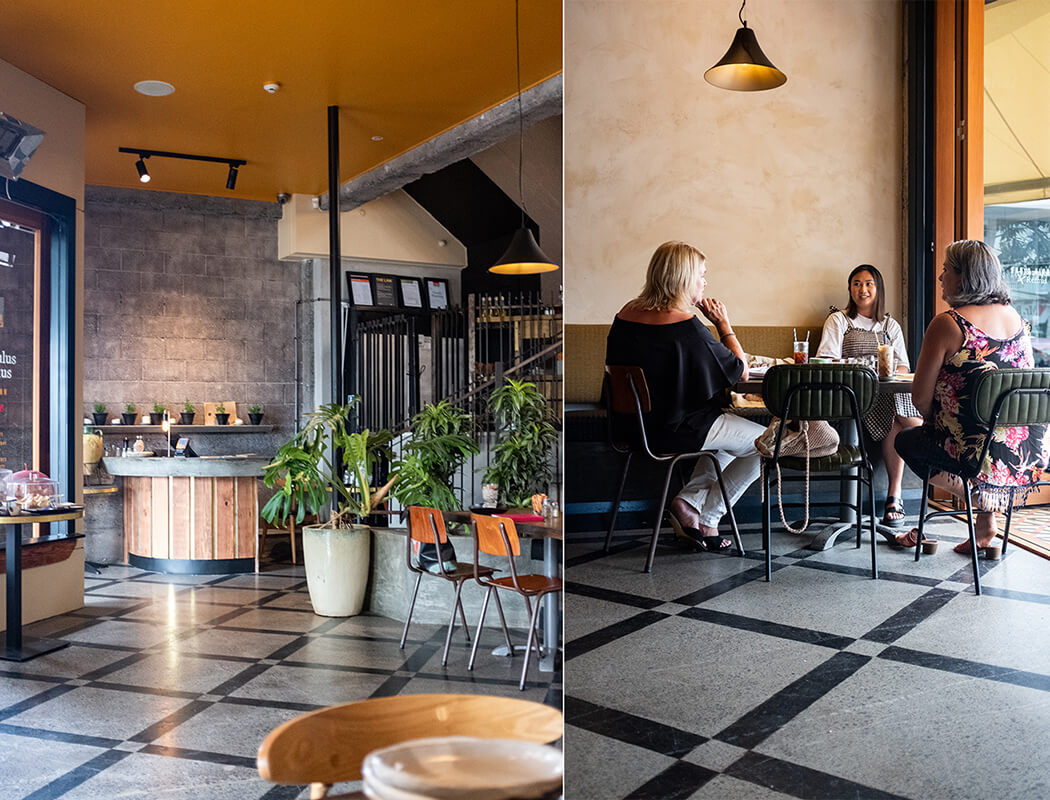 They're open for brunch on Friday-Sunday. Unconventional breakfast options like the carbonara eggs (brunch spaghetti, is this what dreams are made of?), Roman toast with raisins, honey and ricotta cream and a bone broth ("alt coffee") feature, as well as some quicker, non-sharing lunch options.
The wine list is mostly Italian with some drops from New Zealand, and their Sicilian mixologist mans the bar to whip up cocktails. Ensconced within a quiet neighbourhood, it feels like just the place to drop in for a low-key drink and small plates after you knock off work, then to come back the next day to sample the full menu. Either way, you shouldn't leave without rounding out the night with Hindmarsh's current favourite, the Torronata: a cold nougat semifreddo with burnt oranges and drizzled in caramel syrup.
Romulus and Remus
551 Richmond Rd, West Lynn