Aug 29, 2019 Art
Jean Teng talks to three New Zealand-Chinese artists about Mercury Plaza, the new Origins + New Beginnings art exhibition, on being Chinese, and, naturally, Chinese food in Auckland.
Tim Lambourne – ex-local TV host and current writer/producer/videographer – can't tell me who won season five of Survivor. But it stuck in his mind for different reasons: it contained a scene which would later bring about the understanding that the food he consumed was "wrong". On screen, Taiwanese-American Survivor contestant Shii Ann Huang is eating the parts of the chicken her fellow contestants won't touch, utilising the entire bird – the feet, the neck. It doesn't strike Lambourne and his mum, watching the episode with him, as anything unusual. If you're stuck on a desert island with nothing to eat but rice and coconuts in a competition which relies on you winning physical, energy-draining challenges, it just seems like the obvious move. Instead, white-person freak-outs ensued.
There were white-person freak-outs at Lambourne's primary school the next day, too – declarations of disgust from other kids about "that Asian woman on Survivor". "I remember thinking, like, what the fuck?" It was, he says, a weirdly formative experience.
Food is often the centre of formative experiences for everyone – duh, we all eat – but particularly for immigrant kids, whose sense of identity is informed by it as yet another signifier of difference. Those typical, overplayed stories are clichés for a reason: every non-white immigrant has an "ashamed of my food" story, and has the same bratty tale of telling our parents to pack white-bread sammies instead. I think it's a victory that has become boring and a cliché – it's boring because we'd talked about it. Now, Lambourne says, that "gross" food is cool. It's cool to get, for example, Korean food, or more "obscure" Chinese food on Dominion Road; it's something you can brag about. What used to be a basis for being ridiculed is now a way to access cultural capital.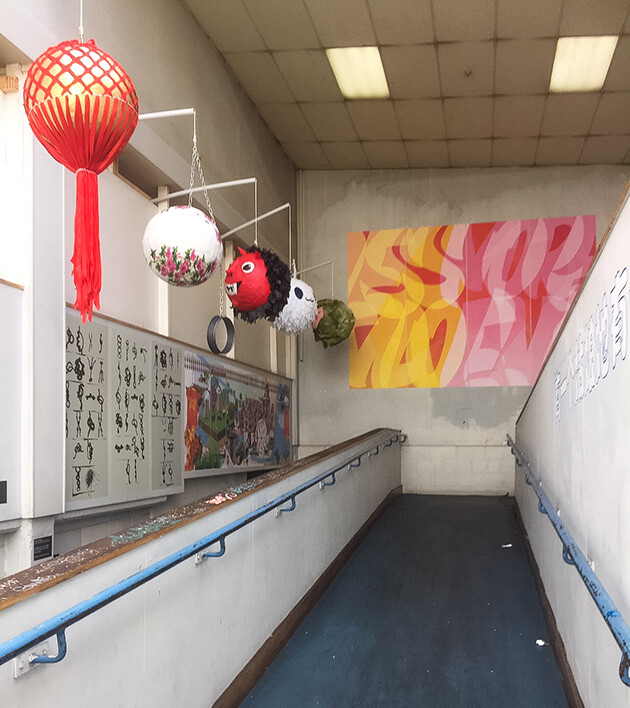 And it's true – Mercury Plaza is now cool. I don't know how many times a white person has told me Chinese Cuisine has the best wonton soup in Auckland and I need to try it, or has romanticised it as the dying heart of the K'Rd precinct. We have a band of white kids called New Gum Sarn, after the supermarket. And Asian food is just cooler now, in general, full stop. That becomes a problem when white people, particularly white chefs, "jump on Asian food trends and don't give back to the community; do it without the understanding and awareness," Lambourne says.
For mine, and a lot of other Asian families, Mercury Plaza was one of the first places we recognised community in Auckland. Yes, Mercury Plaza is special to a wide variety of Aucklanders. But it is undeniably tied to the Chinese community; a place to experience and live a culture we felt distant from, and a place for Asian migrants to make their living, too. It was the first place I ate Malaysian food outside of Malaysia, ordered from the first stall ever opened in the plaza, run by Malaysian Albert Ooi. It's a safe, comfortable space, as Lambourne describes it to me. Affordable prices, food made by Asians for Asians.
The Mercury Plaza exhibition, Origins + New Beginnings – ahead of the food court's eventual closure in late October – winds through the ramp access; murals papering over graffiti, video work projecting on walls that have been neglected for years. Lambourne's contribution to the Mercury Plaza exhibition is a presentation of that aforementioned Survivor scene. At first he considered subtitling it with his thoughts as he remembered watching it, but he abstained. That's the beauty of art – you don't have to explain everything. Present it as it is, and let the context speak for itself.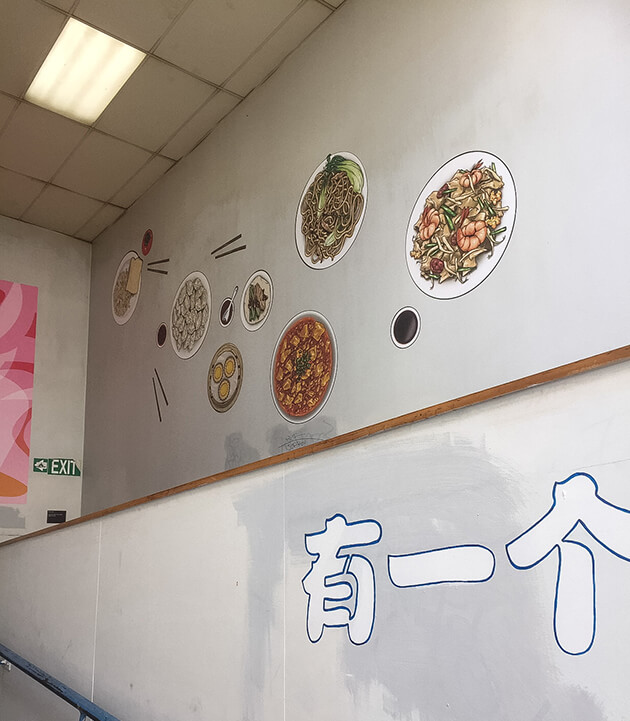 Ant Sang is a comic artist and illustrator, most known for his work on BroTown. He's also a fifth-generation Chinese-New Zealander. Sang's signature style makes it easy to spot his artwork straight away: a fun brush-and-ink mural depicting the evolution of Chinese food in New Zealand. The food, he tells me, is a visible sign in terms of what's happening in New Zealand. The way it has evolved signals new immigrants, diversity, acceptance – but that doesn't mean we don't have a way to go, still. "Some days I'm not conscious of being Chinese, and other days I'm exaggerating my New Zealand accent," he says.
His mural starts with an illustration of Westernised chicken fried rice with a buttered slice of bread and container of tomato sauce on the side. It's "inauthentic", and what he found when he researched the dishes Chinese restaurants used to serve in Aotearoa in the 40 and 50s. It is, in a way, what Soleil Ho (current food critic for the San Francisco Chronicle) calls "Assimilation Food" in a personal essay about immigrants having to adapt their home cooking in a new country – McDonalds patties over white rice, banh mi using white bread. This was Chinese immigrants using what was available to them and trying to appeal to their white New Zealand audience – another type of "assimilation food". According to a retrospective New Zealand Geographic article written in 1992, Chinese restaurant fare in the '50s "amounted to a meeting of Kiwi sludge with Chinese thrift", citing canned lychee desserts served up with ice-cream, hundreds and thousands and a crisp, pink wafer as an example of the kind of food "the first adventurous New Zealanders dared to try out." Assimilation food. And now you cross town to eat our food, fill up social media with your hidden finds, populate your food websites with "Best Dumplings" lists, make money out of interpreting and "elevating" it.

Sang's artwork then moves to illustrations of dumplings, Peking duck, noodles with bok choy (or choy sum – I always get them mixed up), mapo tofu, egg tarts, flat rice noodles. Seeing them like that, on the wall, almost feels like an assertion. We don't need to bend – not if we don't want to.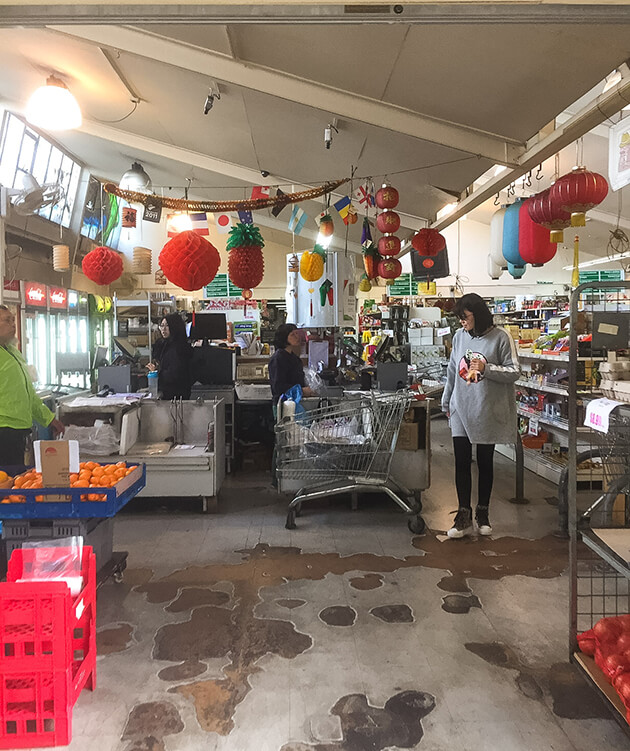 "I just wanted to make a cabbage." Lisa Li's papier-mâché cabbage child is so cute, and so very, very sad, their little mouth downturned, that I'm prepared for a weighty story behind its cheery pink guise. Maybe it's a representation of the years of oppression Chinese have had to endure?
Instead, when I ask the question, this answer: "I just wanted to make a cabbage." Its name is, cutely, Char Siu the Savage Cabbage. And, slowly, as we talk, it reminds me of what else this exhibition is about: simply to create a space for Chinese artists showcase their work, in an art scene which is vitally underrepresented in Kiwi-Asian art. A lot of the work is inherently tied to a Chinese identity by design, but it's also addressing the problem of gatekeeping – who has the access to show their work, and why. Li, who owns bag brand MYDEERFOX, has avoided associating with the discourse of "identity" in her other artistic pursuits in order to distance herself from being boxed in by it, or defined by it. I confess to her that it's a huge, huge worry of mine, by talking so thoroughly on my Asianness and Asian culture (see: many articles I've written, including this one) I'm merely relying on exploiting my identity in order to appeal to a world trying to appear as inclusive as possible, rather than creating anything that's, like, actually good. But, fuck that, we decide. Who else is going to write this article? Who else is going to make this sad, savage cabbage?
In China, the cabbage symbolises wealth and prosperity, usually taking centre stage in celebration and festivity for that very reason. It references the jadeite cabbage, a famous sculpture shown at the National Palace Museum in Taipei of a cabbage head. The white symbolises purity and innocence, while the green stands for fertility and abundance. Char Siu the Savage Cabbage, Li tells me, is named for "the trope when your Cantonese mother gets mad at you and expresses in frustration that it would have been better to give birth to a Char Siu rather than you." It spins above us, the last in a line of other artists' papier-mâché works, its downturned frown spinning around to look at us every few minutes. It's so fucking cute.
I meet Li at Mercury Plaza, and I feel as if we're sitting in a hub almost unrecognisable from when I was a kid; it doesn't have the same sense of community it used to. For anyone which remembers Mercury Plaza in its early 2000s, seeing it where it is now – unplugged, decomposing arcade games, kicked-in holes in the wall, food stalls abandoned and barricaded up, a shuffling, zombie-ness to it all – fucking sucks. My mouth turns down like the little cabbage's. It's sad, and there's sentimental value – I understand the knee-jerk reaction to save it.
But as the years go on and more and more Asian restaurants and supermarkets open in our streets and in far-flung suburbs. Our community spaces have expanded. We have new pockets in Albany, Dominion Road, Somerville, Otahuhu; new spaces to let our accents and language free, for elders to tap at tables asking for tea, to order wonton noodle soup, to buy Chinese vegetables we don't know the English name of. Mercury Plaza will always be a cultural touchstone for many of us, of course – but it's nice that we have so many other places now, too.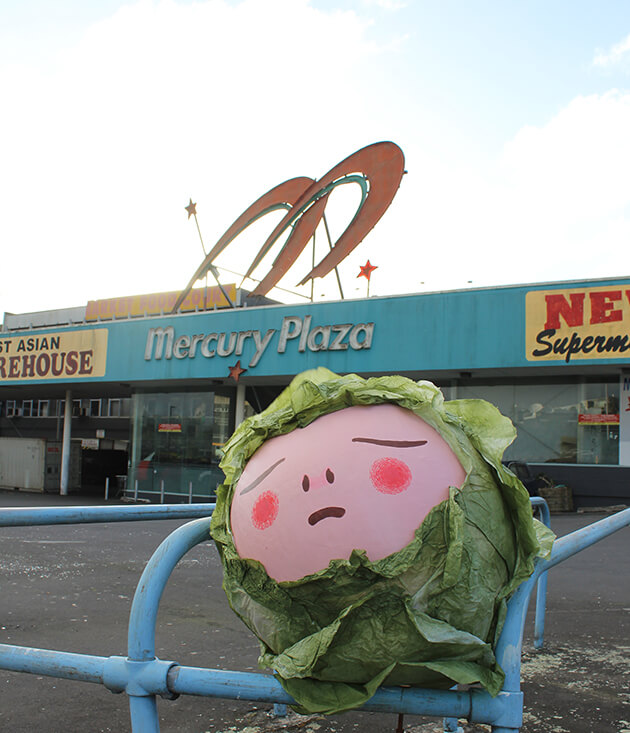 Join Mercury Plaza's closing ceremony on 14 September where they will be bursting the papier-mâché orbs open, with surprises spilling out, akin to a piñata. This is inspired by a Chinese tradition called "hitting the spring ox", to welcome in a prosperous harvest.
Visit the exhibition from anytime between now and 14 September, featuring artists: Art Sang, Tim Lambourne, Lisa Li, Ross Liew, Ruby White, Lindsay Yee, Jia Luo, Pon Huey Min, Ruth Woodbury, Norman Wei, Mona Muchao Cui, Frankie Chu, Qian-Ye-Lin and Diana Hu. Curated by Jia Luo and Joni Lee.