Aug 8, 2019 Food
Metro food writer Jean Teng eats through Auckland's congee offerings – some very fancy indeed.
Click here for Ruby White's oolong, shiitake and miso congee recipe.
When I was sick, or pretended to be sick to get out of school, there was a 98% chance my lunch was going to be congee (pronounced with a soft 'g'), or, as I knew it then, "porridge". No one called congee "congee" in Malaysia, where I'm from, as English porridge just didn't exist in our culinary world. So when I was a very naïve 16, my finger slid under the word "porridge" on an Auckland cafe menu, then rolled off my tongue with all the confidence of someone who knew exactly what they were ordering. Picture my face when I was presented with a sickly sweet bowl of lumpy oats instead. Ugh, I thought, fruit. I had until that point managed to avoid the ugly truth.
I realise that, for most New Zealanders, the reverse is probably true. Congee isn't quite a household name here yet, though its history in China spans thousands of years.
It is essentially gruel, made by boiling white rice down until it disintegrates. Congee is not geographically confined to China or Hong Kong, the places it is most associated with — versions of the same dish exist across Asia and beyond, but go by a different name. There are an infinite number of toppings, condiments and types of stock that can be added, but in Auckland, arguably the most common, seen at yum cha restaurants and Cantonese eateries, is preserved egg and pork.
Cup your stiff, wintery fingers around a bowl of congee and wait until it warms up the palms of your hands, spoon it into your mouth the morning after a big night out, stir a huge pot of it to share with flatmates. Its healing powers are not dissimilar to a restorative vessel of soup, and, if you make it at home, you can dress it up with nearly anything you like. At a restaurant, order it to share (the bowl will usually be deep enough) or have it along with other dishes. The pepper shaker is your friend, as is a splash of soy sauce.
Congee is, at its core, a stretching of resources. My dad's family in Penang, Malaysia used to have it plain — without stock — but with pig's blood curd, scurried over fresh from a slaughterhouse so close they could hear the squealing. My mum had hers with salted fish and pork mince. I, years down the line and with my middle-class New Zealand upbringing, ate congee with chunks of blue cod fillet, spirals of ginger and spring onion, a generous powdering of Sarawak pepper on top.
In a world of constant reinvention, "fancy" congee has started popping up around Auckland. I had a very fancy bowl of congee at Xoong in Mt Eden, all salty and smoky from a piece of salmon, its crispy skin on top. Pops of sprinkled roe burst over the tongue, while spice pleasantly tingled. It was served in a bowl that looked like Daenerys Targareyen's dragon egg. Duck Duck Goose Eatery in Albany whips theirs into a frenzy with shredded chicken, adding a strong stock that dominates the mass of rice three-to-one, making the congee thin and soupy.
In Auckland, the most readily found version of congee is at yum cha, wheeled around in gigantic steel tubs or containers, crunches of croutons added for flair. This is my favourite version: small bowls of warmth eaten amongst a feast of other savoury mouthfuls; it becomes a delightful side rather than a marathon through a deep bowl of liquid.
They also feature on menus of Cantonese restaurants, with a list that, in addition to preserved egg and pork, will include several types of offal, beef and chicken. At The Next Station Cafe in Takapuna, the deeply delicious congee is served true Cantonese style, striking the exact right balance between watery and lumpy. Too many congees around Auckland are too much one or the other; one bowl was a scorching watery mess that became a slog of flavourless soup, half-finished and abandoned with a burnt tongue. Next Station Cafe supplies a small saucer of chilli oil and garlic for the table: a small dropper's worth works like magic.
Joyful Chinese Restaurant in Epsom has an add-on option of two lengths of youtiao (deep-fried breadstick), a joyful addition indeed. Preserved egg and pork congee only really needs jazzing up with a side of youtiao to avoid that dreadful palate fatigue.
For non-Chinese takes on the dish? Find the Filipino version, arroz caldo, at Boracay Garden in the CBD, served as is, no additional condiments or fancy tricks on the side. A generous amount of fried garlic and thin strips of ginger cancel the need for soy sauce or pepper, and it has a distinctively Southeast Asian flavour that reveals itself in the dish's salty gruntiness. It's almost like drinking chicken soup; it hits you over the head with it. In these versions I miss the crunch of croutons or the relief of a neutralising bite of an oily youtiao.
Indonesian café It's Java in Grey Lynn does bubur ayam, Indonesian chicken porridge, during the weekends, and for anyone who cries that Cantonese congee lacks flavour, this is the bowl for you. Heaped with shredded chicken, dots of roasted peanuts, spring onion, and croutons, the congee swims in a stock smacking of garlic, ginger, kaffir lime leaves, galangal and turmeric. The food here is served with a small saucer of sambal oelek, which I fold directly into the silky but lumpy rice. Delicious.
READ MORE: Learn how to make the perfect vegetarian congee with Ruby White of Small Fry at home
---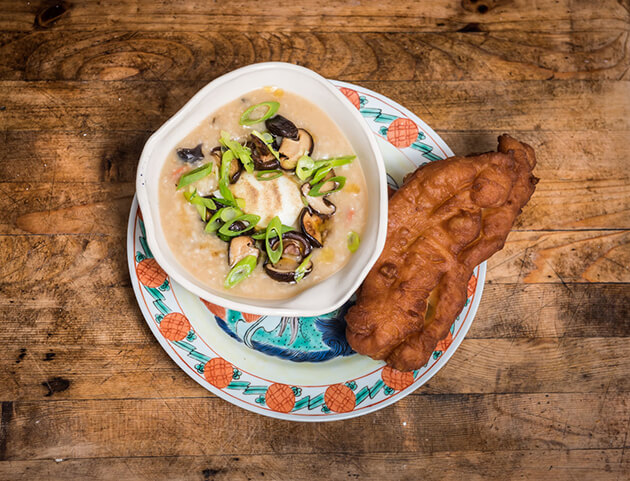 This piece originally appeared in the July-August 2019 issue of Metro magazine, with the headline "Gruel World".