Jun 7, 2019 Food
Metro Recommends is a regular recommendation of food we love, whether it's an unsung hero we want to share with the world, or a crowd favourite we can't help but sing the praises of.
Fo Guang Shan Temple is not exactly a hidden spot – it's a little hard to hide the biggest Buddhist temple in Auckland – but it's one I think deserves a little more la-la-love. Huge, humbling and incredibly serene, its tranquillity is curated by the pruned grounds, the chimes hanging from bare trees, the heavy stone bells ready to be rung and an open-door policy to all walk-in guests. Don't be intimidated by its grand stature; it's really very, very lovely.
READ MORE: Metro Recommends Hobson Indian Takeaway's samosa chaat
The last time I had come here was Chinese New Year. I don't mean to be corny about it, but seeing the rows of shoes lined up outside the temple, a crowd of socked and bare feet milling around inside in attendance for another reason than just simple sightseeing had me feeling some type of way. (Lantern Festival at the Domain, for example, is just a very different thing. Here, there's not one conical hat in sight. ) I'm not Buddhist – my mum is non-practising – but it didn't matter one iota.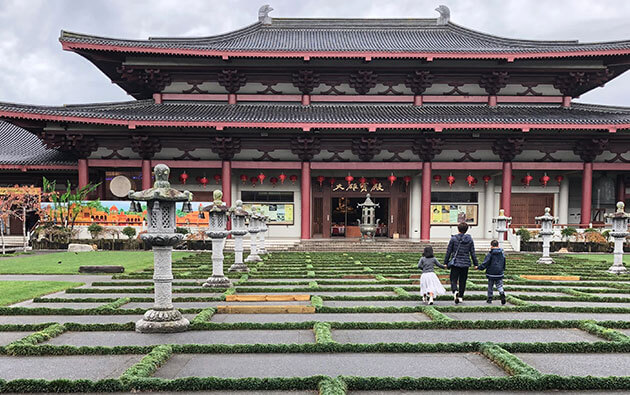 On Chinese New Year we didn't have a hope in the world of getting a spot at Water Drop Vegetarian Cafe, the temple's resident watering hole. The wait was about, oh, two hours. It's busy and requires a reservation, even on weekdays.
Water Drop serves mostly Cantonese-style Chinese food, with no meat in sight. Now, I've had a bone to pick with Jesse Mulligan ever since I read written in his 2017 review of The Blue Breeze Inn: "Chinese is my least favourite style of food – a cuisine based on sugar, fat and animal cruelty. It has various regional subtleties but honestly, the numbing properties of the Szechuan pepper don't really make up for the amputational challenges of type-2 diabetes. But this Blue Breeze Chinese is elevated just enough to keep the good stuff and knock out some of the bad." Although this was written in 2017, I only stumbled across it last year, and my blood has been low-key boiling ever since.
First of all, the nerve of generalising the cuisine "Chinese" is absolutely fucking crazy, and the claim that "Chinese" is inherently crueller to animals than Western cuisine is racism at its finest. Are you telling me the many ways the Western world factory farms and consumes meat is somehow less "cruel"? There are also plenty of types of Chinese food which don't use Szechuan pepper; not every restaurant is Eden Noodles or Barilla Dumpling. Chinese cuisine can look like a lot of different things. And sometimes Chinese food looks like it does at Water Drop Vegetarian Cafe: devoid of "animal cruelty" (oh my God, I just can't believe someone non-vegetarian would write that) without one Szechuan peppercorn in sight.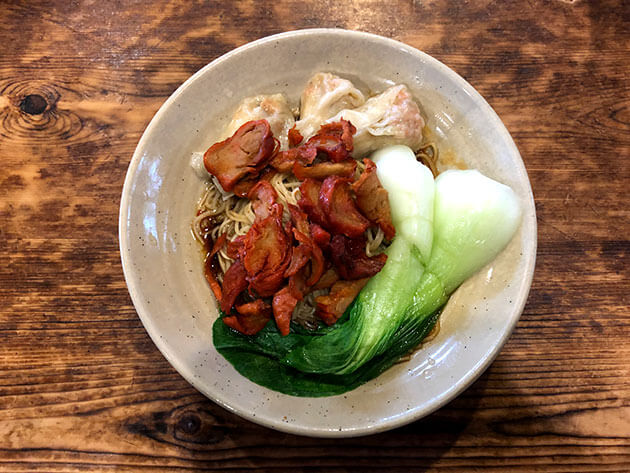 The laksa ("deluxe edition") is laden with tofu, mushroom balls, green beans and beansprouts, swimming happily in a spicy coconut-milk broth which can easily be slurped down to the last drop, if you are so inclined.
Vegetarians who miss the sweet, sticky taste of char siu pork will be glad that these BBQ Wonton Noodles exist, fake meat replicating the texture and saucy slide impeccably. The egg noodles intertwine and pile on top of each other in such a way it's impossible not to immediately shovel a bird's nest straight into your mouth.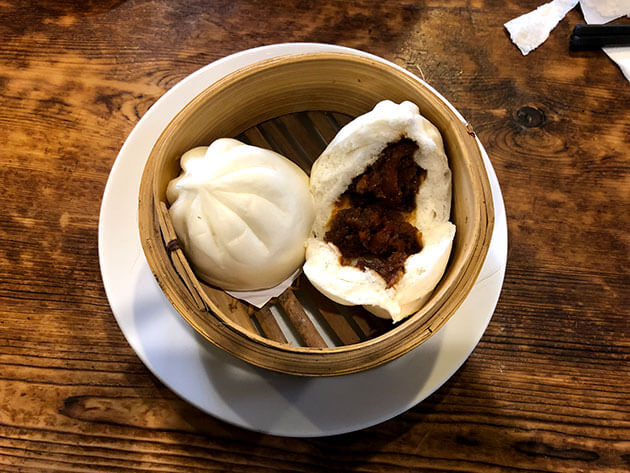 Elsewhere on the menu you'll find a set lunch for just $12, some yum-cha snacks (including very tasty BBQ "pork" buns), fried red rice, and curry roti.
Personally, I think Chinese food is already quite elevated enough. Without the divine intervention of Blue Breeze's Che Barrington.