Oct 19, 2018 Restaurants
Sri Pinang
Malaysian
BYO, vegan-friendly and especially good for vegetarians
Go for: Sambal eggplant and okra
Found in Malaysian, Singaporean and Indonesian cooking, sambal is a fiery sauce made by pounding chilli peppers, shrimp paste, spices, sugar and citrus or vinegar. An integral part of nasi lemak — a fragrant Malay rice dish served with accoutrements including sambal — it also forms the base of Sri Pinang's punchy sambal eggplant-and-okra dish. The fried vegetables are tossed with that pungent sauce and sprinkled with crunchy fried shallots. Happily, owners Angie and Kevin Siew offer a vegetarian-friendly version, but the flavour is all there. BYO wine. 356 Karangahape Rd, K' Rd precinct
Seafood
Go for: Fish and chips
There's much to keep you entertained at this unashamedly old-school place — aquatic murals, aquariums and a random stuffed bear for starters. Not that distractions are needed — the good, plain meals at Swashies are mostly very fresh seafood, cooked with an admirably light touch and served promptly with a grin. A main of fish and chips is usually gurnard: four (four!) perfectly cooked fillets in an airy yellow batter, on a mountain of chips, with no pretence of salad. The boardwalk tables are the best spot to sit when the sun's out. 23 Westhaven Drive, Westhaven
Ramen
Go for: Tonkotsu ramen
After falling in love with New Zealand on a working holiday, Michio Kurihara decided to stay and open a traditional ramen shop. He trained as a ramen master in Toyko before returning here in 2005 to open Tanpopo. His speciality is a cloudy Kyushu-style pork broth, which forms the base of tonkotsu ramen, based on pork bones and simmered for hours. There are lighter broths to be had and all except the vegetarian versions are ladled over cooked-to-order wheat noodles and topped with barbecued pork, bamboo shoots and salty seaweed. 13 Anzac Ave, central city
Thai
BYO available, vegan-friendly and especially good for vegetarians
Go for: Massaman curry
Strangely formal piano music aside, this is a casual place, serving a mix of street food and Thai favourites. In the open prep kitchen at the centre, floral-shirted staff steam rice, cut vegetables and shred papaya for som tam papaya salad. In a second kitchen out back — you can peer in through a mailbox-shaped window — curries simmer and stir fries are tossed in huge hot woks. Create your own banquet from a range of Issan-style grilled meats, salads and sticky rice, or succumb to the heavy, coconut-laden massaman curry, which features meltingly tender beef shin and starchy potatoes. 3/12 Jellicoe St, North Wharf
Contemporary Chinese
Vegan-friendly
Go for: Steamed dumplings with black tiger prawn and sesame
There's always a buzz on this corner of Ponsonby Central, where the waiters seem almost desperate for you to have a good time. Drinks are refilled with great enthusiasm and it's easy to work your way through a fair few cocktails from the "rum jungle" over dinner. Crucially, the staff get it when you need to be in and out. If you want to eat quickly, order lots of plates from the entrée section. Just make sure one of them is the steamed prawn dumplings with sesame. They are, when swiped through the accompanying chilli oil, an uncomplicated comfort. Ponsonby Central, 136-146 Ponsonby Rd, Ponsonby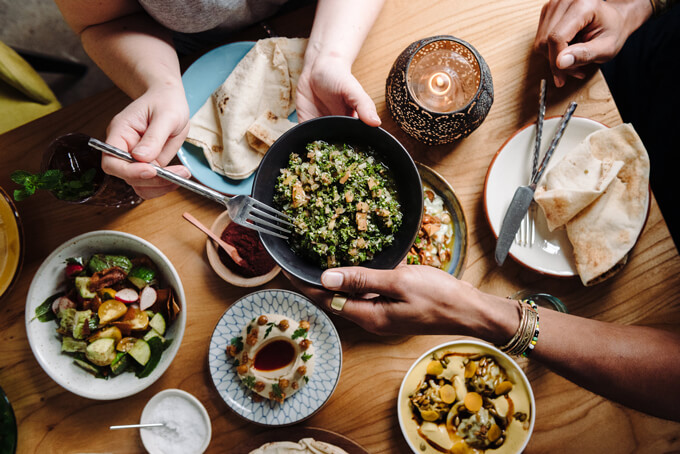 Mamak
Nyonya Malaysian
Especially good for vegetarians
Go for: Seafood laksa
Descendants of early Chinese migrants to Southeast Asia are to thank for the traditional Nyonya cuisine now readily found across Auckland. It's a style of cooking that blends Chinese ingredients with Malay/Indonesian cooking techniques and spices, resulting in tangy, aromatic food — curry laksa, from the south of Malaysia, is a common example. At Mamak in Chancery Square, which shares its name with another very good North Shore Malaysian restaurant, they serve a short menu of Nyonya food in a small bright space. Purists may debate authenticity but the food is undeniably tasty, warming and relatively inexpensive. The seafood laksa with yellow egg noodles, fish balls, prawns and squid floating in a fragrant spicy broth makes for perfect winter eating.  Grab a roti or two for dipping. 50 Kitchener St, Chancery Square, central city
O'Connell St Bistro
Bistro
Vegan-friendly and especially good for vegetarians
Go for: Two-course pre-theatre menu
As urban intensification, new openings and longer working hours change the way Aucklanders eat, Chris Upton's O'Connell St Bistro has endured. An affable host, he's been catering to downtown's lawyers, accountants and CEOs for more than 20 years and, astonishingly, appears completely unjaded. While there have been many changes around him, and chefs have come and gone, Upton continues to offer a very reasonably priced two-course pre-theatre menu for $38. Or go à la carte, where mustard gnocchi and artichokes add interest to a dish of Origin South lamb, and the cheese board celebrates the best of France's dairy. Be sure to book. 3 O'Connell St, central city
Satya Spice and Chai Shop | Reserve table
South Indian
Vegan-friendly and especially good for vegetarians
Go for: Chicken 65
Don't let the uncomfortable, backless stools and hotchpotch decor put you off, because the food and drinks at Sammy Akuthota's take on a backstreet chai shop are simply excellent. Food is served tapas-style but portions are fairly generous, so three or four plates between two is usually enough. Highlights include the highly addictive chicken 65, fried with curry leaves, chilli and yoghurt, and the ever-reliable dahi puri — sweet and spicy and savoury and messy to eat. There's a fridge full of hard-to-find and limited-run beers that change constantly, and the chai is hot and sweet, as it should be. 271 Karangahape Rd, K' Rd precinct (also at 515 Sandringham Rd, Sandringham)
Italian
Especially good for vegetarians
Go for: Oven-dried tomato pizza
Still Ponsonby's darling after 26 years, it's easy to get swept up in the party atmosphere among the champagne-sipping scenesters at those reassuringly familiar white-tableclothed pavement tables or amid the table-hopping crowd inside. The food also stands the test of time — don't let the bald description of our current favourite dish deter you. Oven-dried tomato pizza is pleasingly spicy, the thin crunchy base studded with chilli, capers and olives and finished with globs of gooey buffalo mozzarella — light enough not to weigh you down but starchy enough to soak up some booze. Round it out with a good-value rocket-and-parmesan salad, which comes piled high on the plate. From the service to the menu, there's something about the SP experience that will always be a little bit 1992, and that's just how the regulars like it. 150 Ponsonby Rd, Ponsonby
Lebanese
Vegan-friendly and especially good for vegetarians
Go for: Hummus
Gemmayze's elegantly executed version of a staple dish sums up most of what you need to know about Samir Allen's very special Lebanese restaurant. Situated at the back of St Kevins Arcade, everything from the leadlight windows and mismatched ceramics to the Lebanese wine list and reasonably priced menu has an air of understated class. And while the hummus  — one of 20-plus share plates on the menu — initially seems the simplest dish on offer, each element is so deftly treated that what is essentially a dish of blitzed chickpeas arrives as so much more. Most of the chickpeas are reduced to a silky, tahini-rich cream; the rest are fried and scattered over the top for contrasting texture. A drizzle of paprika oil and a serving of softest warmed pita bread complete the picture. St Kevins Arcade, 183 Karangahape Rd, K' Rd precinct
Greek
Go for: Kefalograviera with figs and honey
They had us at the saganaki, or lightly fried cheese, served with a syrupy topping of peppery figs and Northland honey. The strong, salty, nutty flavour of the kefalograviera is best enjoyed by scooping it up with a serve of Gerome's soft warm triangles of buttermilk pita bread. It's easy to build a varied and filling feast from the six or so smaller share-plate options at this sleek restaurant (bearing no resemblance to its old Iguacu days), which offers upmarket versions of Greek standards. While we always delight in this cuisine in its original rustic form, and in more casual surrounds, we won't say no to Greek-inspired dishes such as burnt eggplant, woodfired meats and loukoumades, or doughnuts, served here with blackberry, spiced sugar and scoops of moreish vanilla ice-cream. 269 Parnell Rd, Parnell
Korean
Go for: Suchbulgu-i
If there's proof positive of our widespread acceptance of Korean food, it's Parnell's Han. This busy little restaurant makes no concessions to European palates — you must order from the suchbulgu-i (barbecue) menu: we really like the wagyu beef, though serious carnivores will savour "Han's authentic BBQ", which includes pork belly, skirt steak and venison; both come with ssam veges, vegan kimchi and rice. You cook it over a little ceramic charcoal barbecue that is brought to your table: they say it's for one but you'd be well placed to share it and add a starter. Service is friendly and amenable. 100 Parnell Rd, Parnell
Hansik
Korean
Go for: Soybean-and-kelp soup

If you have time and inclination, you really should order a set menu here. Hansik is a step above most Korean restaurants — you'll find it in a gloriously bricky space in a restored warehouse at Victoria Park — and specialises in set menus, which are layered and complex. We recommend the Sky, which is $39: there's so much food, they bring it out on a trolley and you find yourself wondering if it really is all for you. Failing that, don't miss the soybean-and-kelp soup, which appears on all of the set menus and acts as a sort of bass note to the entire dinner. It's a strikingly simple dish, a hearty broth in a stoneware pot thickened with soybean paste; you can upsize it with sliced beef or seafood, but it's hearty enough on its own — savoury, deep umami flavours that have you reaching for more. 19 Drake St, Freemans Bay 
Hugo's Bistro
Contemporary
Especially good for vegetarians
Go for: Veal schnitzel
Hugo's may be the perfect downtown restaurant: long and narrow, with brass and green corduroy and a blush plaster wall, it's busy with corporate lunches by day, but cosy and intimate by night. The food hits all the right notes: classic dishes, tweaked and pulled just enough to keep them interesting. You should consider the pasta of the day here — it might be pappardelle with ragu, or it might be spaghetti with scampi; failing that, head straight to the veal schnitzel, generously crumbed and cooked just so, with a crunchy exterior, served with a puckery green apple-and-caper slaw and a burnt lemon. It is a dish at once thoughtful and comforting and perfectly balanced. Don't choose wine: ask them what's good and be prepared to be pleasantly surprised by what comes over. 67 Shortland St, central city
iVillage
Indian
Vegan-friendly and especially good for vegetarians
Go for: Basket chat
A beacon of warmth and welcome — not to mention a refuge from the sad surrounds of Victoria Park Market — iVillage has a loyal raft of regulars. It's easy to see why, when first-timers are treated like friends and straightforward plating gives little hint of the heady flavour wallops to follow. The chat of diced potato, peas and black beans spiced with cumin, chaat masala and chutney lights up with a generous sprinkling of sweet fresh pomegranate seeds, which cut delightfully through the chilli and coriander. It's big enough to share, as is the hearty lamb biryani, served in a deep pot with a light wheat flour crust, and threaded with fried onion, slivered almonds and lip-tingling chilli. Pretty parasols, ornate wooden doors and an enormous copper bowl filled with fresh rose petals and tea-light candles complete the picture. 210-218 Victoria St West, Freemans Bay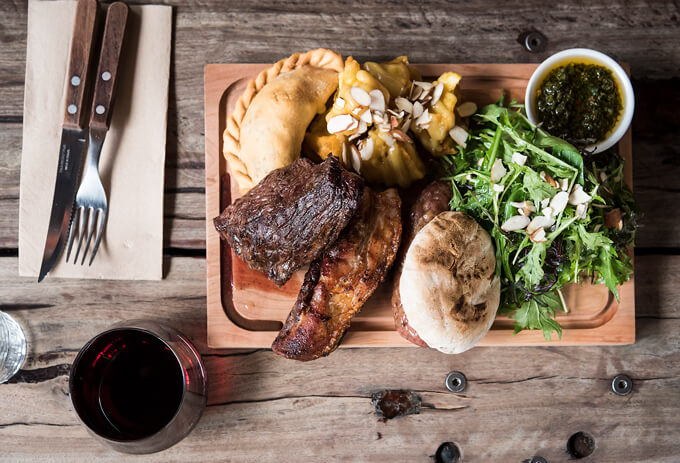 Barulho
Latin-European
Go for: Scotch fillet

That you can find somewhere to eat after hours in the back streets of Parnell these days seems remarkable: remember when there was just Rosie on Gladstone Rd? Barulho is tucked away in one of those great former warehouses off St Georges Bay Rd and, not surprisingly, it's nearly always really full, but you can book and we suggest you do. The menu is Latin-European, whatever that means, but the short story is that you should order the steak — aged Scotch fillet served medium rare then sliced and served with chimichurri and mushrooms and crispy potatoes — and you should order a gutsy glass of South American red to wash it down with. After that, get an Alfajores biscuit to share — a simple way to finish off dinner at a great local. 7/15 Faraday St, Parnell
BBQ Duck Cafe
Cantonese
BYO
Go for: Barbecue roast duck
A lively dining room popular with students, BBQ Duck is just over the road from the Aotea Centre and Town Hall, making it a particularly convenient stop before or after a show. From the barbecued meats hanging on hooks — amber-rimmed pork or properly crispy duck — to noodle soups, congee and hotpots, you can easily over-order here. Service verges on non-existent, which somehow adds to the character of the place. The waiters' desire to turn tables briskly makes deciding what to order from the vast menu much simpler, because you'll have only minutes to do so. Be sure to include a whole or half roast duck in the mix, served in traditional style with tissue-thin pancakes, cucumber, spring onion and sweet-savoury hoisin. 350 Queen St, central city (also at 115C Queen St)
Bird on a Wire
Contemporary
Go for: Chicken feed
Fried, rotisseried, made into pâté or shoved in a sandwich — Bird on a Wire has, for the past six years, done free-range chicken in almost every way imaginable. This year, co-founder Sophie Gilmore passed the keys of all three branches to another hospitality veteran, Kelly Bain (The Coffee Club), who plans to develop the business while staying true to the ethos of ethical, healthy and simple food. For all those times you're craving something easy, but want someone else to cook it, a chicken feed takes the cake: a quarter bird per person, a couple of Ottolenghi-style salads and a wedge of warm baguette. Wines, nearly all available by the glass, are reasonably priced and there's a decent local beer selection, including $5 Dr Rudi's lager all day on Fridays. Ponsonby Central, 136-146 Ponsonby Rd, Ponsonby (also at 40 Hurstmere Rd, Takapuna, and 234b Orakei Rd, Orakei)
Lanna and Issan Thai
Vegan-friendly and especially good for vegetarians
Go for: Lanna pork sausage
First be seduced by Nat Cheshire's fit-out, all blond wood and cream cushions, then the slick but friendly service, and finally by the food — hot, sour, fragrant and smoky. Following Wichian "Lek" Trirattanavatin's return to northern Thailand, Chutima "Say-Say" Polvit has stepped up to head chef. She's from Bangkok, where the local cuisine isn't as pungent as in the north, sometimes tempered with coconut cream. Mainstays like the excellent spicy, porky lanna sausage and Issan-style grilled meats remain, and Polvit is introducing a few of her own family recipes, too. 160 Ponsonby Rd, Ponsonby
South Indian
Vegan-friendly and especially good for vegetarians, BYO available
Go for: South Indian thali
Common in South India, a thali should always represent six tastes — sweet, salt, bitter, sour, astringent and spicy — on a single plate. A small dish (katori) for each is placed around the outside of a larger metal tray and the meal is typically served with rice and/or roti. Satya offers three different thali, but the South Indian version represents incredible value at $16. That gets you the vegetarian curry of the day, two soups — one tamarind-infused, another lentil-based — plus pickle, poppadum and silky cooling yoghurt. Dump the accompanying rice in the centre of the plate and scoop up with curry and pickle before popping into your mouth on a poppadum spoon. 17 Great North Rd, Newton (also at 515 Sandringham Rd, Sandringham, and 57 Mt Eden Rd, Eden Terrace)
Italian-American 
Especially good for vegetarians
Go for: Buttered maltagliati with duck and porcini ragu
The programme at the ASB Waterfront Theatre over winter, and Silo Park's summer movie and music schedule, make us thankful Michael Dearth's excellent Italian-American restaurant sits just around the corner from both. Baduzzi takes bookings only for groups, but that's no problem if you fancy calling in early for a pre-show plate of pasta and a glass of Italian red, or making a late visit for a charcuterie board. If going for the former, get the duck pasta. Maltagliati means "poorly cut" in Italian and these odd shapes, common in the north, are left over from cutting pappardelle or tagliatelle. Here, it's tossed through an earthy, gamey duck and porcini ragu, with pickled black walnuts for a touch of acidity — a real treat. Cnr Jellicoe St and Fish Lane, North Wharf
Odettes
Contemporary
Vegan-friendly and especially good for vegetarians, BYO on Tuesdays
Go for: Express menu with a glass of bubbles
There has to be two of you but it only costs $49 per person for Odettes' six-item express menu, and that includes a glass of bubbles. Work your way through sweet-corn hummus with whipped havarti cheese and flatbread, miso dumplings and almond salsa, roast chicken, beans, some of the best chips in town and a coconut affogato to finish. How's that for bang for your buck? The atmosphere is always convivial and service top-notch. Odettes has some of the best Aperol spritz in the city; you can BYO wine on Tuesdays. City Works Depot , 90 Wellesley St West, central city
Pok Pok Thai Street Food | Reserve table
Thai
BYO available
Go for: Larb
As soon as you open the door the aromas of heady Southeast Asian spices and fish sauce greet you. Owner/head chef Max Yangkongkaew makes all the spice pastes at Pok Pok by hand; the restaurant is named after the sound the pestle and mortar makes as he pounds.  Dishes cover many regional Thai classics — massaman curry, tom yum, papaya salad, green curry — but this isn't a pick-your-meat-and-heat kind of joint. Service is helpful, so anyone with a chilli aversion is guided smoothly towards something mild. The Issan-style larb of fatty minced pork in hot, sour sauce with plenty of lemongrass, lime leaves and mint is a real treat. 261 Karangahape Rd, K' Rd precinct
Italian
Vegan-friendly and especially good for vegetarians
Go for: Zuppa di pesce
Still a charmer after all these years, there's always a happy clatter at Prego, perennially popular with families in the early evening before giving way to couples and walk-in groups later on. Thanks to the service — good-hearted, informed — hanging out here is always fun, whether you're out front in the enclosed courtyard or waiting for a table at the bar up back. There's damn fine pizza and pasta, and the meat and fish mains are consistently good, but we've long had a soft spot for classics such as zuppa di pesce, a tomato-y seafood soup finished with dill and a splash of Pernod. Winter heralds the happy return of comforting dishes such as the popular Prego Pie served on garlic parmigiano mash. 226 Ponsonby Rd, Ponsonby
Ramen Do . Photo/Rebekah Robinson" data-id="94367" />
Ramen Do
Ramen
Especially good for vegetarians
Go for: Hokkaido miso ramen
Chef Hidenobu Tanimukai trained at the locally-renowned ramen shop Teshikaga in his hometown of Sapporo. Now in his 60s, he's been cooking his entire adult life. The noodles at this dinky Symonds St store are made in-house and it takes most of the day to mix, roll and cut them. For Hokkaido-style ramen, Tanimukai serves curly noodles, which bring more soup into the mouth as you eat. The specialty of the house, this thick, murky soup is traditionally made by boiling generous amounts of miso paste with imported rasu kelp and oily fish or chicken stock. Each bowl comes topped with barbecued pork and a jammy-yolked egg and goes perfectly with a cold Asahi beer. Closed Tuesdays. 167 Symonds St, Eden Terrace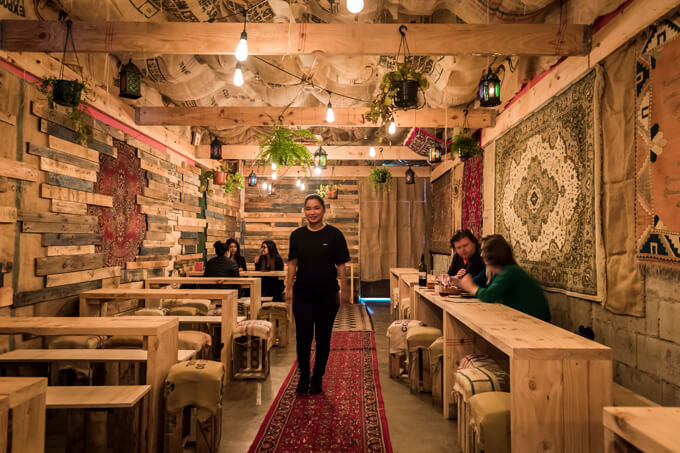 Burger Burger
Burgers
Go for: Beef burger with cheese
Hangover, breakup, redundancy — there are few problems that can't be solved, or at least eased, with a cheeseburger and fries. The atmosphere at Burger Burger is also likely to lift your mood: the staff are young and lively and the music is (very) loud. Service can sometimes feel haphazard, but it's always personable. Besides, a little waiter stumble is easy to forgive for a bite of the prize: a medium-rare, grass-fed beef patty, cheddar cheese, pickles and condiments, all squished between toasty, buttered brioche buns. If you've still got room, opt for a thickshake. Some swear by vanilla, but the raspberry is a worthy contender. Ponsonby Central, 136-146 Ponsonby Rd, Ponsonby (also at 3b York St, Newmarket and 40 Hurstmere Rd, Takapuna)
Contemporary Vietnamese
Vegan-friendly and especially good for vegetarians, pre-show menu available
Go for: Pre-show set menu

Advertised as three courses, Hanoi's pre-show menu — much like their usual offering — is actually a succession of dishes to share. For $40 a head, which leaves enough change for a tap beer or virgin cocktail, you'll get nine things for the table. First come delicate rice-paper rolls stuffed with the likes of crispy fish and pickled vegetables, or soy-marinated tofu. Then the larger plates: wok-seared fish with galangal and round beans, charred chicken thigh with kaffir lime, an aromatic curry and wok-fried vegetables on the side. Dessert is a sweet mango mousse, given texture courtesy of small, juicy, coconut jelly cubes and puffed, crunchy rice. Cnr Galway and Commerce Sts, Britomart
Chop Chop
Fusion
Vegan-friendly
Go for: Crispy fried jerk-chicken noodle bowl
We won't call it ramen, because it isn't, really. What you get at this buzzy C-shaped noodle bar is Che Barrington's take on the famous Japanese dish with influences from Korea and mainland China, too: fried chicken- or brisket-topped bowls of broth and noodles. There are also rice dishes that come without soup, and they're very tasty, too, and a couple of sides. Service is fast-paced — grab a seat and within minutes there'll be a steaming bowl of noodles in front of you. The secret to getting the most out of the very satisfying jerk-chicken noodle bowl is to eat the fried chicken first. Not only is it the best bit, you'll avoid any bottom-of-the-bowl sogginess. The fresh house-made ginger soda is an ideal accompaniment. Get in, get out, and good luck avoiding any shirt splatters. Ponsonby Central, 136-146 Ponsonby Rd, Ponsonby
Italian
Vegan-friendly and especially good for vegetarians
Go for: Spaghetti and meatballs
You know most of it already — the gingham tablecloths, larger-than-life staff, naughty, rowdy happy hour. Then there's the Auckland-famous spaghetti and meatballs, served in a puddle of pleasingly acidic tomato sauce. Or go for the $13 happy-hour pasta pomodoro available from 5 to 7 on weeknights. It's a warm hug of a thing; slow-cooked tomato sauce and spaghetti with shakers of parmesan, breadcrumbs and chilli on the side to jazz things up. Both go wonderfully with a glass of montepulciano. 376 Karangahape Rd, K' Rd precinct
Ramen
Especially good for vegetarians
Go for: Spicy black tan-tan ramen
Chef and owner Yuki Yamaguchi-Lewin grew up in her father's Mt Fuji ramen shop, which he opened in 1978, so she's been eating and learning about this noodle dish her whole life. It shows. Her modern noodle shop adapts traditional recipes for a contemporary take on a cuisine steeped in tradition. We love the spicy black tan-tan ramen — inky and nutty, it comes topped with pork mince, bok choy and shredded leek. The best part? You grind your own sesame seeds to add to the soup. If the place looks full, and it often does, there's a wooden-boothed courtyard you wouldn't know about from the outside. 272 Ponsonby Rd, Ponsonby
Rosie
Contemporary
Especially good for vegetarians, BYO on Mondays
Go for: Black pig, apple, celeriac, pickled green walnut
This understated and atypically small Hipgroup outfit next to Parnell Rose Gardens is the kind of smart, bustling local we wish was in every suburb. Head chef Mike de Vries embraces Hipgroup's philosophy of the best ingredients treated simply, with most of Rosie's produce supplied by the firm's Kumeu farm, organic and free range where possible. The black pig is a bit of a special dish: succulent meat complemented by the sharp acidity of apple and liquorice notes of celeriac. All you need is some fire-cooked kumara on the side. BYO Mondays. 82 Gladstone Rd, Parnell
Argentinian
Go for: Orejano platter
This cheerful Argentinian asado (barbecue) joint, sibling to K' Rd's El Sizzling Lomito, doesn't take itself too seriously. Waiters are friendly and informal and dinner comes with just the right amount of theatre courtesy of a blazing open fire that keeps you warm despite the restaurant's draughty location. Sweet for solo diners, seating options include stools at the L-shaped bar, where you can work up an appetite enjoying the smoky aromas and watching the chef baste and grill hefty slabs of meat. As is traditional, everything is cooked over tea tree — an expensive but necessary material for imparting true Argentinian barbecue flavour. If you're sharing, the orejano platter offers a taste of almost everything: chorizo, empanada, pork belly and flank steak. It's huge. Weekend specials include the ever-popular signature roast lamb. Ponsonby Central, 136-146 Ponsonby Rd, Ponsonby
Italian
Especially good for vegetarians
Go for: Ragu of the day
Sergio Maglione's casual eatery thrums right through the week for good reason: the pizzas have a little extra something that elevates them beyond most others. Perhaps holding Auckland's only Associazione Verace Pizza Napoletana badge, which recognises a commitment to traditional Neapolitan pizza-making techniques, has something to do with it, or maybe it's as simple as the crunch of semolina on a smoky base. Whatever the reason, Maglione goes the extra mile to ensure every bite is a good bite. You'll also find some of the finest ragus in the city here, and there's a new one every day — unctuous, slow-cooked meat with wine and vegetables. Often served with tubes of rigatoni, they're comfort epitomised. 244 Ponsonby Rd, Ponsonby
Faro Korean BBQ
Korean Barbecue
BYO available
Go for: Ggot sal, with the table-set special
You cook your own food at Faro, on a little charcoal barbecue that they bring to the table. It's fun, especially after a bottle or two of soju —  Korea's national spirit —  but not something we're quite used to in New Zealand just yet. Thankfully, there's a large team of staff circling the floor, ready to lend a hand to hapless newbies. First, choose your meats — minimum order two portions; the marinated ggot sal (boneless beef rib) and galbi (short rib) are good places to start. Then add the table-set special of soup, salad and banchan (Korean sides) and you'll have quite the feast. You cook the meat whole and then cut it with scissors into small bits to make saam — lettuce wraps with fermented soybean paste that you eat in one mouthful. Some of the banchan are a bit odd — supermarket-style pasta salad being just one example — but most are good, and staff will refill them if you ask so you can make the most of the ones you're enjoying. 5 Lorne St, central city (also at 49 Nuffield St, Newmarket)
Federal Delicatessen
New York-style diner
Vegan-friendly
Go for: Milk-fed veal schnitzel and a side of poutine
The counter here, with its view of chefs at work and servers flitting by, is one of the best spots in the city to eat alone. And not just because the staff are happy to chat — the menu of New York deli classics is also perfectly suited to the solo diner.  A serving of spit-roast chicken with gravy is hard to go past, but crumbed veal schnitzel lifted by a squirt of fresh lemon is weeknight simplicity at its best. Add a side of poutine and a tap sauvignon blanc to strike the perfect balance between rich and bright. Of course, the Fed doesn't just serve lone diners: on Friday and Saturday nights The Late Shift caters to the post-theatre crowd, with a limited menu and live music from 11pm to 1am. Just try to resist a truffle-and-cheese toastie at midnight after a few wines. 86 Federal St, central city
Food Truck Garage
Contemporary
Vegan-friendly and especially good for vegetarians
Go for: Burrito bowl
A five-minute trot from Queen St, FTG's youthful crew slings fast food with a healthy bent — salads, tacos, burgers and sundaes (yes, really). Inside, and out in the sunny courtyard, it's loud, casual and usually quite quick, and they keep evolving the menu, which we like. The burrito bowl is a big pile of goodness — Mexican-style beans and tomato, rice and quinoa, corn and chipotle yoghurt, plus a couple of soft flour tortillas. Topped with colourful shards of capsicum, it's tangy and tasty, and even better bulked up with a side of free-range chicken. Sundaes, made with whipped probiotic yoghurt, are inspired by classic Kiwi confections. Most popular? The Jelly Tip, a parfait glass brimming with creamy yoghurt, raspberry chia-seed jelly and dark chocolate buttons, which somehow manages to seem virtuous and indulgent at the same time. Sweet. City Works Depot, 90 Wellesley St, central city
Conch
South American
Vegan-friendly and especially good for vegetarians
Go-for: Conch taco with organic pork carnitas
Wonky, wood-clad Conch, with its stained-glass tiling and niche vinyl selection, is many people's go-to for date night; it's as cool as it is casual. Sit in a courtyard booth facing the kitchen and watch, Hallertau in hand, while a two-chef team meticulously weighs and rolls balls of masa dough for tortillas and arepas. A quick turn over the heat renders each of these breads warm and crumbly and they come filled with all sorts of fantastic things, such as our favourite: organic pork carnitas, with smoked cheddar, apple-mint slaw and the sweet tang of pickled onions. Finish with a baked apple tart. And another beer. 115a Ponsonby Rd, Ponsonby
Italian/pasta
Vegan-friendly and especially good for vegetarians
Go for: Lamb maltagliati
At Cotto, the music is almost obnoxiously loud and the conversation tends to shouting. They want you in and out pretty quickly, too: it makes Coco's across the road look positively sedate. Which kind of makes it all the more fun, especially when you add a reasonably priced wine list with plenty of gutsy Italian reds and some of the best handmade pasta in town. We've tried and failed, repeatedly, to go past the lamb maltagliati — a dish of wide, flat pasta served with succulent, slow-braised lamb shank, sweetly sticky and sliced through with an excellent gremolata. It may be this winter's best comfort dish, especially if you have it with a plate of Brussels sprouts served with puy lentils, the sprouts charred and the lentils cooked just so. 375 Karangahape Rd, K' Rd precinct
Dante's Pizzeria
Neapolitan pizza
Vegan-friendly and especially good for vegetarians
Go for: Regina Margherita D.O.C. pizza
Owner Kevin Morris's woodfired sourdough pizzas are so popular he's about to open a third store in Queen's Rise on Queen St. When he does, it'll be an even more convenient stop pre- or post-film. For now, though, we're happy to trudge up to Ponsonby for a tumbler of Chianti and a traditional, scantily topped pizza. Morris takes pizza very seriously, importing Caputo flour from Napoli, mozzarella cheese from Campana, and San Marzano tomatoes. He proves his dough for up to three days, which means it's easy on gluten-sensitive bellies. His woodfired oven was even built using soil from the foot of Mt Vesuvius. Ponsonby Central, 136-146 Ponsonby Rd, Ponsonby (also at 40 Hurstmere Rd, Takapuna)
DeBretts Kitchen
Contemporary
Pre-show menu
Go for: Chargrilled lamb with rosemary and lemon
Wrestling open the hotel's heavy art-deco doors invariably gives us flashbacks to bad behaviour (not ours, of course) in the house bar back in the late 80s, but it's the restaurant and its stubborn refusal to submit to the vagaries of fashion that beckons us upstairs these days. The lighting is kind, the service unobtrusive, the soundtrack soothing, and we go back for the chargrilled lamb — three thick yet tender wedges with a pleasing layer of fat intact, served with a slab of garlicky potato gratin, a generous tumble of buttery heirloom carrots, beans, broccoli and courgette, and a big splodge of mint labneh. And just like in the 80s, you get complimentary bread and butter. Two- and three-course pre-theatre menus include a glass of wine. 3b O'Connell St, central city
Depot
New Zealand
Go for: Hapuku sliders with pickled-lemon mayo and watercress
No other Auckland restaurant quite competes with the buzz at Depot, where amiable servers manage the chaos of the busy no-reservations dining room with ease and grace, and the food comes out fast. The menu isn't foraged or fluffy and it doesn't change every week, but that's not the point of eating here — it's the taste of nostalgia in a white-bunned hapuku slider, the brininess of the fresh oysters or the comfort of the crispy pork hock with apple and horseradish. It's the quintessentially New Zealand ingredients, prepared simply to allow the few things on each plate a chance to shine. Then there's that sophisticated wine list, the great beer selection and the rot-your-teeth-sweet sugar pie. Easily the best place to take an out-of-towner. 86 Federal St, central city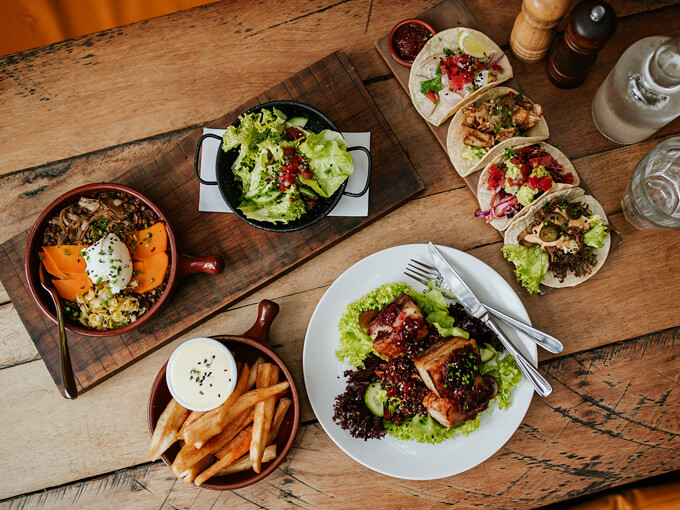 Vietnamese
BYO, vegan-friendly
Go for: Beef pho
Tucked away down some steps from street level, Asian Ruby makes an impact once you get inside. Foreigner's greatest hits blast from the stereo, there's a chrome-coloured gas heater in the middle of the dining room, and decorative flourishes run from wicker baskets to fancy lampshades. More to the point, they do a memorable bowl of pho. It's cooked for some 12 hours; you can smell the star anise as the waiter approaches your table, then the cinnamon as the bowl is presented. It's a rich, dark broth, full of collagen from the beef bones, with a wispy pile of herbs stirred through plus rice noodles for slurping. The surprisingly good wine list is an added bonus. 311 Parnell Rd, Parnell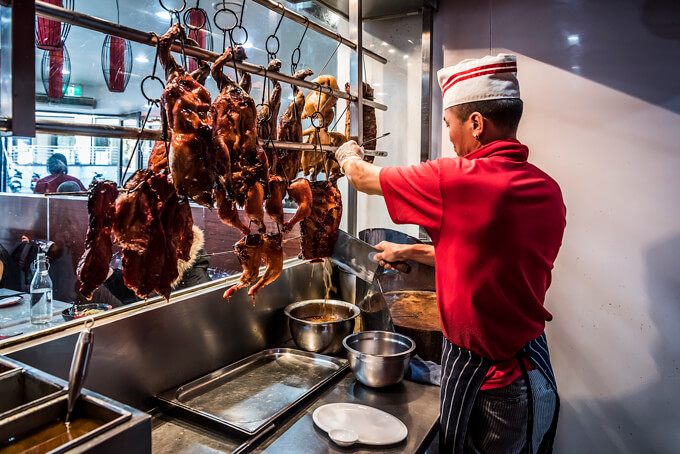 Indian
Vegan-friendly and especially good for vegetarians
Go for: Lamb shank Nihaari
1947 is that perfect thing, where authentic food meets good service and drinks. Tucked away on Federal St, there's an à la mode fitout — raw steel, rough-hewn wood, exposed light bulbs, tuk-tuk and enthusiastic, attentive service. The restaurant serves food inspired by pre-Independence India — flavours are gently spicy, richly aromatic, unsullied by butter or cream. There's a fabulous dry goat curry and killer samosa chat, but we love the signature dish. A lamb shank slow-cooked until it's falling off the bone, it comes with a rich, spicy gravy and a generous helping of naan. That you can wash this down with a house cocktail or a decent pale ale makes it all that more delightful. 60 Federal St, central city
Al Volo
Italian
Vegan-friendly and especially good for vegetarians
Go for: Mushroom and truffle-oil pizza
This unassuming little pizza joint is popular for takeaways, but do yourself a favour and eat in — that way the pizza has to travel only from the traditional Neapolitan wood-fired oven to your table. It's better for it, with bases light, puffy, smoky and chewy. Of the generous, quality toppings, our current favourite is mushroom and truffle oil, which is both fragrant and filling, but of the 20 or so pizzas on the menu, we haven't hit a dud yet. Al Volo has about a dozen tables, meals are delivered promptly, service is chirpy, and the pizzas are good value for money. Pasta options include pork-sausage lasagne and four-cheese gnocchi. What more do you want from a weeknight bite? 27 Mt Eden Rd, Eden Terrace
French-style bistro
Go for: Terrine of the day
You'll get fantastic service from co-owner Ismo Koski and his team at this Karagahape Rd charmer. A true wine enthusiast, Koski will happily pick the perfect glass/bottle from an ever-changing list of grape varieties we don't see a lot of here. If he's got any aromatic Rhônes on — marsanne, roussanne, viognier — we recommend giving them a go. First timers should leave the food to the waitstaff, too, as dishes vary in size. Trust them, they won't go overboard, and it'll likely be a more balanced meal. You must insist, however, on the terrine of the day, always made in-house. Whether it's chicken, lardo, roasted veges and goats' cheese, hare, or lamb shoulder and rump, each is a densely packed mosaic of meat or vegetables or both. A bag of bread goes nicely on the side. 280 Karangahape Rd, K' Rd precinct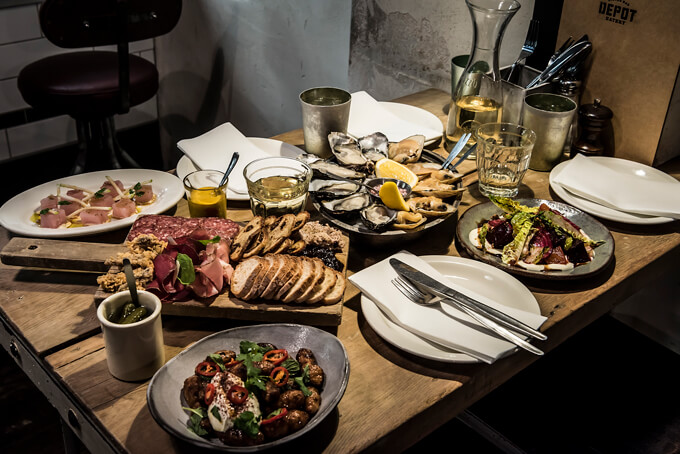 Eating out doesn't have to break the bank, and it certainly shouldn't when you're just having a bite before a show or a movie in the city's central precincts.
In case you can't tell, we love eating out in Auckland: the buzz of an ever-changing scene, the ever-growing variety of cuisines, the grit and passion of the restaurateurs. But most of us have a limit to how often we can do it and how much we can spend. Yes, we'll push the boat out on the big occasions, but the rest of the time we choose carefully to get maximum bangs for our dining bucks.
This Top 50 list is designed for those occasions when you want to eat out but don't want the bill to play havoc with your bank balance.
<!– –>
RelatedArticlesModule – related
Metro's food writers pooled their knowledge of their favourite, affordable restaurants, then went out to find which ones really delivered.
As always, they visited anonymously and paid for their meals.
The places on this list will serve you a sit-down meal, with a glass of wine, for $50 or less a head, or up to $100 for two where the food is shared. Many are ideal for a pre- or post-show visit.
Our list focuses on the inner city, Ponsonby, Karangahape Rd, Eden Tce and North Wharf. It favours casual fast-paced service and lively dining rooms. If somewhere offers a dedicated pre-theatre menu, even better.
There is some crossover with Metro's Cheap Eats and Restaurant of the Year lists, but most of the places here fall somewhere between the two.
We went looking for that pleasant middle-of-the-road bistro you could take your dad to before the opera, the buzzy Ponsonby noodle joint sure to impress an out-of-towner, the downtown dining room that welcomes a group of friends for a pre-film festival meal.
And our writers aren't just telling you about the restaurants, they're recommending what you should order, too. They've got tips on how to be in and out quickly, what wine to drink, whether a place has a vegan/vegetarian menu, and if there's a good beer selection.
The long list was very long, so we were strict when it came to price and location. To make the cut, a place had to be within walking distance, a quick bus ride or a train stop away from downtown theatres, venues and cinemas. And yes, you should have change from a $50 note.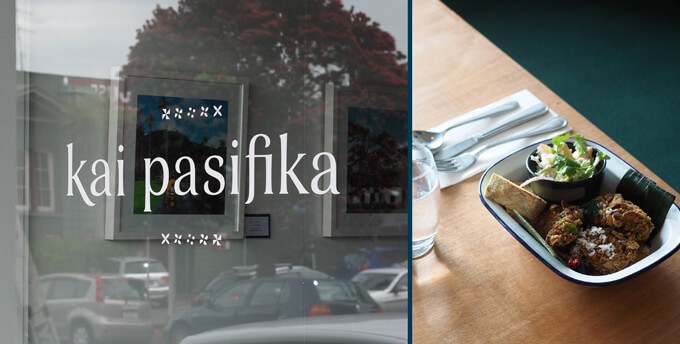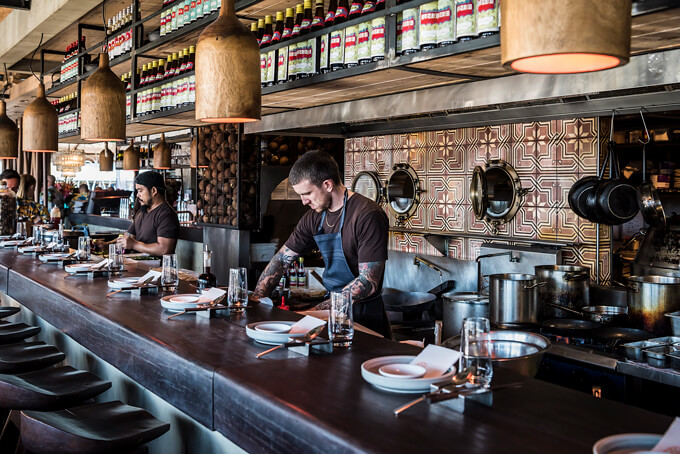 Middle Eastern
Vegan-friendly and especially good for vegetarians
Go for: Lebanese lamb shoulder
Here's how it works best: you choose from seven protein dishes — the slow-braised-to-melting lamb shoulder is our favourite but there are excellent chicken, fish and vegan options, too — which are served with five set sides for the table. Owner/chef Yael Shochat proudly proclaims everything is made from scratch, and it shows in no-shortcuts sides such as Tunisian grilled-carrot salad flecked with parsley, bitey feta and a whiff of chilli, and Arab rice studded with lentils, pine nuts, pistachios, almonds and caramelised onion. Like the vibe and fit-out, service is casual and homely, and because it's all about Mediterranean-style sharing, Ima is popular with groups and families. Solo diners are also well catered for thanks to the adaptable menu and a commendable list of wines by the glass. Save room for a scoop or three of Shochat's sensational seasonal sorbets (the apricot is hard to beat). 53 Fort St, central city
Kai Pasifika
Pasifika
Go for: Braised taro leaf and lamb
It's remarkable for a city where roughly 25 per cent of the population identifies as Pacific Islander or Maori to have only one centrally located, Pacific-influenced restaurant. Opened by Robert Oliver of My Kitchen Rules, Kai Pasifika showcases food from the Pacific Islands in a bistro setting, creating a platform to promote hospitality careers to young Pasifika people. It's an unadorned space but the chatty service soon warms things up. Servings are huge, bordering on unfinishable. We like the slow-cooked, taro-wrapped lamb shank, served with a warm coconut sauce and garlic mash, and the especially generous kokoda entrée, made with the catch of the day. 3 Mt Eden Rd, Eden Terrace
Le Chef
French
Go for: Cheese puffs
This cosy spot up the top of Vulcan Lane offers a dozen small and large plates, plus sides and desserts, with a French accent. Half the 10 or so assortiment de gougères, or baked choux pastry puffs, are flecked with ham, the rest with spinach; all are light and cheesy. Dip 'em in aioli and eat with your fingers, then tackle the accompanying mound of mixed leaves dressed in a fruity olive oil. A lone diner will be replete after another small plate — we recommend the boeuf braise (moist chunks of slow-cooked beef with asparagus, kale and celeriac purée). Featuring French and New Zealand wines, the wine list has heaps of options by the glass. Popular with couples catching up after work, there's laneway seating out front while inside, brick and whitewashed walls lend a laidback air. 13 O'Connell St, central city
Le Garde Manger
Breton/French
Especially good for vegetarians
Go for: Le dijonnaise galette
Le Garde Manger works in much the same way as those bistros in France you really want to hate but end up loving: red-and-white tablecloths, Edith Piaf, carafes of wine, coq au vin and Frenchish tat. But here's the thing: it's really, really good, especially if you order a galette, made in the traditional Breton style from buckwheat flour, dense and chewy but still light, pockmarked from the grill. We like Le Dijonnaise, filled with wild-pork sausage, tomatoes, potatoes and a buttery Dijon sauce, a porky, mustardy parcel that feels generous and hearty but not heavy. Even better: add a glass of dry Brittany cider. The perfect pre-theatre drop-in, it's open from noon every day. 466 Queen St, central city (also at 265 Ponsonby Rd, Ponsonby)
Contemporary
Vegan-friendly and especially good for vegetarians
Go for: Anything, the menu changes often
They aim to change the menu every six to eight weeks at Madame George, although it's always in a state of flux, being so seasonally dictated — what's on one week may be gone the next. German-born executive chef Patrick Schmitt likes to cook things that evoke childhood memories — get the cheesy potato puffs if they're on — and make something out of often-unloved ingredients like neck meat, other offcuts and imperfect vegetables. This keeps things interesting, but also helps to minimise waste. Dishes like cured pork neck with warm potato salad, or knödel — boiled dumplings — and Brussels sprouts have German/Austrian origins but are taken to new heights with additions such as Clevedon buffalo curd. And a nod to the drinks list is compulsory here. Co-owner Pablo Arrasco Paz's pisco sours might just be the best in town. 490 Karangahape Rd, K' Rd precinct