Nov 9, 2017 Cheap Eats
This list has been updated: ?Find the best places serving dinner in Auckland for $20 or less for 2018 – 2019 here.
By suburb: Central city | Eden Terrace | Glen Innes | Grey Lynn | Henderson | K' Road | Kingsland | Mt Eden/Dominion Rd | Mt Roskill | Mt Wellington | New Lynn | Newmarket | North Shore | Otahuhu | Pakuranga | Ponsonby | Remuera | Royal Oak | Sandringham
Central city
BBQ Duck Cafe
350 Queen St (also at 115c Queen St)
An affordable, bright, energetic dining room right near the Civic and the Aotea Centre — this is the ideal corner bolthole for a pre- or post-theatre feed. The king-prawn crispy fried-egg noodles are heaped with prawns almost as crispy as the noodles, and great value at $13. The dry-fried round beans with mince pork are moreish and deeply savoury, and a whole roast duck to take away is only $30.
CANTONESE
?Licensed ?BYO ?Open late
Cinta Malaysian
51 Shortland St
Note: Its Dominion Rd branch in Mt Eden closed September 2018 for earthquake strengthing.
Cinta (Malay for "love") offers staple hawker classics of beef rendang, chicken curry, wat tan hor, mee goreng, and homemade egg tofu (cooked on a hot plate with chilli bean paste). Their roti canai is made fresh and can be had with a choice of curries, as well as beef murtarbak. Another specialty is tomato kway teow, a dish normally found only in Sarawak — shiok! Downtown workers can now enjoy Cinta-style treats in the lobby of the AMP building in Customs St West, where all dishes — including Hainanese chicken rice — are $11.50.
MALAYSIAN
? Licensed ? BYO
Eden Terrace
Ramen Do
167 Symonds St
They make their own noodles at Ramen Do, using an impressive piece of noodle-making machinery. Perfectly chewy, they're best served in a Hokkaido-style broth, which is traditionally made by boiling generous amounts of miso paste with specially imported rausu kelp and oily fish or chicken stock (and sometimes lard) to create a thick, rich soup. Topped with meltingly tender, fatty pork (and washed down with a beer), this is the perfect mid-week, can't-be-bothered-to-cook meal.
RAMEN
?Vegetarian Friendly ? Licensed
Read more: Five great noodle spots in Auckland | The Top 10 Cheap Eats 2018 | 50 things to do in Auckland for under $20 | Auckland's best bars | Auckland's best restaurants | Auckland's best cafes
Glen Innes
Hong Kong Kitchen
290 Apirana Ave
All the locals know and love this Glen Innes gem, which Colin and Joanna Ye opened 18 years ago, and word of its popularity is now widespread. The couple barbecue and roast pork, chicken and duck to perfection and we highly recommend having one or more of these succulent meats in a noodle soup, with a ginger and spring onion topping. Their round beans with pork mince, prawn scrambled egg (served on rice), braised eggplant with salted fish, and the five-spice squid also come highly recommended — as does their Peking duck with pancakes.
CANTONESE
? BYO
Grey Lynn
Epolito's Pizzeria
166 Richmond Rd
There's quite an art to edging out the door of Epolito's with a massive pizza box or two in hand, not to mention manoeuvring it into your car. In true New York style, the pizzas here are big — they come in large (14-inch) or extra-large (18-inch) sizes. The bases are hand-stretched and just the right degree of chewy. As for the toppings, owner Chickalena Rose keeps them simple, and the meatballs and sausage are homemade to family recipes.
NEW YORK-STYLE PIZZA
? Vegetarian friendly ? Licensed
Jimmy The Cook
Grey Lynn Returned Services Club, 1 Francis St
Rock up early for a feed at Jimmy's, because items on the short blackboard menu — a roster of comfort-food staples based around steak, fish and pasta — often sell out quickly, a testament to the enduring popularity of Auckland hospo stalwart Jimmy Gerard's plain food cooked well. Down past the pool tables at the Grey Lynn RSC, the meals served by his little kitchen are a sweet match for the unchanging, unpretentious community vibe of the place amid the ongoing evolution of Grey Lynn. Open from 6pm Wednesdays to Saturdays.
SEAFOOD AND MORE
?Licensed
Pizza Rosso Pomodoro
356 Great North Rd
A blistered, bubbling crust like the ones here can be achieved only with a short burst in a scorching, wood-fired oven — 90 seconds or so should do the trick. We love the tacky décor, and the ham-and-mushroom pizzas. Weekly specials like $15 Tuesdays and Wednesdays and Sunday night half-priced desserts make for great (cheap) date nights. The corner stack of games should keep restless kids entertained.
WOOD-FIRED PIZZA
? Vegan friendly ? Vegetarian friendly ? Licensed? BYO
Tiger Burger
549 Great North Rd
Esther Jeong and Matt Shephard are sticklers for detail, going so far as to ferment their own kimchi and gochujang (Korean chilli paste) — the latter takes three months to make — for their Korean-inspired burgers. The couple's short menu of oozy, drippy, free-farmed burgers makes for great hang-over reading; the $20 kimcheese burger with double patty and double cheese is hard to resist. Line-caught fish.
KOREAN-STYLE BURGERS
Vegetarian friendly ? Licensed? Free range
Henderson
Treasure Kitchen
2/392 Great North Rd
This place really is a treasure in West Auckland, where good Malaysian food can be hard to find. Dishes are made with great care, and owners Sam Ng and Jennie Tang are super-helpful if you're trying to get a variety of flavours into your group order, or whittling down a shortlist. Try dishes like bak kut the — pork ribs in herbal soup — or salted fish with eggplant rice, both available as $12 lunch specials.
MALAYSIAN PLUS SOME OTHER ASIAN DISHES
? Vegetarian friendly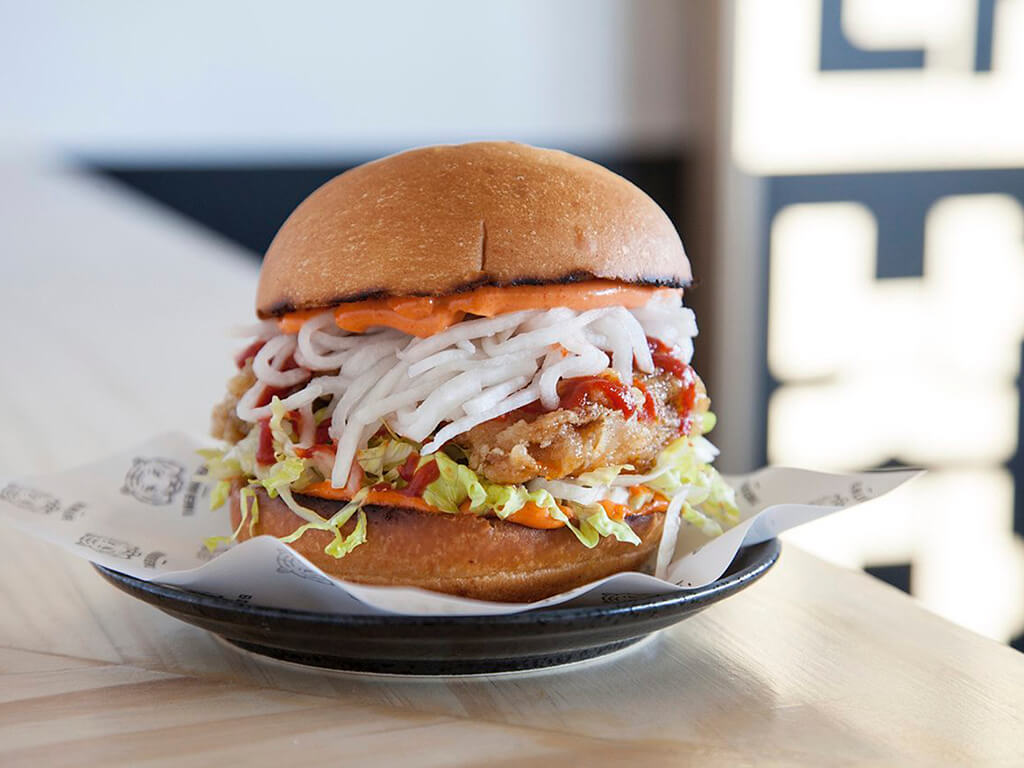 Karangahape Rd Precinct
Master Bowl
27 Cross St
Four of you can cook your own Sichuan hot pot at Master Bowl. Go wild at the condiment bar with its huge selection of sauces, flavourings and toppings. Choose from an impressive range of meats, meatballs, seafood, vegetables, tofu (try the chiba or tofu puff), then simply add noodles. We suggest you go for the double-flavour hot pot, with half-and-half of Sichuan spicy and clear soup. Start by cooking your ingredients in the clear soup and with your palate suitably primed, dip into the spicy/mouth-numbing stock. Alternatives to the hot pot include griddle-cooked food and stir-fries.
SICHUAN
? Licensed
Sri Pinang
356 K' Rd
One of the oldest Malaysian eateries in the city, Sri Pinang was opened by Angie and Kun Siew in 1990. Both the food and décor have remained relatively unchanged since then, but that's how we like it; the faithful staple beef rendang, the spice paste for which is made fresh daily, is always excellent. The wonton soup ($8) is clean and hot and should soothe even the worst cold.
MALAYSIAN
? Vegan friendly ? Vegetarian friendly ? Licensed ? BYO
Uncle Man's
277 K' Rd
Najib Othman set up Uncle Man's in honour of his father, Othman Daud, back in Muar, Johor. This modest establishment is based on a warisan, a small Malay kampung (village) eatery, and his kitchen is staffed entirely by family. Heavenly is the word to best describe Uncle Man's roti canai. It's made on the spot and served with either dhal, chicken curry or beef rendang — all excellent. Uncle Man's is now consolidating the dishes it offers to reflect the Malay side of Najib's family heritage, concentrating on beef rendang, curries, biryani, satay, mee goreng, mee rebus, rojak mee and nyonya laksas.
MALAYSIAN
? Vegetarian friendly
Kingsland
Petra Shawarma
482 New North Rd
It's certainly cheap but the food doesn't come fast at Petra Shawarma — a price we happily pay for the lack of shortcuts in the kitchen. Mains of chicken, lamb and beef, served with rice or as sharwamas, shine with a commitment to quality ingredients. Service is friendly enough but often slow to the point of glacial, so spare yourself a hissy fit by showing up before the famished stage.
JORDANIAN
? Vegan friendly ? Vegetarian friendly
Mt Eden/Dominion Rd
Barilla Dumpling
571 and 305 Dominion Rd
You could just go for the dumplings and hand-pulled noodles but there's so much more. We love the texture-and-flavour bomb that is the fried chicken gristle with cumin. The sautéed eggplant in spicy garlic sauce is another winner — very garlicky and saucy and perfect scooped into the mouth with hunks of rice. And you may as well order dumplings — the pork and fennel are still some of the best in town. Licensed at 305 Dominion Rd.
NORTHERN CHINESE
? BYO ? Vegetarian friendly
Chongqing Noodles
340 Dominion Rd
They had us at "slobbery chicken". Literally translated as "mouth water chicken", this is one of the most famous Sichuan dishes and features tender poached chicken in a mouthwatering chilli sauce, with lots of fresh herbs. Here it's made beautifully — searingly hot and juicy. The rest of the menu is equally well executed, from the comforting braised-beef noodle soup or dumplings in spicy sauce to pork ears and trotters, beef tendons, chicken feet, and tripe for the adventurous.
SICHUAN
? Vegetarian friendly
Eden Noodles Cafe
105 Dominion Rd
Years pass, but the crowds still brave all weathers in long queues outside this tiny hand-pulled-noodle shop. Perhaps they're trying to work through the lengthy menu, though judging by hundreds of social media posts we'd say that — like us — the diners are still there for dumplings in spicy sour soup, or mouth-numbing, porky dan dan noodles. Owner Mrs Xiao is constantly tweaking her custom sauces to achieve ultimate lip-tingling satisfaction. Looking to branch out? Try the noodles with dry seafood and special sauce with a little soup.
SICHUAN
Golden Barbeque Noodle House
296D Dominion Rd
Crispy pork, roast ducks and barbecue chickens swing from hooks in the window, and you order them by weight, or in quarters, halves or whole. The wat tan hor (smooth egg gravy over silky rice noodles), piled high with mushrooms, bok choy and slices of tender pork, is rather delicious, as is the crispy squid. The generous menu also includes a succinct casserole list. Great for groups.
SINGAPOREAN AND MALAYSIAN-CANTONESE
Jolin Shanghai
248 Dominion Rd
A slurp of Lei "Kelvin" Zhang's celebrated xiao long bao (soupy dumplings) will please even the fussiest dumpling connoisseur. And he'll be happy to suggest add-ons if you want to further explore his Shanghainese menu, which offers dishes that not so long ago were largely unknown to Westerners. These include bamboo shoots and salty pork soup, braised pork chop, eggplant with five toppings in bean curd sauce, and stir-fried rice cake with Chinese spinach. Zhang especially recommends his deep-fried sweet and sour blue cod or the Shanghai sauce duck (served cold).
SHANGHAINESE
? Vegan friendly ? Vegetarian friendly ? Licensed? BYO
Kiss Kiss
1 Rocklands Ave
One of our favourite places to gather a big group or extended family for a cheap feed and great craic. The Thai-inspired menu is a crowd pleaser and orders are always served super-promptly (we suspect the kitchen just cooks the top sellers non-stop), there's a short, sweet list of drinks — including craft beers and cocktails — and wait-staff are never rattled, no matter how busy and loud it gets.
NORTHERN THAI
? Vegan friendly ? Vegetarian friendly ? Licensed
Panda Noodle Express
463 Dominion Rd
The classics such as dumplings in spicy sauce or cold noodles with shredded chicken and peanuts are good here, but there is also plenty for the adventurous cheap-eater — chicken feet in molten chilli sauce, plenty of offal dishes, and seafood. Don't miss the fried cumin potatoes, which are all crunchy and salty on the outside and fluffy inside.
SICHUAN
? Vegan friendly ? Vegetarian friendly
636 Dominion Rd
Cartoon-decorated table coverings, flappy cleaver-cut noodles, Hui Mian-style cumin lamb, sensational spicy chilli chicken (in gargantuan serves) — there's a lot to love at this wonderfully named restaurant. There are also plenty of reasons to keep coming back… the menu is 202 items long. Also at 486 Queen St, 357 Albany Highway and 16 Gooch Place, Somerville. Halal.
NORTHERN CHINESE
? Vegan friendly ? Vegetarian friendly
Spicy Cuisine
674 Dominion Rd
One of the newer kids on the Balmoral block, Spicy Cuisine consists of a husband-and-wife team furiously dishing up both Sichuan specialties and wider Chinese fare (read: safe for those who can't deal with all that spice). The cold fern-root noodles in spicy sauce are a $6 revelation and the homemade beef jerky is another hot-as-hell winner. On the sweeter side, the double-cooked pork in tomato sauce is a moreish, superior take on the usual sweet'n'sour.
SICHUAN
Spicy House
557 Dominion Rd
This establishment lives up to its name — many of its dishes contain dried chilli in fearful proportions. For those wanting to pursue a hot and spicy culinary adventure, we recommend the hot spicy pork stomach, intestine or kidney. The braised pork leg/hock is also a showstopper — not only visually glorious, but also falling-off-the-bone tender. You can always temper the heat with a cucumber salad.
SICHUAN
? Vegan friendly ? Vegetarian friendly ? Open late
Wang Wang Spring Pancake
704 Dominion Rd
It's theatre at the table at Wang Wang Spring Pancake, where plates of shredded crispy vegetables and tastebud-tempting meat accompany gossamer-thin, see-through pancakes for you to make your own spring rolls — to eat them means to "bite the spring" for good luck after the winter. Wang Wang also delivers braised eggplant on rice, and sticky stewed pork belly with pickled cabbage to die for. Closed Mondays.
NORTHERN CHINESE
? Vegetarian friendly
Xi'an Food Bar
650 Dominion Rd (also citywide)
We know of Wellingtonians who beg to be taken here when they're visiting Auckland. It's easy to see why — Xi'an Food Bar serves big bowls of lumpy, long, hand-pulled noodles topped with braised pork for around $11. It's comfort food like no other. Also try the chilli-soaked cucumber salad and the Chinese burgers (small pita-like breads stuffed with juicy, spicy meat) — we like the cumin lamb.
NORTHERN CHINESE
? Vegetarian friendly

Zool Zool
405 Mt Eden Rd
Chef-owner Kazuya Yamauchi's fine-dining background is evident in the detail at casual ramen bar Zool Zool — the noodles exactingly handmade, the delicate balancing of flavours (we love the simple shio ramen for this reason), the way even deep-fried morsels seem nimble, and in the desserts: Valrhona chocolates and crème caramel, entirely incongruous with ramen, but a must. They've put care into the selection of sake, whisky and wine — or you could go large and share the three-litre tower of Orion.
RAMEN
? Vegetarian friendly ? Licensed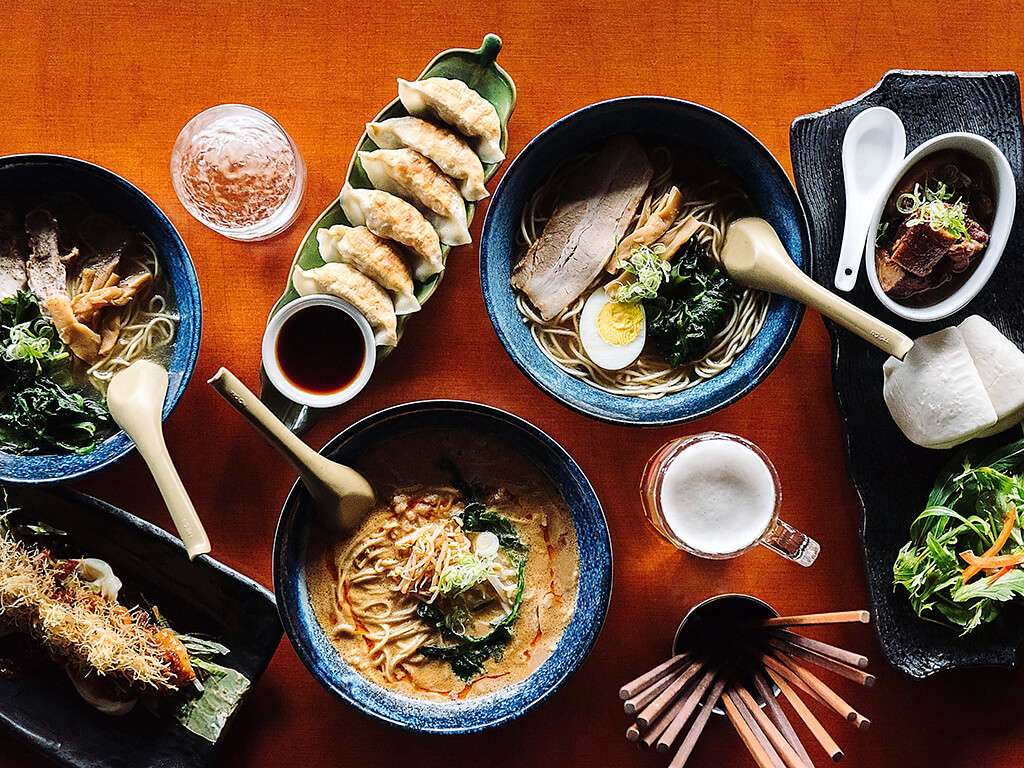 Mt Roskill
Santhiya's
1270 Dominion Rd
Santhiya's is one of our favourites for proper, home-style Malaysian food. Owner Youges Subramaniam came here from Ipoh, the capital of the state of Perak, in 1991 and has been cooking her blend of Malaysian and South Indian cuisines for Aucklanders for more than two decades. We particularly love her roti canai ,char kway teow, and the all-you-can-eat banana-leaf Sunday meals with unlimited refills of selected curries, vege dishes and rice ($18 at lunch or $21 at dinner).
MALAYSIAN
? Vegan friendly ? Vegetarian friendly
Mt Wellington
Big J's
4/1 Melton Rd
The rising tide of regulars at weekend lunchtimes is testament to the allure of Big J's, a humble takeaway joint with a few tables thrown in, on an ordinary suburban street corner. It's the burgers that are the drawcard — generous, juicy, flavoursome beasts you'd easily pay double for in Ponsonby. Warm counter service and spare change to boot.
BURGERS
New Lynn/Blockhouse Bay
Jai Jalaram Khaman
39 Boundary Rd
It's not much to look at, but the South Indian chaat at this sparse eatery are worth the drive to Blockhouse Bay. Pav bhaji — rich lentil dhal served alongside warm bread rolls and topped with pats of butter — samosas, and dahi puri all come in under $10. So do the array of Indian sweets that all make for an exciting addition to afternoon tea.
SOUTH INDIAN
? Vegan friendly ? Vegetarian friendly
Mr Zhou's Dumplings
3130 Great North Rd
There aren't too many woes that a giant plate of juicy steamed or fried dumplings from the extremely popular Mr Zhou's can't fix. Pork-and-cabbage are great if you're looking for a soy-savoury comforting option — or try pork-and-fennel if you want a stronger flavour hit (the beef, chicken and vege varieties are especially popular with kids). Perfect your ultimate combination of black vinegar, soy and chilli oil for dipping, and you're away. Also at — and licensed at — 839 Mt Eden Rd, Mt Eden.
NORTHERN CHINESE
? Vegan friendly ? Vegetarian friendly
Settebello Pizzeria Italiana
3/1 Rata St
There's something awfully charming about Settebello, with its checked tablecloths and walls adorned with memorabilia and football jerseys. This is authentic Napoletana pizza, cooked for just a couple of minutes in the wood-fired oven. The toppings are uncomplicated and the bases are thin and floppy — as they should be — leaving you wondering if you should use your fingers or cutlery. There's a $14 pizza special on Tuesdays.
WOODFIRED PIZZA
? Vegan friendly ? Vegetarian friendly ? Licensed
Newmarket
Selera
487 Khyber Pass Rd
Don't let the punishing lighting and peak-hour busyness deter you from Selera, a welcome beacon amid so much mediocrity in Newmarket, and conveniently located around the corner from the Rialto cinema. Laksa — big soupy bowls of noodle-laden goodness, swimming with chicken, seafood and vegetables — is the prize here. Sister to the commendable Mamarich in Greenlane.
MALAYSIAN
? Vegetarian friendly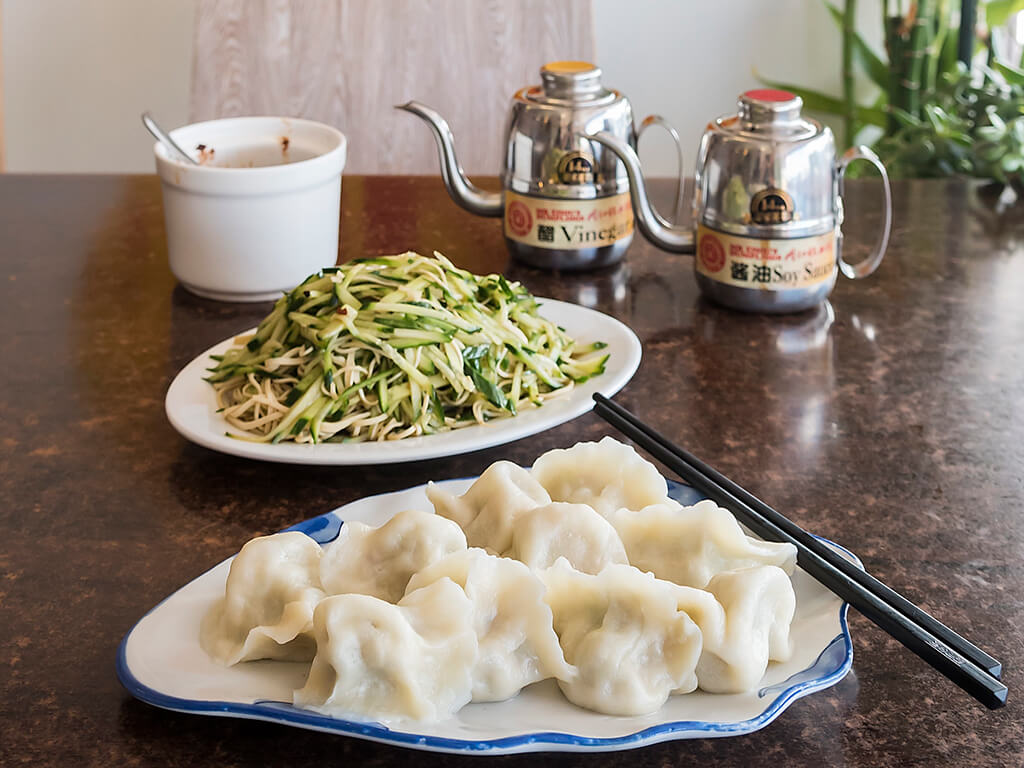 North Shore
Bi Won Korean
29 Link Drive, Wairau Valley
Having an ex-butcher — co-owner Jong-In Yang — on the kitchen team certainly helps with acquiring the best cuts of meat for this Korean barbecue joint. The friendly staff will help you switch from using a grill to using a hot-plate over the charcoal at your table, depending on what you're cooking. Dipping condiments such as coarsely ground salt in sesame oil complement the meat perfectly. The kimchi also deserves a special mention — Yang's wife and co-owner, Jung Kim, makes multiple varieties herself. If you're a fan, ask her and she'll bring out extra samples to try.
KOREAN
? Licensed ? BYO
Dumpling Ace
39 Pearn Place, Northcote
The dumplings are an uncomplicated comfort, generously sized and so juicy that the only safe way to eat them is in one mouthful. A bowl of the hand-shaved noodles — charmingly jagged-edged and slightly chewy — is equally tasty slurped with flavoursome soup or mixed with Sichuan-style chilli oil. The spicy-sour soups are a kick, but we can't go past the beef noodle, a lighter alternative with clear broth where those fresh noodles shine.
SHAANXI
? Vegan friendly ? Vegetarian friendly
Flaming Onion
1 Lydia Ave, Northcote
There's something old-school about this gourmet-burger specialist, and we like it. Maybe it's the '90s Street Fighter video game begging to be played once you've chosen between the 20-plus burgers on offer (we struggle to get past the premium NZ wagyu beef options). Eat at the windowside bench for a harbour view, washed down with a bottle of Jarritos Mexican soda pop.
BURGERS
Mamak
6 Huron St, Takapuna
Malay words line the walls of Mamak; some are useful, others foreshadowing ("makanan memang sedap" or, "the food was delicious"). A bowl of heavily spiced Sarawak laksa may be the champion here, but the Penang assam is a worthy contender; tangy with tamarind and pineapple and served with dollops of heh ko (prawn paste). Other recommendations include hawker classics Hainanese chicken, char kway teow, nasi lemak or roti canai. Pair the meal with a glass of teh tarik, served hot or cold and pulled theatrically for you at the counter, often by the owner himself. Halal.
MALAYSIAN
? Vegetarian friendly ? Licensed
Ramen Takara
4 Anzac Rd, Browns Bay
Ramen Takara is often used as our yardstick for all vendors of this soupy noodle dish. For many of our judges, it's their top pick. Whether you prefer a deep, comforting savoury-style sesame, pork, soy, miso, kombu or seafood-based broth for your noodles or something a little spicier like the tom yum and tan tan variations, Takara has you covered. Definitely don't miss sides such as crispy renkon chips and agedashi tofu. There's a food truck available for events, and rice noodles on offer for vegans. Also at 272 Ponsonby Rd.
JAPANESE
? Vegan friendly ? Vegetarian friendly ? Licensed
Yong's Hand Pulled Noodles
15 Pearn Cres, Northcote
This North Shore gem is as neat as a pin, with noodles to match. Lanzhou beef noodle soup is a specialty of the house: a dish of spicy, clear soup with plenty of coriander, spring onion and beef, alongside expertly pulled-to-order noodles. Fatter, flatter noodles with spicy chicken and potato make a hearty meal for two. Also on Elliott St, central city, and Aviemore Drive, Howick.
NORTHWESTERN CHINESE
Yummy Korean BBQ
23 Mokoia Rd, Birkenhead
In Korea, it's hard to get soup for one, or any solo meal, in fact. Thankfully, at Yummy Korean BBQ, the husband and wife co-owners have made all of their intricately spiced soups available as single serves. We especially love the gamjatang which comes boiling in an earthenware bowl with huge chunks of on-the-bone pork. It smacks of pepper and ginger — just the thing to warm you up, post-ferry ride.
KOREAN
Otahuhu
Try It Out
79 Atkinson Ave
If you have a hankering for pho, head to Otahuhu. The rare-beef number here is flavourful and nourishing, and there's hoisin sauce, sriracha and fresh chilli on the table to add as you please. The vermicelli noodle salads — we like the lemongrass chicken — and the fresh summer rolls are also punchy and aromatic. Don't forget to order a Vietnamese coffee or a coconut milkshake to wash it down. Plenty of parking outside.
VIETNAMESE
? BYO
Pakuranga
Gu Xiang Malaysian Restaurant
102 Pakuranga Rd
Hawker dishes commonly found at stalls on the streets of Kuala Lumpur are served with the same authentic aplomb here. The char kway teow is smoky from high heat, and the wantan mee (dry egg noodles) are best with barbecue pork (char siu) and wonton soup — a common Malaysian breakfast. You can also find a $7 kopitiam-style afternoon-tea set (2.30–5.30pm), featuring sticky-sweet pandan kaya — a fragrant coconut jam — spread over steamed bread.
MALAYSIAN
? Vegetarian friendly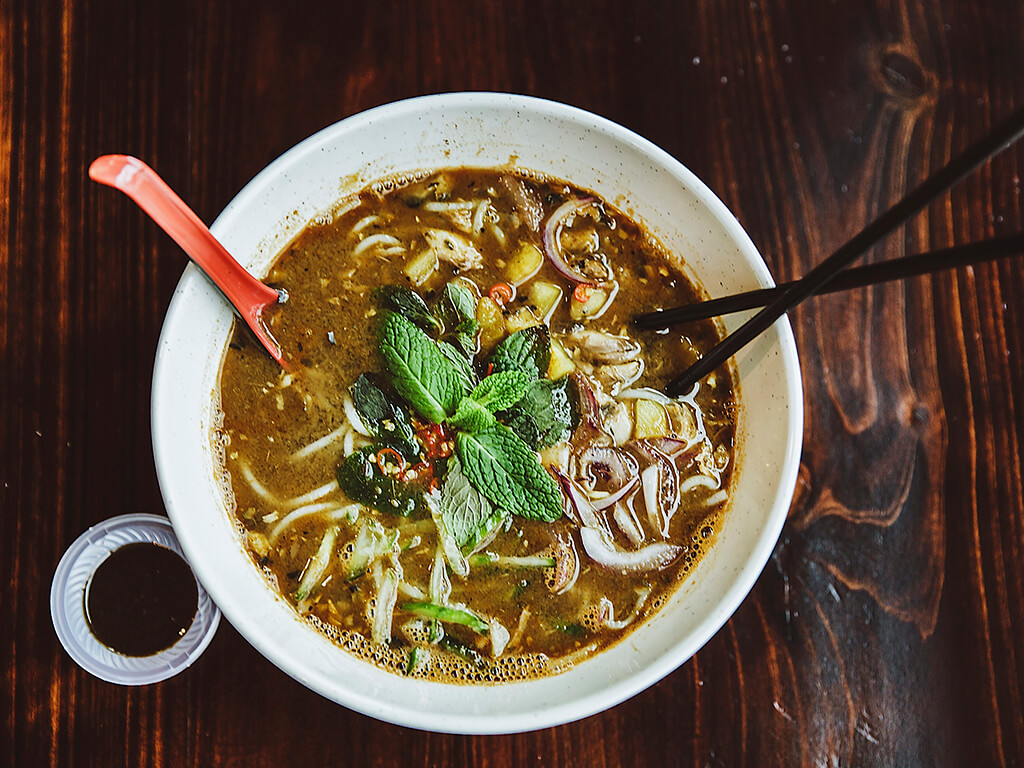 Ponsonby
Burger Burger
Ponsonby Central, 4 Brown St
As a slew of new burger joints pop up around town, Burger Burger's original offering still comes out on top. A recently extended menu includes six "jazzy burgers", tacos, and new sides. The McFly with crispy chicken and cheese is well worth the guilt over the calories, and we also love the fish burger and… everything else, actually. Also at 3B York St, Newmarket, and 40 Hurtsmere Rd, Takapuna. Line-caught fish.
BURGERS
? Free range ? Vegan friendly ? Vegetarian friendly ? Licensed
Malay Parlour
234 Ponsonby Rd
Owner Jacky Lam comes from good stock; his mum, "Aunty KK", owns popular restaurant KK Malaysian in Epsom, so he knows his food. The short menu at his new, minimalist venture includes smaller serves of KK-esque curry laksa, curry chicken with rice and several roti wraps — flavourful meat and crisp vegetables wrapped inside buttery, flaky roti.
MALAYSIAN
Remuera
Tree Cafe
21/319 Remuera Rd
Cervantes Lim and wife Patricia took over Tree Cafe from Lim's mum and continue to specialise in typical Taiwanese dishes such as beef noodle soup, beef tendon noodle soup, prawn wonton and dumpling soups. A favourite among regular customers is a pork chop or pan-fried chicken leg on rice. Though Taiwanese food is based on Chinese cuisine, there is a predominance of soups and the dishes tend to be less oily, with clean, clear flavours. All rice dishes come with three vegetable side dishes, as is customary.
TAIWANESE
? Vegan friendly ? Vegetarian friendly
Royal Oak
Royal city Dumpling and Noodle
776 Manukau Rd
Front of house, Wendy Liu will welcome you like an old friend when you come to try her array of dumplings, crafted by dim sum chefs from Guangzhou. Choose from pork, chicken or beef, 20 for $11.50, or $13.30 for pork, shrimp and chives. Or go for the all-day yum char; standout dishes include steamed barbecue pork buns, steamed coriander and shrimp dumplings or, for a special treat, lo mai kai (steamed sticky rice with minced pork wrapped in lotus leaves). If you can fit them in, finish up with stir-fried vegetables with beef or shrimp.
CANTONESE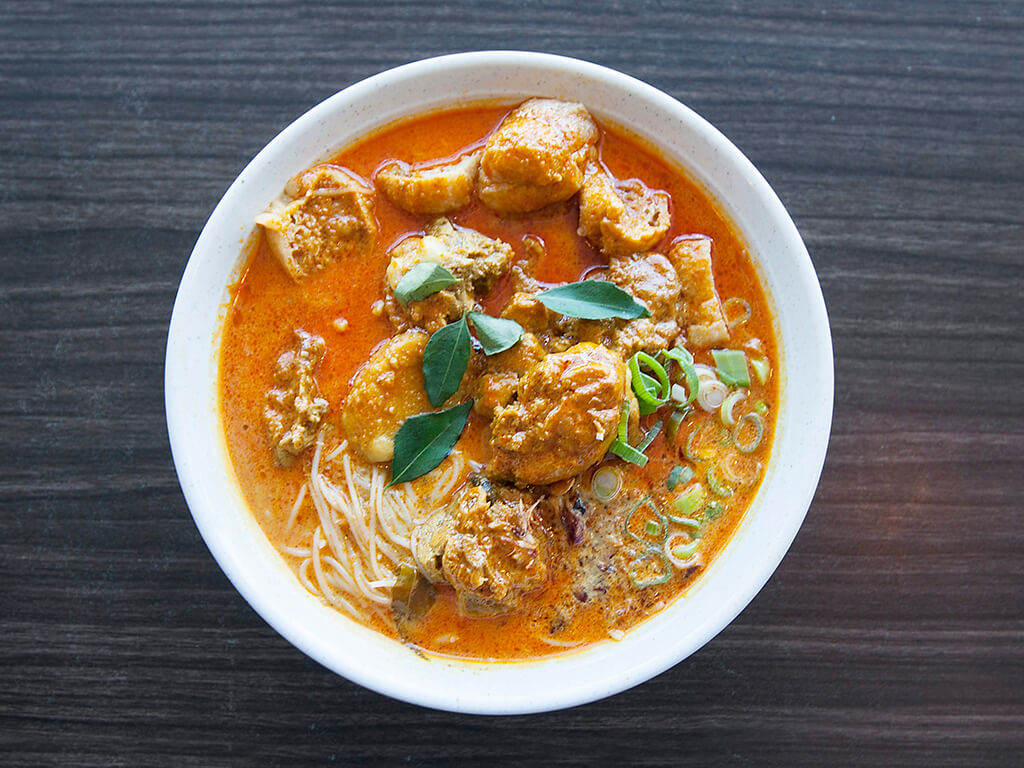 Sandringham
Mumbai Chaat
1 Kitchener Rd
Across India, day and night, vendors sell chaat out of hole-in-the-wall operations and from street trolleys. Fond memories of the spicy snacks of their homeland have informed the menu at Mumbai Chaat, where husband-and-wife team Ajit and Pratibha Ambani replicate a taste of southern India in Sandringham. Everything is made from scratch and whether you're in for a full meal or morning tea, the bill should come in at under $15 a head.
SOUTH INDIAN CHAAT
? Vegan friendly ? Vegetarian friendly
Paradise Indian food
591 Sandringham Rd
This popular Mughlai restaurant is slowly taking over the Sandringham shops: it now has three branches within walking distance of each other. Why? Because Paradise is the most consistently good restaurant on the strip. Use your hands to rip apart tandoor-cooked breads and scoop up your biryani or generously meaty curry. The owners have recently set up a free food station in the takeaway arm of their operation, with excess food given away rather than binned — admirable indeed. Halal.
MUGHLAI
? Vegan friendly ? Vegetarian friendly
Satya Spice and Chai Shop | Reserve table
515a Sandringham Rd
This may be Auckland's worst-kept secret, but we don't care, because Sammy Akuthota's sack-lined chai lounge has some of the best chaat in town. Journey through the states of India, starting with fiery chicken 65 from Chennai, puffy fermented idli and coconut chutney from Tamil Nadu, and end with a piping-hot aromatic chai, or "interesting" craft beer. Just don't expect to leave with a full wallet if you opt for any of the Prohibition-style cocktails. Halal. Also at 271 K' Rd.
SOUTH INDIAN/CHAAT
? Vegan friendly ? Vegetarian friendly ? Licensed
7 Siri Taste of Sri Lanka
580 Sandringham Rd
If you ask owner Nandasiri Alwis he'll tell you how his mother used to make lump rice wrapped up in a banana leaf to go in his school bag every day, though he didn't often get to eat it as village food was seriously coveted and everyone wanted a taste. The interior here is basic, with lots of bamboo and naff photos of food on the walls, but the dishes have real depth and character — especially the prawn curry and coconut roti, and aforementioned lump rice, Alwis's mother's recipe. Don't leave without a sweet kiri appa for dessert.
SRI LANKAN
? Vegan friendly ? Vegetarian friendly
Tianze Dumpling House
695 Sandringham Rd
Ignore the all-red frontage of Tianze Dumpling House at your peril. Do you really want to miss out on a range of dumplings that rivals the very best that Dominion Rd offers? Chef/owner Levi Sun, who hails from Dalian, crafts 17 different dumplings, which come boiled, pan-fried or steamed. Our favourite? Pan-fried prawn, pork and chive. But we also love chef Sun's shredded pork in sweet bean sauce served with 10 mini-pancake wraps, and his Mongolian lamb chops with pancakes.
NORTHERN CHINESE
? Vegan friendly ? Vegetarian friendly ? Licensed ? BYO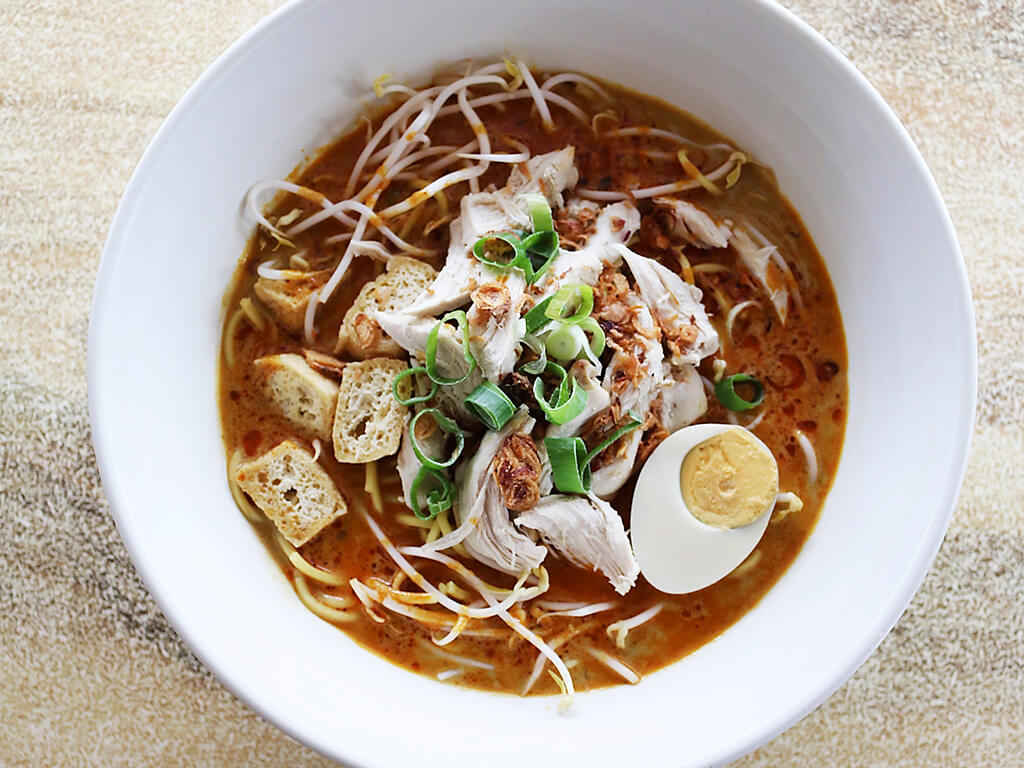 Judging the Top 50
This year, we kicked the competition to be named one of Auckland's best cheap eats up to the next level, by reducing the number of restaurants on the list to just 50. It resulted in some fierce debates among the judges, with our panel considering the merits of more than 200 restaurants to find the very best.
As a result, some old favourites have dropped off — most notably Balmoral's New Flavour and longstanding South Indian restaurant Satya (17 Great North Rd). While they were more than adequate for a Top 100 list, when we asked ourselves, "Would we cross town to eat there?", they simply didn't make the cut for the Top 50.
Among the notable trends this year is hyper-regionality, especially among Malaysian and Chinese cuisines, with both Chongqing Noodles' Sichuan-derived spice and Takapuna's Mamak taking out spots in the coveted Top 10. Note to citysiders: the latter's Kuching-style laksas are well worth crossing the bridge for.
Try It Out, in Otahuhu, is back on the list and fighting fit but again this year, we found good Vietnamese food hard to come by. Where are the fresh herbs?
To be considered for this list, an outlet had to be open for dinner and offer a reasonable range of options so that, when the bill was split, it came in at $20 per person (or less), excluding drinks.
The judging process began with a long list of all the places we knew might have a chance at making the cut, or were new and needed to be reviewed. We then debated the merits of these places at length at a judges' meeting, whittling down the list by almost half. Next, we went out and ate. As always, we visited anonymously and paid for our meals. A final meeting consolidated the list, and the crucial Top 10.
This was published in the September- October 2017 issue of Metro.