Jan 7, 2020 What's On
Welcome to 2020! If, like us, it's your first week back to work – we sympathise deeply. But the good news is it's a whole new year for restaurants, pop-ups, food events and eating. We're starting out a little slow, with some new openings over the break. Things will ramp up next week, we're sure.
Food news: 7-14 January
New openings

Daldang
A sweet little store on Mayoral Drive (tucked right next to Four Points by Sheraton Hotel), Daldang brings Korea's 'fatcarons' craze to Auckland, where macarons are given a healthy injection of more cream. Flavours range from salted caramel to matcha choc to earl grey, plus some more inventive creations like wine fig. Mayoral Drive, central city
Morsel
Another hole-in-the-wall, Morsel has replaced coffee bar MoinMoin, another coffee shop also serving cakes, brioches and some savoury salads and sandwiches for those inner-city lunch breaks. 16 Durham Lane, Durham Street West, central city
Eatery at Rothesay Bay
The North Shore has a new cafe (formerly Armadillo) from the hospitality group behind IPress Kitchen in Mt Eden. We can confirm the coffee is good. 2 Knights Road, Rothesay Bay

News: Beloved Newmarket Malaysian restaurant Selera is currently temporarily closed due to a fire. If you're craving their laksa, though, you can still get it at their outlet in Westfield Newmarket's food court.
?READ MORE: Metro rates (almost) every fake meat in New Zealand
READ MORE: Why does degustation dining feel like sitting through a lecture?
What we ate over the holidays
Jean Teng
Three Seven Two ?
Dreamy lunch by Onetangi beach: citrusy raw kingfish, well-balanced mushroom dumplings (I'm still thinking about that silky skin), perfectly salted hapuka. My fave meal of the holidays.
21 The Strand, Onetangi, Waiheke Island
Malaysian Noodles and Rice
I hadn't been here in a while and forgot how much I liked the char kway teow – generous with pork lard and smoke, very tasty, gloriously unsubtle. Cash only here.
57D Wolverton Street, Avondale
Clay
I would hate to work here; squeezing through the narrow lanes afforded by that gigantic table would probably get annoying, fast. As a diner, though, it's a nice spot to drop by for a glass or two of natural wine and some small bites, but I wouldn't recommend it for a lengthy involved dinner, as you're seated next to and across from strangers (which I don't really mind, but, you know). I liked the beetroot and the smoked kahawai. The by-the-glass list changes daily and the staff will talk you through it – shout-out to the girl that recommended me the Gentle Folk wine (Rainbow Juice?), that was banging.
366 Karangahape Rd, K'Rd Precinct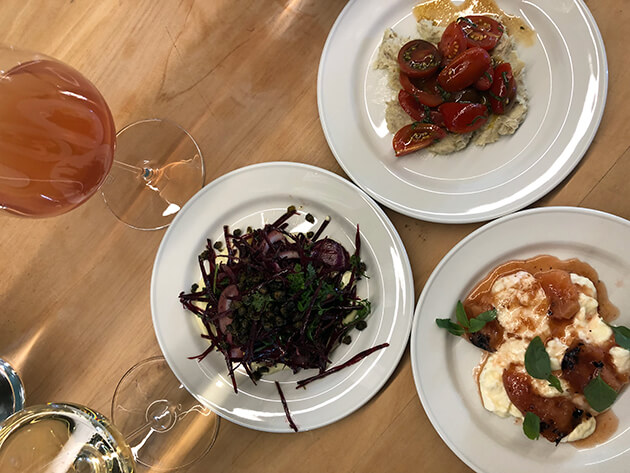 ?READ MORE: Natural wine bar Clay opens on Karangahape Road

Lucky Fortune
Some of the fattest yum cha dumplings I've seen, I swear to god. Juicy prawns encased in sticky, smooth skin. Be prepared to wait for a table (make sure to fight your way through the crowds, put your name down and grab a number during the busier times) but it's an Auckland fave.
532 Mt Albert Rd, Three Kings
Williams Eatery ?
The beef ragu on kumara sourdough, a layer of sweet caramelised onion, slightly spicy, was indulgent and moreish. My only complaint is I was still a tad hungry after – but it was a nice and light brunch.
g03/85 Daldy St, Wynyard Quarter
Amano
A lot of our favourite restaurants were taking a well-deserved break over the holidays, but Amano's dining room was bustling; we waited about an hour for a table. I think Amano needs to warn a girl that their focaccia is not crispy, holey holy bread, but flat and rich pastry-like pie crust. I was pretty sad about it. Their pasta is fresh and perfectly al dente but both dishes (chitarra scampi and squid ink tagliatelle) were too acidic and sour that night, resulting in cases of scrunchy-face on both accounts. Nice scampi, though.
66-68 Tyler Street, Britomart
Jami
Quality pickled banchan (the lightly pickled cucumber is a winner, very crunchy and only slightly sour) and lovely charcoal dishes.
9/20 Link Dr, Wairau Valley
READ MORE: 10 great places to eat on the North Shore: A guide
Canton Grill Seafood Restaurant
The roast pork (siew yoke) is so good. The skin is crispy and crunchy but not tough, the meat tender… I'd come back for just that alone.
440 Khyber Pass Rd, Newmarket
Hamilton
My sister visited the rest of us from Singapore these holidays, and despite having numerous coffees in Auckland, said the two best cups of the trip came from Hamilton. Big ups to Grey Street Kitchen (serving Supreme) and Rocket Coffee, plus The Chilli House, which has very good biangbiang noodles (or youpo) with chewy, wide handmade noodles, similar to the ones from Xi'an Food Bar here in Auckland.