Jan 21, 2020 What's On
Welcome back! This week, there's rosé and ice cream and vegan food abound, plus a couple of new openings in Kingsland. We've also got for ya an absolute chocka food diary as writer Alex Blackwood returns from holiday.
Food news: 21-28 January
A brand-new cafe down at Queens Wharf comes complete with a garden-party launch day, featuring live music, games and cocktails in the sun.
Friday 24 January | Queens Wharf, central city
Running alongside the Holi – Festival of Colours (at the same location), the Hare Krishna Food Festival will be offering yummy vegetarian and vegan food.
Saturday 25 January | Kumeu
From the nation that brought you Zumba, Capoeira and the music genre "forró", comes a festival with all of those things plus plenty of traditional Brazilian food, a market, a carnival parade and a kid zone.
Saturday 25 January |Rocket Park, Mt Albert
In celebration of rose, Rosé All Day brings together over 30 wines from across New Zealand and the world (think Black Estate, Milton, Silver Wing and Untitled), plus pink beer from New New New. All tickets ($45) include five wine tastings and a $10 food voucher for Forest Restaurant, who will be providing food on the day. By Cult Wine.
Sunday 26 January | Culprit, central city
READ MORE: Metro's Top 50 Wines 2020
It's time for the third annual Ice Cream Sundae market, where a range of icy treats are available alongside food trucks, DJs and some naughtier ice cream-inspired drinks at the pop-up Silo bar. There will be over 30 vendors, including Grown Up Donuts, a Tip Top x Cookie time collab, dairy-free soft serve from Lulu's and more. Our top pick is Appleby Farms' Ice Cream (apparently made from A2 milk, so easier on the tummy for those lactose-intolerant who still insist on indulging in dairy, and that's a self-dig, by the way).
Sunday 26 January | Silo Park, Wynyard Quarter
GABS Craft Beer & Cider Festival holds a poll every year, opening it up for the public to vote for their favourite craft beers. This year, over 800+ beers are eligible from throughout Aotearoa, and you can vote for up to five. Voting closes on Monday 27 January, results are announced 1 February.
New openings
Handmade Burgers
Sayonara, buff rooster, and hello Handmade Burgers (again). Gusto Chicken has now closed down, leaving Handmade Burgers to take over a spot they previously vacated. Time is a flat circle, etc.
445 New North Rd, Kingsland
The Beer Spot
Their Northcote outpost was a Top 10 bar in 2019; they've now opened a new bar in Kingsland, celebrating all things beer.
596 New North Rd, Kingsland
What we ate this week
Alex Blackwood, Britney Clasper and Jean Teng
Mama's Doughnuts banoffee doughnut
Bless the kind soul who brought me this simple, unpretentious doughnut filled with real banana and gooey smooth dulce de leche for my breakfast on Saturday morning. – AB
173a Archers Rd, Hillcrest
Lily's Kitchen Squirrel Fish
Think sweet and sour pork, but instead of pork it's whole fish with the crispy, smoky skin still attached. Unfortunately, this treat (my favourite part of a larger feast including candied kumara, steamed clams and gooey eggplant) was an off-menu item for a last supper before Lily leaves to go back to North East China – but if anyone knows where else to get this, please, please, please tell me. I want more. – AB
164 Balmoral Rd, Balmoral
Lilian 's bread and burrata
Jean has already sung the praises of new Grey Lynn restaurant Lillian's puffed up, wood-fired bread, and I must concur. What a delight. It's light, salty and that perfect amount of burnt that gives a leopard spotted crisp smokiness. It isn't often you come away from a restaurant recommending their bread higher than anything else, but man oh man, this bread is beyond divine. – AB
472 Richmond Rd, Grey Lynn
READ MORE: Osteria & wine bar Lilian is the new neighbourhood spot in Grey Lynn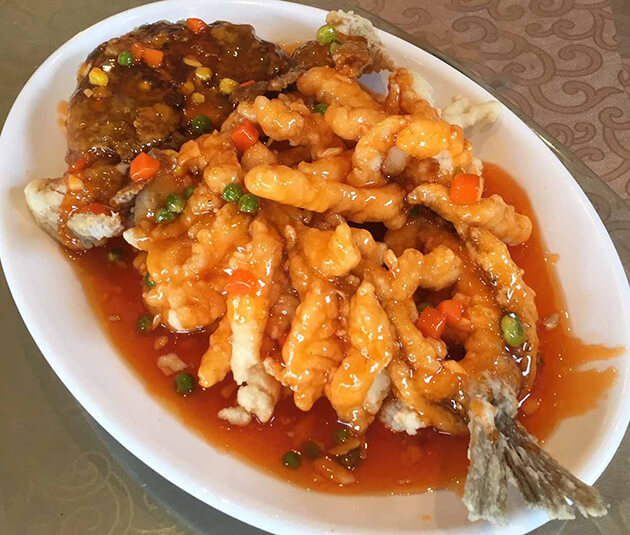 Appleby's Salted Caramel Ice Cream
I'm calling it – this is the best salted caramel on supermarket shelves. Heck, it may the best if we're talking scoop stores too. Instead of that slightly off-putting brown colour of your standard salted caramel, Appleby's has a vanilla-esque base which is full with pieces of salted caramel toffee and swirls of caramel ripple. And unlike many other unfortunate experiences with supermarket ice cream, this beauty wasn't icy at all, but had a delectably creamy texture. – BC
On the road – including at Silo Park's Ice Cream Sundae
Easy peasy truffles
My friend who is an incredible baker (shout out to Gabby) brought these to a pot luck on the weekend. They're literally so easy: just blitz tim tams, condensed milk and coconut in a food processor, roll into balls and sprinkle with more coconut. Super sweet and super delicious. – BC
Hell's Satan Slider
We've all seen the poster ads marketing these at $6.66 (haha, get it?), and I succumbed to their marketing ploy of getting one free by showing your gym membership tag. Many asked what I thought, and it feels wrong to say but I actually enjoyed it. It's made up of fudgy brownie, custard, plum coulis and cream cheese icing, sandwiched between a fried donut bun. In my defence, I'm a major sweet tooth whose cravings take a lot to satisfy, but it wasn't too shabby. – BC
Various locations
Hapunan's Taho
People were literally banging on the outside of their truck to try their taho a couple weeks ago, so they sold out before I even arrived at Britomart's Food Truck Friday. Luckily enough I eventually got my hands on some and can confirm its worth the hype. For those wanting a light, refreshing dessert, look no further than this pandan syrup & palm sugar infused soy panna cotta topped with a layer of mini sago. Mix it all together and you know that it's the best of both worlds. – BC
On the road
Lobster & Tap
One of the most memorable things I ate in Tokyo was a lobster roll from Luke's Lobster Shack. It was on the tail-end of my trip, when I'd eaten nothing but Japanese food for two-and-a-half weeks, and biting into that fresh, buttered roll was absolute heaven. I licked the mayo from my fingers and promptly walked two doors down, taste-buds refreshed, to wait in line for gyoza. Unfortunately there was no such moment-of-wonder here. I'd got the hot buttered option ($21.95) and later regretted it a bit; without the classic New England herby-mayo, it was much too dry (though the common complaint about the classic lobster roll, of course, is that it's cold). There is a generous amount of lobster, but due to its size, I devoured it in about two minutes. – JT
22 Jellicoe St, central city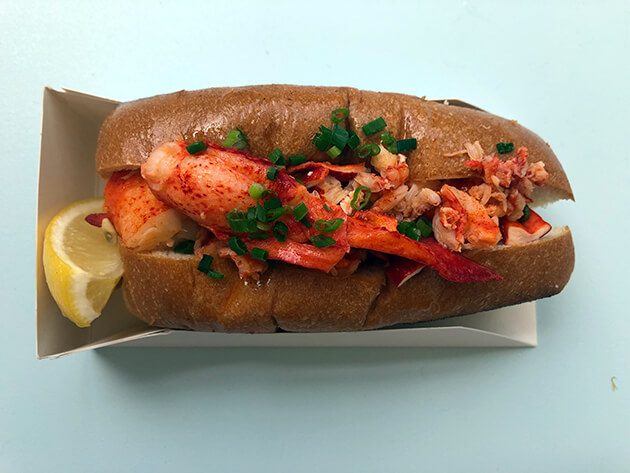 Jung Dam and New Canton Kitchen
I read this article recently called 'Restaurant Reviewing Needs a Revamp', where the author argues for a rethink in how we review restaurants serving food we don't know much about. In it, he talks about "racist suggestion" that a place is more authentic if a restaurant is filled with "insert-immigrant-group" here, and that… "the reality of this circumstance is that most immigrants will eat at places in their neighbourhoods that are fast and cheap… it simply suits a purpose." He later discusses how irrelevant then lists like "Top 10 best places to eat Chinese" then become. I thought about this article in two instances this week. One, when I went to Jung Dam, a Korean restaurant near me, in Wairau Valley. What I ate there was just fine, but I was undoubtedly unconsciously swayed to its 'authenticity' because every other table apart from us was Korean. "This seems popular with Koreans," I said to myself, positively, almost as an afterthought. Later, I couldn't stop thinking about that article, the trap of surburbia, how often we eat at places that are near and familiar to us, and how prevalent the idea of "authentic = good" is, that I thought about it so naturally.
A few days later, I went to New Canton Kitchen all the way in Epsom. Again, it was a case of everyone-in-the-restaurant being of a certain culture, but this time I "fit in". It seemed to be a place for locals – people greeted each other as they walked in. The food wasn't great, I've had much better Cantonese food elsewhere, but I would still, without a question, eat here again if I lived in the neighbourhood. Why? Because Cantonese food tastes of home to me. And that's really the danger of lists about a whole cuisine (of which I've been guilty of before) – as the author of that article, Lee, puts it – "those superlatives are reserved for outsiders who are looking to organise an entire community's restaurant culture into a singular, soulless ranking system". – JT
Jung Dam – 20a Link Drive, Wairau Valley
New Canton Kitchen – 266a-266d Manukau Rd, Epsom