Sep 16, 2019 Bars
Here are Metro's 10 favourite Auckland bars whittled down from the latest Metro Top 50 Bars list.
Apéro
280 Karangahape Rd, K' Rd Precinct
Four years on from opening, Apéro is more bustling than ever. Leslie Hottiaux and Mo Koski can no longer operate their hole-in-the-wall wine bar alone, but it still feels homely and intimate, thanks to its attentive, laid-back and charming staff. With an evolving and adventurous list, a drink here is a lesson in good wine, one that is accompanied by moreish French fare ranging from bite-sized goat-cheese croquettes, to a rib eye that feeds a crowd — and that sausage is still the most satisfying bar snack in town.
Go for—a glass of something you've never tried before, and some sausage.
The Beer Spot
54 Northcote Rd, Northcote
Hidden down a driveway, this pumping no-frills garage space is all about the beer. It's furnished with old couches and a scattering of mismatched tables and chairs, and staff have been known to fashion a table out of old kegs and wooden pallets when it's standing room only, which it quite often is. With 40 local beers on tap, the team will let you taste-test before designing your own flight. Food comes from a rotating cast of trucks parked outside, such as Peach's hot chicken and the White Lady.
Go for—beer from New Zealand's best brewers, all in one place.
Conch Kitchen & Bar
115A Ponsonby Rd, Ponsonby
It was a slow transition from record store to full-blown bar and kitchen, but the community surrounding Conch's musical roots are what makes it the genuine and welcoming place it is — and with some of the city's best DJs being part of the family, the music is always on point. We love a quenching hand-pressed sugar-cane mojito in the courtyard, a happy-hour Hallertau beer in the afternoon sun, or a wine from the classy little list to accompany something from the South American kitchen.
Go for—kerb-side happy hour.
Deadshot
45 Ponsonby Rd, Ponsonby
The pair behind Caretaker, Heather Garland and Alastair Walker, have listened to their impatient wait-listed customers and opened a Ponsonby Rd sibling. With no menu and no prices, you order by chatting with your server about your desired flavours and effects. The process can feel fastidious, but the resulting cocktails — often as antique as the interior — are some of the best we've had.
Go for—your new favourite cocktail.
Flight 605 [Now 605]
605 New North Rd, Morningside
A great beer selection and free popcorn — need we say more? How about the fact it's tucked away in Morningside, is subtly aviation-themed (it's run by a former flight attendant) and offers a range of "fries of the world" with toppings inspired by different nations. Thursday is quiz night, there's regular live music and the staff treat everyone like old mates. Trust us, you'll want to make this place your local.
Go for—feeling like everybody knows your name.
Freida Margolis
440 Richmond Rd, Grey Lynn
Freida's feels like it's been at the heart of the West Lynn shops for ever, but actually, it's been only half a decade. Housed in a former corner-shop butchery, it's cosy and popular, so you might end up making new friends whether you like it or not. Choose a wine, beer or cocktail from the thoughtfully compiled options, perhaps grab a pizza and hope the owner decides to tickle the ivories at the end of the night.
Go for—chill neighbourhood vibes.
Madame George
490 Karangahape Rd, K' Rd Precinct
A streetside table at this small, op-shop-chic bar and restaurant is one of our favourite spots to watch the world go by. Inside is intimately cramped — this is perhaps not the place for the most private of conversations — but usually filled with fun-loving diners and drinkers alike. The drinks list ranges from cheap cans of equally cheap beer to inventive and fun cocktails, often with a herbaceous twist.
Go for—people watching and a pisco sour.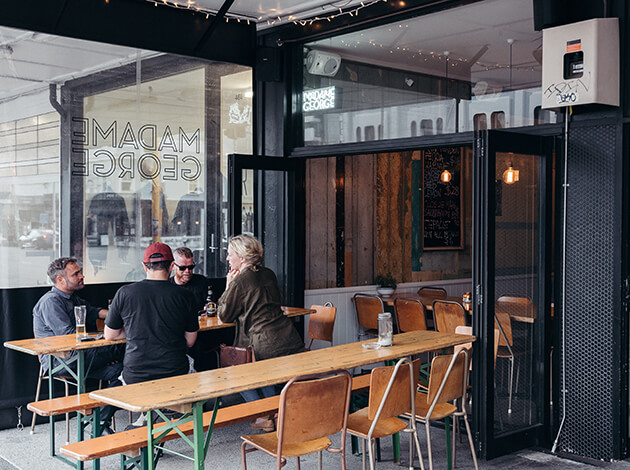 Mo's
5 Federal St, central city
The sweetest tiny bar in town, Mo's is best for a private conversation for two or to be taken over by a group. Go for well-made, well-known cocktails without an artisanal twist in sight. Oh, and cigars, if that's your thing. Easily walkable to or from most central-city restaurants, Mo's is an ideal place to start or end an evening.
Go for—privacy or an unofficial private party.
Peach Pit
352 Karangahape Rd, K' Rd Precinct
K' Rd drinkers are spoilt for choice these days, but Peach Pit remains one of our faves. Get there early for happy hour and to nab an outdoor spot, or grab the table by the window inside and watch the weird old world go by. The drinks are great, of course — nice natural wine and craft beer options — and the quality of the bar food belies the casual vibes. Think thoughtfully prepared seasonal vege-focused sharing plates, such as asparagus, nasturtium, Sichuan pepper and quail eggs.
Go for—good drinks, good food, good times.
Satya Spice and Chai Shop | Reserve table
515A Sandringham Rd, Sandringham
Head on down a narrow alleyway with hundreds of empty craft-beer cans floating just above your head to a room lined with canvas sacks and fitted with salvaged crates for seats and old wooden spools for tables. Help yourself from the extensive craft beer selection in the fridge, waving your bottle to the staff as you return to your spool. Eat rounds of fragrant, spicy Indian tapas. And don't overlook the chai tea.
Go for—spicy chicken and a sour beer.
This list is from the Metro Top 50 Bars feature published in the January-February 2019 issue of Metro.