Apr 4, 2019 Cheap Eats
Metro digital editor Tess Nichol has been bewitched for nearly a fortnight by the sight of a muscular statue of a rooster outside a Peruvian charcoal chicken shop in Kingsland.
There is a man-sized statue of a rooster with a six pack (abs) outside a Kingsland chicken shop.
How do I know it is a rooster? It has a bulge between its enormous chicken thighs which implies the presence of male genitals under its yellow feathers. This rooster, which is probably not as tall as Steve Adams but is still extremely large, is the mascot for Peruvian charcoal chicken shop Gusto Chicken.
He has been there for nearly two weeks. I saw him on my way to work one morning and I haven't stopped thinking about him since. Not since the disarmingly handsome mandarin duck landed in a New York Central Park lake have I felt so discombobulated by a bird. What the hell is his deal? And who decided the draw on the abs? Was it Gusto himself?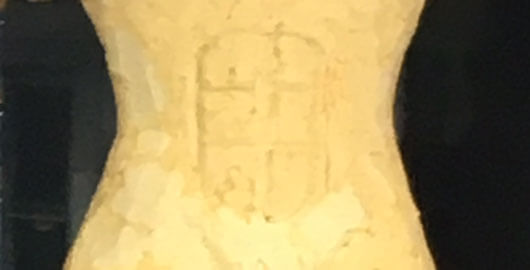 Facebook photos on Gusto Chicken's business page indicate the rooster was crafted in store, with one caption "the work outs is having results [sic]" hinting this was a deliberate and premeditated crime against accurate anatomy. When the rooster was ready to hatch he was declared "mas guapo que nunca" – more handsome than ever. I'm not going to lie, the oddly paternal pride (I have to assume a man is behind this) is pretty charming.
From the weird sort of drive-thru area outside Gusto along New North Rd in Kingsland (where Handmade Burger used to be), he grins enticingly, his red comb perched perkily on top of his head, tail feathers sticking proudly from a firm-looking butt. The most muscular rooster I have ever seen. He gives two thumbs up, because not only does this completely jacked chook have a full six pack of clearly defined abs, he also has two arms complete with bulging biceps, and opposable thumbs instead of wings. From underneath a Gusto Chicken logo is the outline of a well-defined chest. His beak is cracked open in a grin which seems psychotic if you consider he's trying to lure you into gobbling up his slow roasted kin inside.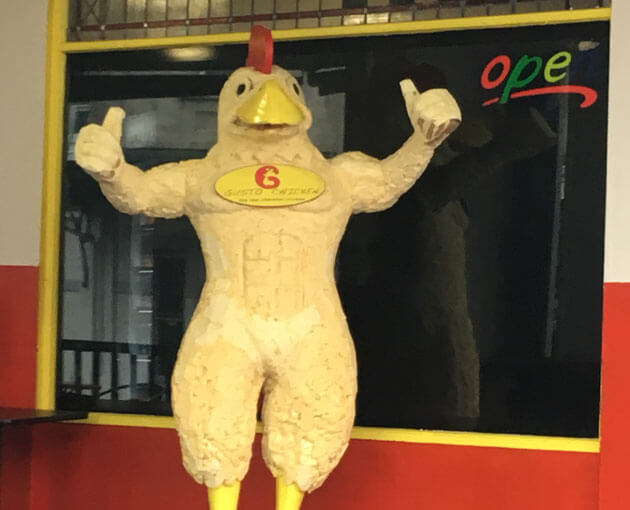 I have not eaten at Gusto Chicken. According to one enthusiastic comment posted below a photo of the absolutely ripped bird, "it is an amazing place to have your Charcoal Chicken 100% Peruvian with the original flavours from Peru." It looks pretty yum from the pictures. When you order a burger, does the bun have a set of washboard abs carved into it? Do they serve chicken pecs rather than chicken breast and are they all enormous in size? And, most importantly: If I gave this sexy rooster my number do you think he'd ask me out?