Nov 6, 2019 Cheap Eats
Metro writer Jean Teng slurps up some ramen at the newest place to offer the stuff, Auckland's very first Ajisen Ramen.
Ramen inspires mania. Everyone has a favourite type, and a favourite place to get it. Food writers (and I'm calling myself out here too) just love to call it a 'hug in a bowl'; warm and satisfying and possibly medically certified to get rid of your cold. Big fan.
Ajisen Ramen – which has over 700 stores all over the world – is in a less-trafficked area than Ippudo, another global ramen chain which opened just prior to Ajisen on Westfield Newmarket's Rooftop on Broadway. It stands more or less by itself, more colourful and playful than the zen minimalism of Ippudo.
After reports of lines, I decide to rock up at 5.30pm on a Sunday and am seated right away, though it's busy. The place is big, the decor mismatched, aiming for that kitsch bric-a-brac feel, complete with winking cartoon characters and ceiling-to-floor murals. It reminds me of the restaurants in Asia, but curiously the owner tells me Ajisen didn't control the look at all – this is all unique to Auckland's branch, not a cut-and-paste template from their overseas counterparts. Given pride of place in an elevated corner, a glass class encloses their ramen noodle production area, a sole worker working sheets of dough through the machine there. It's a little gimmicky, but serves as a nice visual indicator that the noodles are made in-house.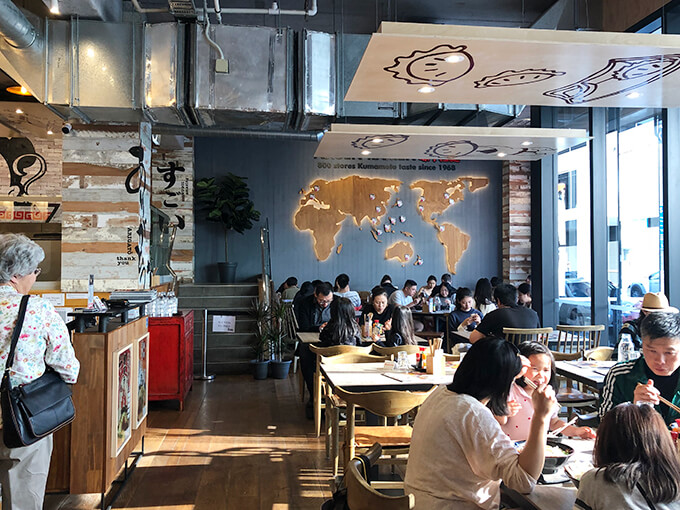 The ramen on the menu is split up between 'Ajisen' (original ramen) and 'Exotic ramen' (I'd rethink this, to be honest), with donburis, stir-fried dishes and tapas as an aside. The 'exotic ramen' offers up seafood versions, which will be welcome news for pescetarians, including a teriyaki salmon and seafood ramen. There is also one vegetarian shoyu ramen, but vegetarians may be better off with a tofu donburi or an array of tapas – agedashi tofu and vegetable tempura and gyoza are some of the heftier options.
Our ramen comes pretty much immediately. There's about a five-minute turnaround (not a hyperbole, I swear) between order and when the bowls hit our table, which must be in response to the huge demand at Ajisen since opening a couple of weeks back.
The Ajisen Ramen ($15) is kumamoto-style ramen – what Ajisen is known for – made using tonkotsu pork broth and a lot of fried garlic. That much is obvious from the first sip – the soup is garlic city. That detracts a little from the usual creamy depth of a tonkotsu, and it feels a little thin, rather than rich. Needs more umami from the dashi stock. It's tasty, though, and garlic fans will love it. The chasu is good, all fatty and gelatinous like the best ramen pork is.
Tan Tan ramen ($17) is next, which I get with firm noodles. You can choose between soft, normal and firm, and as someone who undercooks my instant mi goreng, that choice is a dream. Tan Tan ramen is the Japanese equivalent of Sichuan dan dan noodles, also chilli and sesame based. My absolute favourite version of tantanmen in Auckland is at Ramen Takara Browns Bay; I'm particularly fond of their Spicy Black Tan-Tan Ramen. This one is not better than that, but it's still pretty good. I would have liked a bit more nuttiness from the sesame, and for the egg to be jammier.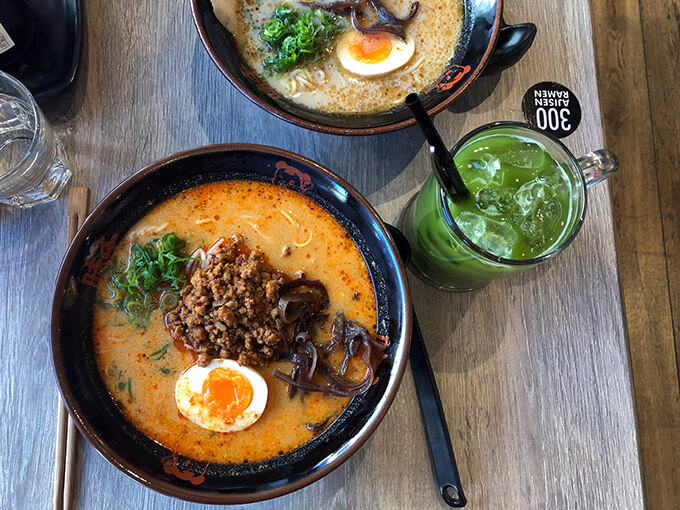 I wash the meal down with an iced matcha ($6). Ajisen is licensed, with a minimal wine list (three whites by the glass, which makes sense considering we're eating ramen, and one red), Asahi on tap and some other unexciting beers. I wish the iced matcha was more, well, matcha-y, but it's refreshing and green and looks great in a photo.
Ajisen have been rushed off their feet. It's obvious by the tidal wave of Instagram posts that have flooded social media, egged on by the fun 'ramen wars' narrative caused by Ippudo opening around the same time. They've even closed the upper section, which has seats, to be able to control the experience more efficiently. It's always nice to see a restaurant doing so well, and as a result, tempting to say that, no, it doesn't live up to the hype. But Ajisen Ramen does exactly what you expect: serve up good ramen, in a nice family-friendly environment, for under $20. It may not be the best in Auckland (I still prefer Ramen Do, and even Ramen Takara by quite a bit), but, honestly, we're too obsessed with finding the best. 'Not the best' doesn't mean 'not yum'. Once the hype mellows out, I'd love to come back to more complex broths, and to try their weirder options (kimchi ramen and tomato beef, both of which aren't available yet).
After eating, I walk up to Westfield's Rooftop on Broadway to check out how Ippudo is doing. While there weren't any lines at Ajisen when I leave, there is a line at Ippudo. Yikes. Are they winning the war?

Very good

Ajisen Ramen
5 Kingdon St, Newmarket
Ph: 09 218 9977
Hours: 7 days, 11.30am-9.30pm
Dinner bill: Tapas $6-$13; Ramen $15-$22; Cha (stir-fried) $15-18 Donburi $16-$19
1 spoon – We'd eat here if we had to
2 spoons – Good, but really should be better
3 spoons – Very good
4 spoons – Extremely good
5 spoons – Superb: Among the very best of its kind