Jul 24, 2019 Food
Metro food writer Jean Teng rounds up 10 noodles dishes you should try in Auckland. Click here for our latest Cheap Eats Top 50.
Noodles are a staple in many homes, the delicious carbohydrate consumed morning, afternoon and night. They're endlessly satisfying and, when done right, unbeatable as a comfort meal. Better yet, there are a million and one ways to eat it – in soup or saucy, spicy or sweet, vegetarian or meaty.
Pulling together the top ten bowls of noodles in Auckland across multiple cuisines is a bit like a "Top 10 Baby Names!" list in that there is an unimaginable amount of noodles available here in Auckland. I confess that there are still many worthy bowls I've yet to consume. But these noodles are all very good, and deserve to be on someone's top ten – so they're on mine.
In no particular order, these are ten noodle dishes I fully stand behind:
1. Bukkake Udon at Udon Works
When this place opened earlier this year, I made the trip out to Dominion Road as fast as possible. It was only starting to get traction at that point; the wait time was not as punishing as it is now. Come here for their chewy, handmade udon noodles, with light but complex dashi broths (kake) or, my personal favourite, poured over with soy or sesame sauce (bukkake). Their bukkake udon is perfect for summer, especially the option with accompanying sashimi, hugely generous given the $19.80 price point. It's one of my favourite bowls of noodles from 2019.
633 Dominion Rd, Mt Eden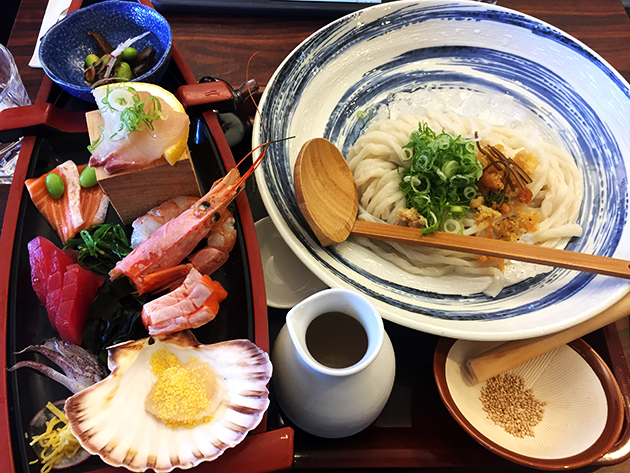 2. Ling collar curry laksa at KK Malaysia
KK has a special place in my heart as the Malaysian restaurant in Auckland I've been going to the longest. Apart from that, their ling collar curry laksa is also bloody good, and vastly superior to the chicken version. Ling collars cook up beautifully in the laksa, absorbing in the flavours and allowing you to suck rich, fleshy fish meat up from the bone. As for the noodles, a mix of the yellow and vermicelli is the way to go.
463A Manukau Rd, Epsom

3. Dan dan noodles at Eden Noodles
I feel I'd be committing an act of sacrilege if I don't include anything from Eden Noodles on here, and is there anything more quintessential than a bowl of dan dan noodles – sweet-savoury-spicy-numbing – with crispy pork mince on top? You can get the noodles thin, handmade or chopped. Apparently Eden gets through about 60kg of noodles a day.
105 Dominion Rd, Mt Eden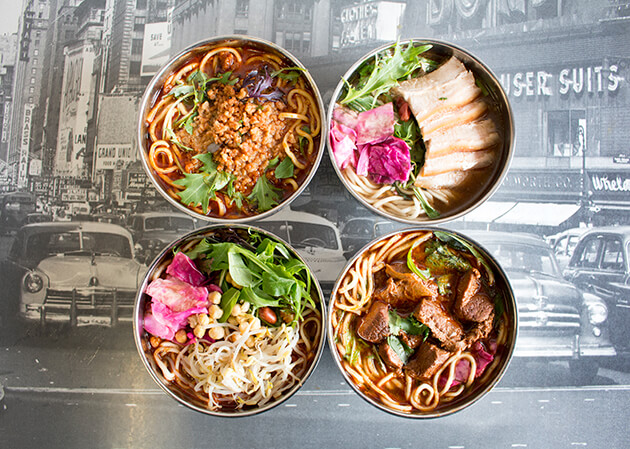 4. Hokkaido miso ramen at Ramen Do
The pork-based broth and freshly-made ramen noodles in the miso ramen is a total winner. It's one of those bowls that'll make your shoulders immediately relax after the first spoonful, safe in the knowledge that the next ten minutes of your life is going to be absolutely golden.
167 Symonds St, Eden Terrace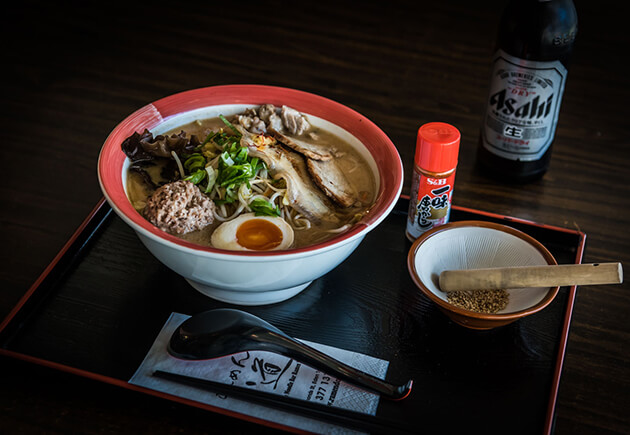 5. Samseon jjamppong at KangChon
Korean-Chinese food is severely underrated, and because I believe in the power of food media to expose people to new things, and also because I'm extremely self-centred (it's one of my personal favourites), I'm putting this on the list. Jjamppong is a spicy soup flavoured with gochugaru, usually pork or seafood based, and it's hearty and warm and delicious: there's depth from the broth and gochugaru, along with squid, mussels, prawn and soft veges amongst thin, springy noodles.
546 East Coast Rd, Windsor Park. Also at 1/283 Dominion Rd, Mt Eden.
6. Special beef rice noodle soup at Try It Out
Try It Out seems to be suffering some backlash from the sheer amount of times it's been congratulated as the best pho in Auckland. Contrary to all of you who decide to stop appreciating something just because it's gotten wildly popular, the pho at Try It Out is delicious, its broth one of the best I've had outside of Vietnam. Their "special beef" has an egg yolk plopped in the soup and tripe along with the rare beef, making it gutsier than the pho tai.
79 Atkinson Ave, Otahuhu
7. Paitan ramen at Zool Zool
Only available from Wednesday-Saturday, this broth is delightfully cloudy and creamy, smacking of its chicken-based origins and topped with chicken char-shu. It's an interesting, lighter alternative to the usual tonkotsu ramen. And the noodle texture is just as it should be.
405 Mount Eden Rd, Mt Eden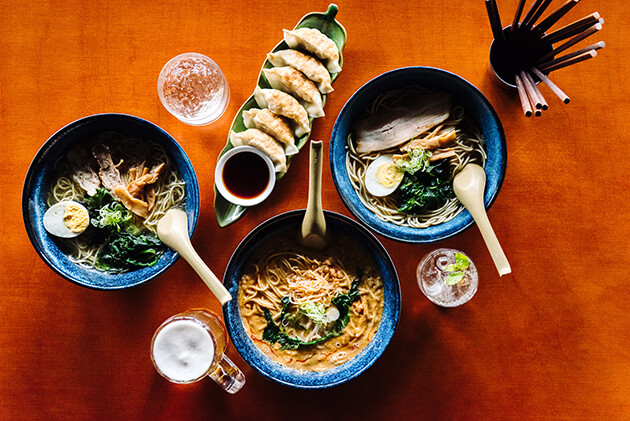 8. Noodle soup with minced pork and chives at TianFu Noodles
You can choose between wheat, shaved, rice or kumara noodles here, but we'd recommend the shaved: wide, chewy and silky. There are 27-odd options at play, but we go for the noodle soup with minced pork and chives, a dan dan-ish bowl heaped with a mountain of delicate finely chopped chives. Yum.
477 Khyber Pass Rd, Newmarket
9. Char kway teow at Sim's Kitchen
I'm cheating a little, because char kway teow is usually served on a plate, and certainly is at Sim's Kitchen, tossed on top of a swathe of banana leaf. The char kway teow here is served Penang-style with less dark soy sauce and quite wet, with plenty of wok hei (that charred, smoky flavour). If you prefer yours with bits of crunchy pork lard, try the version at Malaysian Noodles and Rice House in Avondale, skewed more to the KL-style of CKT.
421 Hillsborough Rd, Hillsborough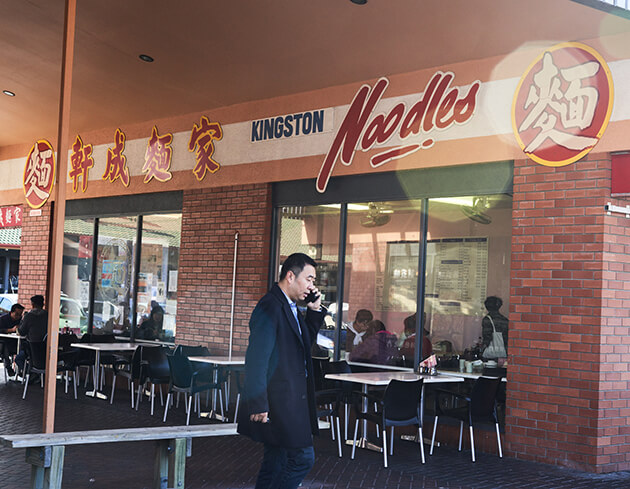 10. Wonton noodle soup at Kingston Noodles
It's only $8.50 for this Cantonese staple at Somerville's Kingston Noodles, plump wrinkled wontons in a clear, tasty soup just like you'd get in a Hong Kong cha chaan teng. This is healing food; food for the soul, food for when you want a taste of home.
119 Meadowlands Dr, Somerville
End note: I debated with myself for a long time whether to include pasta. Others on the Metro team made a case that pasta should be considered as noodles – and spaghetti certainly looks the part, aesthetically – but it's of my opinion that they're dissimilar. You don't use pasta in the same way you do noodles; traditionally, pasta uses semolina, the bite is different. Pasta is for another list. Stay tuned.