Aug 26, 2019 Cafes
A cup of coffee a day keeps the debilitating caffeine withdrawal symptoms away, as they say. Here are some of the best places in Auckland to get your fix.

Auckland has coffee roasters coming out of our ears. And cafes, for that matter. That's good news for me, though I'm at cafes for the coffee nine times out of ten, as opposed to the food – most breakfast food is just not my jam. Over the last 10 years of drinking coffee every single day, I've had some truly atrocious brews. And some truly great ones – no matter what any stupid Australian says, I'm backing our coffee scene one hundy.

A good filter coffee (or "soft brew" if you're fancy) is much easier to come by than good espresso, most days. The flavours linger in the mouth longer, so when you breathe out it's as if you're experiencing your previous sip all over again. And when you get all the elements just right, holy shit. I'm tasting that chocolate. I'm tasting those blueberries, girl. I'm tasting smooth caramel. It lets me indulge in this high-brow fantasies I have of doing that with wine, of popping open a bottle at a dinner party and impressing my guests with my extremely advanced palate. Can we all just collectively agree to start serving filter coffee instead?
Sadly, I've also most of my life drinking just lattes, and habits are a hard thing to break, huh? I still order a milky coffee half the time. I admit the search for a velvety, strong latte or flat white still has me crossing town to find the best version. But it's more of a gamble than filter at a new place: you run the risk of it being too milky, or taking a sip just to get that stale-salty-bitterness I associate with places like Muffin Break.
So here's a list of my 10 favourite places in Auckland (in no particular order) to grab a cuppa, some specialising in filter, some I go for a good flat white. I hope you find happiness there, too.
Young couple Nara Lee and Han Sol Kim own a small coffee roastery/cafe on the same strip as xiaolongbao aficionados Taste in Memory (which, top tip, makes for the perfect excuse for a food trip out to Mt Albert). Full disclosure, I half-knew both Lee and Kim before they opened this cafe (they were baristas at two local coffee shops I frequented – Black and Gold Cafe and Aruma respectively, both in Albany), so am privy to just how passionate they both are about a good cup, especially a good cup of filter.
Go for: filter
918 New North Rd, Mount Albert
Daily Daily often pour filter using grinds from all over the world. The excitement I get from seeing all that pretty packaging is probably akin to the excitement natural winos get from their colourful labels, which is to say I admit I do sometimes drink with my eyes first, thanks. To whoever runs the Daily Daily Instagram – you're doing great, sweetie. Espresso is Supreme, also good.
Go for: filter
452 Karangahape Rd, central city

3. Receptionist Coffee
Further up on Lorne St, near the stairs that climb up to the Art Gallery, Receptionist Coffee bewilders me in some aspects – the guy behind the counter, the receptionist, if you will, is incredibly polite (I counted at least four uses of "ma'am" on one visit), and sometimes wears black tie. Smooth jazz plays as you near the hole-in-the-wall. But I've never had a bad white coffee from here – they use Atomic – and they do filter.

Go for: a flat white
32 Lorne St, central city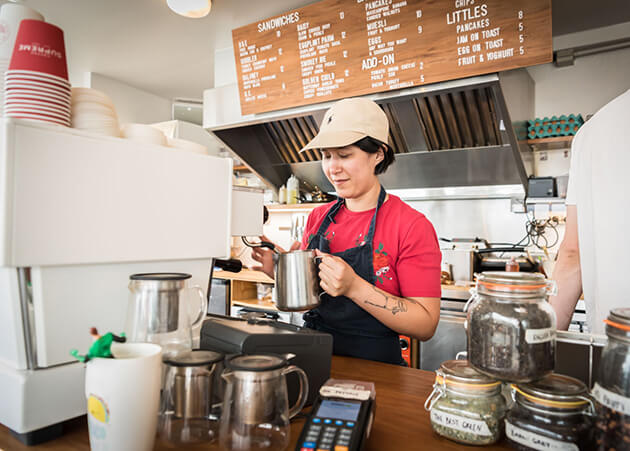 READ MORE: Auckland's best cafes 2019
4. Eightthirty
A well-deserved shout-out to Eightthirty for being there for me all through university, and as a result has emerged as one of my favourites (I also had a great Eightthirty cup recently at Lily's Eatery in Devonport, and of course always at Bestie on K'Rd). But their High Street spot is The One.
Go for: a flat white
35 High St, central city
5. Hare and the Turtle

One of my favourite spots to grab a Coffee Supreme cup (also shout out to Good Day in Orakei), I usually go for a post-lunch coffee after the brunch rush when people descend on the place for their cinnamon buns and sandwiches. Their flat whites are always super smooth and strong.
Go for: a flat white
1/63 New Windsor Rd, New Windsor
I hardly ever find myself out this way (man, who goes to Parnell) but when I am, I'll be at Red Rabbit. The filter coffee is excellent (batch or V60 pour-over), and they're open late now some days during the week, which is quite nice (please let me know where to get a good cup in the city after 3pm).
Go for: filter
7 Faraday St, Parnell
7. ARK Coffee Company
Bypass the espresso here and drink these roasters' batch brew filter. It's light and mostly-fruity, and only $2.20 for a small. Bargain. They also do an Aeropress and Chemex (pour over), which are great, but I am a sucker for that $2.20 price tag. In the summer, their espresso soft serve is A+.
Go for: filter
6/461-467 Lake Rd, Takapuna
My go-to coffee in Newmarket used to be Camper Coffee, which closed in 2017. The owner moved on to co-own The Candy Shop, quite literally around the corner, and brought his exceptional coffee with him. Forget the food, I once bought three cups of coffee from this spot in a single day, and that's the tea on that.
Go for: a flat white
2-8 Osborne St, Newmarket
9. Tob Coffee
Tob Coffee are roasters extremely dedicated to their craft (the rows and rows of certificates on the wall will attest to this) and serve up nuttier brews. The barista/roaster here takes his time, so don't come here if you're in a rush. But with no cabinet food or menu to distract, this place is purely for serious coffee. My go-to here is a flat white, but I'd also recommend their single-origin filter.

Go for: a flat white
7/56 Apollo Dr, Rosedale

10. Dear Deer Coffee Roasting Bar

I'll be honest and say I've only been here twice, as it's in Onehunga, but I can't leave off the only place in Auckland to pick-your-own beans and have them roasted in front of you. Pour-over is the way to go here and is supremely satisfying – especially if you ask them to use a blend that you created.

Go for: filter
130e Onehunga Mall, Onehunga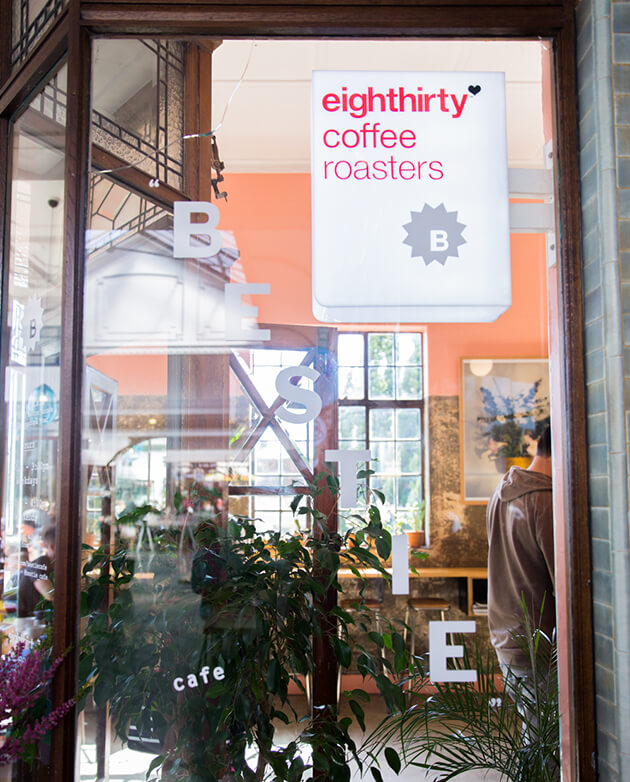 My other North Shore faves:
There are a few other places I frequent due to proximity on the weekends, which I also recommend if you're ever in the area. My local is A-Block in Browns Bay, run by the same owners of Black and Gold Cafe. They annoyingly don't do a double shot as their default, so you have to ask, but they do roast their own coffee (under Society Coffee). 76 Clyde Rd, Browns Bay

I also go Albatross Coffee in Albany, who do a pretty good Chemex pour-over and also roast their own beans. 33/H Triton Dr, Rosedale
And of course Coffee Lab in Wairau Valley is an old fave. 15 Silverfield, Wairau Valley