Mar 1, 2017 Bars
Sandringham
Satya Spice and Chai Shop | Reserve table
515 Sandringham Rd, Sandringham
Sandringham's newest "secret" bar has been a real hit with the neighbourhood. You can sit on the floor and enjoy authentic chai, Indian snacks and a succinct craft-beer list. Owner Sammy Akuthota loves Prohibition-style cocktails, so expect short, strong drinks, all cooled with hand-cut ice.
Go for—the can of VB the owner found in his car boot — yours for $40 (yep, he's a character).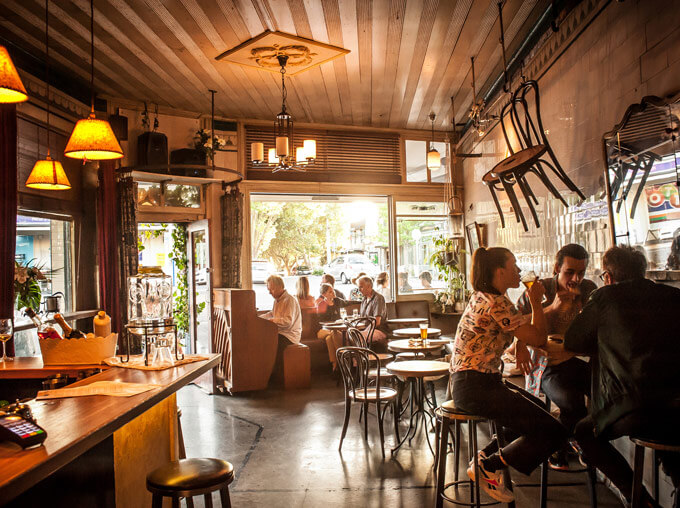 Mt Eden
Juke Joint | Reserve table
5 Akiraho St, Mt Eden
Parents of small children rejoice, everyone else be warned: on weekends, this place is essentially Chipmunks with booze. The rest of the time it's a peaceful spot for a beer and some barbecued fare, especially on the outdoor deck when the sun is shining.
Go for—beers while the kids run wild.
Molten Wine Bar
422 Mt Eden Rd, Mt Eden
An intimate option in the heart of Mt Eden village. Comfy booths, candlelight, courtyard and sommelier Sven Nielsen's exceptional service have kept this gem a firm favourite with locals. The "under $50" section of the wine list is perfect for the budget-conscious, and the connecting restaurant means the nibbles are next-level.
Go for—the expertly curated wine list.
What makes a good bar? Your answer will probably vary depending on which day it is, how hungry you are, what the clouds are doing and who's asking.
The question of which bar is Auckland's best, however, seems to be met surprisingly often with the same answer, regardless of who's talking. It's a curiosity I've observed in the six years I've been writing about Auckland's hospitality scene — the same amount of time that's lapsed since an unmarked door on the corner of Richmond and Ponsonby Rds first opened to reveal The Golden Dawn — Tavern of Power. Whether it's just the first bar that comes into people's heads is irrelevant; it's memorable because it's unique. Imitators pale into homogenous insignificance because, as co-owner Nick Harrison says, "We don't try to copy anyone else. We're as goofy and as weird as we want to be, and, without wanting to sound wanky, we've always stayed true to ourselves."
Is that the secret to a Metro Top 50 bar? In a word, yes. Bars are hard work: long, late hours, a transient workforce, and in this city, increasingly tough competition. You've got to love it, and love a challenge. That's what keeps people like Brandon Walker, manager of the recently opened Lovebucket on K' Rd, motivated. Since he ditched journalism for a bar career in 1995, Walker has worked for Baird Beer in Japan, run bars in Melbourne and was Masu 's bar manager before opening Lovebucket with Hallertau Brewery. During that time, he's seen trends come and go, but reckons owners often jump on them to the detriment of the overall scene. "That's not the main reason people go out to bars," he says. "They get together to hang out. The people looking for the latest freeze-dried whatever are maybe one in 20, 30, maybe even 50…". So while Lovebucket offers on-trend highballs and on-tap cocktails, there's also a concerted effort to "take the cock out of cocktails".
Read the latest 2018 Top 50 lists: Auckland's best restaurants | Auckland's best cafes | Auckland's best cheap eats
Harrison reckons Aucklanders are frequenting bars less than they used to in favour of cheap eats. "It's a generalisation, but I get the feeling that at the moment, people are more likely to go out and spend $50 on a burger and a couple of beers than they are to go out for wine and cheese." At the other end of the spectrum, upmarket restaurants are taking drinks seriously. Sidart has recently extended its bar area, and hopes to offer cocktail matches with selected dishes down the line, while newly opened Pasture offers one of the city's best natural wine lists.
In order to stay ahead, bars need to offer excellent food and drink and something extra, whether that's specialising in a certain spirit ("libraries" of whisky, gin and sake are increasingly common), bespoke, table-service cocktails like those at new Britomart bar Caretaker , or changing things up with regular live music. That's what the tough competition to make it into Metro's Top 50 bars list has taught us.
Click here for the 2018 Metro Top 50 Bars
K' Rd Precinct
69
375 Karangahape Rd, K' Rd precinct
The name is just wrong, but the cocktails at this new late-night K' Rd bar/eatery are so good we'll forgive them. Pick one of the 18 offerings from the menu, or let head bartender Nicolai Gaudriller-Becker mix you up something special.
Go for—2am Old Fashioneds.
Apero
280 Karangahape Rd, K' Rd precinct
Technically, Apero is a restaurant (a four-spoon Metro Top 50 one at that), but that's not to say you can't sit in the window, have sommelier Mo Koski choose you an excellent bottle of wine, get a little nibble to share and watch the world outside go by.
Go for—the exceptional service.
Coco's Cantina & Bar
376 Karangahape Rd, K' Rd Precinct
Happy hour at Coco's is one of the best ways to start your weekend. On Friday afternoons, discounted coupes of prosecco and jugs of sangria dominate the gingham-clad pavement tables. Get there early to secure yours, and put your ordering choices in head bartender Petaia Unoi's capable hands.
Go for—pre-dinner prosecco.
Lovebucket
K' Rd Food Workshop, 309 Karangahape Rd, K' Rd Precinct
Orange wine, sour beer, "taptails": name something cool in bars right now and Lovebucket will deliver. Manager Brandon Walker is a career bartender/sommelier on a mission to take the cock out of cocktails, and so while the staff know their stuff, they'll never bore you with it. Great bar snacks.
Go for—the Hallertau beer; stay for the experimental cocktails.

Madame George
490 Karangahape Rd, K'Rd Precinct
One of the best after-work haunts for the hospo crowd, Madame George is open until 1am. There's wine and beer and snacks, but you're here for the expertly crafted cocktails. They'll basically make you anything you like.
Go for—a personalised cocktail on the K' Rd pavement.
Peach Pit
352 Karangahape Rd, K' Rd Precinct
The crowd may be younger and hipper than most, but this K' Rd hangout is too relaxed to be pretentious. The drinks list and food menu are imaginative, and the front booth affords a ringside view of K' Rd antics.
Go for—a low-key start to a night out.
---


---
Devonport
Devon on the Wharf | Reserve table
Devonport Wharf, Queens Parade, Devonport
Ideal for commuters, or citysiders who fancy an outing across the harbour, this ferry-wharf eatery resembles an upmarket Mediterranean resort, all turquoise velvet, palm tree print fabrics and white wicker chairs. Put a pomegranate margarita in your hand and a plate of Moroccan hummus, falafel and tortilla on the table and suddenly you're far, far away.
Go for—a waterside drink en route to the city.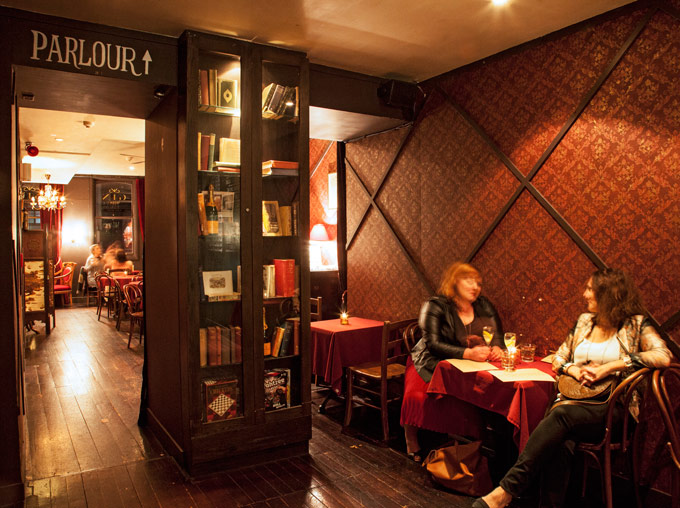 Matakana
Sawmill
1004 Leigh Rd, Matakana
Matakana locals should be thrilled with their new pub, the perfect place to unwind after a day at the beach. Drink in the rural views with one of many tap or bottled beers.
Go for—a pint after a swim.
Meadowbank
Meadow | Reserve table
20 St Johns Rd, St Johns
We love the alcoholic craft sodas here, and with combinations like cherry, pomegranate and vodka, or Campari and grapefruit, they suit summer afternoons in Meadow's courtyard perfectly. Come winter, the outdoor fire roars.
Go for—courtyard sundowners.
Central city
66-68 Tyler St, Britomart
The high-ceilinged grandeur of Hip Group's flagship restaurant makes it a classy place for an aperitif, from Kiyomi Aperol Spritz to Italian vermouths. Amano's wine list offers a New Zealand and an Italian version of each variety for the studious, and the cocktails are a lesson in seasonality.
Go for—aperitifs downtown.
Beirut
85 Fort St, central city
At Beirut, they're masters of the shrub, those age-old aromatic drinking vinegars that have recently made a comeback. Fresh mint, sage, thyme and mint top interesting flavour combinations like French apple brandy and fig, and beetroot and vodka. The cocktails are also commendable; so, too, is the wine list, ordered by finish instead of variety.
Go for—alcoholic shrubs.
Bellota
91 Federal St, central city
Bellota is all about its cosy booths, one of the reasons it consistently rates as the best first-date bar in Auckland. An exclusively Spanish wine and sherry list sourced directly from little-known producers, plus Ernest Pietx's authentic tapas, makes drinking here a transporting affair.
Go for—date-night sherry and tapas.
Brothers Beer | Reserve table
Shed 3D, City Works Depot , 90 Wellesley St West, central city
Put the afternoon aside to visit this inner-city beer temple. With squishy retro couches and more than 150 beers to choose from, you may find it hard to get up once you settle in.
Go for—an education in beer
Caretaker
Downstairs, 38 Roukai Lane, Britomart
The Britomart hum of chart-bangers dissipates as soon as you step down the unassuming staircase to Caretaker, a sumptuous New York-style cocktail lounge with live-jazz Wednesdays. A set of house rules hangs in the bathroom, underscoring the general sense of decorum. Table service means each drink is tailored to your taste, and boy, do owners Heather Garland and Alastair Walker know their flavours. Groups of eight or fewer only.
Go for—late-night table-service cocktails.
Coley & Punch
Shed 22, Princes Wharf, Viaduct Harbour
Coley & Punch is named for Ada "Coley" Coleman, the first female head bartender at London's Savoy Hotel. It has one of the most sophisticated whisky lists in the city — there's a choice of 250 — and the innovative cocktail list pays tribute to Coleman with bourbon negronis and Amaro Montenegro Moscow mules.
Go for—a whisky by the water.
Debrett's House Bar
2 High St, central city
We love the grown-up comfort of this living room-esque bar in the central atrium of Hotel DeBrett. In winter, an open fire demands to be accompanied by an Old Fashioned, sweetened with a drop of maple. Downstairs' Corner Bar offers a livelier setting for casual drinks.
Go for—classic cocktails by the fire.
Dr Rudi's Rooftop Brewing Co.
Level 3, Cnr Quay and Hobson Sts, Viaduct Harbour
New brewery Dr Rudi's has one of the best views in Auckland, overlooking the spenny boats docked at Viaduct Harbour. The novelty factor of two free bowling alleys isn't lost on us, either. Close proximity to the new ASB Waterfront Theatre means it's a great stop for a pre-show drink.
Go for—Ten-pin bowling and a brew.
Federal Delicatessen
86 Federal St, central city
Al Brown's homage to the New York Jewish deli is the first thing we think of on hungover mornings. Good nights also start here, though, on Fridays and Saturdays especially, when the kitchen is open till 1am and the Manhattans and Sloe Gin Rickeys flow.
Go for—first-date cocktails and cheesecake in classic diner-style booths.
Fukuko
43 Tyler St, Britomart
Pint-sized Fukuko may share a kitchen with Metro Top 50 restaurant Ebisu, but the drinks are all its own. A grungy concrete and steel fit-out means jewel-coloured, housemade shochu cocktails shine. Try flights of Japanese whisky for comparative tasting.
Go for—a serious Japanese whisky-tasting session.
Masu
90 Federal St, central city
Four-litre kume jars containing custom-infused shochu line the shelves above Masu's bar, with little tags denoting which customers they belong to, a nod to the Japanese bar custom of "bottle keep". That's not where the personalised service ends, either: this is a bar where the ice is hand-shaved and sake expertly recommended.
Go for—a tailored sake and shochu experience.
9 Durham St East, central city
There's something lovely about leaving the chaos of Queen St behind for the warm, orangey glow of 23-year-old Mezze Bar. They have a good list of craft beers and European wines and plenty of seating to accommodate the crowds.
Go for—pre-show drinks and tapas.
Mo's
5 Federal St, central city
Like an old friend, Mo's is reliable. They serve classic cocktails and a good range of Emerson's beer, and you get a free bowl of corn chips with your order, which we like. The bar itself is tiny, with room for about 15 people. Get there early to avoid disappointment.
Go for—overhearing and accidentally sharing secrets.
Oaken
130 Quay St, Britomart
All hail the Coravin wine preservation system, which allows some of Oaken's rare and interesting drops to be accessed by the glass. A policy of stocking limited quantities of any one wine keeps the list fresh, but if your favourite's gone, you can always rely on the on-tap Aperol Spritz.
Go for—an aperitivo-hour spritz and Te Matuku Bay oysters (5-7pm).
Odettes
City Works Depot, 90 Wellesley St West, central city
Metro's best cafe of 2016, and a Metro Top 50 restaurant, Odettes also wears nights particularly well. You can travel the world via the extensive wine list, which in summer should be appreciated on the city terrace, sunglasses on. Chamomile gin, pea shoots and white cacao are among ingredients preventing the cocktail list from ever seeming ordinary.
Go for—the friendly table service and leafy city terrace.
The Gin Room
1st floor, Queen's Ferry Hotel building, 12 Vulcan Lane, central city
One of the inner-city's best-kept secrets, the top two floors of the heritage Queen's Ferry Hotel are home to a crew of smartly dressed expert mixologists. They'll match your perfect gin to the ideal tonic from their impressive library, and add a little fruit, too.
Go for—refuge from the inner-city crowds.
7 Fort Lane, central city
In the basement of the magnificent Imperial Building, the Jefferson's lack of natural light complements a speakeasy-style interior. You're here for the whisky: which one precisely is a question for the knowledgeable staff, who will magically narrow down their library of more than 500.
Go for—whisky and slow-cooked ribs.
Vultures' Lane
10 Vulcan Lane, central city
With 22 rotating taps and plenty of bottles in the fridge, Vultures' Lane is our favourite downtown spot for craft beer. Nab one of the outdoor tables on Vulcan Lane for people-watching with your pint.
Go for—post-shopping IPAs.
XuXu
Cnr Galway and Commerce Sts, Britomart
It's easy to rack up a pretty hefty bill at XuXu. You'll get lured in by a yuzu-infused cocktail, have another, a plate of dumplings and before you know it you've spent a small fortune. Having said that, the excellent drinks list and tasty food mean we don't really care.
Go for—dumplings and a drink.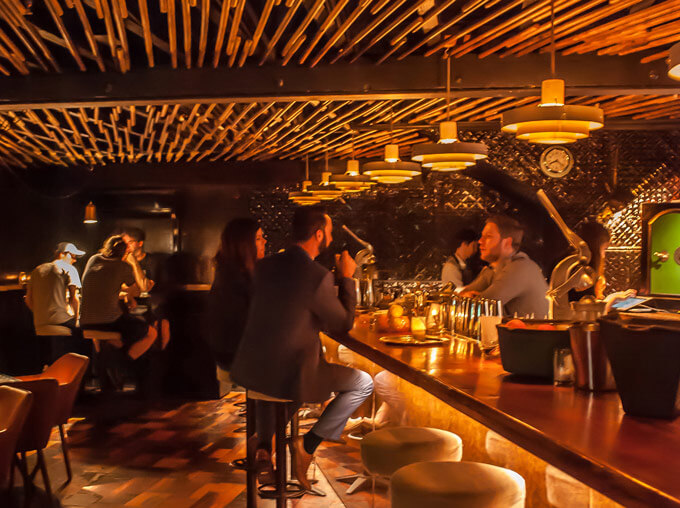 Ponsonby
Azabu Roji Bar
26 Ponsonby Rd, Ponsonby
Enter inky restaurant Azabu via the graffitied Maidstone Lane door and you'll discover the Roji (Japanese for alleyway) bar, a chic Tokyo-inspired room (and soon-to-open deck) with 32 sought-after Japanese whiskies on the shelf, a sake library and some of the city's best cocktails created by Kula Watcharawannee.
Go for—the unique Japanese/Peruvian inspired cocktail list.
Bedford Soda & Liquor | Reserve table
Ponsonby Central, Shop 10, 4 Brown St, Ponsonby
Auckland's homage to New York's The Meatball Shop does a good job of catering to the demands of the customers its prime location attracts. There are easy-to-drink sodas and sparkling-wine-based daisies, meal-in-a-glass spiked shakes and a whole spectrum of sweet to smoky cocktails.
Go for—dessert-in-a-glass cocktails.
Conch Records Kitchen & Bar
115A Ponsonby Rd, Ponsonby
The extensive list of craft beers, natural wines and punchy cocktails is sound, the staff charming and there's always something funky spinning on the record player. What Conch does best, however, is set the mood, with snug wooden booths, candles and flowers on every table.
Go for—a relaxed but romantic night out.
Golden Dawn
134 Ponsonby Rd, Ponsonby
We love sitting at the rickety tables under festoon lights and sampling our way through one of the best (if not the best) wine lists in the city. Bonus: the food, like the irresistible Welsh rarebit which has been on the menu from the start, is outstanding.
Go for—informal but informed service and the exceptional list of natural wines.
Mea Culpa
3/175 Ponsonby Rd, Ponsonby
For some of the best cocktails in town, it has to be Mea Culpa. Bartender Gavin Liddle has more than 15 years' experience, but actually the entire staff are so obsessed with mixology, we've witnessed (friendly) arguments break out over which shaped ice is best for a negroni.
Go for—New York dive bar vibes.
Orphans Kitchen
118 Ponsonby Rd, Ponsonby
There's live jazz in the courtyard every Friday night at Orphans, and oysters are $3 each. In summer, when the rolling roof is open and the bees are flying around, Orphans is our go-to for innovative cocktails with ingredients such as coconut whey, loquat and kawakawa, plus the bin-ends wine list of hard-to-find bottles and end-of-line vintages.
Go for—A breath of literal and metaphorical fresh air.
SPQR | Reserve table
150 Ponsonby Rd, Ponsonby
Even after all these years, the white-clothed tables of SPQR are still the place to be seen. Choose from a huge Champagne list, plenty of glass-poured wines or an ever-faithful espresso martini.
Go for—being seen.
The Cav
68 College Hill, Freemans Bay
Our favourite place to watch sport, The Cav has supersized screens and big tables where fans can gather. There's also a spacious balcony for the sports-averse.
Go for—the game, on their TV.
Kohimarama
Bar on Kohi
3 Averill Ave, Kohimarama
Part of Hip Group's seemingly ever-expanding Kohi empire (it now includes a cafe, takeaway arm and boutique grocery store), this tucked-away gem has a strong list of New Zealand wines and beers and a few from further afield. The seasonal bar snacks are particularly good, with more substantial offerings if the seaside vibe tempts you to linger.
Go for—a glass of New Zealand wine after a walk on the beach.
Eden Terrace
Galbraith's Alehouse
2 Mt Eden Rd, Eden Terrace
Serving up fresh cask ales brewed on-site and proper roast dinners with Yorkshire pud, this is Auckland's best answer to the classic English pub. Don't be shy about bringing a game of Scrabble along; there's plenty of room to spread out at the big wooden tables.
Go for—New Zealand's best cask ales.
The Corner Store
25 Mt Eden Rd, Eden Terrace
Staff at TV3 could grab a liquid lunch from The Corner Store every day if they wanted to, which would suit the Spark family, who have been running the bar independently since they bought it just over a decade ago. We love it for a pre-Powerstation-gig wine.
Go for—a covert lunchtime beer.
Riverhead
Hallertau
1171 Coatesville-Riverhead Highway,Riverhead
Hallertau make fantastic beer, best enjoyed with wood-fired pizza at their recently revamped brewbar in Riverhead. It's especially lively on weekend afternoons when live bands and DJs play in the beer garden.
Go for—a mini-escape from the city.
Parnell
Osteria
259 Parnell Rd, Parnell
The entrance to Non Solo Pizza is now a butcher-tiled bar, where the cocktails are classic and the wine predominantly from owner Antonio Crisci's Waiheke Island vineyard. It's a laidback local elevated by thoughtful service — staff will go out of their way to find a chair for your handbag, which makes sense when it's a #RHOAKL haunt.
Go for—antipasto, Peroni and people-watching
Pineapple on Parnell
207 Parnell Rd, Parnell
Google Maps will take you to a door unmarked except by a brass pineapple. Behind it is a dimly lit lounge in leather, velvet and chintz inspired by Auckland's 80s social scene — specifically, Club Mirage. There's a dress code and a no-phones rule, but there are also damn good cocktails, and ivories that are sometimes tinkled.
Go for—theatrical escapism.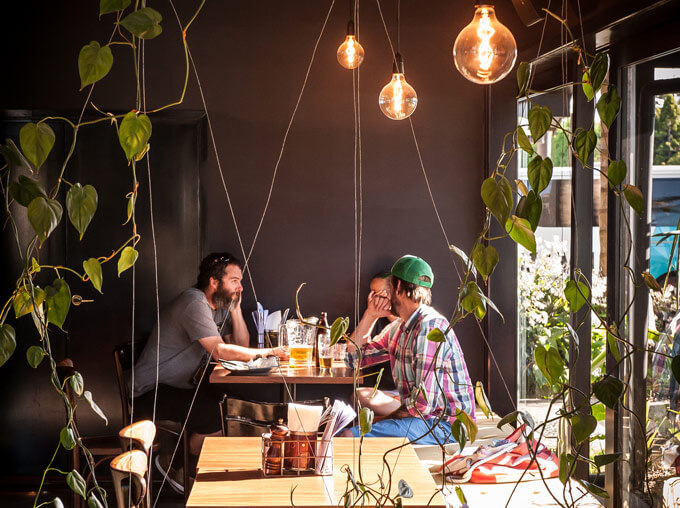 Grey Lynn
Freida Margolis
440 Richmond Rd, Grey Lynn
Sit outside this West Lynn institution in summer or sink into a comfy leather banquette inside during winter. Expect ad hoc piano performances from owner Mike Howie, a fabulous wine list and decent craft beers.
Go for—tipsy impromptu singalongs.
Grey Lynn RSC
3 Francis St, Grey Lynn
No fancy cocktails here, just handles of cold beer, sport on the telly and bar staff so friendly you'd think you were in Inglewood (Google it — Ed). There's live music on Friday nights, and Jimmy the Cook's fish'n'chips are legendary.
Go for—authentic old-school charm
Gypsy Tearoom
455 Richmond Rd, Grey Lynn
West Lynn folk are increasingly spoilt for choice, but Gypsy still pulls a considerable crowd, seven days a week. That's partly to do with the wine list, which is independent and international, but also because they'll remember your name and what you drink.
Go for—the laid-back local feel.
Pocket Bar & Kitchen
1 Tuarangi Rd, Grey Lynn
A group of Grey Lynn friends mourned the lack of a good local, so remedied things by opening a pocket of conviviality for people like them. Extending from the back of the old ASB building into a modern, glass-roofed atrium, it's a design-led space with an informal vibe.
Go for—drinks with friends at communal tables.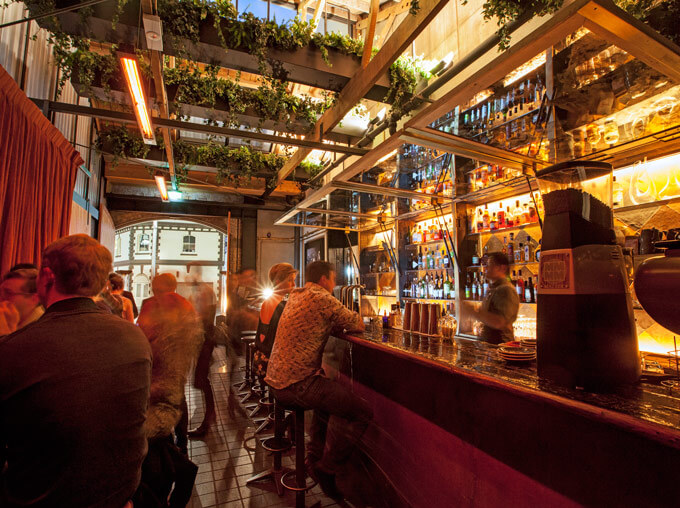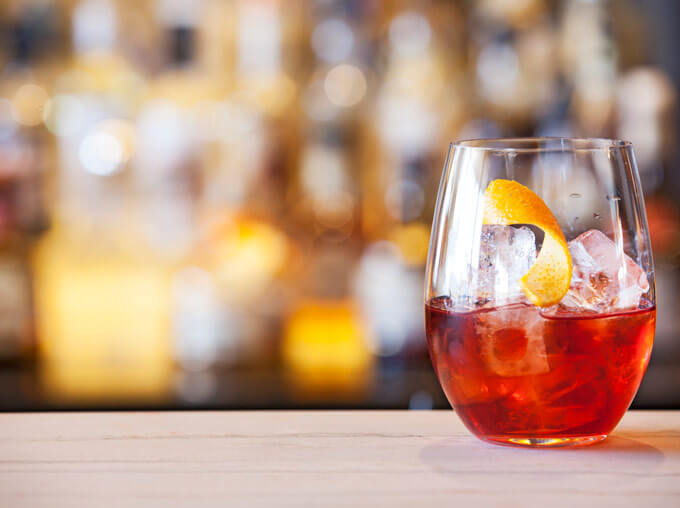 Titirangi
Deco Eatery | Reserve table
Lopdell House, 418 Titirangi Rd, Titirangi
One of Auckland's most ravishing interiors can be found in Titirangi's historic Lopdell House. The menu reflects owners Alex Isik and Nigar Ivgen's Turkish background, with wines sourced from Turkey, Lebanon and Sicily alongside New Zealand varieties.
Go for—drinks on a balcony overlooking the Manukau Harbour.