Aug 10, 2018 Bars
Even if your date is a dud, you'll still enjoy having a drink at these Auckland bars.
For more great videos, check out our Youtube Channel.
Dimly lit and cosy, Apéro takes its name from the apocopic form of the word "apéritif"— a pre-dinner drink. Fittingly, Mo Koski and Leslie Hottiaux's Karangahape Rd wine bar is the perfect place for just that. Admittedly, and slightly embarrassingly, we've been known to stop in for a pre-dinner dinner, too.
Go for—the wine, stay for the food.
280 Karangahape Rd, K' Rd Precinct
At this Metro Top 50 Restaurant it's business at the front, party out the back. The Maidstone Lane-end Roji Bar specialises in Japanese whisky, sake (there are more than 20 premium varieties), non-boring wine and Kula Watcharawannee's Peruvian-Japanese cocktails, served in classily thin imported glassware.
Go for—pisco sours on the artfully grungy deck.
26 Ponsonby Rd, Ponsonby
There is only space for groups of six or fewer at the best cocktail bar in the city, and little room for standing, so we recommend going mid-week. If you do happen to find yourself at the end of a long queue, however, the experience is worth waiting for: under moody lights and to the sweet sounds of jazz (live on Sunday, Monday and Tuesday nights) serious bartenders will craft the perfect drink for you based entirely on a list of flavour preferences.
Go for—the best cocktails in Auckland.
38 Roukai Lane, Britomart
Read more: Auckland's best bars 2018 | Auckland's best restaurants 2018 | Top 50 wines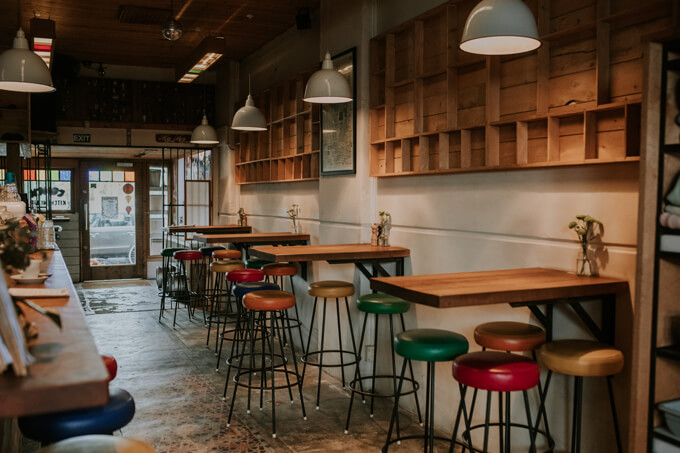 Conch Kitchen & Bar
The intimate wooden booths down the back make Conch a great first-date spot, while the communal tables both out front and in the courtyard encourage groups to descend and friendly chat to break out between strangers. We love the dedication to New Zealand beer and wine here, the arepas, and the ever-present hand-pressed sugar-cane mojitos.
Go for—the mojitos and great tunes on the decks.
115A Ponsonby Rd, Ponsonby
This pint-sized local pulls a great crowd thanks to frequent gigs, plays and owner Mike Howie's penchant for tickling the ivories. A glass of Spanish red and a cheese board at Freida's are best followed with an early-evening walk through the leafy streets of Grey Lynn.
Go for—one of the regular intimate gigs.
440 Richmond Rd, Grey Lynn
Set in the majestic old Grafton Library, Galbraith's is Auckland's answer to a proper English pub, minus the beer-soaked carpet and pokie machines. Go for an afternoon session of house-brewed real ale, guest craft beers and Sunday roast with all the trimmings.
Go for—a pint of Bob Hudson's Bitter on a rainy Sunday.
2 Mt Eden Rd, Eden Terrace
?Hugo's Bistro
All class, Hugo's Bistro restaurant review: Metro Top 50 2018" href="/food/food-restaurants/hugos-bistro-restaurant-review-metro-top-50-2018" data-id="92546" data-mce-href="/food/food-restaurants/hugos-bistro-restaurant-review-metro-top-50-2018">Hugo's is the perfect spot for drinks with a client, or someone you're trying to impress. The wine list features some fab glass-pours under $20, like the near perfectly balanced Foxes Island chardonnay or the earthy, savoury Burn Cottage Moonlight Race pinot noir. There is a dedicated spritz menu, including the classic Aperol-based option, or mix it up with a gentian or RinQuinQuin apéritif.
67 Shortland St, central city
Lovebucket
Manager Brandon Walker likes his drinks strong, with complex flavours. While the menu is rum and gin-heavy, he's also thrown together a fantastic beer list — one of the most interesting in the city, with up to eight sour beers on at any time — and has organic Seresin sauvignon blanc on tap.
Go for—a trendy drink.
309 Karangahape Rd, K' Rd precinct