Jun 21, 2018 Restaurants
Apéro restaurant review
Metro Top 50 2018 restaurant Apéro is an excellent French-style wine bar/bistro on Auckland's Karangahape Road.
For the latest review, see the 2019 review of Apero.?
For more great videos, check out our Youtube Channel.
Apéro is the perfect uptown local – brick walls and bare timber tables, and a short menu that runs from crusty bread with butter to terrines and charcuterie, though the place has really made its name with two things, pork sausage and brilliant service. The former comes by the quarter metre and is made to chef Leslie Hottiaux's recipe, all chunky and porky, served with pickles and mustard. It's the quintessential sausage. Then there's the service: you're in excellent hands with co-owner Mo Koski, whose enthusiasm is endearing without being overbearing and whose knowledge is first class. Everything you need, and nothing you don't.
What it offers Shared-plate options / Good for vegetarians / Free-range chicken and/or pork / Bar / Craft beer selection
A favourite dish Goats' cheese croquettes with Kamahi honey
Awards Winner, Best Service; Runner-up (Joint), Best City-Fringe Bistro; Finalist, Best Wine List
Bookings Yes
Hours Lunch Fri, Dinner Wed-Sun
Price $$
Seats 38
Chef Leslie Hottiaux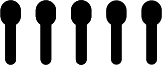 apero.co.nz
280 Karangahape Rd
Ph 373-4778
See here for all of Metro's Top 50 Auckland restaurants for 2018