May 19, 2018 Drinks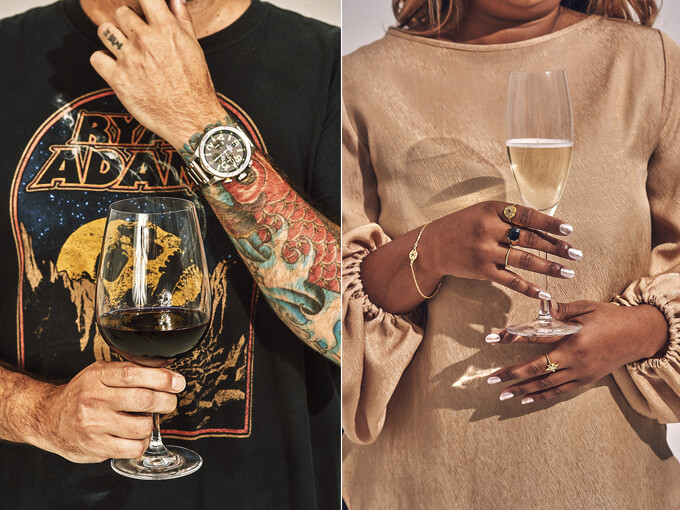 Your 2018 wine guide
Drinking better wine is easy with Metro's Master of Wine to steer you in the right direction. Paul Tudor tastes and selects this year's top drops.
Jump to: The Top 10 best wines | Sparkling | Rosé/blush | Sauvignon blanc| Riesling | Pinot gris | Alternative varieties | Chardonnay | Pinot Noir | Bordeaux varieties | Syrah/shiraz| Other reds | Sweet wines |
Sparkling
Charles de Cazanove Brut Champagne (Non Vintage) $40
?When we think about top-notch bubbly, the big names of Champagne, the so-called "grandes marques", often come to mind first. But this fresh, fine, concentrated Champagne from a very small producer is right up in that league. On the side of the fuller, red-fruit style (dominated with pinot noir and pinot meunier), but crisp and lively to boot. At this sharp price, Cazanove is now an occasional guilty pleasure in my household.
Vilarnau Cava Brut Reserva $27
Spanish Cava does not get much better than this, a classy, refined version that is fresh and citrusy, with a herbal, salty aftertaste. In comparison to Champagne, Cava is generally more linear and has a firmer finish, lighter, but seemingly drier at the same time.
La Gioiosa Et Amorosa Prosecco DOC Treviso $20
A delicate, restrained style, honeyed and fresh, with subtle pear or apple fruit tones. Not especially complex, nor weighty and creamy, but an elegant, light, easy-drinking bubbly, a great pre-dinner appetiser.
Veuve Laperriere Rosé Vin Mousseux / Sparkling Wine (Non Vintage) $18
Pale salmon, lively bubbles, sour cherry and boiled lolly aromas, quite rich in the mouth. Creamy and juicy, off dry, mint and raspberry. A bargain pink bubbly with a touch of class and sophistication.
Brancott Estate Brut Cuvée (Non Vintage) $17.50
Rich golden hue, leads onto a developed, moderately complex nose with honey and toffee-apple overtones. The palate is quite rich and lush, not especially subtle or elegant, but very much for those who like big, bold, rich bubblies.

Rosé/blush
Alluviale Rosé Hawke's Bay 2016 $22
With its vivid pink colour, powerful fruitcake and sappy nose, and full-flavoured, characterful mouthfeel, this is a rosé with serious intent, managing to be both sweet and sour at the same time. A complex pink wine worthy of the dinner table, but it would make equally great sipping on its own as an alternative to a light red.
Ferraton Samorens AOC Côtes du Rhône Rosé 2015 $21
Pretty raspberry and toffee-apple aromatics, with just a whiff of smoky undergrowth a wild, intriguing secondary element. Though just off dry, there are some serious, firm tannins in this wine. Very much a rosé oriented to matching with food. Very classy drinking at this great low price.
Rameau d'Or AOC Côtes de Provence Rosé 2016 $29
Classic southern French pink wine. Light and breezy, soft, red fruits in the mouth, a hint of sweetness. Very easy drinking by itself when chilled. But don't let those appearances fool you: this attractive rosé has hidden depths, with more than enough stuffing to stand up to seafood or light Mediterranean-style foods.
Read more: The best red wines under $20 | Sick of same old white wines? Try these different varietals | There's more to Central Otago wine than pinot noir
Sauvignon blanc
Stoneleigh Marlborough Lighter Sauvignon Blanc 2017 $15
One of the better lower-alcohol wines on the market, this clocks in at just 9.5 per cent yet still shows sauvignon's trademark characters of cut grass and herbal aromatics. This one boasts passionfruit and smoke notes, is upfront, light and fresh, with just a hint of sweetness on the finish. A wine for enjoying by itself, as an apéritif.
Villa Maria Private Bin Marlborough Sauvignon Blanc 2017 $16
From a Marlborough vintage with lots of ups and downs, this is remarkably fine, and outstanding value as a result. The bouquet is clean and fresh — bright citrusy aromas along with peapod and passionfruit notes, zippy acidity in the mouth and thankfully not too much sweetness. Light, but dependable, a benchmark for the variety.
Soho Stella Marlborough Sauvignon Blanc 2017 $25
Classical Marlborough savvy, with bright fruit. Fresh and uncomplicated. Punchy tropical fruit characters, grassy acidity in the mouth, but good body and just off dry. A juicy, rich, intense style.
Churton Marlborough Sauvignon Blanc 2017 $27
?An elegant, restrained, herbal wine. Tight citrus aromatics, oyster shell, riverstone nuances, and yet a full, firm palate. Sauvignon blanc with poise and definition, a fantastic food match with that taut acidity and generous mouthfeel.
Riesling
Schloss Lieser Thomas Haag Riesling Kabinett Pradikatswein 2016 $49
There really is nothing more appetising than a glass of chilled Mosel riesling on a hot afternoon or early evening. Often, like this fine example, such wines have a splash of sweetness, but that is countered by bracing acidity and low alcohol. This is a gorgeous, single-vineyard riesling from one of the finest sites in the Mosel, honey, citrus and apple flavours all bouncing round in a light, fine, refreshing package.
Pikes Clare Valley "Traditionale" Riesling 2016 $24
Light gold in colour, appley nose, a hint of leafy citrus. The nose is delicate and restrained, yet the palate is full and firm, finishing with tart acid. Outstanding example of Clare riesling, which is typically dry and textured. Goes well with seafood or chicken, but the ultimate match is hot, spicy food.
Charles Smith Wines Kung Fu Girl Washington State Riesling 2015 $24
I love a good riesling, but the problem is you often don't know how sweet it is until you try it. Here, the back label tells you there is the lightest touch of sweetness on the palate, but this counterbalances the firm acid backbone. A crisp, refined wine to enjoy on its own (of an afternoon or early evening) or match with fish or chicken.
Framingham Classic Riesling Marlborough 2015 $23
?From arguably New Zealand's leading riesling maker, this youthful, off-dry wine is a cracking good example, with classic lime and floral aromas and a honeyed palate. This is elegant and balanced, a supple, creamy palate, but has a great acid backbone. I enjoy rieslings like this with a wide range of foods — that acidity cuts through sweetness and richness and the wines are very versatile.
Pinot gris
Kumeu River Kumeu Pinot Gris 2016 $25
There are so many pinots gris out there, it must sometimes be confusing for wine buyers. But I regard Kumeu River's version as the benchmark for New Zealand pinot gris: plump fruit, nectarine and golden peach, some creamy maturation. The 2016 vintage was excellent in the Auckland region and this wine is just starting to strut its stuff now.
Mont'Albano Pinot Grigio Friuli DOC 2016 $22
Typically, Italian pinot gris is drier and firmer than the examples produced here. This one has delicate flowery aromas, perhaps a hint of fresh pear, but otherwise fairly subdued fruit. The delights are to be found on the palate, which is salty and creamy. This is a textural, taut wine with an appetising, slightly bitter aftertaste. A great antipasto wine.
Framingham Nobody's Hero Marlborough Pinot Gris 2017 $15
This new label from Framingham celebrates fun, accessible wines at a great price. This lighter pinot gris boasts typical pear and apple aromas but has quite a lean, taut finish and is medium dry. A gentle introduction to the delights of the variety.
Church Road McDonald Series Hawke's Bay Pinot Gris 2017 $26.50
Heady, ripe stonefruit characters abound — peach or perhaps nectarine; there is even a dried apricot element suggested. This is relatively sweet in the mouth, that sweetness balanced somewhat by firm tannins and a slightly hot finish. This is luscious, mouth filling and intense.
Alternative varieties
Esk Valley Hawkes Bay Verdelho 2017 $20
Verdelho is so different from any other variety grown here that it is difficult to describe what this tastes like. But the fruit characters here are rich, intensely tropical or "tutti frutti". This wine has just a touch of sweetness in the mouth — but otherwise it has a firm bite and impact, indeed some weight, but also a nice clean finish. Enjoy on its own or alongside a delicately flavoured seafood dish. A really interesting (and incredibly good) white that deserves far wider recognition.
Redmetal Hawke's Bay Albariño 2016 $24
From western Spain or northern Portugal, this unusual thick-skinned white variety has been tried in nearly every wine region here, but this is one of the finest examples yet produced. Orange blossom and tropical fruit aromatics, nicely complemented with a salty tang. The unctuous mouthfeel is nicely counterbalanced with a bite of acidity. Awesome seafood wine.
Yalumba Roussanne Eden Valley Samuel's Garden collection 2014 $22
?Roussanne is an intriguing variety, originally from France's northern Rhône Valley, producing textural, creamy whites with good acidity. This is a very fine example, with its characteristic green-tea aromatics, fleshy, juicy stonefruit characters in the mouth and a fresh finish. An alternative variety that you really should check out.
Compania de Vinos Telmo Rodriguez Basa DO Rueda 2015 $19
This wine is predominantly verdejo, a grassy, herbal white variety that thrives in north-central Spain. Minty, leafy, citrus notes lead onto a textured, mid-weight palate. The firm, precise acidity gives this wine plenty of bite — a funky, savoury white to impress your wine-buff friends with.
Bodegas Rey Fernando de Castilla Classic Dry-Sec Fino (Non Vintage) $27
Fino is the lightest and most elegant of the major sherry styles. It is the only wine I keep all the time in the fridge — there is nothing more appetising than a well-chilled (small) glass of fino at the end of a hot day. This is a really good example, salty and yeasty. The subtle fruit may remind you of citrus and there is a tangy, pleasant bitterness on the finish that would pair well with seafood or hard cheese.
Spy Valley Single Vineyard Gewürztraminer Marlborough 2016 $22
Very fresh aromatics, combining Turkish delight and lychee, lively and characterful. This is medium-dry, but that sweetness serves to balance out some firm tannins. A really lovely example of this quirky grape variety. Great with seafood, or rich sauces.

Chardonnay
William Fevre Petit Chablis 2015 $30
Petit Chablis is the "baby" appellation of the Chablis region, producing the lightest and raciest wines in the district. This is a beautiful example. We are talking unoaked chardonnay here, but with mineral undertones and a tight, refreshing palate, delicate citrus and honey characters, crisp acidity and a long, fine finish.
Montsablé Chardonnay Vin Sud Authentique IGP Pays d'Oc 2016 $20
This has to be the best-value chardonnay on the market — it is not a big, blockbuster style, but rather a creamy, complex wine with a fresh, dry finish. The fruit is a combination of ripe grapefruit and pineapple, there is a hint of caramelly oak, but nothing too obvious, while the palate is toasty and pithy. A chardonnay drinker's chardonnay that doesn't tire on you. Smart wine.
Kumeu River Kumeu Estate Chardonnay 2016 $30
?In a recent tasting of the past eight vintages of this wine, this was one of the standouts, showing great finesse and poise. A savoury, complex wine that truly delivers at the table. Try it with a classic white fish like snapper or tarakihi. A Kiwi classic.
Villa Maria Cellar Selection Hawkes Bay Chardonnay 2016 $18.50
?Impressive this — sophisticated, complex chardonnay and yet very affordable. Citrus and honey fruit overlaid with flinty, secondary characters. In the mouth, the wine is creamy and full, yet with enough firm acidity to balance. Classy.
Escarpment Martinborough Chardonnay 2014 $34
A chardonnay that ticks all the boxes — intense citrus and stonefruit characters, mealy, bready palate, underpinned with cedary oak and boasting a lengthy aftertaste. Seemingly tightly focused at first — this is a powerful, multifaceted wine for lovers of classic chardonnay.
Kim Crawford Small Parcels Hawke's Bay Chardonnay 2016 $23
Savoury, smoky aromatics, the fruit seems rich and spicy. Evident use of oak on the palate, which is toasty and creamy. A moderately complex, rich style of chardonnay, not heavy, but dyed-in-the-wool chardonnay drinkers will enjoy this.
Crossroads Milestone Hawke's Bay Chardonnay 2015 $20
The epitome of Hawke's Bay chardonnay — punchy stonefruit characters, underpinned with spicy oak. Medium-bodied, and yet has great structure and poise. Another high quality wine from the excellent 2015 vintage.
Spy Valley Marlborough Chardonnay 2015 $22
Light gold, with a buttery, toasty nose, this is a light, accessible style, with a creamy mid palate, supported with a dash of spicy oak. Good acidity and generous fruit, a nice easy-drinking style, uncomplicated and smartly priced.
Pinot noir
Prophet's Rock Home Vineyard Pinot Noir 2014 $60
?This wine has all the fruit intensity one expects from Otago pinot: dark-berry, wild-herb and chocolate characters. However, it is more than a simple fruit bomb. It is starting to show some savoury secondary development, lovely chalky tannins and complex mouthfeel. A sophisticated, grown-up pinot that I dare you not to fall in love with.
Churton Marlborough Pinot Noir 2015 $42
Churton pinot remains one of our best-kept wine secrets, a complex, structured example of the variety, with great ageing potential. Marlborough had a fine 2015 vintage and this wine reflects that, with bright cherry and plum fruit, a rich mouthfeel and spicy finish. While still young and vibrant, this has lovely sinewy tannins that would be a great match for beef or venison. A classic in the making.
Discovery Point Martinborough Pinot Noir 2015 $25
I have been a fan of Discovery Point pinot for some years, and now that the fruit is being sourced from Martinborough, the quality continues to get better and better. This has everything you could ask for: lifted cherry-berry aromatics, a deft lick of vanillin oak, savoury mouthfeel and grainy tannins. A beautifully structured wine, it would work well at the dinner table and puts many higher-priced New Zealand pinots to shame.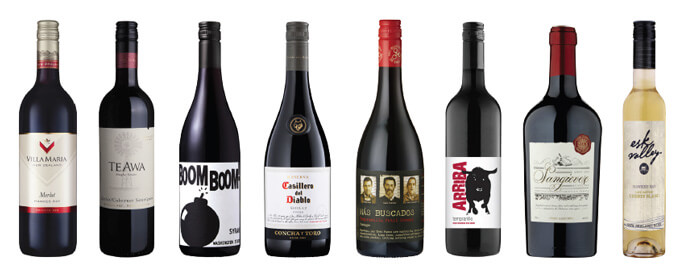 Bordeaux varieties
Villa Maria Private Bin Hawkes Bay Merlot 2016 $15
?Another "wow" wine at a ridiculous price — and a reminder of just how good Hawke's Bay merlot can be. Fragrant fruit, almost exotic, redolent of black forest gateau, violets, even cherry brandy. And yet tightly wound in the mouth, with sappy tannins and just a hint of earthy complexity. Modern red winemaking at its best — very enjoyable now with main courses, but equally this could cellar well for several years. Very good value.
Evans & Tate The Go-Between Western Australia Cabernet Merlot 2014 $18
This is a genuine cross-regional blend, from three regions of Western Australia, yet there is some class and finesse here more attuned to expensive, single-vineyard wines. Blackcurrant and raspberry fruit aromatics, no overt oak, but svelte and supple tannins and a generous, rounded mouthfeel. Classic Aussie red at a great price.
Te Awa Single Estate Hawkes Bay Merlot Cabernet 2015 $30
From the stellar 2015 vintage comes this elegant, cedary red. The nose is wildly alluring: leather, cedar, grilled meat. Meanwhile, the palate is lean. This is not a huge, heavy wine, but rather a taut, structured red that unveils its voluminous charms over time. If you really want to enjoy it now, decant it well before serving and ideally match with cheese or red meats.
Syrah / shiraz
Charles Smith Wines Boom Boom Washington State Syrah 2015 $24
Washington State, in America's Pacific northwest, made its reputation with generous, ripe, berry-fruited syrah, of which this is a perfect example. Dark-berry and chocolate flavours, no obvious oak or glaring acidity, with rounded tannins on the finish. Not a blockbuster of a wine, but a good medium-weight intro to Washington at a really sharp price.
Reserva Casillero del Diablo Shiraz 2016 $17
Shiraz is a relatively recent addition to Chile's red-wine arsenal, but judging by the quality and price of this example, the world needs to sit up and take notice. Wild berry fruit is overlaid with mint and spice characters. This is not a heavy-bodied wine, yet the tannins are savoury and fleshy. Takes a little while to open up and build in the glass, but this is an elegant, ripe, savoury red at a really affordable price.
Other red varieties
Parusso Barbera d'Alba DOC Ornati 2015 $25
?Barbera is one of my favourite Italian wines, from the northwest of that country, making bright, fleshy styles with plenty of acidity and relatively soft tannins. This is a relatively soft and supple example, with barbera's trademark wild-cherry and herbal nose, flavours not unlike cured meat and grainy, rounded tannins. Classic Mediterranean-style red that will work well with that kind of cuisine.
Mas Buscados Tempranillo Petit Verdot 2016 $15
Brambly fruit characters, augmented with smoky, spicy secondary notes. In the mouth, a rich, creamy, generous wine, and yet it has great structure, fine tannins, balanced acidity and a long finish. Classy wine at an attractive price.
Arriba Tempranillo 2016 $14
Every year, this is one of the greatest bargains on the shelf, and this latest vintage is no exception. Rich, spicy fruit, packed with dark-berry and liquorice characters, great mouthfeel and persistence. A simple, upfront but generous red at a stunning price.
Vino Lascito Sangiovese Rubicone IGT 2015 $17
?One of the most intense and truest examples of sangiovese that I have ever encountered, and yet it does not hail from Tuscany, which is traditionally associated with Italy's most celebrated red-wine variety. Crushed berry fruit overlaid with exotic spices, clean and fresh to taste, with chewy tannins, yet ripe and generous. Outstanding value for money.
Te Mata Estate Hawke's Bay Gamay Noir 2017 $20
The fabled gamay variety of Beaujolais can make serious, ageworthy reds, but here it is employed to produce a bright, fruity, light wine that is really versatile from a food-matching perspective. Cherry-berry fruit aromas, aligned with a brooding, woodsy undertone, moderate tannins, but with crunchy acidity on the finish — a fun red to chill on hot days, or serve at room temperature when the weather turns cold.
Sweet wines
Framingham Select Riesling Marlborough 2016 $35
Fruit salad, tropical aromatics, lush and rich in the mouth. This is a medium-sweet riesling, relatively low in alcohol, but with such bracing acidity that it is refreshing and refined. Personally, I don't find these styles that flash with spicy foods (contrary to popular opinion), but as an apéritif on its own: stunning!
Framingham Noble Riesling Marlborough 2016 $40 (375ml)
This label did well in a recent sweet-wine competition in China (I was one of the judges). This is one of the best sweet wines made in New Zealand. It is ultra-sweet, but also exhibits pure riesling character — lime, passionfruit and honey — and features great acidity. Tricky to match with desserts; I might well drink it after dinner with cheese and nuts, or just enjoy on its own.
Esk Valley Hawkes Bay Late Harvest Chenin Blanc 2016 $30 (375ml)
Candied-peel and dried-apricot characters abound. This is a luscious, powerful dessert wine, but with enough of a green, appley edge to balance that richness. There is also a hint of spicy oak and a malty creamy texture in the mouth. I would probably enjoy this on its own, well chilled, or perhaps simply pair it with ripe fresh stonefruit. #