Feb 27, 2023 Food
When you try to recall a meal, you'll remember the simple things. Swipes of sauces, the intense flavour of the first sip of broth. These are things that get licked off the plate; that you drag your finger through after you've already put your cutlery down, because you can't help yourself.
For a recent dinner party, I made three bowls of dips. Winter had bled into a windy, sunny spring, and everyone I knew seemed to be cutting bright pink radishes into quarters, setting out some aioli, and calling that food. One of the dips was an anchovy mayo that leaned on the gross side of acidic (we hoped its sins would be covered over by the magic word 'anchovy'). The second was a whipped tofu that was strangely spicy (due to the copious amounts of raw garlic I stick-blended into it, no doubt). Three, a tzatziki. After tasting all of them, I felt worried and sheepish about it all and ended up calling a friend to pick up a selection of dips (hummus, babaganoush) at Shefco , the Middle Eastern restaurant up the road.
Dips are 'simple'. Dips are 'easy'. They're the culinary equivalent of a salty, ocean-air breeze — light, but not uninteresting. Refreshing, even. Lay them out on the table next to mounds of chips, crudités and crackers, and you'll look like you have your shit together, even if all you did was blend some ingredients up, plop them into a jagged-edged ceramic bowl and drizzle some chilli oil on top in the shape of a spiral. And yet, making them delicious is a tricky balancing act, the difficulty of which once caused me to tip an entire container's worth of dip into the sink, frustrated because I couldn't figure out how to make it taste good (lemon wasn't working; salt wasn't working; life wasn't working).
A good dip can be a revelation and wine bars are where they may be found. I recall my flatmate arriving home from a night out at Ponsonby wine bar Annabel's, raving wildly about the tofu whip that accompanied a plate of raw vegetables. The malt vinegar mayo at Alta ? Lather me up. The guacamole at La Fuente ? Essential. But to be honest, Middle Eastern cuisine is where you can find my favourite — and, arguably, the best — dips. When I went to Tapsi, the new Middle Eastern restaurant on Dominion Rd, I must have repeated the phrase "I could eat this hummus all day" at least six times throughout the meal, which consisted of plenty of substantial things, like lamb kebab and chicken tagine. And yet they were as nothing compared to the dips.
Karl Bayly recently opened Roses Dining Room with his partner Ophelia Harradine Bayly. Bayly fell into cooking "by accident". He was working in an art gallery in Hamilton, decided he needed to "get the fuck out", and moved to Auckland, where he got a job as a dishwasher at Karangahape Rd cafe Bestie . As well as doing the dishes, he got to wade into cooking a little, helping out here and there. When he'd had enough he travelled through the Middle East for a bit, eating many delicious things along the way.
A lot of Bayly's food is influenced by Middle Eastern cuisine. (His first overseas trip after high school was, at the age of 19, to Afghanistan. "Who does that?" Harradine Bayly says. "Mine was like… Thailand.") He fell in love with the region and its food, and many of the dishes he now cooks are seasonal variations of Middle Eastern classics, with familiar, bright, fresh flavours: a shirazi salad, for example, can easily have different types of diced vegetables swapped in and out depending on what's around.
Roses came about after stints at Coffee Pen and Mr Morris , alongside lockdown-motivated project Cooked Plates, which involves private dinners and catering, both at Roses and elsewhere. During lockdown, Bayly was posting beautiful top-down photos of his creations: verdant greens with studs of pomegranate seeds; blistered bits of flat-bread; intricate scallop-edged sweet tarts. He also sold full cakes, tarts and ice cream to fund his wine habit.
After viewing the Roses' space, Harradine Bayly told the landlord, on the spot, that they'd take it. "I saw Karl standing at the corner of my eye, holding Penelope [their daughter] and he was looking at me, like, 'Really?' We got in the car, and he said, 'Oh, so we're starting a restaurant now'."
The concept of the Roses dining room — it's not a 'restaurant', but a place for chefs, home cooks and bakers to hold one-off, one-night-only special dinners, and also for smaller groups to rent out for social events, with the option to hire Bayly to do the cooking — went through a few iterations. "This feels the most realistic, somehow," Bayly said. The plan was that both Bayly and Harradine Bayly would have part-time gigs on the side, Harradine Bayly as a photographer at Poet Pictures, a photography business she runs with friends, and Bayly as a web developer (he recently attended Dev Academy). Essentially, they loved hospitality, but didn't want to kill themselves for it. "We won't hesitate to burn this to the ground if one day it just doesn't work anymore," Bayly half-jokes.
There is a freedom, a joy, that comes with special one-offs: an energy that can't be created or sustained in a restaurant that has to serve diners day in, day out. It's like the dinner parties you have with close friends — nothing is ever perfect, but you know you'll never experience a moment exactly like this ever again, so you appreciate it even more for what it is. Here are some dips I asked Bayly to make so you can make them for your friends.
OLD BREAD DIP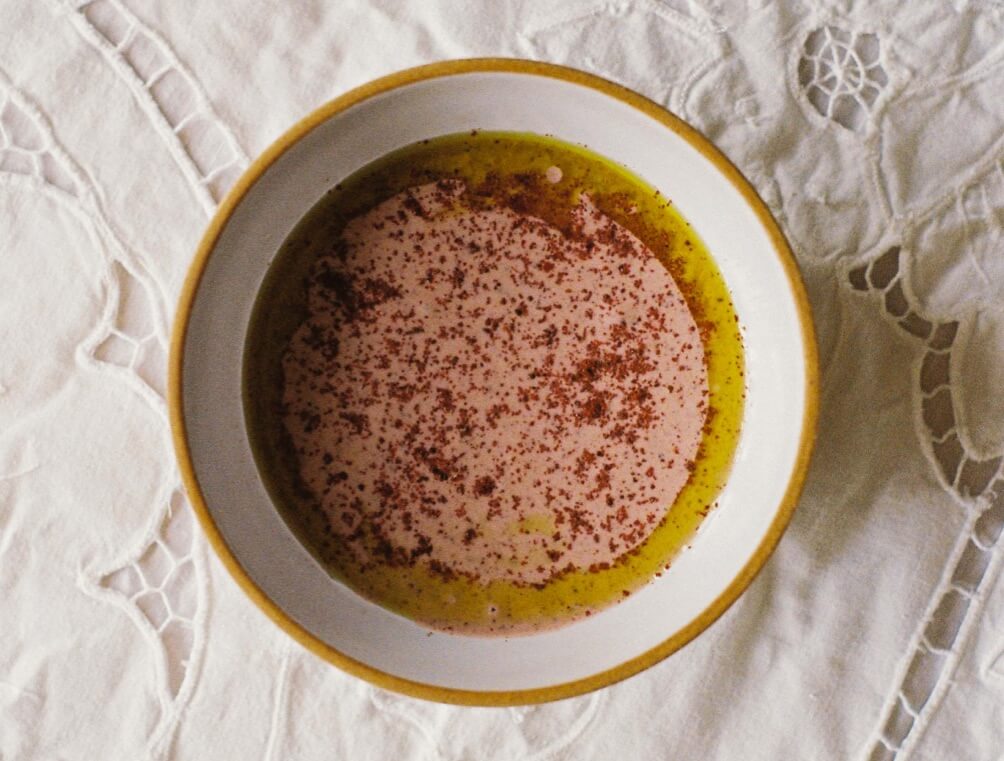 Ingredients
Leftover bread (pref. sourdough) — 2-3 slices
Water — enough to cover the bread
Walnuts — 1 cup
Garlic cloves — 2+
Sumac — 1 tsp
Salt — 1 grind
Pepper — 1 grind
Sherry vinegar — 1 splash
Lemon juice — 8 splashes
Method
For the best consistency, make this in a Vitamix or a Nutribullet, but a stick blender would also work.
Cut off the crust of the bread and rip into little chunks, then cover in a bowl of water to soak.
Put the walnuts, garlic and sumac in the blender to blitz. Once blitzed, add the wet bread. Slowly add the bread water little by little to get the mixture wet enough to get going — if it's too thick, it won't blitz. If you add too much water and it's too liquidy, add a little more wet bread. Likewise, if it's too thick, add a little more bread water.
When it's a nice consistency (like a good hummus), add the salt, pepper, lemon juice and vinegar. Garnish with oil and sumac. Eat your old bread dip with good fresh bread.
GREEN FETA DIP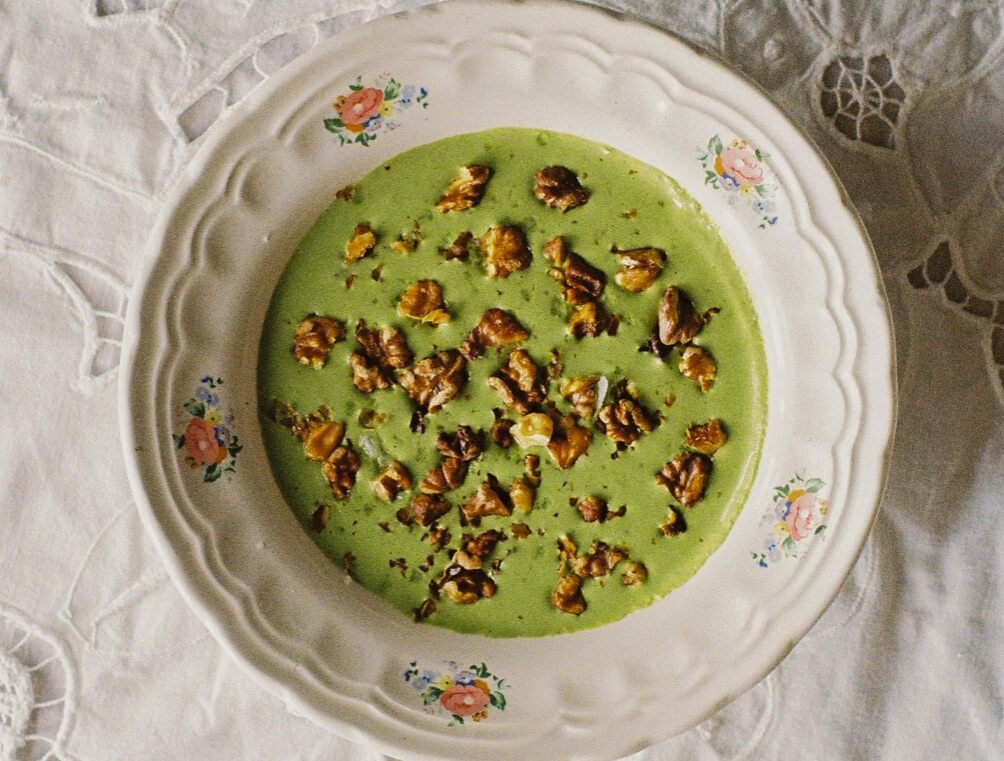 Ingredients
Yoghurt (pref. Gopala greek style) — 1 tbsp
Mixed herbs (not too much parsley) — 1 handful
Feta — 1 block
Walnuts — 1 handful
Method
Blanch the herbs in a pot of salted boiling water and then drown them in ice-cold water to stop the cooking. Ring them dry. (You don't have to do this, but it makes the dip real green.)
Blitz the herbs with the yoghurt, then whip in the feta bit by bit to get a good mix.
Toast the walnuts at 170°C for 8 minutes, then light- chop them up.
Put dip in an appropriate vessel and garnish with more walnuts by dropping them from on high.
LABNEH AND EZME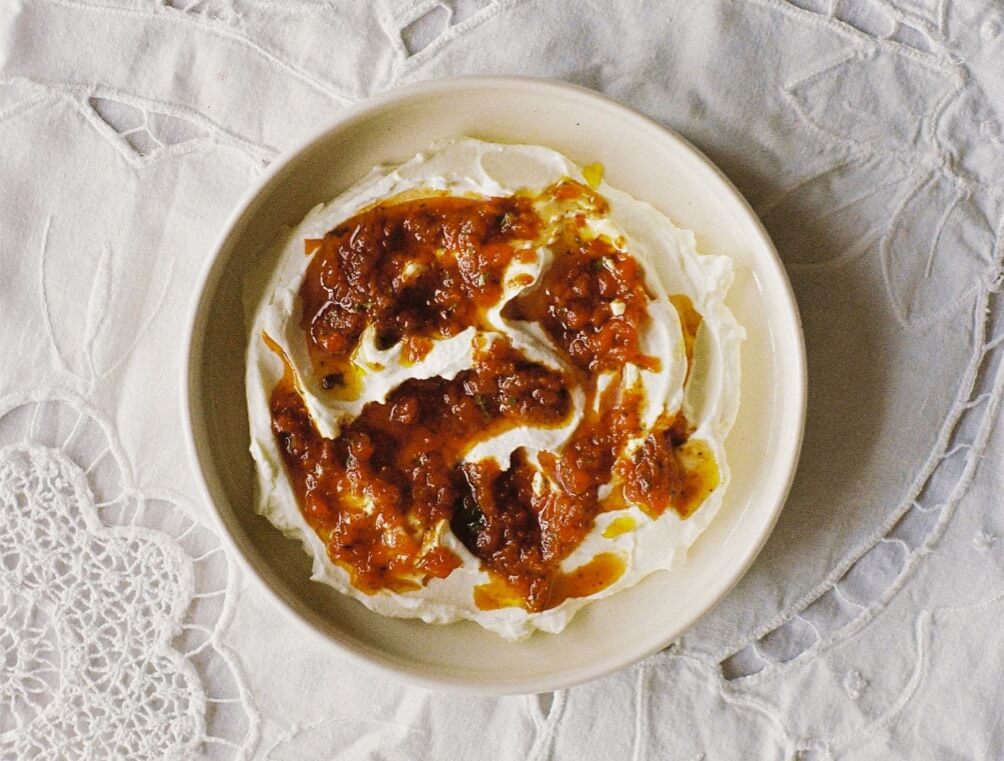 Ingredients
Greek yoghurt — 750ml tub
Capsicum — 1
Garlic clove, grated — 1
Parsley leaves (and stems if you want) — 18
Aleppo pepper flakes — 1 tsp
Sumac — 1tsp
Lemon — 1 good squeeze
Pomegranate molasses — 1 tbsp
Extra virgin olive oil — 1 tbsp
Method
To make the labneh, line a colander with a cheesecloth or Chux cloth (obviously an unused fresh one). Sit the colander over a bowl. Pour the yoghurt into the cloth, gather the corners in to make a bundle and tie with a string around it so you can hand it up somewhere. Leave this to drain.
While you wait, make the ezme. Place the capsicum on an open fire/gas cooktop to burn the skin. You want the skin to go black all over, charred on the way to ash. Put the hot capsicum in a bowl with a cover over it to let it sweat.
When cooled, peel off the burnt skin, remove the seeds and roughly chop into small pieces.
Finely chop the parsley and mix the rest of the ingredients with the chopped capsicum.
Spread labneh on a plate or bowl and spoon the ezme mixture over the top. Eat with any bread — I like flatbread.
–
This story was published in Metro N° 437.
Available here.