Alta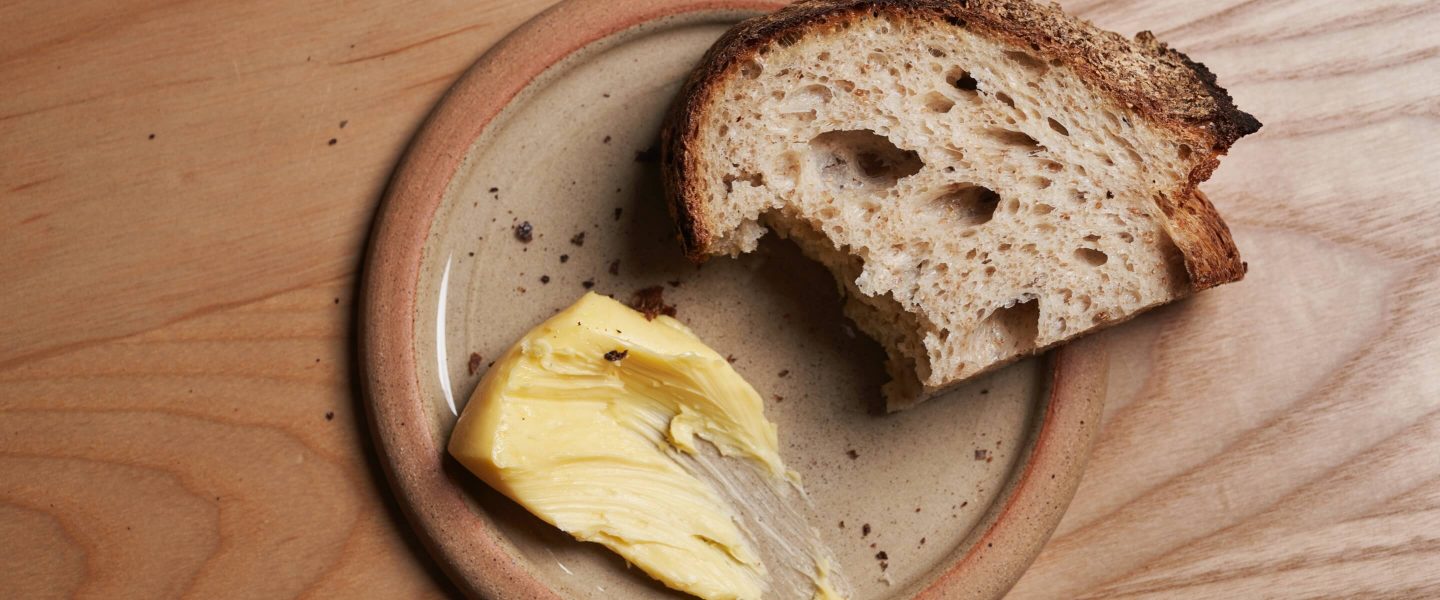 Alta
A grown-up wine bar on Karangahape Rd that serves up unexpected – but delicious – food.
The first thing you notice when you walk into Alta is the lovely, colourful mosaic floor – left over from the last operator in this Karangahape Rd space, a wine bar – which you'll soon find out perfectly suits the style of food here: great-looking, eclectic, and a little bit weird. But it's then all dressed up with forest-green banquettes that span one half of the room, orb mood lighting, and beautiful ceramic plates from Brood FemWares – all nods to the fare's serious and thoughtful execution.

Much of the it is a reflection of Georgia van Prehn, the head chef and owner of Alta, who likes to look at carrots and think that maybe they should be smoked, chopped up into a tartare, laid on a bed of cashew and caper cream, and served with a scalloped side of chive-dusted crisps. It's interesting cooking that doesn't get in the way of taste; though combinations feel unexpected on the menu, there's a specific appeal to imagining what you're going to get and finding out you were very, very wrong. It's special how the menu piques curiosity: tea ice cream with buckwheat and… marshmallow? A $23 beetroot dish? What will that look like?

Having recently switched over from a set-menu-only concept to a la carte, Alta also works well as a place to graze with a glass of good wine (the fridge is full of bottles from Wine Diamonds, the distributor behind Everyday Wine) and some snacks, especially in the summer, with the courtyard out back. Then, there's that signature seafood platter, served prettily on ice and changing every now and then, with atypical offerings like salmon sausage rolls and sweet sichuan pickled mussels. Yum.
Near Alta
Filters
Metro Top 50

Restaurant

Bar

Cafe

Eats under $25
Avondale

2

Balmoral

2

Blockhouse Bay

1

Britomart

5

Burswood

1

Central city

47

Devonport

2

Eastern Beach

1

Eden Terrace

9

Ellerslie

1

Epsom

1

Freemans Bay

1

Glen Eden

2

Grafton

1

Greenlane

1

Grey Lynn

9

Henderson

4

Herne Bay

2

Highland Park

1

Hillcrest

1

Hobsonville

1

Howick

1

Karangahape Rd Precinct

23

Kingsland

3

Manuwera

1

Morningside

3

Mt Albert

5

Mt Eden

22

Mt Roskill

6

New Lynn

2

New Windsor

1

Newmarket

8

North Shore

8

Northcote

2

Northcote Point

1

Onehunga

4

Ōrākei

2

Ōtara

1

Ōtāhuhu

2

Panmure

3

Parnell

6

Penrose

1

Ponsonby

17

Pt Chevalier

1

Remuera

1

Riverhead

1

Rosedale

1

Sandringham

5

Takapuna

4

Te Atatū Peninsula

1

Waiheke

7

Waterfront

4

Westhaven

1

Westmere

2

Wynyard Quarter

1
A la carte

65

Afghani

1

All-day eatery

5

Allpress coffee

21

Altezano Brothers coffee

2

Ark coffee

1

Asian Fusion

2

Atomic coffee

6

Bakery

14

Bar

60

Be Specialty coffee

8

Breakfast

16

Brew Bar

7

Burgers

6

Cabinet food

97

Cakes

5

Camper coffee

2

Casual

70

Charcuterie

2

Cheap Eats

108

Cheese

4

Chef counter dining

1

Chinese

38

Coffee Supreme

15

Cook Island

1

Courtyard

2

Degustation

1

Degustation dining

12

Deli

5

Dine-in menu

67

Dine-menu

2

Dinner

7

Eightthirty coffee

10

Espresso Workshop coffee

2

Filipino

4

Fine dining

13

Fixed-price meals

1

Flight coffee

10

French

8

Game meat

2

Good for dogs

8

Good for kids

37

Good seating outside

18

Guilin

4

Gujarati

1

Handpicked coffee

2

Himalayan

2

Indian

13

Indonesian

4

Italian

15

Jamaican

2

Japanese

25

Jiangsu

2

Korean

17

Kōkako coffee

9

L'affare coffee

3

Lanzhou

2

Lebanese

3

Licensed

6

Malaysian

12

Malaysian-Indian

2

Mediterranean

2

Mexican

3

Middle Eastern

3

Nashville

1

Neighbourhood

9

Neo-bistro

2

Nikkei

2

Odettes blend

2

Open Late

4

Open Mondays

31

Opens Mondays

2

Outdoor dining

29

Ozone Coffee

4

Pacific

2

Pacific Island

1

Pastries only

4

Peoples coffee

4

Peruvian

2

Pies

4

Private dining area

3

Private room

16

Ramen

7

Raw

2

Red Rabbit coffee

2

Rich coffee

2

Rocket coffee

5

Rotating guest filter brews

3

Sandwiches

7

Sashimi

2

Set menu

34

Shaanxi

2

Shanghainese

3

Shared-plate options

84

Sichuan

9

Sicilian

1

Smart

30

Society coffee

2

South Indian

2

Spanish

4

Specialty coffee

11

Sri Lankan

1

Sunday lunch

4

Taiwanese

1

Takes large bookings

26

Takes large groups

49

Thai

8

Turkish

2

Udon

2

Under25

101

Uyghur

2

Vegan

4

Vegan friendly

18

Vegan menu available

2

Vegetarian

7

Vegetarian menu

2

Vietnamese

8

Vineyard

2

Vivace coffee

2

Wi-Fi

15

Wifi

7

Wine bar

14

Yum cha

3


Load More