Jun 29, 2017 Restaurants
You won't find beef fillet or pork belly on the menu at Culprit, the inner-city Top 50 restaurant where owners Kyle Street and Jordan Macdonald favour secondary cuts like pig face and beef rump for their texture and depth of flavour.
Their table service — trolleys and trays of seasonal tastes and bites offered yum-cha style at three set seating times per night — allows the pair to offer variety, while encouraging diners to try something they might not be keen on otherwise.
"The concept works well with the food we serve, which is largely based on unsexy or underutilised ingredients," says Street. "Things like marrow, tongue and Brussels sprouts are not safe bets on paper. If people see them on a menu alongside steak and chips, they are going to order the steak and chips. This concept forces people out of that mindset. It means they can see the food first and, if we do our job right, are more receptive to it."
Street and Macdonald, Restaurateur of the Year finalists, wanted to create an environment that felt like a hideaway from the hustle of the streets below, with service that was professional, but never stiff. So, they enlisted the help of a man who knew that style well — Nick Gallagher, then assistant manager at Al Brown's Depot and a long-time friend. They told Brown of their plans before asking Gallagher himself, a courtesy Street likens to asking for his son's hand in marriage. Having worked together from Depot's inception back in 2011 until leaving to open Culprit last year, the trio are well versed in the day-to-day running of a restaurant. But Street says the reality of being young, independent restaurateurs is that decisions are far more calculated, money and time are tight and responsibilities no longer stop when you step out of the restaurant. In fact, they never seem to stop at all.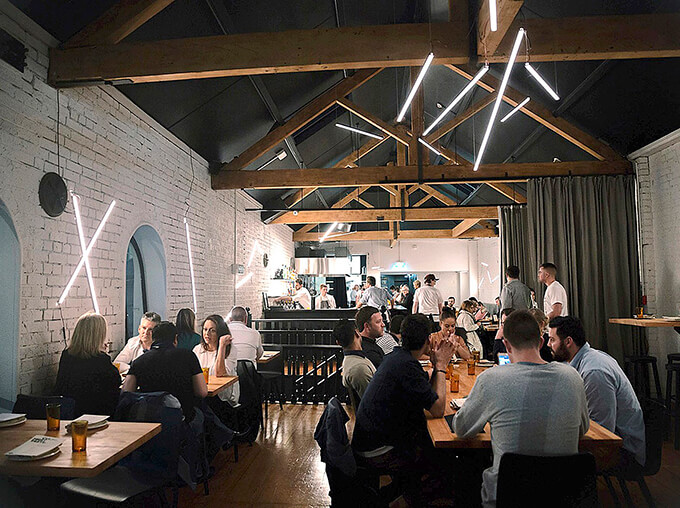 Tuesday
Macdonald: My alarm clock is my two-and-a-half-year-old daughter, Lili, who wakes me at 6.45am. Still fogged by sleep, I wander downstairs to make her breakfast. My girl's got great taste — she won't have anything other than a buttered sesame bagel from Best Ugly and a yoghurt. I get her to daycare around 8.30am and head to the restaurant, where I open all the windows and doors to let some fresh air flow through. Today, there's a faint waft of Chinese cooking from a neighbouring restaurant coming out of the vents when I fire up the extractor fan. It smells a bit like McDonald's — I kinda like it.
I open up Xero and start reconciling the previous week's bills — always at least an hour's work. Deliveries start rolling in, and it's a welcome relief from the numbers to chat to our suppliers, who always have a yarn to spin after the weekend. Alder, our meat guy from Carve, rocks in wearing dark shades and a Hawaiian shirt plastered with bright-pink flamingos. He tells me about his disdain for roast beef and how he finds mutton cuts to be inconsistent in tenderness from beast to beast. Gameford Lodge arrives with 10 ducks because we sold out on Saturday, and Mark, who hooks us up with mangrove kachi charcoal for our Lodge Sportsman Grill, also stops by and chats. As I finish with the accounts, the rest of the crew arrives in dribs and drabs.
Street: When I get to work, Jordan is already there, the table in front of him littered with invoices. Who knew restaurant owners had so much admin to do before they can even think about cooking? We've got some Action Bronson and Anderson .Paak playing as we work on all the boring bits — costing out dishes and sussing out what's coming in or not for the week — that have to be done before diving into the prep. In the kitchen, our first job is to check through the day's produce delivery that arrived in the early hours of the morning. Greg, our friend at The Produce Company, has given us some free samples to play with this week: chestnuts, quince and chard.
Our chefs, Otis and Prashant, arrive around noon. Nick starts then, too, and jumps straight into the answering machine, replying to emails and updating the bookings for the night. We've also roped in Gatlin Avery — old-school Depot fans will no doubt remember his charming ways — as a core member of the team. He vacuums and mops the restaurant, always with a smile on his face. No one is fully switched on before they've had a coffee, so once Nick has fired up the machine and distributed the brews, we sit and discuss how last week went.
As more deliveries trickle in throughout the day, I chat to our suppliers about what they are eating, usually less-popular products or items that are in abundance. Recently, I scored imperfect boysenberries from a grower named Wendy at Wastney Road Berries. We're using these to make a boysenberry ripple bombe Alaska, where the flavour is paramount, not the shape of the berry. She comes in with a chillybin full today. A mystery box of stonefruit arrives from Jackson Orchards down in Central Otago; Salash Deli drop in their sliced šunka (prosciutto); and Clint from Fire Dragon Chillies in Hokianga delivers our Padrón peppers. He runs it pretty free and loose, always sending our peppers in old shoe boxes or recycled New World bags. Last week, he accidentally left a shopping receipt in there. Now I know he eats Hubbards cereal for breakfast.
We start cooking around 1pm — ducks need to be blown, stuffed, blanched, lacquered then hung; fish needs to be filleted; stocks need to go on — there's a lot to do, but our full team is on so we're pretty confident we can get it all done. Around 3.30pm, I whip a fifty out of my back pocket and Gatlin goes on a lunch run. Being in the central city, we are spoilt for choice and there is some debate about whether to get Korean or Better Burger. We leave it up to Gatlin and he comes back with bento boxes, sushi and udon noodles instead.
Tuesday night service is chilled. We draw the curtain to the main dining room and serve along the banquette and kitchen bar to keep it cosy and lively. New dish development happens whenever we have time, so tonight's slow service is perfect. With the weather cooling, we have been brainstorming a new dish using pumpkin and beef short rib. Jordan reckons we could pimp it out with some burnt truffle butter; I reckon tarragon-infused mustard. Sometimes we'll fine-tune a new dish five or six times before we put it on the menu. Our first attempt is tasty but I feel it needs something else.
It's been a long day for the team, so as soon as the last customer has left around 10pm or so, we quickly clean up and lock up. Sometimes a few customers hang around and have really settled in. Often this drags out the quieter nights, but we like the fact that people enjoy hanging in our space. We leave the restaurant around 11. I'll be up late tonight dreaming of tweaks for the new dish… maybe pasta and some plumped-up raisins are what it needs.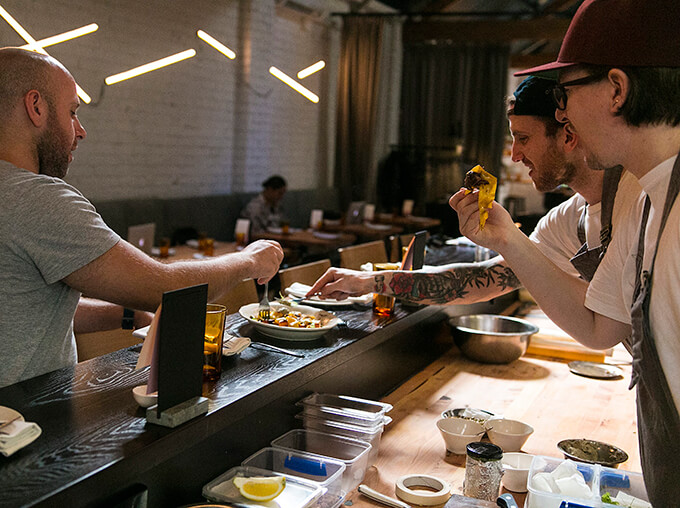 Wednesday
Macdonald: Today we get our new soft-serve machine — exciting times in the Culprit kitchen. When we opened, we bought one off Trade Me from an old couple who owned a dairy up north, and it has been an absolute nightmare, breaking down during service and leaking all over the place. We had to really penny-pinch to buy a new one, but these little victories feel like huge triumphs when you own your own place.
We've just started opening for lunch on Thursdays and Fridays. We've decided to run a set lunch express menu, with a selection of bites and some killer tacos. In my opinion, it's crazy value for only 30 bucks. We need a way to get the word out, so we've had some flyers made up and today we are sending out Nick and Gatlin — floor managers/promo boys — to hand them out to local businesses.
Street: We have some porcinis coming up from Christchurch. A Russian lady found them at the base of an oak tree and called me this morning to offer them to us. We are loving building these relationships with people and having amazing produce fall in our laps. Let's be real: we are city boys, we're not going to go out there and forage. We're good at cooking and running a restaurant and we want to celebrate what other people do. Sure, we could bake all our bread, but it's not what we're good at. All Olaf [of Olaf's Artisan Bakery Café in Mt Eden] does is bake bread, so of course he's going to deliver a primo product.
Jordy's got some mad dish inspiration for these porcinis. I leave him to it, hungrily watching as he prepares a taste test. We just received the first of the season's chestnuts so they seem like a likely duo. He creates a purée with sweated shallots, roasted chestnuts and sweet Muscat wine. The result reminds me of rich duck-liver pâté. He ends up cutting the porcini into thick slabs and slathers the rich purée on some toasted brioche from Amano , his favourite restaurant at the moment. We love this way of cooking and creating a dish. It's interesting, challenging and inspiring. We don't want to create formulaic food — meat and three veg is just not our thing.
I'm competitive by nature, so I get back to work on this short-rib dish. I've been trying it with roasted cubes of pumpkin and ended up with all these pumpkin offcuts, so I've puréed them and kneaded them through a pasta dough to make a thick pappardelle. It reinforces the pumpkin flavour, while making the dough really soft. We work this way whenever possible: crayfish heads, turbot bones and corn cobs go into a deep, velvety sauce for a retro-inspired mussel and crayfish pie dish; bruised tomatoes or any offcuts get juiced, hung to strain then mixed with hot sauce and turned into a jelly for our kokoda (Fijian raw fish). Culprit's main goal isn't to be a low-waste restaurant, but it is something we keep in mind whenever we create a dish, and it's a large part of how we source unique ingredients.
At the end of service, I finally have time to check my phone, which has been vibrating in my pocket all night. It's my girlfriend, Kathryn. She's always swanning around somewhere and tonight has been having dinner at Sidart , documenting the picture-perfect food course by course. It looked unreal. But fancy food is the last thing I crave after service. It's more like fried chicken, burgers, or a midnight snack with whatever I can find in the fridge. I normally have tortillas and cheese lying around so I can make quesadillas. Tonight, I find some portobello mushrooms and leftover nacho mince, which go in with cheese and coriander. It's exactly what I feel like.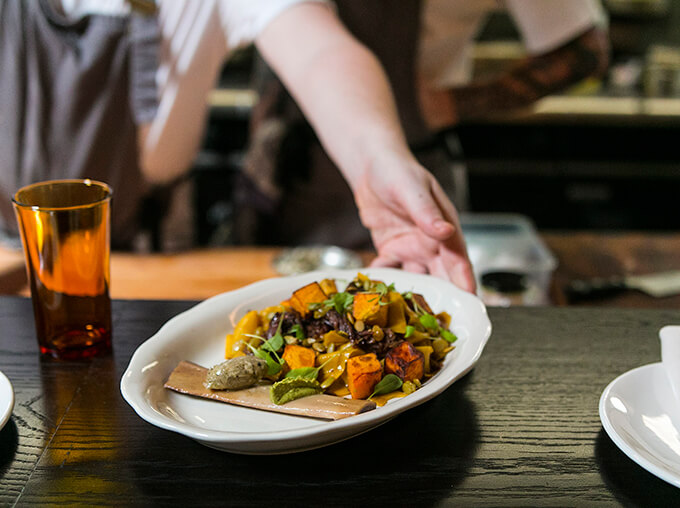 Thursday
Street: It's an earlier start today for the lunch service. I'm more of a night guy and struggle with mornings, so I limp in lazily a little before 11am. Jordan has begun prep, turned on all the ovens and unpacked the produce. Nick and Gatlin arrive just after me — Nick cranks the Motown to wake everybody up. Jordan and I usually cover the lunch service by ourselves, but today Otis has started earlier than usual. He has all the braising to do, the low and slow stuff, including the short ribs for the new dish that goes live tomorrow. I like to braise a day before and allow the meat to cool slowly in its own juices so it has time to relax and suck up all that flavour. Then we'll simmer it in a reduction of the braising liquids and some good red wine.
We finish up lunch orders around 3pm and get stuck straight into prep for the night. It's looking like we might be ready a little early today, so Otis, Jordan and I grab 15 minutes and run down to eat at Food Alley. When we arrive, the staff who work there are on their break, too, and are sitting around chatting and peeling vegetables. We share an unspoken camaraderie, enjoying our down time before a busy dinner service. We all have our favourite stalls. For me it's the kimchi-laden bibigo at Seoul Seoul. Jordan likes the duck at Clay Pot Rose. And Otis goes for a bento box from Umaiya. As a chef, it's always a treat to have something cooked for you by someone else, no matter how simple it may be. These cheap and diverse inner-city eats are comforting soul food that will keep us going through to breakfast tomorrow.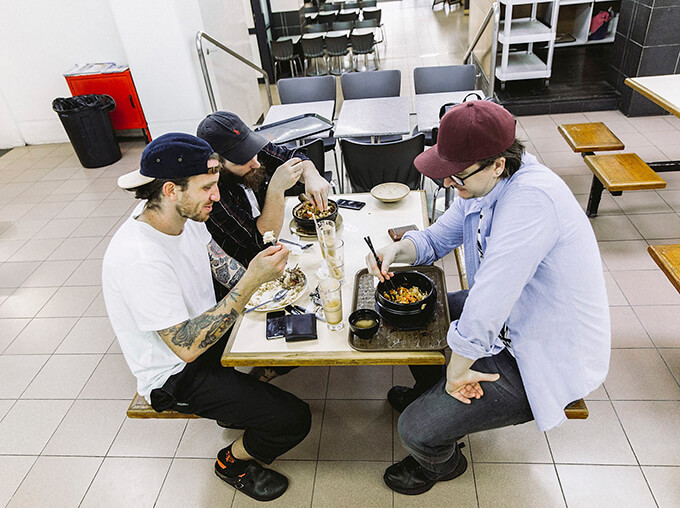 Friday
Macdonald: Staff and customers' spirits are always lifted on a Friday. We listen to 90s R'n'B all day and everybody is in a good mood, filled with nervous energy for the busy nights ahead and looking forward to their upcoming days off. Maybe due to Nick and Gatlin's promo skills earlier in the week, we get absolutely slammed at lunch today. It's totally unexpected. In the afternoon, Nick and I have some wine reps come in and do a few tastings — leaving us a little relaxed, shall we say — so we end up behind in prep for the dinner service. 
This is when our teamwork really kicks in. Floor staff drop their front-of-house duties, wash their hands and jump into the kitchen. I get Sophie — our senior waitress — and Nick picking herbs, and Gatlin rolling out the pasta for the short rib. It all comes together by 6pm and we quickly brief the staff on the new dish as they arrive. The final result is braised short rib and butternut-squash pappardelle with verjuice-soaked raisins, truffled burnt butter and tarragon-infused mustard.
Street: Initially, we were very relaxed and allowed people to come in willy-nilly, trying to please everyone, even if they arrived late for their sitting. Now we control the flow of the room a bit more. It was so important in the early days to listen to our customers' feedback and constantly reassess what we were doing and if it was working. In the beginning, we had entrées, mains, dessert, and the trolley. There were too many ways to order. So we threw away the entrées, reworked some dishes to be trolley-worthy and expanded the trolley offering to around 14 dishes.
The tastes and bites go out in the order it makes sense to eat them, so raw, cured and lighter stuff first, followed by richer, heavier dishes. We read the room to see how people are eating, which requires a lot of communication with the staff. If people don't seem interested in certain dishes — raw fish or offal, for example — we won't bother sending out more of the same. Tonight, the restaurant is full of "eaters" who are devouring the trolley bites faster than we can make them.
We crush the busy service and while we're tidying up, I whip up the beef short rib for the staff to taste. Ideally, this would happen before service, but the reality is there is never any time. I tell everybody to have a taste, turn my back for two seconds and when I turn back it's all gone — I guess they liked it. I've got a craving for a burger so I head down to The White Lady. I love that it's open so late and they make the best dirty burger around. I always go for the bacon burger. I scoff it before I've even left Commerce St, so I normally order a cheese and ham toastie as well for "dessert".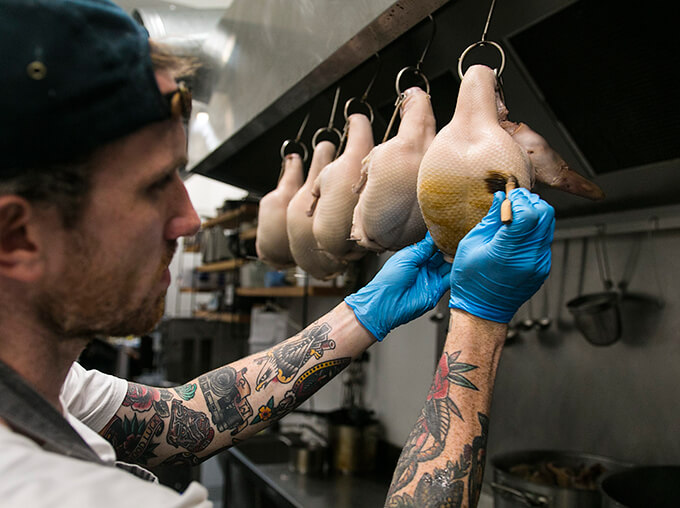 Saturday
Macdonald: Tonight, we have 80 booked for dinner. Gatlin has the night off. He's cooking an Indian feast for 30 of his friends. We hear there is going to be eight whole chickens, two lamb shoulders and mango lassi shots (we later learn the party wasn't much of a banger — everybody passed out after dinner because there was way too much food). We'll be scrambling without him, and have to do a slight reshuffle of the team to cover.
At 6pm, when our first bookings are due, we are still madly prepping. Nick is guillotining menus as a line is forming at the door and the phone rings incessantly with last-minute bookings. We get into the rhythm of service and at 7pm, our most loyal regulars, John and Sandra, take up "their spot" at the kitchen bar. They have been devoted followers of ours from old Depot days, following us to The Fed and now here. They come in three times a week, know all the staff's business, and we know theirs too. Tonight, they are trying the new dish — before she's even tasted it, Sandra decides it's never coming off the menu.
Last year, we gave John and Sandra one of our pork-stuffed roast duck breasts. She went totally nuts for it, telling us we should be in the business of selling the stuffing as sausages. 
Street: By 7.45pm, the organised chaos of service is in full swing. Our 6pm tables are ordering dessert; trolley food is almost done for the 7pm sitting and we are working on their mains; and with every tick of the clock I am increasingly aware the 8pm tables will be arriving any minute. As each dish goes out, I check it is properly garnished; Otis's grill is now rammed with ugly carrots, pots of couscous, braised short rib and about 15 buttermilk pancakes, so Jordan jumps in to help him out; meanwhile, I have to counsel stressed-out floor staff who are under pressure and needing support — constantly reminding them to keep pushing, but also to relax and roll with the punches. By 9pm, the trolley food is finished and it is a relief to focus on the mains while Prashant works on desserts. I wipe down my board and Sophie pours me an iced water. It's the first sip I've had all night, and damn it's good.
As the kitchen crew begin pack-down, Jordan and Nick start a stocktake. Not an enviable task after a busy service. The bright side, however, is that any wine dregs left over from the week need to be drunk. So we conduct an impromptu staff "wine-tasting" that takes us through to the wee hours.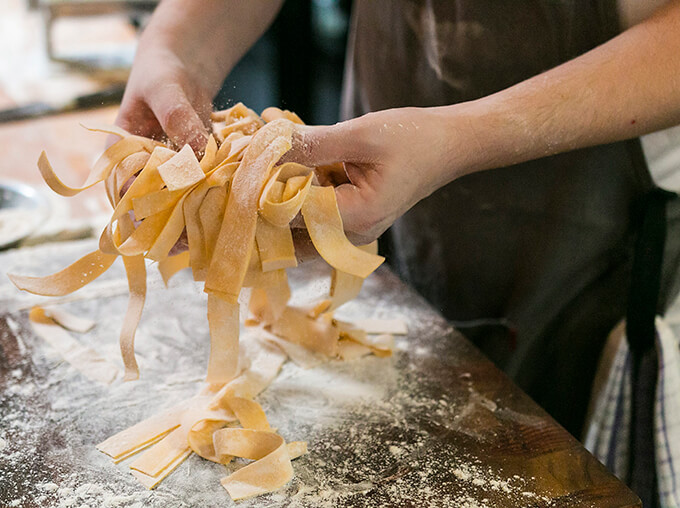 Sunday
Street: On Sundays, I like to hit snooze until around 11am. Otis has been banging on about Seabreeze in Westmere for ages, so today I check it out. I have the Bharta eggs with spiced eggplant purée, chilli butter and whipped yoghurt, and add a side of merguez sausage. It's absolutely killer. Kathryn and I stop at Little & Friday for some hot-cross buns and a coffee on the way home. I like kicking around the house on Sundays, catching up on housework and cooking dinner for us. Tonight, we're having buttermilk fried chicken burgers with brie and a friend's homemade barbecue sauce.
Macdonald: My girlfriend, Sarah, is a chef at Woodpecker Hill, and although we work similar hours and see each other most nights, the weekend is the only time we really get to switch off and enjoy each other's company.
We get up around 9am, go pick up Lili from her mother and grab a coffee from Biskit in Parnell. The slow and easy pace of Sundays makes it a decent paperwork day for me — payroll, labour costs for the week, looking over the beverage stocktake from the night before for any glaring errors. It's deceptively hard to count the 200-plus products with a cloudy brain after a busy week. When I'm done, we go to La Cigale and pick up some vegetables and herbs to go with a monster hapuku tail I scored from the seafood market nearby. Tonight, I'll cook, but tomorrow, we'll eat out — all day long.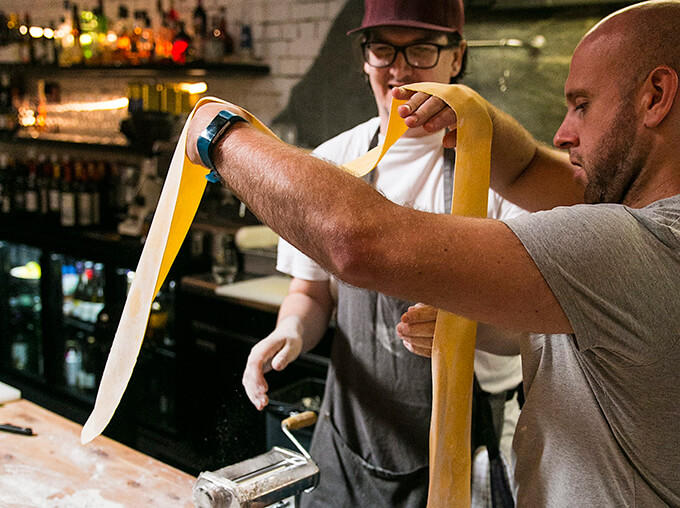 Monday
Macdonald: Culprit is closed today, so I have a relaxed morning with Lili before dropping her in to daycare. I bash out some paperwork for the restaurant, order the linen, dry goods and anything else we need. Kyle texts me and we plan to meet at New Gum Sarn at Mercury Plaza to buy some stuff for the kitchen. During the week, I'm so hopped up on coffee, or just too busy to realise that I'm hungry, that I usually eat only one meal a day. So today I need to make the most of it. Sarah and I plan to eat our way across the city.
We head out for a lush late breakfast of oysters, sliders and bone marrow at Depot, before I dash off to meet Kyle.
Street: New Gum Sarn is a treasure trove. We never go in with a plan, as we always find something wacky that we could use at the restaurant. Today, Jordy scores a pair of real fancy seamstress scissors with a golden handle. He's going to use them to cut the pita pockets for our mutton dish — and hoping to look like a pimp in the process.
If we are ever at Mercury Plaza, it would be rude not to get something to eat from the food court. It's hard to go past the aptly named "Chinese Cuisine" in the top corner. Those hustlers are always trying to upsell us to a large soup.
We catch up through slurps of our small barbecue-pork and wonton-noodle soups and take a little time to reflect on the week that's been, what went wrong, what went right. We part ways to spend what time we have left with our better halves. I'm going to cook, but Jordy is hitting the town again.
Macdonald: I meet Sarah at Amano for a pre-dinner snack of burrata. Today, it's served with charred cauliflower, mint, raisin and pine nuts. We finish our day at Woodpecker Hill. As much as we love the barbecue meats and fragrant curries, it might be a bit much after an already excessive day of eating, so tonight, it's a light dinner of dumplings and what I believe is the best bok choy in Auckland — simply stir-fried with ginger, garlic and oyster sauce.
Back home, I'm sleepy and content. When Lili is in bed we watch For Grace, a documentary about a guy who loses everything in his quest to make his restaurant the best. I look forward to going back to Culprit tomorrow. I've stopped looking at going to work as a week-to-week thing. It's much bigger than that, much more long term now. It's not a job anymore — it's my whole life.
This is published in the May – June 2017 issue of Metro.
---

---