Apr 10, 2019 Food
For too long, people have fretted over the social stigma of eating alone, with many worrying it's a lonely or pity-inducing thing to do. On the contrary, going for a solo bite is one of life's simple pleasures, says Metro writer and food critic Jean Teng.
When I texted my friend, "I'm going to eat alone at a six-seater restaurant," she responded, "Wow! That is the height of self-care! Go, you!" That's wild, I thought. I had never framed it in my head as self-care – I just really wanted to eat some bomb food.
But I guess eating alone can be for 'self-care'. And it can also be for a lot of other reasons. You're craving a particular food and can't find anyone to join. You enjoy your time alone. You're a gastronomical explorer. (This is me jumping through hoops to avoid using 'foodie'). You want to people watch. You're socially exhausted. You don't want to talk. You want to quietly scroll through your angry Twitter feed while scoffing a kebab. You're hungry. You're ravenous. You want to eat. And you happen to be alone.
I remember the first time I went to eat alone at a nice restaurant. I googled, "is it weird to eat alone?" There didn't seem to be a consensus, and that made me nervous. I understood, objectively, there's nothing weird about eating alone, but in the eye of the storm (that is, in the middle of a restaurant) you can feel like an art piece trotted out for happy families to judge. Being a young woman, especially, seems to compound the problem. People never assume you're on business, or a food critic, or that you enjoy your own company. So here I am, to assure any versions of a past me: it is not weird or sad to eat alone. In fact, it's fucking great. Eat where you want, arrive and leave when you want, and never, ever apologise for being a table of one. It's liberating.
Most "places to dine alone" lists will just pull out the trendiest, buzziest restaurants and tell you to eat at the bar because they always assume you want to be alone, but not alone. This is not that list.
McDonald's – specifically the 260 Queen Street store
This place is just straight-up purgatory. Neon-lit into the wee hours of the night and open 24 hours, eating here makes you feel not quite alive. I love it. The ceilings are stupidly high, the counter stupidly far back from the doors, and the tables – especially the ones shoved in its suspicious corners – stupidly sticky. Britomart's McDonalds just can't compete.
Any old person can sit alone at an anonymous food court on K'Rd or back-alley ramen joint down the depths of Albert Street, but you haven't really mastered loneliness (sorry, dining alone) until you eat by yourself, sitting in a single chair slightly apart from all the other parties, at Pasture's chef's table. Which I have done. It's a singular experience: Ed Verner and his sous chefs wield slight tweezers, gloves and fans underneath rows of fermented jars, transforming cooking and plating into a quiet theatrical experience. The food – exquisite. The Spotify playlist – delightful. And who cares if you're slightly cold without a warm body on either side of you… the hot flames from the open fire will warm your cheeks, and won't forget to text you back.
For more great videos, check out our Youtube Channel.
Before you pop in for a solo film at Rialto in Newmarket that none of your friends wanted to see because they're "too lazy" to "read subtitles", slurp down a bowl of Selera's curry laksa, the broth rich with coconut milk. It's a favourite because you are truly left alone here: there's no table service and water is self-serve, making it an ideal place to avoid interaction and still feel like a productive member of society.
Le Garde Manger – the Queen St branch
What a romantic place – red and white chequered tables, French-accented waitresses, candle lights and Edith Piaf do a lot to set the mood. The last time I was there with a friend, I stopped to question our relationship: were we actually in love? However, dining alone here feels special and a little bit like you're bucking the status quo, and the menu is perfectly suited for the solo diner: a galette and a glass of cider is all you need.
Particularly good for solo lunches, Cocoro is a place to feel fancy and mellowed as fuck. You can skip your daily dose of Headspace and meander through a donburi. Leave through a quiet Ponsonby side street before breaking into the main road, and to reality.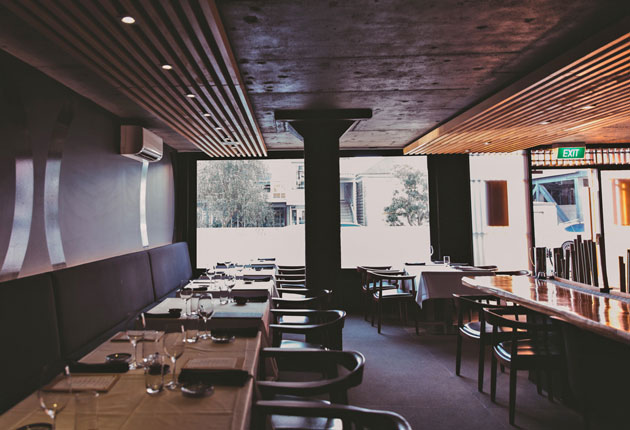 Lim Chhour Food Court on K Rd
Of all the food courts in Auckland, I'm weirdly drawn to this one the most. It's home to the deplorably interesting Sneaky Snacky (burgers with glazed doughnuts as the buns), a Thai eatery which will truly deliver on the promise of "Thai hot", and the Lim Chhour supermarket, for a stock-up on your instant mi goreng. In 2015, The Urban List described this as having a "great vibe", which is a decidedly inept description, but that might be down to all the cool folk who come in because they're at the end of their pay cycle and are too broke to eat at Coco's Cantina ?.
The place to dine alone when you want to feel part of a community. Although it takes its aesthetic and food origins from a quintessential New York deli, the Fed is perhaps the most Auckland eatery I know – instantly recognisable uniforms, poutine and bottomless filter coffee. Always buzzing, always slinging out chicken sandwiches and hoagies, and always a fun time for a solo diner at the counter looking into the kitchen.
There is absolutely no universe in which a "dining alone" list doesn't include ramen, the patron saint of solo diners. There might be better places to eat ramen by your lonesome ( Zool Zool , or Maruten Ramen in Mercury Plaza), but this is my list and Ramen Do's broths are the best in the city. A bowl of their Hokkaido Miso ramen immediately makes you feel better about life, the state of your bedroom, and your ill-advised binge of Married at First Sight the night before.