Jun 21, 2018 Restaurants
Metro Top 50 2018 restaurant Coco's Cantina on Karangahape Road is a bustling Italian bistro.
If an illustrator wanted to portray a bistro for a storybook, they might draw Coco's Cantina. The beating heart of Karangahape Rd spills out onto the footpath with gingham-clad tables, its lipstick-red door near-revolving by dinner time. It's run by sassy sisters Renee and Damaris Coulter, who have, from the start, done things differently. They are vocal advocates for all kinds of causes, foremost among them independent sustainable businesses such as theirs; in 2017, they launched a website to celebrate them. Their strong beliefs extend to the menu, with organic and ethically sourced proteins constituting seasonal, unpretentious antipasti, pasta and secondi, from house-cured fish with orange, celery and capers to the signature potato and ricotta ravioli. Their team and customers are treated like extended family in a trinket- and postcard-filled dining room. The sisters' soulful restaurant makes the city feel alive.
What it offers Fixed-price meals / Bar / Craft beer selection / Takes large groups / Good seating outside /
Private dining room / Happy-hour pasta ($13 special Mon-Fri, 5-6pm)
A favourite dish Spaghetti and meatballs topped with crunchy breadcrumbs and parmesan
Awards Finalist, Food for Good
Hours Dinner Mon-Sat
Bookings Only for two groups a night of 10 or more
Price $$
Seats 90
Chefs Guilherme (Will) Bezerra, Ponsy Wallace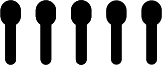 cocoscantina.co.nz
376 Karangahape Rd, K Rd precinct
Ph 300-7582
See here for all of Metro's Top 50 Auckland restaurants for 2018